The following advertisement appeared in the Worcestershire Chronicle of 9th November 1842.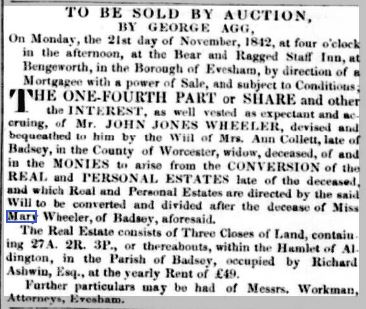 TO BE SOLD BY AUCTION
BY GEORGE AGG
On Monday the 21st day of November 1842 at four o'clock in the afternoon at the Bear and Ragged Staff Inn at Bengeworth in the Borough of Evesham, by direction of a Mortgagee with a power of Sale, and subject to Conditions:
The one-fourth part or share and other the interest, as well vested as expectant and accruing, of Mr John Jones Wheeler, devised and bequeathed to him by the will of Mrs Ann Collett, late of Badsey, in the county of Worcester, widow, deceased, of and in the monies to arise from the conversion of the real and personal estates late of the deceased, and which real and personal estates are directed by the said will to be converted and divided after the decease of Miss Mary Wheeler of Badsey, aforesaid.
The real estate consists of three closes of land containing 27A 2R 3P, or thereabouts, within the hamlet of Aldington in the parish of Badsey, occupied by Richard Ashwin, Esq, at the yearly rent of £49.
Further particulars may be had of Messrs Workman, Attorneys, Evesham.