The notice below appeared in the Worcester Herald of Saturday 31st July 1830.  James Harris had died in April 1830 and his stock, implements and household items had been sold in May.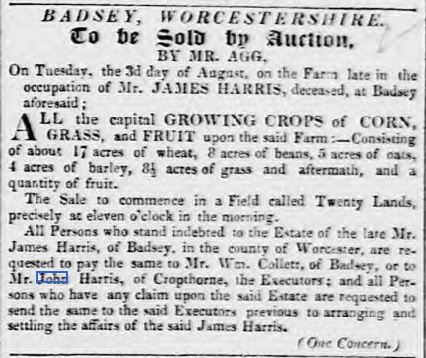 BADSEY, WORCESTERSHIRE, TO BE SOLD BY AUCTION BY MR AGG
On Tuesday, the 3rd day of August, on the farm late in the occupation of Mr James Harris, deceased,  at Badsey aforesaid:
All the capital growing crops of corn, grass and fruit upon the said Farm:  consisting of about 17 acres of wheat, 8 acres of beans, 5 acres of oats, 4 acres of barley, 8½ acres of grass and aftermath, and a quantity of fruit.
The Sale to commence in a field called Twenty Lands, precisely at 11 o'clock in the morning.
All persons who stand indebted to the estate of the late Mr James Harris of Badsey in the county of Worcester are requested to pay the same to Mr Wm Collett of Badsey, or to Mr John Harris of Cropthorne, the Executors; and all persons who have any claim upon the said estate are requested to send the same to the said executors previous to arranging and settling the affairs of the said James Harris.
(One Concern).