The notice below appeared in the Worcester Herald of Saturday 8th May 1830.  He had died the previous month.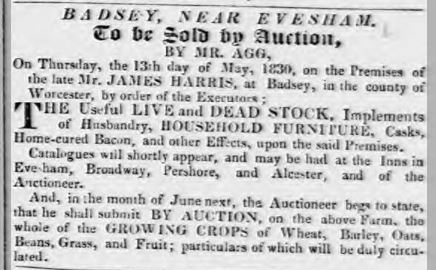 BADSEY, NEAR EVESHAM, TO BE SOLD BY AUCTION BY MR AGG
On Thursday, the 13th day of May 1830, on the premises of the late Mr James Harris at Badsey in the county of Worcester, by order of the Executors:
The useful live and dead stock, implements of husbandry, household furniture, casks, home-cured bacon, and other effects, upon the said premises.
Catalogues will shortly appear, and may be had at the inns in Evesham, Broadway, Pershore and Alcester, and of the Auctioneer.
And, in the month of June next, the Auctioneer begs to state, that he shall submit by auction on the above farm, the whole of the growing crops of wheat, barley, oats, beans, grass and fruit; particulars of which will be duly circulated.
In August, the crops were sold.