Edward Scott Ridsdale was born in York in 1843 and married Mary Matthews in Settington, Yorkshire, on 14th January 1866.  His occupation at that time was an architectural draughtsman.  By 1871, he had moved to Merstow Green, Evesham and then to 54 Port Street by 1881, when he was an architect, according to the census that year.  In 1901, he was living at 4 Albert Road, his wife having died in 1899.  His occupation at the census was given as architect's assistant. 
In 1880, Edward Scott Ridsdale painted a picture of the Church of St John the Baptist in Wickhamford.  There are two dates on the painting; on the front is written 15 Oct '80 and the initials E.S.R.  Another date there is Apr 15 1881 which may be when the picture was completed?  This picture was up for auction at some point, but its present whereabouts are unknown.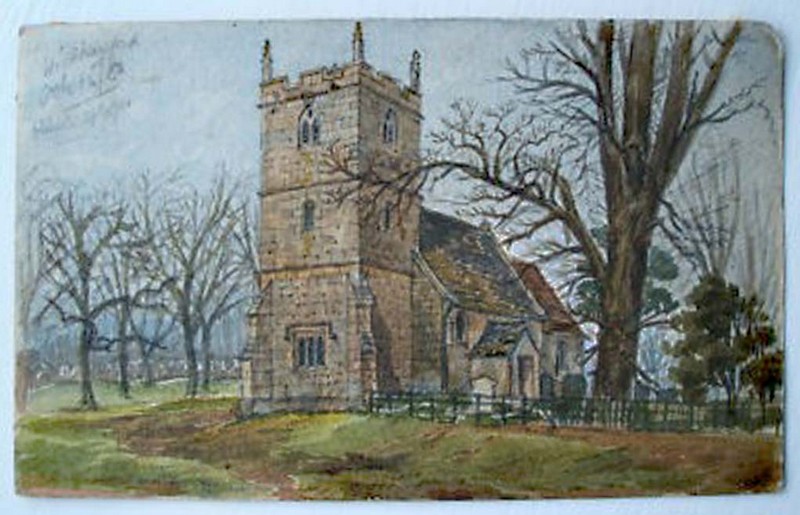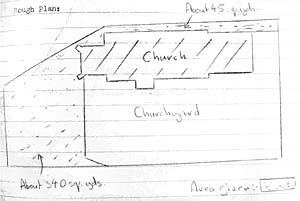 It is of interest because it shows the Church of St John the Baptist before the churchyard was extended in 1893.  The boundary fence in the painting ends at the tower, and there is a very large tree in the churchyard. The extra land allocated to the churchyard in 1893 is in front of the tower (see plan, right). 
The large tree shown in the painting is no longer there and may have been removed by the early 20th century.  In the plan of the graves within the churchyard drawn up recently, there are no plots marked where this tree once stood. The burials surrounding the place where the tree is pictured were carried out in the period 1846 to 1859, suggesting that the tree prevented burials in this part of the churchyard. This area still has no gravestones – see article on Wickhamford Churchyard monumental inscriptions.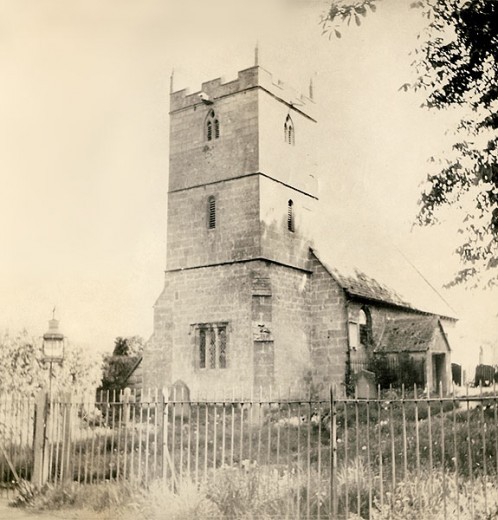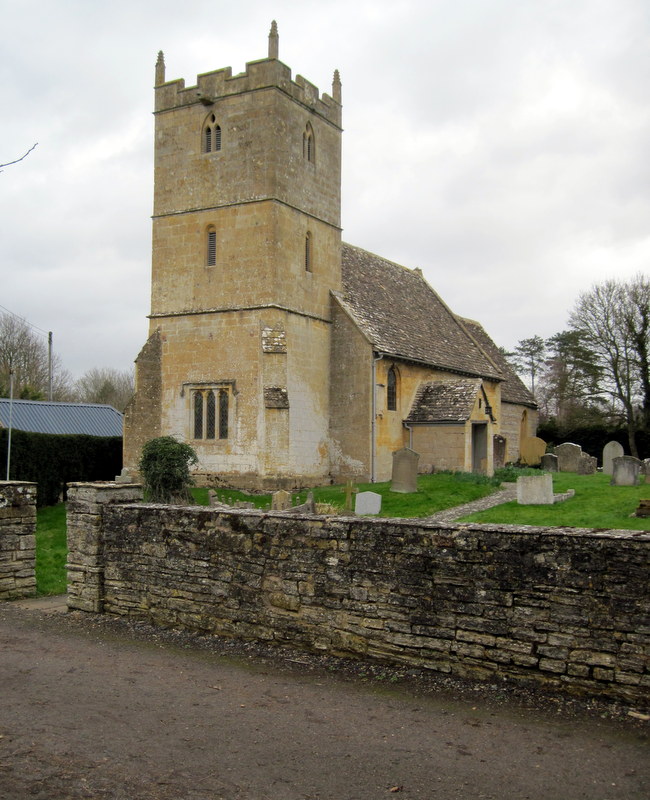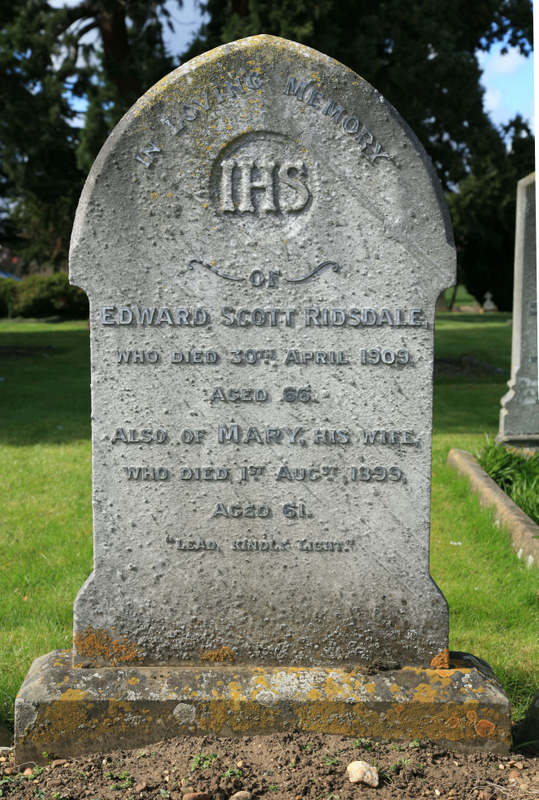 Edward Scott Ridsdale and his wife, Mary, had a number of children. Thorsby M. S. Ridsdale was born in Wolverhampton in 1866, and Claude Augustus John Ridsdale was born in Stafford in 1869. The family then moved to Evesham where a daughter, C. Maude Ridsdale was born in 1872 followed by a son, Montague Ridsdale in 1873.  
Edward Scott Ridsdale died on 30th April 1909 and was buried at Waterside Cemetery, Evesham.  After his death, probate was granted to Annie Sophia Ridsdale, a spinster, and his son Claude Augustus John Ridsdale.  He left £921 15s.
Tom Locke – February 2022
Acknowledgement
Peter Stewart kindly supplied the photograph of the Ridsdale gravestone and prepared the photograph of the painting of the Church.