In 2012 Peter Stewart and Tom Locke conducted this new survey of the burial plots and monumental inscriptions in the Wickhamford churchyard. Great care has been taken with the photographs and transcriptions. These often show details that a visitor to the churchyard would not see because many of the stones are illegible or hidden.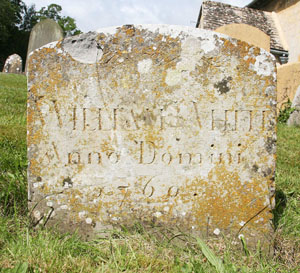 The small churchyard next to the Church of St John the Baptist, Wickhamford has been in recorded use since the Burial Register was started in 1538. Since then about 1,000 burials have taken place, and there must have been many hundreds more before that date.
Most of these interments were in an area even smaller than the existing churchyard, as it was extended to its present size only in February 1893. At that time two Trustees of the Thomas Lord Estate, Sir Henry Foley Lambert and Lawrence Martin Curler, transferred about 340 sq. yards to the Church. This area is between the tower and the present entrance gate, plus access around the back of the church.
Part of the western boundary of the churchyard is formed from the remains of a great stone barn that stood between the Manor and the Church, which fell into disrepair and was largely demolished in the 19th century.
Two plans of the burial plots were drawn soon after the Second World War and both are kept in the Church, but are no longer on display. George Lees-Milne, owner of the Manor, did one in 1948, at ¼ inch to 1 foot scale (left & right sides). J. F. Taylor did another plan in 1946. They differ slightly with regard to a few plots and the Lees-Milne version has more detail..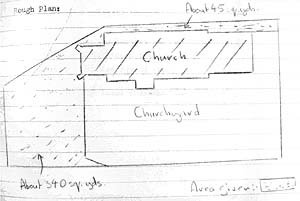 In 1986, a survey was carried out by Mrs Linda Bushell and Mr G. Farmer and written up as a BMSGH document entitled Monumental Inscriptions, St John the Baptist, Wickhamford, Worcestershire. Here is the plan of the churchyard they produced. They also recorded the inscriptions within the Church at this time.
In 2012, Peter Stewart carried out the present survey, upon which this article is based. He cleaned the stones, reconstructed broken memorials where necessary and photographed all of the remaining headstones and footstones of the graves.
The list of burials and their location presented here is derived mainly from the Lees-Milne plan, the 1986 survey and the work carried out in 2012.
We hope that the information provided here will be of use to family historians wishing to locate the last resting places of their forebears. For further information on Wickhamford burials, please refer to the transcription of the Burial Register of the Church of St John the Baptist on this website.
Tom Locke and Peter Stewart - August 2012.
---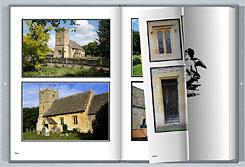 Peter Stewart has published his survey of Wickhamford church and churchyard in a beautifully illustrated book. He has kindly allowed us to publish an online version of this on this website.