Publication
The Evesham Journal
Transcription of article
BADSEY'S GRAND OLD MAN ATTENDS CHURCH ON HIS 100TH BIRTHDAY

Mr William Mustoe of Church View, Badsey attained his 100th birthday on Sunday when he was the recipient of scores of congratulatory messages and telegrams.
A Journal reporter who offered his felicitations to Mr Mustoe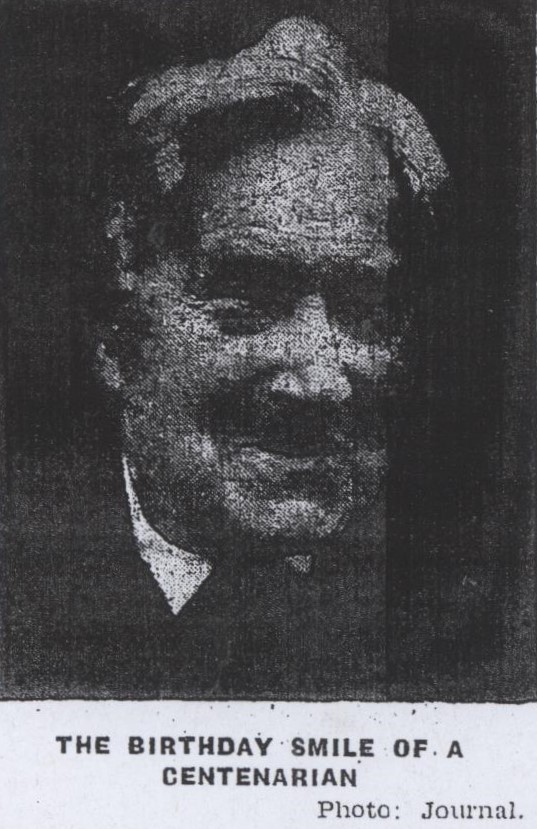 early on Sunday morning found him serenely happy, seated near the window of his beautifully-kept bed-sitting room.
He had then received a visit from his Doctor, and the Vicar (Canon W C Allsebrook, RD) had called at his home to give the old gentleman Holy Communion.
He had just previously been reading that week's issue of the Evesham Journal which was folded up beside him.  He informed our representative that he had taken the paper in "from the start" and he always enjoyed reading it.
To a remark as to whether he felt any older that morning he replied, "No, my boy, why should I, I never feel any older, all that bothers me is my legs, if I could get a new pair of legs I should be all right."  And it took very little convincing that this "grand old gentleman" meant what he said, for from outward appearances he seemed to be the very personification of "youthful" old age – Nature has indeed dealt very lightly with him and the cares of a troubled world have failed to make their impress – contented and happy in the knowledge that he had been spared to reach his 100th birthday.
MESSAGE FROM KING AND QUEEN
Spread out upon the bed coverlet were numerous "Greeting" telegrams and other tokens of congratulation which had arrived that morning from relatives, friends and associates, including one from Mr Leonard Wilson of the Heraldry and Heraldic Art Association of Sand Francisco, who had interested himself greatly in regard to the family history connected with Mr William Mustoe, and during our representative's visit a telegram of Greetings was received from the King and Queen which read:
To:  William Mustoe, Esquire, Church View, Badsey, Evesham, Worcestershire
The King and Queen are much interested to hear that you are celebrating your 100th birthday and send you hearty congratulations and good wishes.
Private Secretary
It was, indeed, a very busy morning at the house of the old gentleman, for everyone who knew him – and for that matter others who did not claim an intimate knowledge of Mr Mustoe – called to ask if they might shake him by the hand and wish him "A Happy Birthday" and one certainly had every sympathy for Miss J H Thomas, who had given "her boy" as she fondly calls him, her undivided attention and care for more that ten years, in having to be constantly refusing such offers for, as she informed our representative, the old gentleman, while very well in every way, was not to be excited seeing there was quite a lot to be carried through during the day.
Telegrams and messages continued to arrive, and just before the Journal representative left he was shown greetings from Lord and Lady Monsell (Mr Mustoe was a staunch supporter of Sir Bolton Eyres Monsell when he was MP for the Evesham Division of Worcestershire), Mr Rupert de la Bere, MP and Mrs de la Bere, the Earl of Coventry, and the Simon de Montfort Lodges of RAOB, Lloyds Bank, Dr G H Duncan, and also a letter of congratulations and good wishes from Badsey Council School, of which the "old gentleman" has the distinction of being its first manager.  The letter, which was signed by 26 boys and girls, on behalf of the whole school, read:  "The school children of Badsey Council School send a message of congratulations, and we feel sure that very few schools have the distinction of having a Manager of such a great age.  We remember with pleasure that at our last prize-giving you were present, and we all hope that you will have a very Happy Birthday, and that the days that are spared for you in the future may be happy ones, full of pleasant memories.
FONDNESS FOR HIS GARDEN
By this time many of Mr Mustoe's immediate relatives had arrived, and one thought, observing the old gentleman sitting down among them, of the pleasure it gave him of being the central figure in that grand assembly.  He was ever ready to ask a question, and as ready again to answer one, and his voice, beautiful and mellow, did not in the least suggest that he had approached anything like the years he had.  When asked about his garden – which our representative was told was his great joy – Mr Mustoe's eyes lit up and he remarked, "Come, I'll show you some of my carrots," and straightway he signalled to Miss Thomas that he wanted to go to his store-house in the garden.  Taking the arm of our representative he walked to the door of his sitting-room with quite a firm tread and, thinking apparently he was not getting along fast enough, shouted, "Get a move on, Bill, I'm all right."  The store-house to which he had referred was a veritable warehouse, neatly packed with apples which Mr Mustoe had grown himself, also potatoes, carrots and other vegetables, and his only regret was that he was not able to attend to his greenhouse, for as he said, he had "got a little bit past that".  Taking from one of the shelves a tray of choice eating apples, the old gentleman handed our representative a few "to take home", at the same time remarking, "and here's two for your friend," meaning a colleague who had prevailed upon Miss Thomas to allow him to get a "shot" of Mr Mustoe while he was in his garden.
On returning to the house, he showed no signs of being distressed and, as on former occasions, conversed freely and showed a lively interest in the proceedings which were taking place.  He was intensely interested in a birthday cake which had been placed on the table during his brief absence, and which it was stated had been made by the local baker.  Covered with chocolate, the cake contained 10 candles – one for every ten years of Mr Mustoe's life.
OLDEST BUFFALO HONOURED
One of the "high spots" of Mr Mustoe's birthday celebrations was his visit to church on Sunday evening in company with Brethren of the RAOB of which he is stated to be the oldest members, of the Ernie Thomas Lodge at Badsey.  It will be remembered that Mr Mustoe joined the Royal Antediluvian Order of Buffaloes in 1927, at the age of 86, and he is very proud of the emblem which adorns the hall of his cottage depicting him as a Brother of the order.
The following Brethren who were headed by Brother G Crane carrying the Banner attended the service at the church:  T B Swain, ROH, IPGP (representing the Simon de Montfort Lodge); R J Taylor, CP (President of the Widows and Orphans Board) who also represented the Ear of Coventry Lodge; Sergeant Shire, RAF (OPG, Malta); G A King, PP, GP of Worcestershire; F Wheatley, WP, and about 40 Brethren of the Ernie Thomas Lodge.  Also included in the congregation at the church were Mr & Mrs G C Lees-Milne.
Another pleasant ceremony took place just prior to the service when a Long Touch of Grandsire Triples was rung on hand bells by members of the Worcestershire and District Change-Ringing Association inside the church.  Those taking part were Alderman J Hemming, Messrs J D Johnson, G Hemming and A W Lloyd.  It had always been the custom in Badsey to ring the Church Bells on the birthday celebration of the oldest inhabitant, and the old gentleman expressed his regret that, owing to war conditions, this was not permitted.
REGULAR COMMUNICANT
The service at Badsey Church, which was conducted by the Rural Dean (Canon W C Allsebrook), who is also a Brother of the Order, was attended by over 30 of Mr Mustoe's relatives and friends, and here again he seemed to thoroughly enjoy taking such a prominent part in the proceedings.
The Vicar, who took for his text, the 15th verse of the 12th chapter of St Paul's Epistle to the Romans, "Rejoice with them that do rejoice, and weep with them that weep," said:
"This afternoon we have with us one who has come to rejoice before God and thank Him for His wondrous grace and favour in sparing him to see this day.  To me, it has been a privilege and joy to share his joy, and so far as in me lay to make it possible for him to give expression to it and enable others to rejoice with him.  It is not merely that he has so far exceeded three score years and ten as to live to celebrate his hundredth birthday.  That, in itself, would not be sufficient to justify the departure from routine in our service and publication of our common joy to the world by the flying of the church flag; such things might in some cases well be mockery, but we have with us today one to whom the recognition of God by public worship is no unusual thing, but has ever been the very centre of his life.  I speak of that I do know, for I have known him intimately for over 38 years; and I will make bold to say that what has filled his heart with over-flowing thankfulness and rejoicing today is not merely that God has spared him, but that He has given him strength throughout the years to come regularly to Church to make his Communions, and to worship his Lord in Our Lord's own services.
You all, I believe, have come here this evening moved by no less honourable motive, to join in his rejoicing, and add your prayers to mine, that the remainder of his days may be blessed with that Peace which God alone can give."
STARTED WORK AT THE AGE OF NINE
Born at Cirencester in 1841, Mr Mustoe started work at the age of nine, his first employment bringing in the princely sum of sixpence a day as a plough-boy.  He was married at the age of 29, at Leckhampton Church, Cheltenham, and came to Badsey over 50 years ago.  He had four daughters and three sons, all of whom are still alive with the exception of one son, who died a few years ago, and his wife, who predeceased him after 47 years of married life in 1917.
For a great number of years he was engaged in the market gardening industry in Badsey, and was afterwards licensee of the Royal Oak Inn.  From 1890 to 1898 he Clerk and Hon Organist at Badsey and Wickhamford Churches, and was also sexton and choirmaster at Badsey.  He told our representative that in those times Sunday was his hardest day of the week, as he had to walk from one village to another to carry out his several duties.  He is the oldest manager of Badsey schools and is particularly fond of children, those of the neighbouring villages being one of his chief concerns.
Comments
With thanks to Peter Stewart for giving us a copy of this article.