Publication
The Evesham Journal
Transcription of article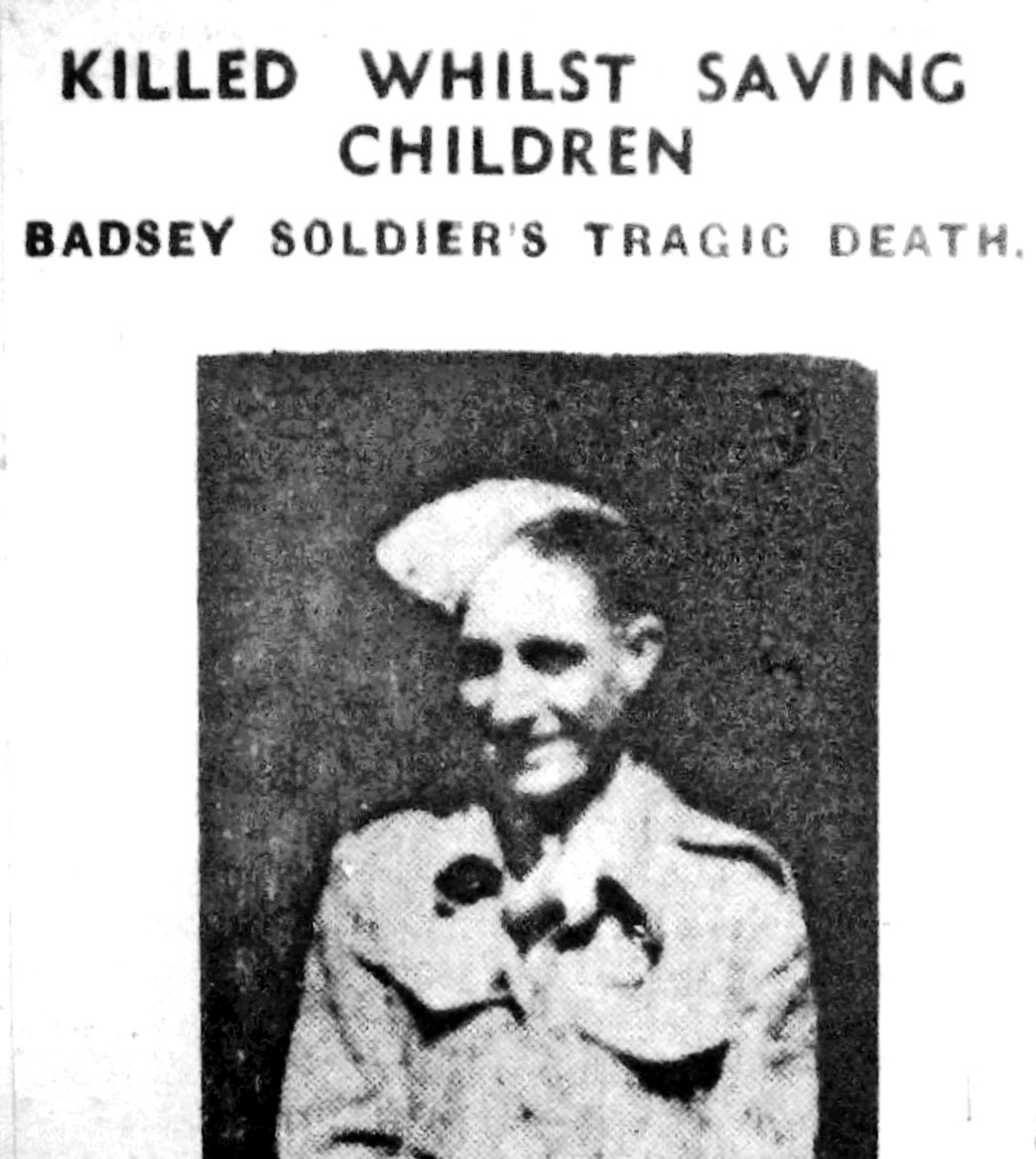 KILLED WHILST SAVING CHILDREN – BADSEY SOLDIER'S TRAGIC DEATH
Private James Henry Chamberlain of Badsey, who was killed at Lime Tree Crossing near Goole by an express train.  In a letter to his mother, the RC Padre to his unit wrote, "He died performing an act of charity – preventing children from being hurt by a train.  He was himself killed by a second train.  A truly noble death."
At the inquest a verdict of "Death by misadventure" was returned.
AN ARTICLE ALSO APPEARED IN THE EVESHAM STANDARD OF THE SAME DAY:
BADSEY SOLDIER KILLED – WHILE RESCUING CHILDREN ON LEVEL CROSSING
Private James Henry Chamberlain, second son of Mr & Mrs Albert Francis Chamberlain of 2 Silk Mill Cottages, Badsey, was killed while saving three children from being killed by a goods train at a level crossing at Goole, Lincs.  He was 24 years of age.
On Friday evening last he came to a level crossing and saw three children on the line in front of an approaching goods train.  He got them off the line in time but was himself killed outright by an express train which was travelling in the opposite direction.
At an inquest at Goole on Tuesday a verdict of "Death by misadventure" was recorded by the Coroner.
Private Chamberlain was born at Badsey and attended Willersey School.  He worked as a market gardener's labourer for four years and in 1935 joined the Worcestershire Regiment when he was 18 years of age.  He was discharged from the Army about a year later.
In January 1938 he again joined the Worcestershire Regiment and at the outbreak of war went to France with the BEF.  He was evacuated from Dunkirk, receiving two wounds in his right leg.
The funeral took place at Goole on Tuesday, when full military honours were accorded, members of the Worcestershire Regiment forming the guard of honour.  Private Chamberlain was borne to the church on the lorry which he had been driving, covered with the Union Jack.  There were wreaths from his comrades in the Worcesters and many relatives and friends.
The family mourners were:  Mrs Chamberlain (mother), Mr R Chamberlain (brother), Corporal Bradley and Mrs Bradley (brother-in-law and sister), Mrs Harrison and Miss D Harrison (fiancée).
Comments
A report in The Hull Daily Mail of 6th August said: A verdict of "Death due to misadventure" was recorded at Goole on Tuesday on Private James Henry Chamberlain, aged 22, of Badsey, Worcestershire, who was knocked down and killed by the 7.15 pm Goole to Hull passenger train on Friday.