Publication
Evesham Standard & West Midland Observer
Transcription of article
WYRE BRIDE, BADSEY GROOM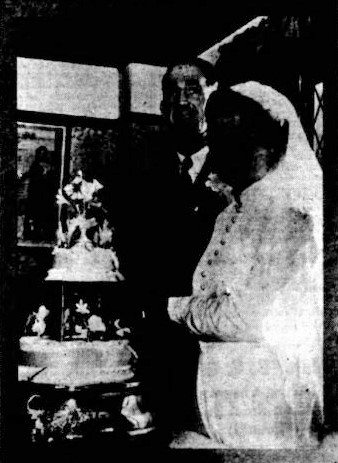 The wedding took place on Wednesday week at St Lawrence Church, Evesham, between Miss Marion Helen Elgar, second daughter of Mr & Mrs F Elgar, of 5 Sandfleld, Wyre, and Mr Reginald Welch, son of Mr J Welch and the late Mrs J Welch of 6 Synehurst, Badsey. 
The bride was attended by her three sisters, Mrs Doreen Guirrera (matron of honour), Miss Greta Elgar and Miss Jeanette Elgar. 
Given away by her father, she wore a dress of white grosgrain. Her veil was held in place with a headdress of orange blossom and she carried a bouquet of red carnations with trailing fern. 
The matron of honour wore a dress of turquoise with a matching headdress and carried a bouquet of pink carnations.  The Misses Elgar were each attired in lilac dresses with matching heddresses and both carried muffs.
Mr G H Welch, the groom's brother, was best man and the Rev P E Blagdon-Gamlen officiated.  A reception was held at the Montfort Café, Evesham, for 30 guests.