Publication
Evesham Journal
Transcription of article
MARRIED ON 32s A WEEK
A Badsey couple, who when they were married had to live on 32s a week, celebrate their golden wedding tomorrow.
Mr John Frederick Ford, who lives with his wife at 19 High Street, Badsey, was born in Oxfordshire in 1898 and moved to Evesham when he was a child.  When he left school he earned 4s a week working in a sawmill.
He met Edith Knight, youngest daughter of Mr Charles Knight, of Sands Lane, Badsey, in the pleasure grounds in Evesham in 1912 and on August 21 1920 they were married.  The couple lived at Briars Close, Evesham, for 30 years.
During the First World War, Mr Ford served in the army and was twice invalided home from France.
Since getting married, Mr Ford has worked for many firms in the Evesham district.  Starting at White Brothers, coal and vegetable merchants, he lost his job in the General Strike in 1926.
He went back to the sawmills before working with T Cox of Evesham as a labourer.  He worked for 15 years with the MEB and was a foreman at Honeybourne aerodrome before he retired working at Beech's.
Mr Ford was one of the first members of Evesham British Legion and a committee member of Badsey Arrow FC.  He is still a member of Badsey British Legion.
Mr & Mrs Ford's family consists of three children, nine grandchildren and then great-grandchildren.  They live in Gloucestershire, Oxfordshire and Harvington, with the eldest grandson serving in the army in Germany.
The Fords are celebrating their gold wedding by having a party for friends and relatives at the Badsey British Legion Club tomorrow.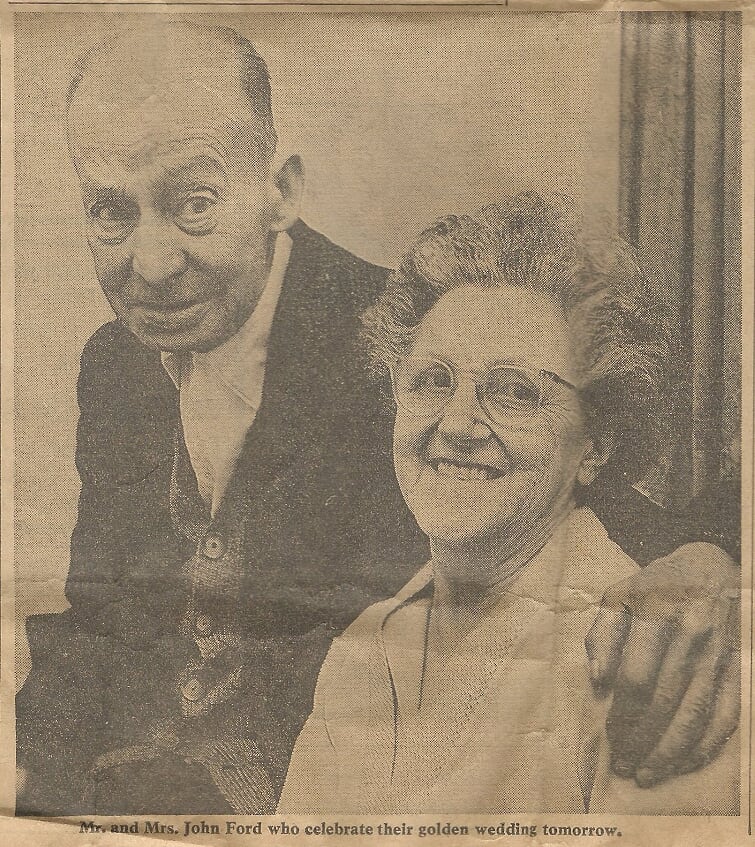 Comments
With thanks to John and Edith's grandson, Tom Ford, for providing us with a copy of this newspaper cutting.