Burials – Wickhamford, 1957-present day, Parish Council Ground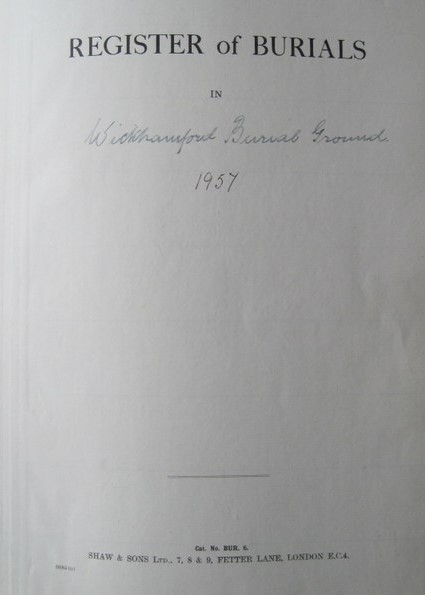 The Burial Register is maintained by the Clerk to the Parish Council.  The Clerk also maintains a plan showing and allocating distinctive numbers to all graves.  
The register contains columns with the following information:  Name; age; trade or profession; date of death; place or parish where death occurred; place of burial (consecrated or unconsecrated); grave number; date of burial; by whom ceremony was performed; signature of person making the entry of burial.
The first burial was in February 1957.
| Ent No | Surname | Forenames | Age | Date of Death | Date of Burial |
| --- | --- | --- | --- | --- | --- |
| 1 | SOUTHERN | Nellie Ethel | 53 | 9 Feb 1957 | 14 Feb 1957 |
| 2 | HALFORD | Charles William | 76 | 18 Jan 1958 | 22 Jan 1958 |
| 3 | COX | Cecil Walter | 46 | 18 Jan 1958 | 23 Jan 1958 |
| 4 | WALTERS | Robert William | 67 | 26 Jan 1958 | 30 Jan 1958 |
| 5 | SPRAGG | William John | 52 | 29 Apr 1958 | 3 May 1958 |
| 6 | TUSTIN | Mary Ann | ½ hr | 23 Jun 1958 | 28 Jun 1958 |
| 7 | HARTY | Annette Elizabeth | 7 | 6 Jan 1959 | 9 Jan 1959 |
| 8 | MOORE | Rebecca | 4 mths | 25 Aug 1959 | 28 Aug 1959 |
| 9 | PETHARD | Vernon Joseph Byrd | 74 | 8 Jun 1960 | 10 Jun 1960 |
| 10 | WATERS | Luther George | 53 | 19 Nov 1960 | 23 Nov 1960 |
| 11 | READ | William Felix | 73 | 6 Jan 1961 | 11 Jan 1961 |
| 12 | PITTS | George Henry | 82 | 24 Jan 1961 | 28 Jan 1961 |
| 13 | SOUTHERN | Harold Henry | 61 | 5 May 1961 | 10 May 1961 |
| 14 | SPRAGG | Annie Elizabeth | 79 | 28 Jul 1961 | 1 Aug 1961 |
| 15 | HALFORD | Ethel Mildred | 63 | 4 Jan 1962 | 10 Jan 1962 |
| 16 | COX | George Frederick | 71 | 1 Aug 1962 | 7 Aug 1962 |
| 17 | FOWKES | Albert | 81 | 17 Aug 1962 | 21 Aug 1962 |
| 18 | STYLES | Annie | 78 | 23 Feb 1963 | 27 Feb 1963 |
| 19 | HERITAGE | Percy Cyril | 67 | 6 May 1963 | 11 May 1963 |
| 20 | FRANKLIN | Charles Gilbert | 68 | 10 May 1963 | 14 May 1963 |
| 21 | STURT | Ernest William | 76 | 21 Jul 1963 | 25 Jul 1963 |
| 22 | FOWKES | Frances Mary | 85 | 30 Jul 1963 | 2 Aug 1963 |
| 23 | JONES | Douglas Stanley Albert | 46 | 13 Jan 1964 | 16 Jan 1964 |
| 24 | HOWELLS | William George | 78 | 30 Apr 1964 | 6 May 1964 |
| 25 | HALFORD | Francis Henry | 72 | 16 Mar 1965 | 19 Mar 1965 |
| 26 | CAMDEN | Andrew Brian | 2 wks | 20 May 1965 | 25 May 1965 |
| 27 | HALFORD | Edith Florence | 79 | 10 Sep 1965 | 14 Sep 1965 |
| 28 | FIGGITT | William John Tustin | 73 | 29 Oct 1965 | 2 Nov 1965 |
| 29 | STEPHENS | Dora Selina | 82 | 9 Mar 1966 | 14 Mar 1966 |
| 30 | TAYLOR | Mary Louise | 76 | 27 Jun 1966 | 29 Jun 1966 |
| 31 | CAMDEN | Nellie | 76 | 29 Apr 1967 | 3 May 1967 |
| 32 | HAMPTON | Kate | 81 | 1 Jan 1968 | 4 Jan 1968 |
| 33 | BARNETT | Philip | 36 | 21 Jun 1968 | 25 Jun 1968 |
| 34 | HERITAGE | Annie May | 67 | 15 Aug 1968 | 17 Aug 1968 |
| 35 | EVANS | Henry William | 64 | 20 Dec 1968 | 27 Dec 1968 |
| 36 | READ | Gladys Ethel | 82 | 4 Mar 1969 | 10 Mar 1969 |
| 37 | STANLEY | James William | 60 | 14 Nov 1969 | 19 Nov 1969 |
| 38 | COOKE | Edmund | 78 | 6 Dec 1969 | 10 Dec 1969 |
| 39 | BUNYAN | Douglas Harry | 79 | 1 Feb 1970 | 5 Feb 1970 |
| 40 | BROTHERTON | Ernest George William | 55 | 10 Aug 1970 | 13 Aug 1970 |
| 41 | HERITAGE | Sarah Ruth | 4½ hrs | 29 Nov 1970 | 7 Dec 1970 |
| 42 | LAMB | James Stuart | 19 days | 21 Feb 1971 | 27 Feb 1971 |
| 43 | CRUMP | Kenneth George | 36 | 14 Mar 1971 | 17 Mar 1971 |
| 44 | FRANKLIN | Beatrice Rose | 76 | 5 Oct 1971 | 8 Oct 1971 |
| 45 | HALL | Mary Elizabeth | 66 | 7 Feb 1972 | 12 Feb 1972 |
| 46 | SPRAGG | John William | 39 | 19 Mar 1972 | 24 Mar 1972 |
| 47 | BROTHERTON | Mabel Doreen | 42 | 18 May 1972 | 24 May 1972 |
| 48 | SOUTHERN | Frank | 58 | 9 Jul 1972 | 12 Jul 1972 |
| 49 | TURNER | Ivy Clara | 75 | 8 Nov 1972 | 15 Nov 1972 |
| 50 | HALL | George | 62 | 21 Apr 1973 | 27 Apr 1973 |
| 51 | ROBBINS | George Edwin | 73 | 9 May 1973 | 12 May 1973 |
| 52 | WEBB | Agnes | 75 | 7 Jun 1973 | 12 Jun 1973 |
| 53 | ANDREW | Florrie | 83 | 25 May 1973 | 21 Jun 1973 |
| 54 | SUMMERS | Edith Annie Elizabeth | 74 | 9 Jul 1973 | 12 Jul 1973 |
| 55 | KINGHAM | Hilda May | 83 | 6 Oct 1973 | 10 Oct 1973 |
| 56 | HOWELLS | Edith | 87 | 4 Feb 1974 | 6 Feb 1974 |
| 57 | GRIFFIN | Frederick | 71 | 2 May 1974 | 7 May 1974 |
| 58 | SOUTHERN | Frederick Lawson | 71 | 9 Jun 1974 | 13 Jun 1974 |
| 59 | ROBERTS | Cyril | 57 | 26 Nov 1974 | 30 Nov 1974 |
| 60 | SMITH | Stuart Paul | 6 wks | 15 Mar 1975 | 20 Mar 1975 |
| 61 | HERITAGE | Charles | 62 | 28 Mar 1975 | 3 Apr 1975 |
| 62 | WEBB | Albert Ernest | 79 | 16 May 1975 | 21 May 1975 |
| 63 | CORKHILL | George Eric | 74 | 20 May 1975 | 10 Jun 1975 |
| 64 | TAYLOR | Frederick Thomas John | 63 | 6 Sep 1975 | 11 Sep 1975 |
| 65 | PETHARD | Elizabeth Mary | 86 | 7 Dec 1975 | 11 Dec 1975 |
| 66 | HAMPTON | David William | 91 | 20 Feb 1976 | 23 Feb 1976 |
| 67 | BALLARD | Raymond | 77 | 15 Oct 1976 | 19 Oct 1976 |
| 68 | COSBURN | Ivy Amelia | 77 | 18 Oct 1976 | 21 Oct 1976 |
| 69 | COOKE | Eva | 85 | 5 Dec 1976 | 10 Dec 1976 |
| 70 | WALTERS | John Henry | 89 | 12 Mar 1977 | 17 Mar 1977 |
| 71 | FIGGITT | Amy | 73 | 19 Mar 1977 | 24 Mar 1977 |
| 72 | SUMMERS | Clifford Emmanuel | 78 | 9 Apr 1977 | 15 Apr 1977 |
| 73 | PITTS | Beatrice Emily | 87 | 13 Apr 1977 | 19 Apr 1977 |
| 74 | COLE | Edith Florence | 73 | 1 Jun 1977 | 8 Jun 1977 |
| 75 | CRUMP | George Edward | 69 | 26 Feb 1978 | 2 Mar 1978 |
| 76 | PITTS | Ivy | 71 | 20 Nov 1978 | 24 Nov 1978 |
| 77 | SUTTON | Vera Mary | 68 | 6 Aug 1979 | 10 Aug 1979 |
| 78 | CARTER | William George | 64 | 10 Feb 1980 | 14 Feb 1980 |
| 79 | PITTS | Ernest John | 75 | 20 Feb 1980 | 26 Feb 1980 |
| 80 | WEBB | Albert Ernest | 58 | 12 Mar 1980 | 17 Mar 1980 |
| 81 | BUNYAN | Ethel Annie | 88 | 21 Apr 1980 | 1 May 1980 |
| 82 | CORKHILL | Doris Margaret | 78 | 4 Aug 1980 | 9 Oct 1980 |
| 83 | WILLIS | Hubert George | 67 | 18 Feb 1981 | 24 Feb 1981 |
| 84 | CAMDEN | George William | 86 | 27 Feb 1981 | 3 Mar 1981 |
| 85 | CAMDEN | Lizzie May | 81 | 12 Mar 1981 | 17 Mar 1981 |
| 86 | STURT | Clara Eliza | 95 | 25 Mar 1981 | 14 Apr 1981 |
| 87 | ROBERTS | Gladys Etta | 75 | 23 Nov 1981 | 27 Nov 1981 |
| 88 | ROBERTS | Edward John | 79 | 26 Mar 1982 | 30 Mar 1982 |
| 89 | WALTERS | Jane | 96 | 29 Jan 1984 | 2 Feb 1984 |
| 90 | GRIFFITHS | Cynthia Mary | 73 | 30 May 1985 | 4 Jun 1985 |
| 91 | WILLIS | Clarence Henry | 80 | 20 Sep 1985 | 27 Sep 1985 |
| 92 | BENT | John Martin | 76 | 24 Oct 1985 | 3 Oct 1985 |
| 93 | WARREN | Cyril Forbes | 62 | 21 Mar 1986 | 27 Mar 1986 |
| 94 | WALTERS | Vera Mary Ellen | 73 | 28 May 1986 | 4 Jun 1986 |
| 95 | SPRAGG | Edith Jane | 77 | 25 Jun 1986 | 1 Jul 1986 |
| 96 | NEWITT | F M | 85 | 14 Jul 1986 | 24 Jul 1986 |
| 97 | SMITH | Violet May | 67 | 2 Sep 1986 | 9 Dec 1986 |
| 98 | NEWITT | Algernon Edward | 84 | 28 Jan 1987 | 3 Feb 1987 |
| 99 | WILLIAMS | Horace | 80 | 6 Feb 1987 | 13 Feb 1987 |
| 100 | HAINES | John Thomas William | 66 | 16 Mar 1987 | 20 Mar 1987 |