Marriages – Wickhamford, 1813-1837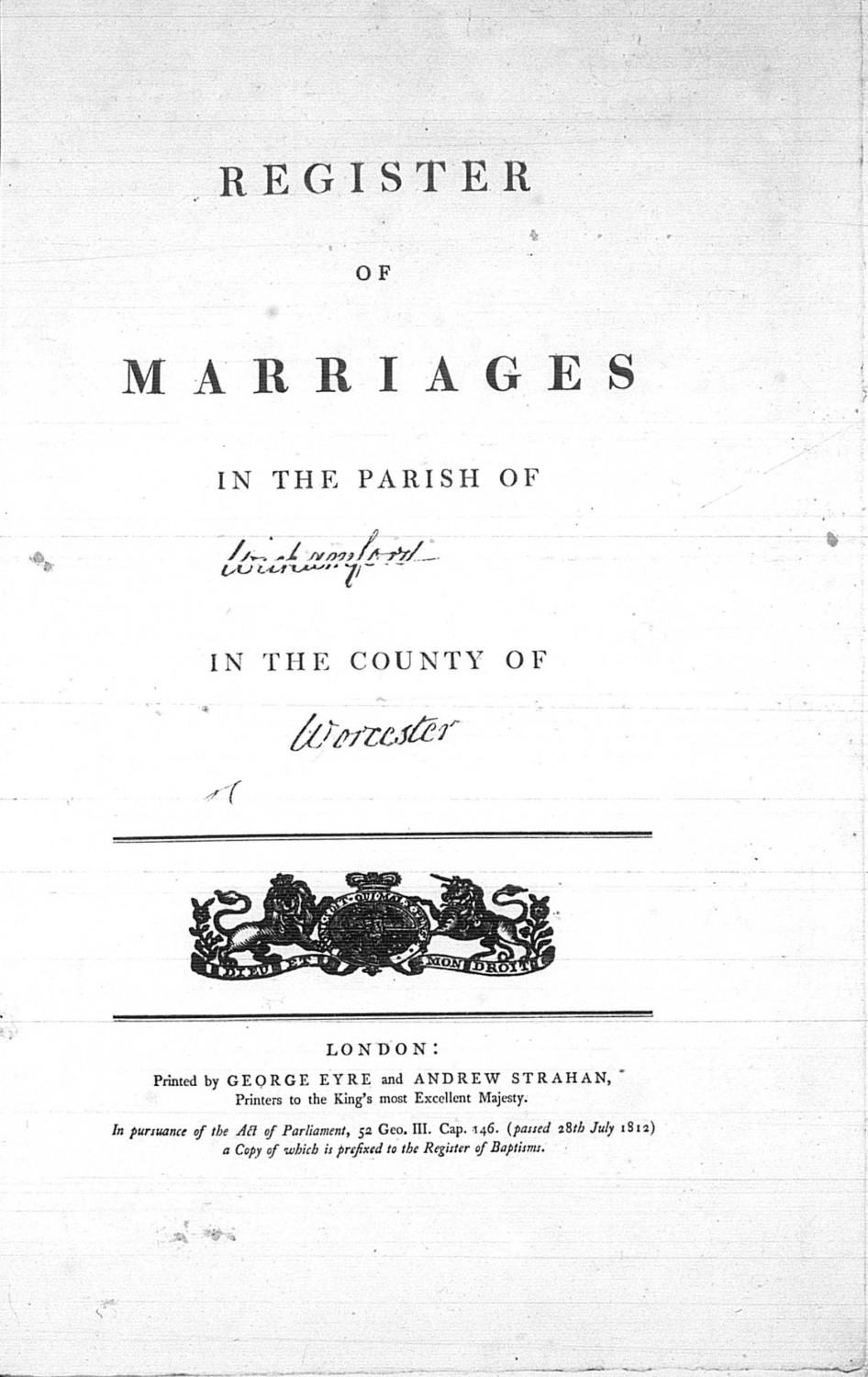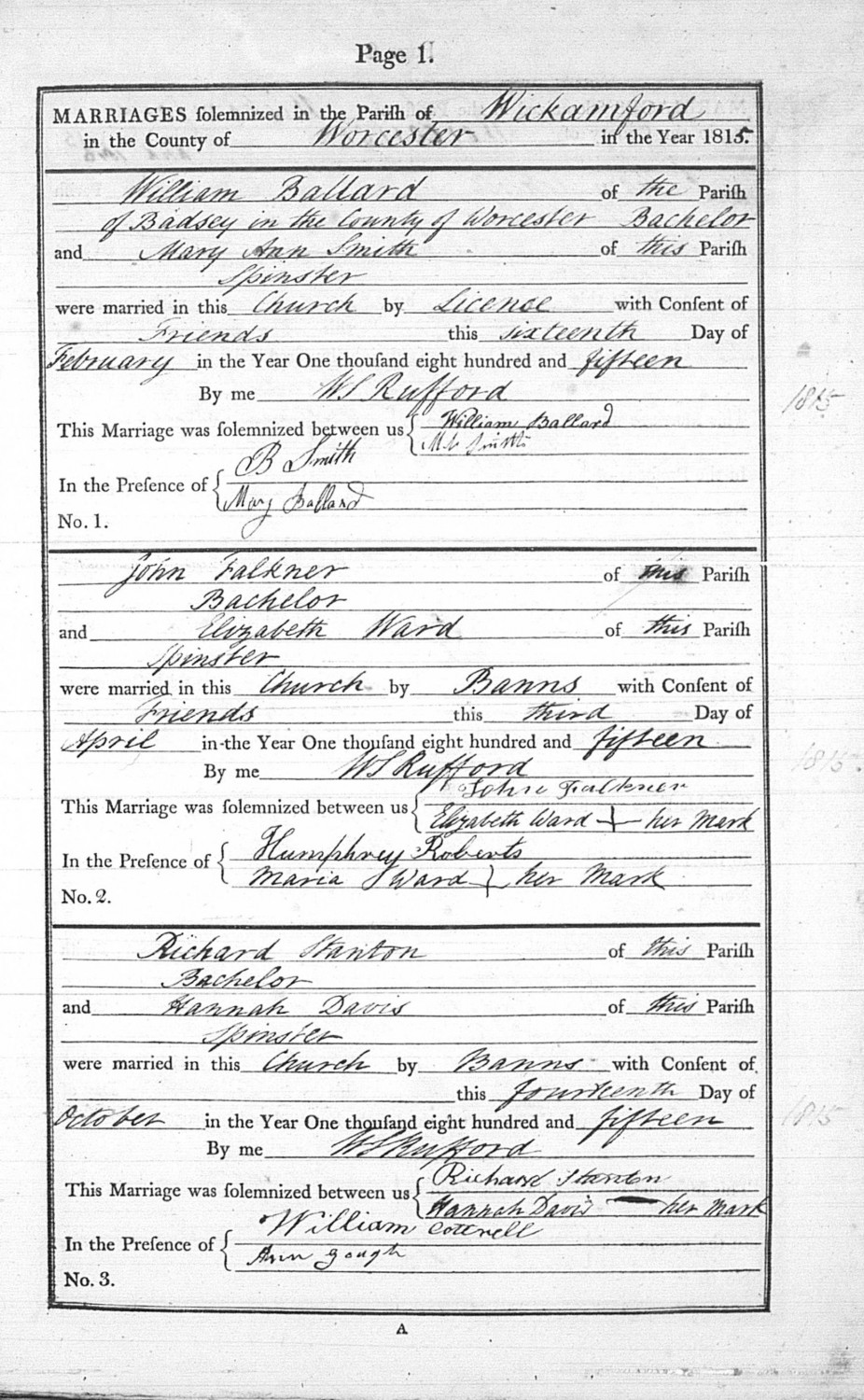 With the introduction of Sir George Rose's Act of 1813, a new marriage register was introduced.  There was little change, although there were now three entries to the page instead of four.
There are just 32 entries in the register.  An (X) against a name means that the person was unable to sign his or her name.  This gives us some indication as to levels of literacy within the village.  During this period, 38% of grooms, 59% of brides and 39% of witnesses were unable to sign their name.
Records transcribed by Val Harman, Tom Locke, Maureen Spinks.  Microfilm copies of the original registers may be viewed at the Worcestershire Archive & Archaeology Service, The Hive, Worcester.
Entry no.
Date
Names
Age
Status
Occupation
Abode
Banns or Licence
Officiant
Witnesses
1
16 Feb 1815
William BALLARD
Bachelor
Badsey
Licence

W S Rufford
B Smith; Mary Ballard
Mary Ann SMITH
Spinster
Wickhamford
2
3 Apr 1815
John FALKNER
Bachelor
Wickhamford
Banns

W S Rufford
Humphrey Roberts; Maria Ward (X)
Elizabeth WARD (X)
Spinster
Wickhamford
3
14 Oct 1815
Richard STANTON
Bachelor
Wickhamford
Banns

W S Rufford
William Cottrell; Ann Gough
Hannah DAVIS (X)
Spinster
Wickhamford
4
25 Oct 1815
William COTTRELL
Bachelor
Wickhamford
Banns

W S Rufford
Joseph Probert; John Howsole
Ann GOUGH
Spinster
Wickhamford
5
16 Nov 1815
John EVANS (X)
Widower
Wickhamford
Banns

James Knight, Curate of Bengeworth
William Belcher; John Howsole
Elizabeth HAWKER
Spinster
Wickhamford
6
15 Apr 1816
John SQUIRE
Bachelor
Wickhamford
Banns

W S Rufford
Sarah Squire (X); John Howsole
Ann SHARP
Spinster
Wickhamford
7
15 Jul 1816
William BELCHER
Bachelor
Wickhamford
Banns

W S Rufford
William Gibbs; Elizabeth Belcher
Elizabeth SCOTT (X)
Spinster
Wickhamford
8
28 Aug 1816
Charles STOCKFORD
Not given
South Littleton
Licence

James Knight, Curate of Bengeworth
William Stockford; Catharine Smith
Elizabeth SMITH
Not given
Wickhamford
9
16 Oct 1817
William ROBINS (X)
Widower
Childswickham
Licence

W S Rufford
Albert Sawyer; Alice Sawyer
Catharine SMITH (X)
Widow
Wickhamford
10
24 Nov 1817
Thomas BYRD
Bachelor
Badsey
Banns

W S Rufford
Benjamin Smith; Mary Ballard
Catherine SMITH
Spinster
Wickhamford
11
10 Sep 1819
William MALINS
Bachelor
Wickhamford
Licence

Cudworth Bruch, Minister
John Kent; Mary Kent
Charlotte KENT
Spinster
Wickhamford
12
15 Nov 1819
George GISBAND (X)
Bachelor
Bretforton
Banns

Cudworth Bruch, Minister
John Fairfax; John Howsole
Hannah FAIRFAX (X)
Spinster
Wickhamford
13
17 Oct 1820
Thomas SHARP
Not given
Wickhamford
Banns

John Shaw, Officiating Minister
Stephen Smith (X); Sarah Kirkman
Elizabeth KIRKMAN (X)
Not given
Wickhamford
14
17 Jun 1821
Thomas THOMLINSON
Not given
Wickhamford
Banns

Charles Bloxham, Curate
Fanny Fairfax (X); John Fairfax (X)
Judith SIMPSON
Not given
Wickhamford
15
1 Nov 1821
Joseph GILLETT (X)
Bachelor
Wickhamford
Banns

Charles Bloxham, Curate
James Robbins (X); Ann Stanton
Hannah PRECKS (X)
Spinster
Wickhamford
16
3 Oct 1822
George GOULD
Not given
Wickhamford
Banns

Charles Bloxham, Curate
Judith Thomlinson (X); Richard Winnit (X)
Mary SIMPSON (X)
Not given
Wickhamford
17
14 Oct 1822
William YOUNG (X)
Widower
Buckland
Banns

Charles Bloxham, Curate
James Farmer (X); Hannah Belcher
Elizabeth FARMER (X)
Not given
Wickhamford
18
30 Dec 1824
Solomon HUNT
Bachelor
Wickhamford
Banns

Charles Bloxham, Curate
Catharine Byrd; Thomas Byrd
Maria SMITH
Spinster
Wickhamford
19
31 Jan 1825
Charles VEEL
Bachelor
Wickhamford
Banns

Charles Bloxham, Curate
Ann Stanton; John Sears
Charlotte SEERS (X)
Spinster
Wickhamford
20
13 Mar 1827
James ROBINS (X)
Widower
Wickhamford
Banns

Charles Bloxham, Curate
William Bishop (X); Sarah ?
Elizabeth FREEMAN (X)
Spinster
Badsey
21
12 Jun 1827
John COOK (X)
Bachelor
Wickhamford
Banns

Charles Bloxham, Curate
Hester Frenfield (X); Thomas Sanders (X)
Hannah FRENFIELD (X)
Spinster
Wickhamford
22
30 Oct 1828
Joseph TAYLOR
Bachelor
Wickhamford
Licence

Wm Baldwin Bonaker, Vicar of Honeybourne
Thomas Taylor; Sarah Taylor
Amelia HOPKINS
Spinster
Wickhamford
23
29 Oct 1833
Thomas HOWSE (X)
Not given
Wickhamford
Banns

William Byrd
Joseph Tandy (X); Sarah Tandy (X)
Hannah TANDY (X)
Not given
Wickhamford
24
5 Nov 1833
Joseph TURNER (X)
Bachelor
Dowdeswell
Banns

Charles Bloxham, Curate
Ann Hall (X); William Hall
Sarah HALL (X)
Spinster
Wickhamford
25
11 Feb 1834
James BENNETT (X)
Bachelor
Wickhamford
Banns

Charles Bloxham, Curate
William Bennett (X); Jane Bennett (X)
Anne BENNETT (X)
Spinster
Wickhamford
26
20 Mar 1834
William HEAMS
Not given
Norton
Banns

Charles Bloxham, Curate
John Rutter; Elizabeth Heams (X)
Mary HAWKER (X)
Not given
Wickhamford
27
19 May 1834
William MORRIS
Bachelor
Wickhamford
Banns

Charles Bloxham, Curate
Charles Perkins (X); Elizabeth Morris (X)
Ann FAULKENOR (X)
Spinster
Wickhamford
28
28 Oct 1834
Bonner SEERS
Bachelor
Wickhamford
Banns

Charles Bloxham, Curate
Elizabeth Hartwell (X); William Andrews (X)
Elizabeth KNIGHT (X)
Spinster
Wickhamford
29
22 Apr 1835
William BISHOP (X)
Bachelor
Wickhamford
Banns

Charles Bloxham, Curate
Edward Wheatcroft (X); Sarah Bishop (X)
Jane COLLETT
Spinster
Wickhamford
30
1 Jun 1835
Henry COOPER
Bachelor
Wickhamford
Licence

Charles Bloxham, Curate
Eliza Sawyer; Ann Ashwin
Felicia SAWYER
Spinster
Wickhamford

Notes:

A notice of marriage in The Worcester Herald of 13th June 1835 gives the following extra information: Mr Henry Cooper, BA, late of Worcester College, Oxford, only surviving son of the late Rev H P Cooper of Evesham, to Felicia, second daughter of Mrs Sawyer of Wickhamford.

31
28 Oct 1835
Thomas MORGAN
Not given
Wickhamford
Banns

William Byrd, Officiating Minister
William Oates (X); Sarah Gibbs
Sarah SMITH (X)
Not given
Childswickham
32
19 May 1836
William Henry SMITH
Not given
Badsey
Licence

Charles Bloxham, Curate
Frances Taylor; Samuel Taylor
Mary TAYLOR
Not given
Wickhamford