Marriages – Wickhamford, 1838-1954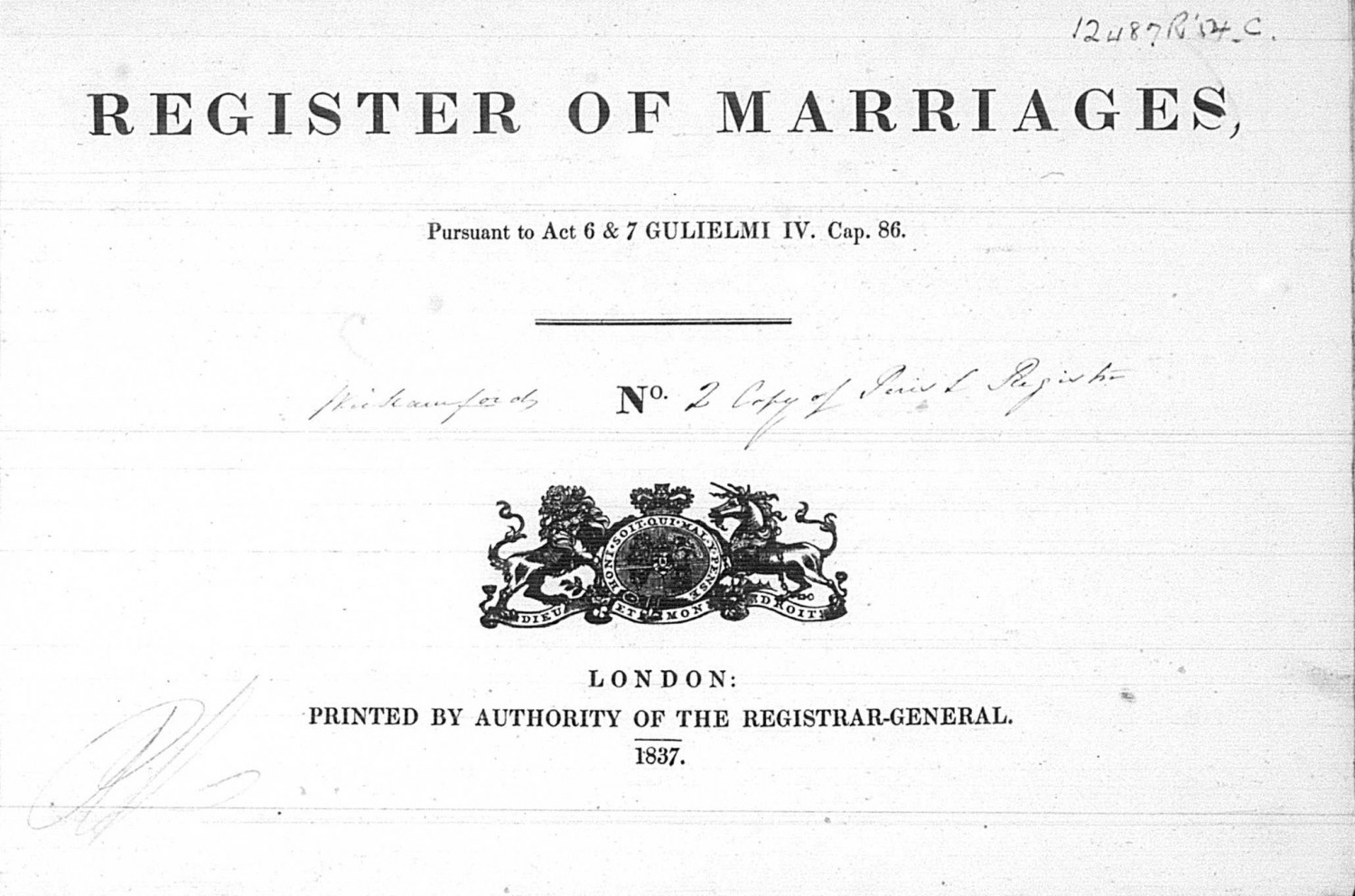 With the introduction of civil registration, a new marriage register was required.  The registers were set out like the civil certificates, two to a page.  Additional information now captured was age, marital status (occasionally given in earlier years), name of father for both parties, occupations for the groom and the two fathers.
An (X) against a name means that the person was unable to sign his or her name.  There was a far lower percentage of people than in the previous register who were unable to sign.  A National School had opened in Badsey in 1854 for the children of Badsey, Aldington and Wickhamford and, from the late 1860s onwards, the majority signed.
The register covers a period of 116 years from 1838-1954 and has 150 entries.  Whilst there was room for more entries, a new register was begun in 1954 as the pattern of the old register had become obsolete.  For data protection reasons, marriages up to 1945 only have been published on the web.
Records transcribed by Val Harman, Tom Locke, Maureen Spinks.  Microfilm copies of the original registers may be viewed at the Worcestershire Archive & Archaeology Service, The Hive, Worcester.
Entry no.
Date
Names
Age
Status
Occupation
Abode
Father's name & occupation
Banns or Licence
Officiant
Witnesses
1
5 Aug 1838
John ROGERS (X)
20
Bachelor
Labourer
Wickhamford
Thomas Rogers, Labourer
Banns

Charles Bloxham, Minister
Mary Hartwell (X); William Hartwell (X)
Ann HARTWELL (X)
19
Spinster
-
Badsey
Charles Hartwell, Labourer
2
7 Aug 1838
George SAVAGE (X)
26
Bachelor
Labourer
Wickhamford
William Savage, Labourer
Banns

William Byrd, Minister
John Baylis; Edith Bayless
Elizabeth BAYLISS
26
Spinster
-
Wickhamford
John Bayliss, Labourer
3
4 Dec 1838
Joshua BAYLISS (X)
33
Widower
Labourer
North Littleton
Benjamin Bayliss, Labourer
Banns

Charles Bloxham, Minister
Mary Evons (X); Enos Bayliss
Ann ROBBINS (X)
22
Spinster
-
Wickhamford
James Robbins, Labourer
4
25 Dec 1838
Richard KNIGHT
24
Bachelor
Labourer
Wickhamford
William Knight, Labourer
Banns

Charles Bloxham, Minister
William Cook (X); Mary Hall (X)
Mary COOK (X)
27
Spinster
-
Wickhamford
Joseph Cook, Labourer
5
20 Jun 1839
Thomas SHEAF
Full age
Bachelor
Farmer
Offenham
Thomas Sheaf, Farmer
Licence

Charles Phillott, Vicar
Samuel Taylor; Mary Smith; Sandys
Frances TAYLOR
Under age (consent of parents)
Spinster
-
Wickhamford
John Taylor, Farmer
6
22 Jan 1840
William Thomas ASHWIN
Full age
Bachelor
Gentleman
Wickhamford
-
Licence

T G Griffith, Curate
Henry Cooper; Felicia Cooper
Eliza SAWYER
FA
Spinster
-
Wickhamford
-
7
8 Jun 1840
William CRANE (X)
Full age
Bachelor
Labourer
Wickhamford
-
Banns

T G Griffith, Curate
Joseph Simpson (X); Elizabeth Faulkner (X)
Sarah FAULKENER (X)
Under age (consent of parents)
Spinster
-
Wickhamford
-
8
18 Oct 1842
Richard JELFS
Full age
Bachelor
Labourer
Badsey
-
Banns

T G Griffith, Curate
John Rogers (X); Ann Rogers (X)
Mary ROGERS (X)
FA
Spinster
-
Badsey
-
9
30 May 1844
Willam COOK
Full age
Bachelor
Labourer
Wickhamford
-
Banns

T G Griffith, Curate
George Stephens; Eliza Stephens
Ann STANTON
FA
Spinster
-
Wickhamford
10
14 Oct 1844
Charles WIDDOWS (X)
Full age
Bachelor
Labourer
Wickhamford
-
Banns

T G Griffith, Curate
Charles Drinkwater (X); Elizabeth Hudson (X)
Francisca ROLLS (X)
Under age
Spinster
-
Wickhamford
-
11
26 Dec 1846
Joseph BELCHER
Full age
Widower
Blacksmith
Wickhamford
Michael Belcher, Blacksmith
Banns

H H Victor, Curate
William Bennett; Sarah Darkes
Jane BENNETT (X)
FA
Spinster
-
Wickhamford
Thomas Bennett, Labourer
12
19 Nov 1848
Thomas ROGERS (X)
23
Bachelor
Labourer
Wickhamford
Thomas Rogers, Labourer
Banns

Edmund Boggis, Curate
William Bennett; Sarah Ann Gillett (X)
Eliza DYER (X)
FA
Spinster
-
Ashton-under-Hill
John Dyer, Labourer
13
28 Jan 1849
Thomas HALL (X)
Full age
Bachelor
Labourer
Wickhamford
John Hall, Labourer
Banns

Edmund Boggis, Curate
William Cooper (X); Jane Houghton
Elizabeth HOUGHTON
19
Spinster
-
Wickhamford
Michael Houghton, Labourer
14
23 Sep 1850
James BACON
Full age
Bachelor
Labourer
Wickhamford
John Bacon, Labourer
Banns

Edmund Boggis, Curate
Peter Handyman (X); Maria Faulkner (X)
Mary FAULKNER (X)
FA
Spinster
-
Wickhamford
John Faulkner, Labourer
15
23 Oct 1855
Joseph COOPER (X)
Full age
Widower
Thatcher
Wickhamford
Samuel Cooper, Labourer
Banns

T H Hunt
James Pethard (X); Dinah Gardener (X)
Elizabeth FAULKENER (X)
FA
Spinster
-
Wickhamford
John Faulkner, Labourer
16
25 Feb 1857
John NIND
Full age
Bachelor
Farmer
Wickhamford
John Nind, Farmer
Licence

T H Hunt
Samuel Richardson; Mary Anne Daffurn Taylor
Jane TAYLOR
FA
Spinster
-
Wickhamford
Samuel Taylor, Farmer
17
9 Mar 1861
Job TAYLOR (X)
25
Bachelor
Labourer
Wickhamford
Job Taylor, Labourer
Banns

T H Hunt
Edwin Marshall (X); Emma Taylor (X)
Ellen SALIS (X)
19
Spinster
-
Wickhamford
John Salis, Labourer
18
13 Dec 1862
David HOWES (X)
23
Bachelor
Labourer
Wickhamford
Thomas Howes, Labourer
Banns

T H Hunt
William Tomlinson; Fanny Taylor (X)
Emma TAYLOR (X)
24
Spinster
-
Wickhamford
-
19
13 Dec 1866
Frederick CLARKE (X)
30
Bachelor
Labourer
Church Lench
William Clarke, Labourer
Banns

T H Hunt
John Harwood (X); Martha Howes
Rachel SEARS (X)
25
Spinster
-
Wickhamford
William Sears, Labourer
20
19 Oct 1867
Edward WADAMS
27
Bachelor
Registrar & Relieving Officer
Bengeworth
John Wadams, Clerk
Licence

T H Hunt
Antony Cassera; Samuel Pethard
Sarah PETHARD
24
Spinster
-
Wickhamford
John Pethard, Wheelwright (deceased)
21
16 Aug 1868
William KNIGHT
22
Bachelor
Labourer
Wickhamford
Charles Knight, Labourer
Banns

T H Hunt
Edwin Knight; Mary Ann Sears
Eliza CRANE
20
Spinster
-
Wickhamford
William Crane, Labourer

Notes:

[Marriage register clearly says banns, but appears to have been omitted from the Banns register.]

22
25 Jun 1870
William HOWES
23
Bachelor
Miller
Wickhamford
Richard Howes, Market Gardener
Banns

Thomas Procter Wadley, Officiating Minister
Andrew Beesley (X); John Howes
Ellen BEESLEY
23
Spinster
-
Wickhamford
Thomas Beesley, Labourer
23
30 Dec 1875
John TIMMS
28
Bachelor
Architect & Surveyor
Banbury, Oxon
Richard Timms, Coal Merchant
Banns

T H Hunt
George Pethard; Mary Jane Timms; Wm Hodgson; Amelia Ann Hodgson
Hannah PETHARD
29
Spinster
-
Wickhamford
John Pethard, Wheelwright (deceased)
24
27 Jul 1876
Isaac GEE
Full age
Widower
Commercial Traveller
Aston juxta Birmingham
Richard Gee, Silk Thrower (deceased)
Banns

T H Hunt
Samuel Smith; Edwin Lawrence; S H Major
Sophia FODEN
FA
Widow
-
Wickhamford
Wingfield Gee, Silk Throwster (deceased)
25
10 Feb 1877
William HOPKINS
30
Bachelor
Farmer
Bourton, Oxon
John Hopkins, Farmer
Licence

T H Hunt
John Taylor; D Hopkins; Robert Taylor
Ann Sheaf TAYLOR
26
Spinster
-
Wickhamford
John Taylor, Farmer
26
7 Oct 1879
Charles COLE
23
Bachelor
Gardener
Wickhamford
John Cole, Gardener
Banns

T H Hunt
John Cole; Ellen Cole
Ellen Mary HOWES
20
Spinster
-
Wickhamford
Richard Howes, Labourer
27
12 Oct 1879
William CRANE
37
Bachelor
Labourer
Wickhamford
William Clarke, Labourer
Banns

T H Hunt
Josal[?] Doreis[?]; Mary Agg
Sarah Ann CASSELL
37
Widow
-
Wickhamford
William Davis, Wheelwright

Notes:

In entry No 27 for Castle as in the signature of Sarah Ann Cassell herself read Cassell, corrected on the 18th of July by me, T H Hunt, Vicar, in the presence of William Crand and Sarah Ann Cassell the parties married [NB - In earlier civil registration and earlier census records, sometimes the name appears as CASTLE and sometimes as CASSELL]

28
17 May 1883
Charles PEARSON
Full age
Widower
Licensed Victualler
Old Swinford, Stourbridge
Charles Pearson, Non Work (deceased)
Banns

T H Hunt
John Hutchins; Mary Pearson
Sophia GEE
FA
Widow
-
Wickhamford
Wingfield Gee, Silk Throwster (deceased)
29
23 Apr 1885
William MARSH
23
Bachelor
Wheelwright
Aldington
John Marsh, Baker (deceased)
Banns

T H Hunt
William Bell; Arthur H Savory; Annie Beard; C Savory; Alice Marsh; Alfred Bell; Hamilla M Hunt
Annie BELL
19
Spinster
Housemaid
Aldington
William Bell, Farm Bailiff

Notes:

[Marriage register clearly says banns, but appears to have been omitted from the Banns register.]

30
2 Jun 1886
Frederick William BOTT
26
Bachelor
Journalist
Stechford, Yardley, Worcestershire
Thomas Herbert Bott, Journalist
Banns

T H Hunt
George Pethard; Ann G Phipps; Albert E Bott; Anne A Wadams
Sarah Ann PETHARD
25
Spinster
-
Sandys Arms, Wickhamford
George Pethard, Wheelwright & Landlord
31
15 Sep 1888
John White MASON
23
Bachelor
Gardener
Wickhamford
John Mason, Gardener
Banns

Charles G Gepp
Ann Mason; William Wagstaff
Elizabeth WAGSTAFF
23
Spinster
Schoolmistress
Badsey
John Wagstaff, Farmer
32
2 Feb 1889
William DAVIS
25
Bachelor
Gardener
Wickhamford
Israel Davis, Wheelwright
Banns

Charles G Gepp
William Pethard; Elizabeth Addis
Elizabeth GLOVER
21
Spinster
-
Wickhamford
William Glover, Waggoner
33
19 Mar 1889
Walter Richard WARMINGTON
22
Bachelor
Farmer
Badsey
William Warmington, Farmer
Banns

Charles G Gepp
Richard Smith; Prudence Grace Warmington; Mary Smith; John Smith
Jecolia Ann SMITH
21
Spinster
-
Wickhamford
Richard Smith, Farmer
34
9 Oct 1889
William Frederick HEWLETT (X)
21
Bachelor
Labourer
Wickhamford
John Durham (deceased)
Banns

Charles G Gepp
Harriet Hewlett (X); Thomas Smith (X)
Amelia SMITH (X)
27
Spinster
-
Wickhamford
Charles Smith, Labourer

Notes:

[W Hewlett grew up in Bishampton where it is thought there was not a school until the 1870s so he never learnt to write; although his age is given as 21, he was in fact older, having been born in 1865]

35
2 Nov 1889
Richard SMITH
22
Bachelor
Farmer
Wickhamford
Richard Smith, Farmer (deceased)
Banns

Charles G Gepp
Robert Leonard White; Lucy Hannah White
Adelaide Apolina WHITE
22
Spinster
-
Wickhamford
-
36
5 Dec 1891
James HARTWELL
28
Bachelor
Gardener
Badsey
William Hartwell, Gardener
Banns

Charles G Gepp
Emma Dora Mason; John Mason (X)
Ann MASON
28
Spinster
-
Wickhamford
John Mason, Gardener
37
26 Dec 1895
William HALL
26
Bachelor
Painter
Langley Green, near Birmingham
William Hall (deceased)
Banns

Charles G Gepp
Ann Hartwell; John Mason (X)
Emma Dora MASON
27
Spinster
-
Wickhamford
John Mason, Gardener
38
12 Feb 1896
Albert SMITH
22
Bachelor
Farmer
Wickhamford
Richard Smith (deceased)
Banns

Charles G Gepp
Mary Smith; John Pierce Pope
Hannah Maria POPE
18
Spinster
-
Wickhamford
John Pope, Farmer
39
18 Sep 1897
Hubert Edward HACKLETT
20
Bachelor
Labourer
Wickhamford
William Hacklett, Labourer
Banns

W Henry Price, Vicar
William Hartwell (X); Annie Matilda Hacklett
Annie Louise HARTWELL
20
Spinster
-
Wickhamford
William Hartwell, Labourer
40
28 Sep 1897
Edwin TOUT
31
Bachelor
Commercial Traveller
Parish of St Andrew, Plymouth
Edwin Tout, Wholesale Grocer
Banns

W Henry Price, Vicar
Richard Henry Winnett (X); Henry Drinkwater (X)
Emma WINNETT
30
Spinster
-
Wickhamford
Richard Winnett, Market Gardener
41
4 Dec 1899
George William MUSTOE
24
Bachelor
Publican
Badsey
William Mustoe, Inn Keeper
Banns

W Henry Price, Vicar
John Smith; Kate Smith; William Mustoe
Mary SMITH
28
Spinster
-
Wickhamford
Richard Smith, Farmer (deceased)
42
12 Sep 1900
William SMITH
22
Bachelor
Farmer
Wickhamford
Richard Smith, Farmer (deceased)
Licence

W Henry Price, Vicar
Edward William Pope; Sarah Anne Emily Pope
Elizabeth POPE
22
Spinster
-
Badsey
Edward William Pope, Farmer (deceased)
43
4 Aug 1902
Samuel John LONG
21
Bachelor
Carter
Wickhamford
John Henry Long, Gardener (deceased)
Banns

W Henry Price, Vicar
Thomas Wright; Violet Lilian Wright
Betsy Ann WRIGHT
22
Spinster
-
Wickhamford
Thomas Wright, Carter
44
19 Aug 1902
Humphrey Edward WHEELER
30
Bachelor
Stableman
St Stephen's Hulme, Manchester
Frederick Wheeler, Job Master
Banns

W Henry Price, Vicar
James Grove; Sarah Ann Wheeler
Leah HARRISS
31
Spinster
-
Wickhamford
Edward Harriss, Labourer
45
1 Aug 1903
Robert WILSON
24
Bachelor
Labourer
Fladbury
Job Wilson, Labourer
Banns

W H Shawcross, Vicar of Bretforton
Walter Sanders; Lily Clarke
Matilda CLARKE
21
Spinster
-
Wickhamford
John Clarke (deceased)
46
24 Dec 1903
George Henry BATES
21
Bachelor
Labourer
Wickhamford
George Henry Bates, Labourer
Banns

W C Allsebrook, Vicar
Frank Jelfs; Amelia Emily Hartwell
Sarah Ann JELFS
21
Spinster
-
Wickhamford
George Jelfs, Labourer (deceased)
47
26 Dec 1903
Eli Edgar HALFORD
33
Bachelor
Labourer
Wickhamford
William Halford, Labourer
Banns

W C Allsebrook, Vicar
Frank Jelfs; Ada Halford
Eliza Elizabeth SMITH (X)
37
Widow
-
Wickhamford
George Jelfs, Labourer (deceased)
48
24 Dec 1904
Alfred James HALFORD
28
Bachelor
Gardener
Wickhamford
Samuel Halford, Labourer
Banns

Francis Ashwood, Vicar of The Littletons
William Staite; Emily Staite
Sarah STAITE
23
Spinster
-
Wickhamford
James Staite, Labourer
49
23 Sep 1905
Fitz Colin JELFS
25
Bachelor
Coachman
Wickhamford
Henry Jelfs, Carter (deceased)
Banns

W C Allsebrook, Vicar
Jesse Richard Colley; Annie Taylor
Amy FLETCHER
29
Spinster
-
Badsey
Thomas Fletcher, Miller (deceased)
50
25 Dec 1905
Henry John HAWKER
21
Bachelor
Labourer
Wickhamford
Thomas Alfred Hawker, Labourer
Banns

W C Allsebrook, Vicar
William Robert Shill; Helen Hawker
Ellen Louise SHILL
22
Spinster
-
Wickhamford
William Robert Shill, Labourer
51
18 Feb 1906
Alfred HALFORD
29
Bachelor
Labourer
Wickhamford
John Halford
Banns

W C Allsebrook, Vicar
Thomas Robert Ellison; Ben Twyford; Ethel Minnie Hartwell
Amelia Emily HARTWELL
21
Spinster
-
Wickhamford
William Hartwell, Parish Clerk
52
15 Oct 1907
Frank HERBERT
28
Bachelor
Market Gardener
Badsey
James Herbert, Market Gardener
Banns

W C Allsebrook, Vicar
Henry Thomas Clarke; Lilian Hooper-Ingledew
Jessie LAWLEY
34
Widow
-
Wickhamford
John Clarke, Farmer (deceased)
53
28 Feb 1911
Alfred BAKER
19
Bachelor
Gardener
Bengeworth
Harry Baker, Basket Maker (deceased)
Banns

W C Allsebrook, Vicar
A E Halford; A Halford; A M Taylor; E F Ellison; Thomas R Ellison
Ethel Minnie HARTWELL
21
Spinster
-
Wickhamford
William Hartwell, Parish Clerk (deceased)
54
8 Jul 1911
Allen HALFORD
26
Bachelor
Market Gardener
Wickhamford
Samuel Halford, Market Gardener
Banns

W C Allsebrook, Vicar
Frederick Jeenes; Rose Halford
Leah HARRIS
21
Spinster
-
Parish of St Lawrence, Evesham
James Harris, Labourer
55
5 Aug 1912
John Thomas PITMAN
26
Bachelor
Market Garden Foreman
Wickhamford
James Pitman, Farm Labourer
Banns

J F Kendall, MA, Incumbent of St Germans, Blackheath, London
George Morgan; Elsie Daisy Pitman
Elizabeth Priscilla MORGAN
24
Spinster
-
Wickhamford
Thomas Morgan, Farm Labourer
56
29 Mar 1913
Francis James GREEN
20
Bachelor
Gardener
Wickhamford
George Richard Green, Labourer
Banns

W C Allsebrook, Vicar
E Ballard; D Turner
Laura Alice TURNER
19
Spinster
-
Wickhamford
Robert Turner, Market Gardener
57
19 Apr 1913
Thomas Morton TAYLOR
25
Bachelor
Bricklayer
Wickhamford
Thomas Taylor, Bricklayer
Banns

W C Allsebrook, Vicar
A Grant; D Grinnell; Thomas Taylor
Catherine Mary FREEMAN
23
Spinster
-
Wickhamford
Charles Stephen Freeman, Shepherd
58
7 Jun 1913
Wilfred Charlie PITMAN
21
Bachelor
Market Gardener
Wickhamford
James Pitman, Farm Labourer
Banns

F E Evans, Assistant Curate, St Hilda's, Darlington
John Thomas Pitman; Daisy Pitman
Florence Rose WEST
21
Spinster
-
Worcester
Adam George West, Labourer
59
24 Jul 1913
Walter Henry JELFS
22
Bachelor
Market Gardener
Badsey
Frederick Thomas Jelfs, Gardener
Banns

John L Lopes, Assistant Curate, Saltley, Birmingham
Arthur Henry Chamberlain; Maud Chamberlain
Florence Mary CHAMBERLAIN
21
Spinster
-
Wickhamford
Francis Henry Chamberlain, Gardener
60
18 Sep 1913
Leonard John WALFORD
22
Bachelor
Market Gardener
Bretforton
John Walford, Market Gardener
Banns

W C Allsebrook, Vicar
W H Walford; H M Halford
Evelyn Constance BAYLIS
18
Spinster
-
Wickhamford
Frederick Baylis, Market Gardener
61
9 Oct 1913
Charles William HALFORD
33
Widower
Market Gardener
Wickhamford
Samuel Halford, Labourer
Banns

W C Allsebrook, Vicar
George Pitts; Beatrice Emily Moulbery
Edith Florence MOULBERY
27
Spinster
-
Wickhamford
William Moulbery, Carter
62
18 Oct 1913
George Henry PITTS
31
Bachelor
Labourer
Wickhamford
Harry Hurley Pitts, Labourer
Banns

C W A Preston, Vicar of Offenham
Charles William Halford; Edith Florence Halford
Beatrice Emily MOULBERY
24
Spinster
-
Wickhamford
William Moulbery, Carter
63
24 Feb 1914
Albert COX
19
Bachelor
Market Gardener
Wickhamford
William Thomas Cox, Market Gardener
Banns

W C Allsebrook, Vicar
George Sutton; Annie Cox
Joyce Violet May PROCTOR
20
Spinster
-
Parish of All Saints, Evesham
Charles Proctor, Gardener
64
19 Dec 1914
William SMITH
37
Widower
Farmer
Pitchers Hill Farm, Wickhamford
Richard Smith (deceased)
Licence

W C Allsebrook, Vicar
Frederick Hill; Mary Jane Hill; Emily Hartwell
Annie SHEWARD
21
Spinster
-
Wickhamford
George Sheward, Carpenter
65
3 May 1916
Raymond Percy Marston HARTWELL
20
Bachelor
Market Gardener
Wickhamford
William Hartwell, Parish Clerk (deceased)
Banns

W C Allsebrook, Vicar
A Lewis, Alice Niblett; Emily Hartwell
Edith Milly NIBLETT
20
Spinster
-
Wickhamford
George Henry Niblett, Carter
66
31 Oct 1917
Cecil Herbert WARD
26
Bachelor
Market Gardener
Evesham
Frank Hyde Ward (deceased)
Banns

W C Allsebrook, Vicar
Priscilla Marjorie Pethard; E J Pethard; [?]
Violet Lilian PETHARD
22
Spinster
-
Wickhamford
Edward John Pethard, Carpenter

Notes:

[In all other records, Cecil's deceased father's name appears as Henry Frank Ward, rather than Frank Hyde Ward.]

67
13 Apr 1918
Charles Henry PARKER
24
Bachelor
Private 2/8 Worcestershire Regiment
Broadway
Albert Parker, Postman
Licence

W C Allsebrook, Vicar
John Thomas Pitman; Mary Elizabeth Thornton
Elsie Daisy PITMAN
23
Spinster
-
Wickhamford
James Pitman, Carter
68
9 Nov 1918
Gilbert Charles FRANKLIN
24
Bachelor
Private MGC
Broadway
Charles Franklin, Coachman
Licence

W C Allsebrook, Vicar
C W Halford; H Halford
Rose HALFORD
23
Spinster
-
Wickhamford
Samuel Halford (deceased)
69
24 Dec 1919
Francis Harry HALFORD
27
Bachelor
Market Gardener
Wickhamford
Samuel Halford (deceased)
Banns

W C Allsebrook, Vicar
Albert Winfield; M R Halford; H M Kingham
Ethel Mildred WINFIELD
21
Spinster
-
Parish of St Lawrence, Evesham
Walter Sylvanus Winfield, Soldier
70
4 Sep 1920
John JENKINS
28
Bachelor
Engineer
Wickhamford
George Jenkins, Labourer
Banns

W C Allsebrook, Vicar
Thomas Agg; May Cleveley; Lily Bennett
Mary Ann AGG
38
Spinster
-
Wickhamford
William Agg (deceased)
71
16 Apr 1922
Howard GIBSON
27
Bachelor
Export Packer
35 Stamford Grove, Handsworth
Charles Henry Gibson, Hub Turner
Banns

W C Allsebrook, Vicar & Rural Dean
H H Southern; Ethel Thornborough; V M Evans
Annie Maria SOUTHERN
26
Spinster
-
Wickhamford
Charles Henry Southern, Market Gardener
72
9 Dec 1922
Alfred Lambourne KING
51
Bachelor
Market Gardener
Wickhamford
Alfred King, Doctor of Music
Banns

W C Allsebrook, Vicar & Rural Dean
J Collett; S H Collett; K J Collett
Fanny Mabel Mary COLLETT
39
Spinster
-
Wickhamford
John Collett, Retired Schoolmaster
73
24 May 1923
Francois Paul PEELMAN
31
Bachelor
Market Gardener
Wickhamford
Tobias Peelman, Farmer
Banns

W C Allsebrook, Vicar & Rural Dean
J Collett; H F R Collett; T H Collett; M King
Katie Gwendoline COLLETT
35
Spinster
-
Wickhamford
John Collett, Retired Schoolmaster
74
25 Aug 1923
Richard William HUTCHINGS
31
Bachelor
Market Gardener
Badsey
George Nations Hutchings (deceased)
Licence

W C Allsebrook, Vicar & Rural Dean
A Danford; George Henry Hutchings
Edith SANFORD
26
Spinster
-
Wickhamford
Samuel Sanford, Farm Labourer
75
13 Apr 1925
Herbert Reginald BATT
28
Bachelor
Engineer
Brislington, Somerset
George Herbert Batt, Railway Employee
Banns

W C Allsebrook, Vicar & Rural Dean
William L Ross; Donald Sreve Ross; Sarah Elizabeth Jackson; Annie Dodeswell
Bessie Annie ROSS
28
Spinster
-
Wickhamford
William Skene Ross, Gardener
76
16 Apr 1925
Tom Herbert COLLETT
32
Bachelor
Market Gardener
Wickhamford
John Collett, Retired Schoolmaster
Banns

W C Allsebrook, Vicar & Rural Dean
E J Pethard; J Collett; A G Pethard; H J R Collett; M King; V F Ward
Pricilla Marjorie PETHARD
26
Spinster
-
Wickhamford
Edward John Pethard, Carpenter
77
25 Jul 1925
Thomas Edward BEAN
62
Widower
Market Gardener
Wickhamford
Thomas Bean, Market Gardener (deceased)
Banns

W C Allsebrook, Vicar & Rural Dean
Edward Clissold; Rose Bott
Ellen BAYLISS
54
Widow
-
Wickhamford
William Richardson, Labourer (deceased)
78
12 Sep 1925
Raymond John MUMFORD
30
Bachelor
Market Gardener
The Elm, Bengeworh, Evesham
William Leonard Mumford, Market Gardener
Banns

A A Hollis, Vicar of Bengeworth
Francis Arthur Hemming; Emanuel Butcher; Muriel Butcher
Annie Elizabeth BUTCHER
31
Spinster
-
Pitchers Hill, Wickhamford
Emanuel Butcher, Gardener
79
16 Sep 1925
Frederick Frank BAYLISS
21
Bachelor
Gardener
Wickhamford
Frederick Bayliss, Gardener
Banns

W C Allsebrook, Vicar & Rural Dean
Albert Edward Jelfs; Rosa May Jelfs
Florence Ellen JELFS
20
Spinster
-
Bowers Hill, Badsey
Frederick George Jelfs, Gardener
80
2 Aug 1926
Frederick GRIFFIN
23
Bachelor
Market Gardener
Wickhamford
Basil Bernard Griffin, Market Gardener
Banns

W C Allsebrook, Vicar & Rural Dean
C Ebdon; S Griffen; M Broadhurst
Hilda FIGGITT
24
Spinster
-
Parish of All Saints, Evesham
Hubert Figgitt, Market Gardener
81
6 Oct 1927
George Thomas HANCOCK
33
Bachelor
Market Gardener
Badsey
Richard Stephen Hancock, Market Gardener
Banns

W C Allsebrook, Vicar & Rural Dean
T H Willis; H A Hancock; W J Jelfs
Gwendoline Emma WILLIS
23
Spinster
-
Wickhamford
Thomas Henry Willis, Market Gardener
82
29 Oct 1927
Ernest George TAYLOR
40
Bachelor
Market Gardener
Badsey
Thomas Taylor, Market Gardener
Banns

W C Allsebrook, Vicar & Rural Dean
John Hampton; A Halford; R P M Hartwell; Richmond F Hampton
Harriett Annie HAMPTON
37
Spinster
-
Wickhamford
John Hampton, Labourer
83
21 Apr 1928
Robert PETHARD
39
Bachelor
Market Gardener
Bengeworth
Joshua Pethard (deceased)
Banns

W C Allsebrook, Vicar & Rural Dean
J Harwood; E Jelfs; C Heritage; M Bell; R Hampton; A H Lewis
Maggie HERITAGE
29
Spinster
-
Wickhamford
Robert Heritage (deceased)
84
20 Sep 1928
Frederick Lawson SOUTHERN
25
Bachelor
Lorry Driver
Wickhamford
Charles Henry Southern, Market Gardener
Banns

W C Allsebrook, Vicar & Rural Dean
C L Southern; A L A Cox; James T Cox
Ruth Mary COX
22
Spinster
-
Wickhamford
William Cox (deceased)
85
26 Dec 1928
William Joseph GANNAWAY
31
Bachelor
Market Gardener
Wickhamford
Harry Gannaway, Labourer
Banns

W C Allsebrook, Vicar & Rural Dean
T Jones; Alice Jones; M Gannaway
Gladys JONES
21
Spinster
-
Wickhamford
Herbert Jones (deceased)
86
20 Jan 1930
Bertram Leslie OCKWELL
30
Bachelor
Dairy Manager
Rodbourne Cheney, Wilts
Alfred Ockwell, Farm Labourer
Banns

W C Allsebrook, Vicar & Rural Dean
Helen Lees-Milne; Caroline Ockwell; Ellen Careless; B A Hatcher; E H Howley
Margaret Kathleen CARELESS
31
Spinster
-
Wickhamford
Theodore Charles Careless (deceased)
87
12 Jul 1930
Francis George Herbert HALLEN
28
Bachelor
Engineer
10 Kings Road, Bengewoth
Francis Herbert Hallen, Dentist
Banns

A H Lewis, Vicar of Bengeworth
William Bennett; George Henry Mark Hale; Ivy Bennett
Lilly BENNETT
24
Spinster
-
35 Wickhamford
William Bennett, Market Gardener
88
9 Apr 1931
Matthew ARTHUR
21
Bachelor
Banking
Parish of St Stephen, South Kensington
James Cecil Arthur, Baron Glenarthur of Carlung
Banns

W C Allsebrook, Vicar & Rural Dean & Honorary Canon of Worcester
G Lees-Milne; E Hill; J Lees-Milne; R V Lees-Milne; Doreen Cunninghame; Evelyn Glenarthur; Philip Campbell
Audrey LEES-MILNE
25
Spinster
-
Wickhamford Manor
George Crompton Lees-Milne, Gentleman
89
25 May 1931
Frederick George LAMBOURN
25
Bachelor
Motor Brazier
Acocks Green
George Henry Lambourn, Engineer
Banns

W C Allsebrook, Vicar & Rural Dean
G E Robbins; S Lambourne
Elizabeth ROBBINS
28
Spinster
-
Wickhamford
George Robbins, Market Gardener
90
25 May 1931
Horace FEENEY
23
Bachelor
Chauffeur
Parish of St Christopher, Springfield, Birmingham
Thomas Feeney, Wheelwright
Banns

W C Allsebrook, Vicar & Rural Dean
V L Feeney; J T Pate
Kate ROBBINS
21
Spinster
-
Wickhamford
George Robbins, Market Gardener
91
8 Jun 1931
Frederick Henry HARTLEY
28
Bachelor
Carter
Wickhamford
Frederick Hartley, Cowman
Banns

W C Allsebrook, Vicar & Rural Dean
Charles Davis; Edith Hawker
Dorothy Annie WARNER
24
Spinster
-
Wickhamford
Thomas Henry Warner, Farmer
92
29 Oct 1931
Edward Leonard BAYLISS
24
Bachelor
Market Gardener
Wickhamford
Frederick Bayliss (deceased)
Licence

W C Allsebrook, Vicar & Rural Dean
Fred Bayliss; Ellen Bayliss
Mary Jecolia WARMINGTON
20
Spinster
-
Sedgeberrow
Richard Smith Warmington, Farmer
93
3 Nov 1931
William James HODGES
26
Bachelor
Baker
Parish of St Lawrence, Evesham
John Hodges, Blacksmith
Banns

W C Allsebrook, Vicar & Rural Dean
Jesse R Colley; Ernest A Griffiths; G Canver; F Hodges
Phyllis COLLEY
27
Spinster
-
Wickhamford
Jesse Richard Colley, Market Gardener
94
19 Dec 1931
Frank CLARKE
22
Bachelor
Basket Maker
Wickhamford
George Clarke, Corporation Employee
Banns

W C Allsebrook, Vicar & Rural Dean
C Grimmett; K Smith; F Clarke
Hilda May GRIMMITT
22
Spinster
-
Wickhamford
Charles Grimmitt, Carpenter
95
23 Sep 1933
Ernest John PITTS
29
Bachelor
Market Gardener
Badsey
Ernest Robert Pitts, Market Gardener
Banns

W C Allsebrook, Vicar & Rural Dean
A W Bennett; Horace Edward Knight; Violet Bennett; Frank G H Hallen
Ivy BENNETT
26
Spinster
-
Wickhamford
William Bennett, Market Gardener
96
20 Jun 1934
Horace Wilfred GRIFFITHS
22
Bachelor
Grocer
Parish of St Lawrence, Evesham
Thomas Griffiths (deceased)
Banns

W C Allsebrook, Vicar & Rural Dean
Charles Edgar Southern; Gladys Irene Southern
Cynthia Mary SOUTHERN
22
Spinster
-
Wickhamford
Charles Henry Southern, Market Gardener
97
4 Aug 1934
Arthur Charles CARTER
26
Bachelor
Roadman
Eckington
Alfred Carter, Gardener
Banns

W C Allsebrook, Vicar & Rural Dean
E Sutton; A L Carter; S E [?]
Violet Phyllis HALFORD
22
Spinster
-
Wickhamford
Allen Ernest Halford, Market Gardener
98
20 Oct 1934
Frederick Bernard SMITH
22
Bachelor
Lorry Driver
Broadway
James Smith, Carpenter
Banns

W C Allsebrook, Vicar & Rural Dean
J Pitman; D Spiers; Catherine Pitman
Dorothy Katherine PITMAN
21
Spinster
-
Wickhamford
John Thomas Pitman, Fireman & Market Gardener
99
3 Jul 1935
Walter Henry JOHNSON
22
Bachelor
Ap[?] Agent
Bengeworth
Christopher George Johnson, Market Gardener
Banns

W C Allsebrook, Vicar & Rural Dean
Edgar H Johnson; Violet M Southern; Edith A Johnson
Gladys Irene SOUTHERN
19
Spinster
-
Wickhamford
Charles Henry Southern, Market Gardener
100
21 Dec 1935
James William STANLEY
26
Bachelor
Market Gardener
Bretforton
Sam Stanley, Gardener
Banns

W C Allsebrook, Vicar & Rural Dean
G Stanley; G C Franklin; J Franklin; H Stanley
Melvia Rose HALFORD
26
Spinster
-
Wickhamford
-
101
4 Jul 1936
Ronald Gillman HOLLAND
24
Bachelor
Upholsterer
Broadway
Alfred Holland, Stud Groom
Banns

W C Allsebrook, Vicar & Rural Dean
Norris Haines; Hilda Doris Haines; Margarita Fidgett; Dick Holland
Margaret Helen HAINES
23
Spinster
-
Wickhamford
Norris Haines, Chauffeur
102
1 Aug 1936
Leslie Frank EDWARDS
21
Bachelor
Electrician
Parish of All Saints, Evesham
Frank Edwards, Clerk
Banns

W C Allsebrook, Vicar & Rural Dean
S M Taylor; C Taylor; C J Taylor; V Edwards; F Edwards; E M Edwards; C M Taylor
Catherine Edith TAYLOR
20
Spinster
-
Wickhamford
Thomas Morton Taylor, Painter
103
22 May 1937
George William ROSE
20
Bachelor
Market Gardener
Childswickham
Alfred Rose, Farm Labourer
Banns

W C Allsebrook, Vicar & Rural Dean
G J Sutton; G L Sutton
Annie Eliza SUTTON
30
Spinster
-
Wickhamford
George Joseph Sutton, Market Gardener
104
6 Aug 1938
Charles CALCUTT
28
Bachelor
Gardener
Broadway
Hubert Calcutt, Gardener
Banns

W C Allsebrook, Vicar & Rural Dean
T J Moisey; W R Spiers
Gwendoline May MOISEY
20
Spinster
-
Wickhamford
Theodore James Moisey, Market Gardener
105
27 Dec 1938
David William HORNE
30
Bachelor
Baker
Stoke, Warwickshire
David Francis Horne (deceased)
Banns

W C Allsebrook, Vicar & Rural Dean
W J Spragg; B Huggins; C H Malin; P Huggins
Nellie May SPRAGG
24
Spinster
-
Wickhamford
John Spragg, Stockman
106
2 Dec 1939
Cecil Walter COX
27
Bachelor
Lorry Driver
Wickhamford
Frederick John Cox, Shop Assistant
Banns

W C Allsebrook, Vicar & Rural Dean
E J Pitts; R W Cox; W Bennett; J Pitts
Violet BENNETT
27
Spinster
-
Wickhamford
William Bennett, Market Gardener
107
9 Dec 1939
Bertie ANDREWS
27
Bachelor
Market Gardener
Wickhamford
Alfred Andrews, Market Gardener
Banns

W C Allsebrook, Vicar & Rural Dean
L J Field; H F Field; W Griffiths; O Jukes
Kathleen Emily Mary FIELD
22
Spinster
-
Wickhamford
John George Darby Hugh Field (deceased)
108
20 Apr 1940
Henry Percy TAYLOR
25
Bachelor
Grocer's Assistant
Wickhamford
Frederick Taylor, Builder's Labourer
Banns

W C Allsebrook, Vicar & Rural Dean
E A Beaman; D C Beaman; F Taylor; L Taylor
Margery Louvain BEAMAN
25
Spinster
-
Parish of St Lawrence, Evesham
Ernest Albert Beaman, Retired Painter
109
1 Jun 1940
Sidney Robert JOHNS
26
Bachelor
Chief Cashier
Parish of St James, Norland, Middx
Ernest Johns (deceased)
Banns

W C Allsebrook, Vicar & Rural Dean
G M Mears; Sarah Johns; Edgar Meere; C Mears
Myfanwy May WILLIAMS
25
Spinster
-
Wickhamford
William Williams (deceased)
110
7 Jun 1940
Cyril Albert NEED
20
Bachelor
Market Gardener
Broadway
Jack Need, Market Gardener
Banns

W C Allsebrook, Vicar & Rural Dean
G F Cox; S J Reid; J Need; Dorothy R Cox; E M Need
Ruth Irene COX
18
Spinster
-
Wickhamford
George Frederick Cox, Market Gardener
111
9 Nov 1940
Frank Charles VICKERIDGE
23
Bachelor
Driver KSLI
Cleeve Prior
Frank Vickeridge, Market Gardener
Licence

W C Allsebrook, Vicar & Rural Dean
A Sutton; G J Sutton; H Vickeridge; G L Sutton; E Sutton; A M Sutton
Edith May SUTTON
24
Spinster
-
Wickhamford
George Joseph Sutton, Market Gardener
112
7 Dec 1940
Stanley Robert Kinear WINFIELD
27
Bachelor
Cpl 7th Oxf & Bucks L I
Broadway
Walter Sylvanus Winfield, Gas Labourer
Banns

W C Allsebrook, Vicar & Rural Dean
C S Phipps; G L Moisey; H E Pitman; S Phipps
Clarice PHIPPS
28
Spinster
-
Wickhamford
Claude Sidney Phipps, Market Gardener
113
7 Jun 1941
Leslie Mervyn KENT
22
Bachelor
HM Forces
Bengeworth
George Kent, Engineer Driver (deceased)
Licence

W C Allsebrook, Vicar & Rural Dean
T J Moisey; C Winfield; G Kent; P J Kent; Lilian Kent; F C Moisey
Nesta MOISY
17
Spinster
-
Wickhamford
Theodore James Moisey, Market Gardener
114
21 Jun 1941
Albert Ernest WEBB
19
Bachelor
Lorry Driver
Wickhamford
Albert Ernest Webb, Market Gardener
Banns

W C Allsebrook, Vicar & Rural Dean
A F Webb; Matilda Simms; W T Simm; Albert Ernest Webb; L B Webb
Dorothy Joan SIMMS
19
Spinster
-
Bengeworth
Thomas Simms, Market Gardener
115
16 Aug 1941
George Henry ROBBINS
23
Bachelor
HM Forces
Wickhamford
George Edwin Robbins, Market Gardener
Licence

W C Allsebrook, Vicar & Rural Dean
R C Smith; A W Smith; Emily Smith; G C Robbins; D M Haines
Gertrude Elizabeth SMITH
21
Spinster
-
Parish of All Saints, Evesham
Charles William Smith (deceased)
116
21 Oct 1941
Reginald Berkly Arthur COOK
21
Bachelor
HM Forces
Wincanton, Somerset
Berkley Cook (deceased)
Licence

W C Allsebrook, Vicar & Rural Dean
George Wright; A H Wright; L T Wright
Constance Mary WRIGHT
21
Spinster
-
Wickhamford
George Wright, General Motor Mechanic
117
6 Dec 1941
Douglas Joseph SOUTHWELL
24
Bachelor
Railway Shunter
South Littleton
John Daniel Southwell (deceased)
Banns

W C Allsebrook, Vicar & Rural Dean
Wilfred Charlie Pitman; H E Southwell; V M Southern; W J Hughes; S D Robinson
Hilda Elsie PITMAN
21
Spinster
-
Wickhamford
Wilfred Charlie Pitman, Market Gardener
118
21 Feb 1942
William Arthur CRUISE
26
Bachelor
HM Forces
Parish of All Saints, Newport, Monmouthshire
Robert Cruise, Labourer
Licence

Douglas Trimmer, Vicar of the Littletons
David George Compton; Annie Maria Sutton; George Joseph Sutton; George Lewis Sutton; B D Croxford
Ethel SUTTON
23
Spinster
-
Wickhamford
George Joseph Sutton, Market Gardener
119
15 Jul 1944
Leslie Roy FLETCHER
24
Bachelor
Processing Engraver (OAS), RAF
164 Alexander Road, Acocks Green, Birmingham
Walter Aubrey Fletcher, Despatch Clerk
Banns

T C Kell, Vicar of Acocks Green
D V Cubberley; M Ross; [?]
Violet Winifred HOPKINS
23
Spinster
-
Wickhamford Manor
Llewellyn Wycliffe Hopkins (retired)
120
5 Aug 1944
Horace Neville HAILE
23
Bachelor
HM Forces
Badgworth, Glos
George Haile (deceased)
Licence

W C Allsebrook, Vicar & Rural Dean
George W Halford; Maurice H Knowlton; Vera M Halford
Hilda Irene BROTHERTON
24
Spinster
-
Wickhamford
George Harcourt Edward Brotherton (deceased)
121
14 Mar 1945
Cecil John Robert STURT
26
Bachelor
Craftsman, REME
Weathervane Cottage, Wickhamford
Ernest William Sturt, Retired Chief Constable
Licence

Victor Honniball, Vicar of Hampton
Leslie Ernest Sturt; Constance M Taylor
Iris May TAYLOR
27
Spinster
-
Wickhamford
Frederick Taylor, Brick Layer
122
25 Apr 1945
Harold James WEBB
22
Bachelor
Private, HM Forces
Whitfurrows Farm, Wickhamford
Ernest Webb, Market Gardener
Banns

Victor Honniball, Vicar of Hampton
Emma Webb; Albert G Anderson
Mona COLLETT
22
Spinster
-
Old Post Office Lane, Badsey
Samuel John Collett, Market Gardener
123
15 Sep 1945
Sidney Ralph SMITH
31
Bachelor
Agricultural Labourer
Childswickham
Charles Smith (deceased)
Banns

Victor Honniball, Vicar of Hampton
J Southern; [?] Machin
Violet Mary SOUTHERN
25
Spinster
-
29 Pitchers Hill, Wickhamford
Charles Henry Southern (deceased)
124
6 Oct 1945
John Henry WHITING
27
Bachelor
Driver RASC
55 Whiteway Road, Bristol 5
John Henry Whiting, Docker
Licence

W C Turner, Rector of Aston Somerville
Henry Thomas White; Audrey Eileen Whiting
Constance Mabel TAYLOR
24
Spinster
-
Wickhamford