Marriages – Wickhamford, Banns 1826-1945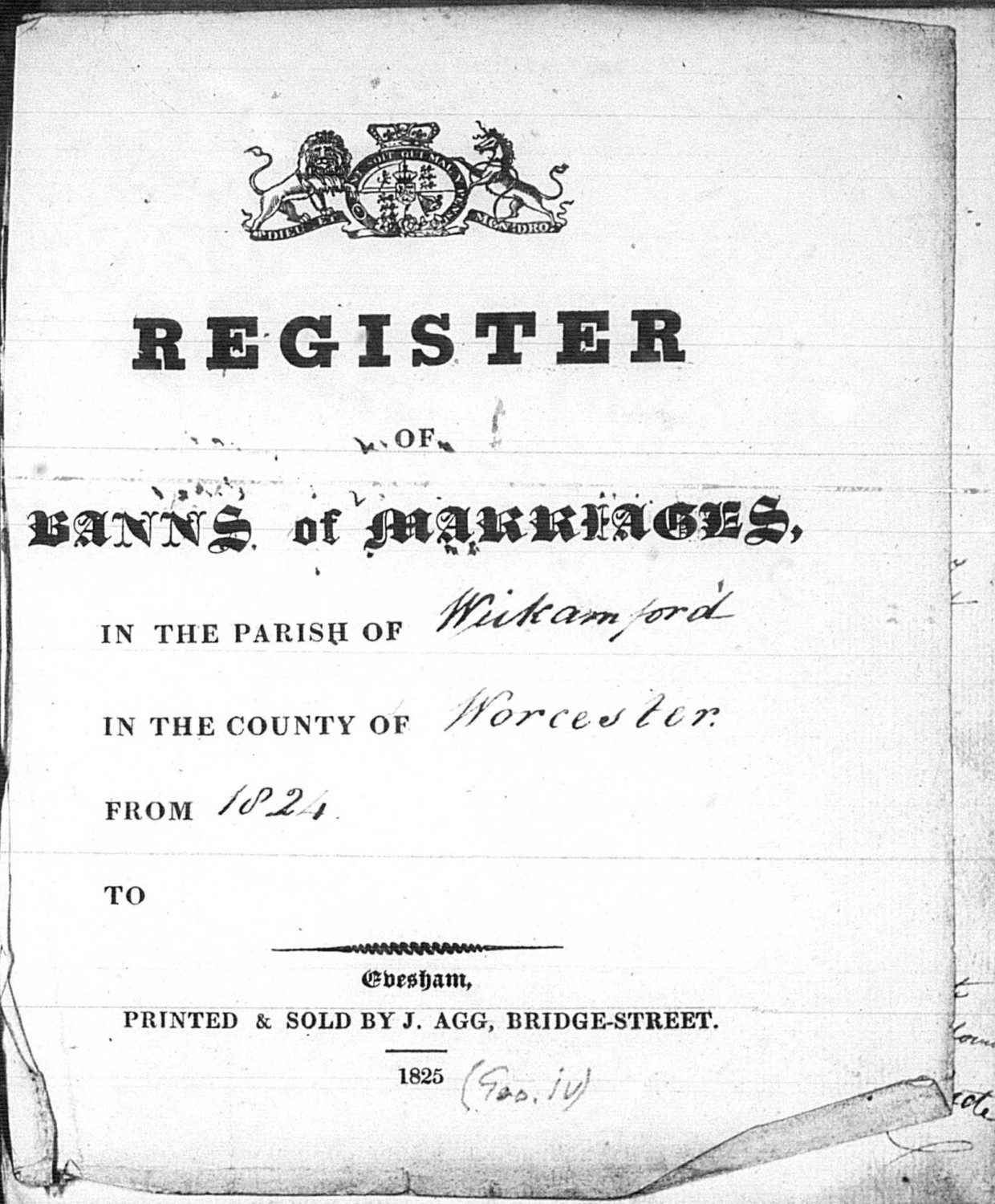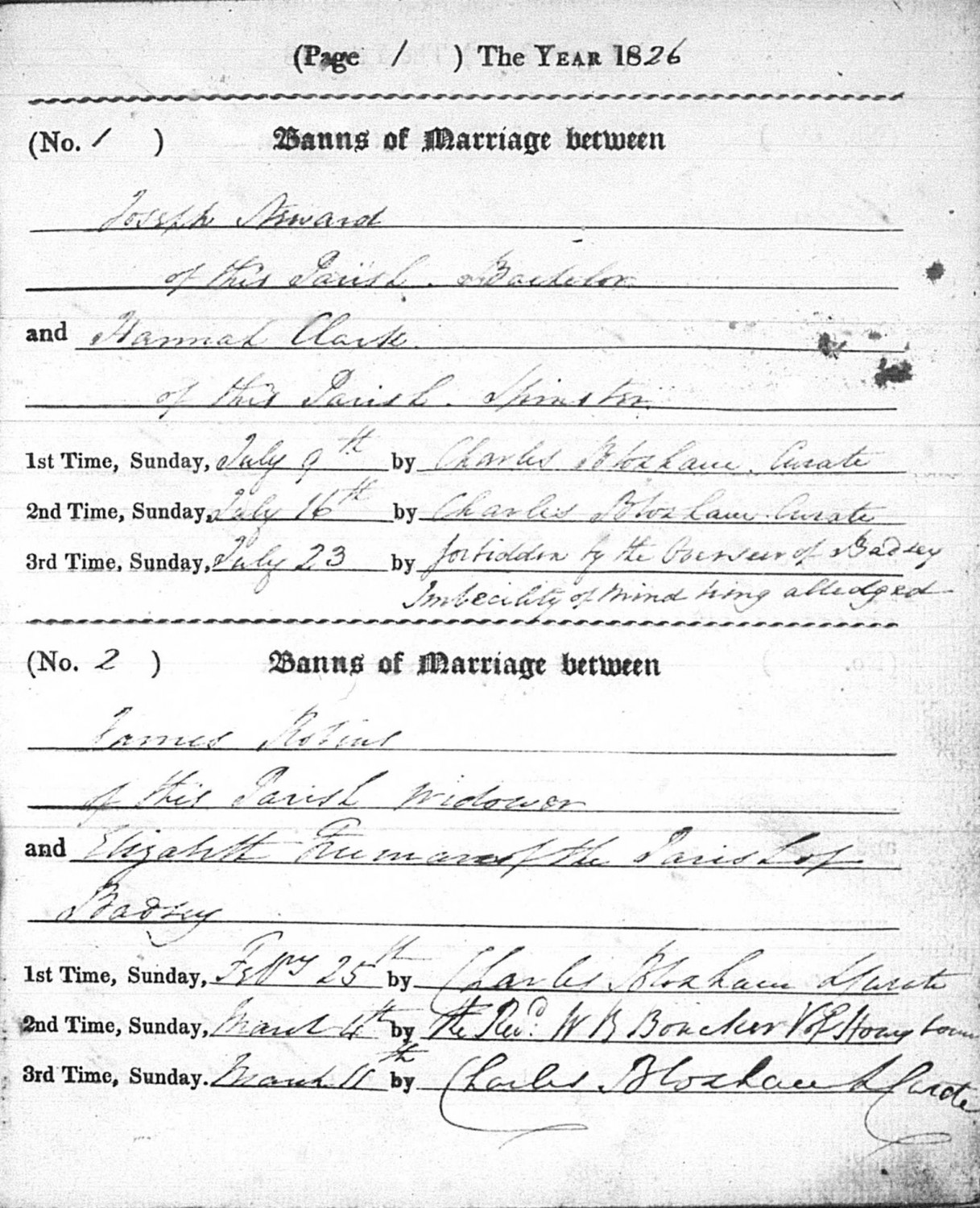 A leather-bound register for recording marriage banns was printed locally by J Agg of Bridge Street, Evesham.  This was John Agg (1758-1832) who was a bookseller, printer and writer.
The first entry in the register was in 1826.  It bears the note that the marriage was forbidden by the overseer of Badsey, the reason given was "Imbecility of the mind being alleged".  The wedding in entry No 75 did not go ahead as the prospective groom said that the banns had been published without his permission.
The same register was still in use over a hundred years later.  Of 175 entries, 65% of the weddings took place at Wickhamford.  The actual marriage details for the Wickhamford weddings may be seen in the marriage section.
Entry no.
Date
Names
Age
Status
Occupation
Abode
Marriage in this Parish
1
1826
Joseph STEWARD
Bachelor
Wickhamford
N
Hannah CLARK
Spinster
Wickhamford
2
1827
James ROBINS
Widower
Wickhamford
Y
Elizabeth FREEMAN
Spinster
Badsey
3
1827
John COOK
Bachelor
Wickhamford
Y
Hannah FRENFIELD
Spinster
Wickhamford
4
1828
John SIMS
Widower
Wickhamford
N
Jane KNIGHT
Spinster
Parish of St Lawrence, Evesham
5
1829
William HALL
Bachelor
Wickhamford
N
Ann ROSE
Spinster
South Littleton
6
1829
William SEERS
Bachelor
Wickhamford
N
Mary LAWRENCE
Spinster
Bengeworth
7
1832
Mark COOK
Bachelor
Wickhamford
N
Mary KNIGHT
Spinster
Willersey
8
1833
Job PACKET
Bachelor
Pebworth
N
Lucy HOWSE
Spinster
Wickhamford
9
1833
Joseph TURNER
Bachelor
Dowdeswell, Co Gloucester
Y
Sarah HALL
Spinster
Wickhamford
10
1833
Thomas HOWSE
Bachelor
Wickhamford
Y
Hannah TANDY
Spinster
Wickhamford
11
1834
James BENNETT
Bachelor
Wickhamford
Y
Ann BENNETT
Spinster
Wickhamford
12
1834
William HEAMS
Bachelor
Norton
Y
Mary HAWKER
Spinster
Wickhamford
13
1834
William MORRIS
Bachelor
Wickhamford
Y
Ann FAULKENOR
Spinster
Wickhamford
14
1834
Thomas SEERS
Bachelor
Wickhamford
N
Sarah CHANDLER
Spinster
Aldington
15
1834
Thomas BARNES
Widower
Wickhamford
N
Mary SIMPSON
Widow
Wickhamford
16
1834
Bonner SEERS
Bachelor
Wickhamford
Y
Elizabeth KNIGHT
Spinster
Wickhamford
17
1835
William BISHOP
Bachelor
Wickhamford
Y
Jane COLLETT
Spinster
Wickhamford
18
1835
Thomas MORGAN
Bachelor
Wickhamford
Y
Sarah SMITH
Spinster
Childswickham
19
1835
William HOWSE
Bachelor
Wickhamford
N
Hannah HUGHES
Spinster
Harvington
20
1838
John ROGERS
Bachelor
Wickhamford
Y
Ann HARTWELL
Spinster
Wickhamford
21
1838
George SAVAGE
Bachelor
Wickhamford
Y
Elizabeth BAYLISS
Spinster
Wickhamford
22
1838
Joshua BAYLISS
Widower
North Littleton
Y
Ann ROBBINS
Spinster
Wickhamford
23
1838
Richard KNIGHT
Bachelor
Wickhamford
Y
Mary COOK
Spinster
Wickhamford
24
1840
William CRANE
Bachelor
Wickhamford
Y
Sarah FAULKNER
Spinster
Wickhamford
25
1842
Richard JELFS
Bachelor
Badsey
Y
Mary ROGERS
Spinster
Wickhamford
26
1844
Richard HOWSE
Bachelor
Wickhamford
N
Elizabeth LATHAN
Spinster
Stanton, Glos
27
1844
Willam COOKE
Bachelor
Wickhamford
Y
Ann STANTON
Spinster
Wickhamford
28
1844
Charles WIDDOWS
Bachelor
Wickhamford
Y
Francisca ROLLS
Spinster
Wickhamford
29
1845
Thomas TAYLOR
Bachelor
Wickhamford
N
Ann BAYLIS
Spinster
Stanton, Glos
30
1846
Joseph BELCHER
Widower
Wickhamford
Y
Jane BENNETT
Spinster
Wickhamford
31
1848
Thomas ROGERS
Bachelor
Wickhamford
Y
Eliza DYER
Spinster
Ashton under Hill, Co Gloucester
32
1849
Thomas HALL
Bachelor
Wickhamford
Y
Elizabeth HOUGHTON
Spinster
Wickhamford
33
1850
James BACON
Bachelor
Wickhamford
Y
Mary FAULKNER
Spinster
Wickhamford
34
1855
Elijah HOWSE
Bachelor
Wickhamford
N
Matilda MOSELEY
Spinster
Aston Magna
35
1855
Joseph COOPER
Widower
Wickhamford
Y
Elizabeth FAULKENER
Spinster
Wickhamford
36
1856
Charles NEW
Bachelor
Wickhamford
N
Sarah HOLLAND
Spinster
St Andrew, Pershore
37
1861
Job TAYLOR
Bachelor
Wickhamford
Y
Ellen SALIS
Spinster
Wickhamford
38
1862
David HOWES
Bachelor
Wickhamford
Y
Emma TAYLOR
Spinster
Wickhamford
39
1866
Frederick CLARK
Bachelor
Church Lench
Y
Rachel SEARS
Spinster
Wickhamford
40
1870
William HOWES
Bachelor
Wickhamford
Y
Ellen BEESLEY
Spinster
Wickhamford
41
1875
John TIMMS
Bachelor
Banbury, Oxon
Y
Hannah PETHARD
Spinster
Wickhamford
42
1876
Isaac GEE
Widower
Aston Juxta, Birmingham
Y
Sophia FODEN
Widow
Wickhamford
43
1879
Charles COLE
Bachelor
Wickhamford
Y
Ellen Mary HOWES
Spinster
Wickhamford
44
1879
William CRANE
Bachelor
Wickhamford
Y
Sarah Ann CASSELL
Widow
Wickhamford
45
1880
George PETHARD
Widower
Wickhamford
N
Hannah BYRD
Spinster
Bretforton
46
1882
David TOMLINSON
Bachelor
Wickhamford
N
Mary Ann STANTON
Spinster
Bishampton
47
1883
Charles PEARSON
Widower
Old Swinford
Y
Sophia GEE
Widow
Wickhamford
48
1885
Elias Charles WALTERS
Bachelor
Wickhamford
N
Diana WHITE
Spinster
Wickhamford
49
1886
Frederick William BOTT
Bachelor
Stetchford, Yardley Parish
Y
Sarah Ann PETHARD
Spinster
Sandys Arms, Wickhamford
50
1887
George Frederick PETHARD
Bachelor
Wickhamford
N
Florence COOPER
Spinster
Armitage, near Rugeley, Staffordshire
51
1887
Robert TAYLOR
Bachelor
Wickhamford
N
Sarah Kate WOOD
Spinster
St Michael's, Gloucester
52
1888
John White MASON
Bachelor
Wickhamford
Y
Elizabeth WAGSTAFF
Spinster
Badsey
53
1889
William DAVIES
Bachelor
Wickhamford
Y
Elizabeth GLOVER
Spinster
Wickhamford
54
1889
Walter Richard WARMINGTON
Bachelor
Badsey
Y
Jecholiah Ann SMITH
Spinster
Wickhamford
55
1889
Frederick Allen WHITE
Bachelor
Wickhamford
N
Evelyn SHERWOOD
Spinster
Bretforton
56
1889
William Frederick HEWLETT
Bachelor
Wickhamford
Y
Amelia SMITH
Spinster
Wickhamford
57
1889
Richard SMITH
Bachelor
Wickhamford
Y
Adelaide Apolina WHITE
Spinster
Wickhamford
58
1890
William James HALFORD
Bachelor
Wickhamford
N
Pamela Jane PRATT
Spinster
Bretforton
59
1890
Job Friar WINNETT
Bachelor
Wickhamford
N
Emma NORMAN
Spinster
Wickhamford
60
1891
James HARTWELL
Bachelor
Badsey
Y
Ann MASON
Spinster
Wickhamford
61
1894
Edward John PETHARD
Bachelor
Wickhamford
N
Annie Georgina SMITH
Spinster
Murcott, Childswickham
62
1895
William HALL
Bachelor
Langley Green, Birmingham
Y
Emma Dora MASON
Spinster
Wickhamford
63
1896
Albert SMITH
Bachelor
Wickhamford
Y
Hannah Maria POPE
Spinster
Wickhamford
64
1897
Hubert Edward HACKLETT
Bachelor
Wickhamford
Y
Annie Louise HARTWELL
Spinster
Wickhamford
65
1897
Edwin TOUT
Bachelor
Parish of St Andrew's, Plymouth
Y
Emma WINNETT
Spinster
Wickhamford
66
1899
George William MUSTOE
Bachelor
Badsey
Y
Mary SMITH
Spinster
Wickhamford
67
1902
George Albert AGG
Bachelor
Wickhamford
N
Catherine ARCHER
Spinster
Bretforton
68
1902
Samuel John LONG
Bachelor
Wickhamford
Y
Betsy Ann WRIGHT
Spinster
Wickhamford
69
1902
Humphrey Edward WHEELER
Bachelor
Manchester
Y
Leah HARRISS
Spinster
Wickhamford
70
1902
William GRINNELL
Bachelor
Parish of St Lawrence, Evesham
N
Mary Elizabeth BENNETT
Spinster
Wickhamford
71
1903
Robert WILSON
Bachelor
Fladbury
Y
Matilda CLARKE
Spinster
Wickhamford
72
1903
George Henry BATES
Bachelor
Wickhamford
Y
Sarah Ann JELFS
Spinster
Wickhamford
73
1903
Eli Edgar HALFORD
Bachelor
Wickhamford
Y
Eliza Elizabeth SMITH
Widow
Wickhamford
74
1904
Alfred James HALFORD
Bachelor
Wickhamford
Y
Sarah STAITE
Spinster
Wickhamford
75
1905
Charles William HALFORD
Bachelor
Wickhamford
N
Lizzie Maud WINNETT
Spinster
Wickhamford
76
1905
Fitz Colin JELFS
Bachelor
Wickhamford
Y
Amy FLETCHER
Spinster
Badsey
77
1905
Henry John HAWKER
Bachelor
Wickhamford
Y
Ellen Louise SHILL
Spinster
Wickhamford
78
1906
Alfred HALFORD
Bachelor
Wickhamford
Y
Amelia Emily HARTWELL
Spinster
Wickhamford
79
1906
Charles Robert MASON
Bachelor
Wickhamford
N
Harriet Annie SUCH
Spinster
Bengeworth
80
1907
George Percy Watson OSLER
Bachelor
Wickhamford
N
Winnifred Mary SIDDONS
Spinster
Parish of St Peter, Bayswater
81
1907
Frank HERBERT
Bachelor
Badsey
Y
Jessie LAWLEY
Widow
Wickhamford
82
1911
Alfred BAKER
Bachelor
Bengeworth
Y
Ethel Minnie HARTWELL
Spinster
Wickhamford
83
1911
Allen HALFORD
Bachelor
Wickhamford
Y
Leah HARRIS
Spinster
Parish of St Lawrence, Evesham
84
1912
Alfred George HAYMAN
Bachelor
Wickhamford
N
Marjoriy Vivian Mary BUTT
Spinster
Walford, Herefordshire
85
1912
James Thomas COX
Bachelor
Wickhamford
N
Amy BROWN
Spinster
Parish of All Saints, Evesham
86
1912
John Thomas PITMAN
Bachelor
Wickhamford
Y
Elizabeth Priscilla MORGAN
Spinster
Wickhamford
87
1913
Francis James GREEN
Bachelor
Wickhamford
Y
Laura Alice TURNER
Spinster
Wickhamford
88
1913
Thomas Morton TAYLOR
Bachelor
Wickhamford
Y
Catherine Mary FREEMAN
Spinster
Wickhamford
89
1913
Wilfred Charlie PITMAN
Bachelor
Wickhamford
Y
Florence Rose WEST
Spinster
Parish of St Mary, Worcester
90
1913
Walter Henry JELFS
Bachelor
Badsey
Y
Florence Mary CHAMBERLAIN
Spinster
Wickhamford
91
1913
Leonard John WALFORD
Bachelor
Bretforton
Y
Evelyn Constance BAYLIS
Spinster
Wickhamford
92
1913
Richard Hardiman HUXLEY
Bachelor
Wickhamford
N
Ellen Lizzie CURNOCK
Spinster
Offenham
93
1913
George Henry PITTS
Bachelor
Wickhamford
Y
Beatrice Emily MOULBERY
Spinster
Wickhamford
94
1913
Charles William HALFORD
Widower
Wickhamford
Y
Edith Florence MOULBERY
Spinster
Wickhamford
95
1913
William Percy WORMINGTON
Bachelor
Wickhamford
N
Annie Victoria HORNE
Spinster
Holy Cross, Pershore
96
1914
Albert COX
Bachelor
Wickhamford
Y
Joyce Violet May PROCTOR
Spinster
Parish of All Saints, Evesham
97
1914
Robert William WALTERS
Bachelor
Wickhamford
N
Elsie Jane SUCH
Spinster
Bengeworth
98
1916
Raymond Percy Marston HARTWELL
Bachelor
Wickhamford
Y
Edith Milly NIBLETT
Spinster
Wickhamford
99
1917
Cecil Herbert WARD
Bachelor
Parish of All Saints, Evesham
Y
Violet Lilian PETHARD
Spinster
Wickhamford
100
1919
Francis Harry HALFORD
Bachelor
Wickhamford
Y
Ethel Mildred WINFIELD
Spinster
Parish of St Lawrence, Evesham
101
1920
John JENKINS
Bachelor
Wickhamford
Y
Mary Anne AGG
Spinster
Wickhamford
102
1921
Edwin John NEWBURY
Bachelor
Wickhamford
N
Nellie GRIFFIN
Spinster
Hampton
103
1922
Howard GIBSON
Bachelor
Handsworth
Y
Annie Maria SOUTHERN
Spinster
Wickhamford
104
1922
Alfred Lambourne KING
Bachelor
Wickhamford
Y
Fanny Mabel Mary COLLETT
Spinster
Wickhamford
105
1922
John Mortimer DRYSDALE
Bachelor
Wickhamford
N
Enid Gwladys OPENSHAW
Spinster
St Peter, Hampstead
106
1923
François Paul PEELMAN
Bachelor
Wickhamford
Y
Katie Gwendoline COLLETT
Spinster
Wickhamford
107
1923
Albert Thomas TURNER
Bachelor
Wickhamford
N
Nellie GREGORY
Spinster
Market Drayton
108
1923
Ernest SOUTHERN
Bachelor
Wickhamford
N
Lucy SADLER
Spinster
Willersey
109
1924
Aubrey MORTIMER
Bachelor
Parish of St Anselm, Streatham
N
Frances Hilda EVANS
Spinster
Wickhamford
110
1925
Tom Herbert COLLETT
Bachelor
Wickhamford
Y
Pricilla Marjorie PETHARD
Spinster
Wickhamford
111
1925
Herbert Reginald BATT
Bachelor
Brislington, Somerset
Y
Bessie Annie ROSS
Spinster
Wickhamford
112
1925
Gerald Charles MALTBY
Bachelor
Wickhamford
N
Emily Norah KINGSNORTH
Spinster
Parish of St Luke, Maidstone
113
1925
Thomas Edward BEAN
Widower
Wickhamford
Y
Ellen BAYLISS
Widow
Wickhamford
114
1925
Raymond John MUMFORD
Bachelor
Bengeworh
Y
Annie Elizabeth BUTCHER
Spinster
Wickhamford
115
1925
Frederick Frank BAYLISS
Bachelor
Wickhamford
Y
Florence Ellen JELFS
Spinster
Badsey
116
1925
Percy Cyril HERITAGE
Bachelor
Wickhamford
N
Annie JELFS
Spinster
Hampton
117
1926
Frederick GRIFFIN
Bachelor
Wickhamford
Y
Hilda FIGGITT
Spinster
Parish of All Saints, Evesham
118
1927
Stanley FIGGITT
Bachelor
Wickhamford
N
Amy LAMPITT
Spinster
Bengeworth
119
1927
George Thomas HANCOCK
Bachelor
Badsey
Y
Gwendoline Emma WILLIS
Spinster
Wickhamford
120
1927
Ernest George TAYLOR
Bachelor
Badsey
Y
Harriett Annie HAMPTON
Spinster
Wickhamford
121
1927
Edgar John HACKLETT
Bachelor
Wickhamford
N
Evelyn Maud SAUNDERS
Spinster
Parish of St Lawrence, Evesham
122
1928
Robert PETHARD
Bachelor
Bengeworth
Y
Maggie HERITAGE
Spinster
Wickhamford
123
1928
John SOUTHERN
Bachelor
Wickhamford
N
Winifred Maud BOSWELL
Spinster
Great Hampton
124
1928
Vernon Joseph Byrd PETHARD
Bachelor
Wickhamford
N
Elizabeth Mary Collett JOHNSON
Spinster
Parish of St Mary, Cheltenham
125
1928
Frederick Lawson SOUTHERN
Bachelor
Wickhamford
Y
Ruth Mary COX
Spinster
Wickhamford
126
1928
William Joseph GANNAWAY
Bachelor
Wickhamford
Y
Gladys JONES
Spinster
Wickhamford
127
1930
Bertram Leslie OCKWELL
Bachelor
Rodbourne Cheney, Wilts
Y
Margaret Kathleen CARELESS
Spinster
Wickhamford
128
1930
Edward Russell PEARCE
Bachelor
Wickhamford
N
Irene Alice BIRCH
Spinster
Hampton
129
1930
Francis George Herbert HALLEN
Bachelor
Bengewoth
Y
Lilly BENNETT
Spinster
Wickhamford
130
1931
Matthew ARTHUR
Bachelor
Parish of St Stephen, South Kensington
Y
Audrey LEES-MILNE
Spinster
Wickhamford
131
1931
Horace FEENEY
Bachelor
Springfield, Birmingham
Y
Kate ROBBINS
Spinster
Wickhamford
132
1931
Frederick George LAMBOURN
Bachelor
Acocks Green
Y
Elizabeth ROBBINS
Spinster
Wickhamford
133
1931
Frederick Henry HARTLEY
Bachelor
Wickhamford
Y
Dorothy Annie WARNER
Spinster
Wickhamford
134
1931
William James HODGES
Bachelor
Parish of St Lawrence, Evesham
Y
Phyllis COLLEY
Spinster
Wickhamford
135
1931
Frank CLARKE
Bachelor
Wickhamford
Y
Hilda May GRIMMITT
Spinster
Wickhamford
136
1931
Albert SUTTON
Bachelor
Wickhamford
N
Vera Mary SMITH
Spinster
Childswickham
137
1932
Cecil Reginald PEARCE
Bachelor
Wickhamford
N
Veronica GROVE
Spinster
Hampton
138
1932
Sidney Thomas GRIFFIN
Bachelor
Wickhamford
N
Florence KNIGHT
Spinster
Bengeworth
139
1932
Harold Henry SOUTHERN
Bachelor
Wickhamford
N
Nellie Ethel LIDSEY
Spinster
Aldington
140
1933
Ernest John PITTS
Bachelor
Badsey
Y
Ivy BENNETT
Spinster
Wickhamford
141
1933
Jesse Harris Collett NEWBURY
Bachelor
Wickhamford
N
Alice Maud HALLING
Spinster
Willersey
142
1934
Horace Wilfred GRIFFITHS
Bachelor
Parish of St Lawrence, Evesham
Y
Cynthia Mary SOUTHERN
Spinster
Wickhamford
143a
1934
Arthur Charles CARTER
Bachelor
Eckington
Y
Violet Phyllis HALFORD
Spinster
Wickhamford
143b
1934
Frederick Bernard SMITH
Bachelor
Broadway
Y
Dorothy Katherine PITMAN
Spinster
Wickhamford
144
1934
Frederick John COX
Bachelor
Wickhamford
N
Beatrice Annie WALLIS
Spinster
Broadway
145
1935
Walter Henry JOHNSON
Bachelor
Bengeworth
Y
Gladys Irene SOUTHERN
Spinster
Wickhamford
146
1935
Eric Thomas Johan ALLARD
Bachelor
Wickhamford
N
Barbara GREEN
Spinster
Bengeworth
147
1935
James William STANLEY
Bachelor
Bretforton
Y
Melvia Rose HALFORD
Spinster
Wickhamford
148
1936
Ronald Gillman HOLLAND
Bachelor
Broadway
Y
Margaret Helen HAINES
Spinster
Wickhamford
149
1936
Leslie Frank EDWARDS
Bachelor
Parish of All Saints, Evesham
Y
Catherine Edith TAYLOR
Spinster
Wickhamford
150
1936
James William MOISEY
Bachelor
Wickhamford
N
Florence Winifred NEWETT
Spinster
Bishampton
151
1937
George William ROSE
Bachelor
Childswickham
Y
Annie Eliza SUTTON
Spinster
Wickhamford
152
1938
Charles Thomas TAYLOR
Bachelor
Wickhamford
N
Eva Mary TAYLOR
Spinster
Dumbleton
153
1938
Reginald Jackson TAYLOR
Bachelor
Wickhamford
N
Hilda Mary BELL
Spinster
Parish of St Lawrence, Evesham
154
1938
Charles CALCUTT
Bachelor
Broadway
Y
Gwendoline May MOISEY
Spinster
Wickhamford
155
1938
Arthur Frederick ALLARD
Bachelor
Wickhamford
N
Evelyn Joyce TAYLOR
Spinster
Parish of St Andrew's, Hampton, Evesham
156
1938
David William HORNE
Bachelor
Stoke, Warwickshire
Y
Nellie May SPRAGG
Spinster
Wickhamford
157
1939
Bertie ANDREWS
Bachelor
Wickhamford
Y
Kathleen Emily Mary FIELD
Spinster
Wickhamford
158
1939
Cecil Walter COX
Bachelor
Wickhamford
Y
Violet BENNETT
Spinster
Wickhamford
159
1940
Cyril Albert NEED
Bachelor
Broadway
Y
Ruth Irene COX
Spinster
Wickhamford
160
1940
Henry Percy TAYLOR
Bachelor
Wickhamford
Y
Marjorie Louvain BEAMAN
Spinster
Parish of St Lawrence, Evesham
161
1940
Sidney Robert JOHNS
Bachelor
Parish of St James, Norland
Y
Myfanwy May WILLIAMS
Spinster
Wickhamford
162
1940
Frederick Thomas John TAYLOR
Bachelor
Wickhamford
N
Alice May HUGHES
Spinster
Bengeworth
163
1940
George William HALFORD
Bachelor
Wickhamford