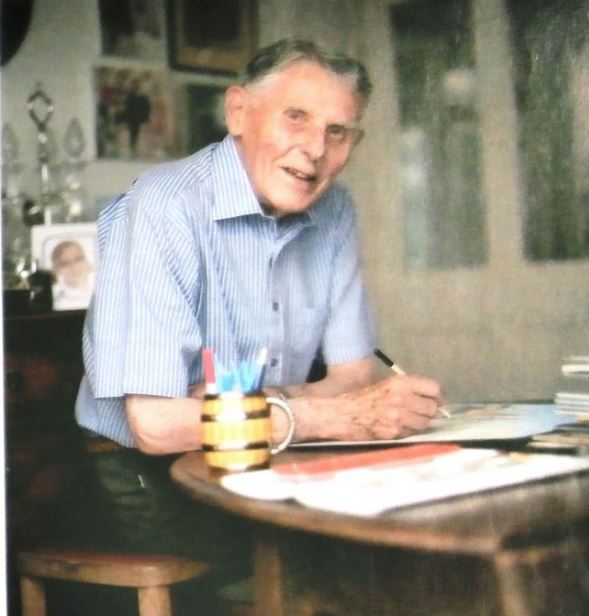 Michael Barnard, who died earlier this year, aged 91, was well-known throughout the Vale of Evesham as an artist and regular contributor to The Evesham Journal and The Vale Magazine.  His prolific sketches, with a trademark aeroplane in almost every one, were a familiar feature in many newspapers, magazines and on the walls of public buildings.
* * * * *
Michael John Barnard was born on 10th July 1928 at Sands Lane, Badsey, the eldest of three children of John Barnard, a market gardener, and his wife, Gladys Maud (née Byrd).  Michael came from an old Badsey family.  It was his 3xgreat-grandfather, William Barnard, who was parish clerk for many years, who had first come to Badsey in about 1842.
Michael was born at Craigie on Sands Lane but, in the 1930s, the family moved to a new house, Packs House, Bretforton Road, built on land which belonged to Gladys' father.  Meanwhile, Craigie was let out to tenants.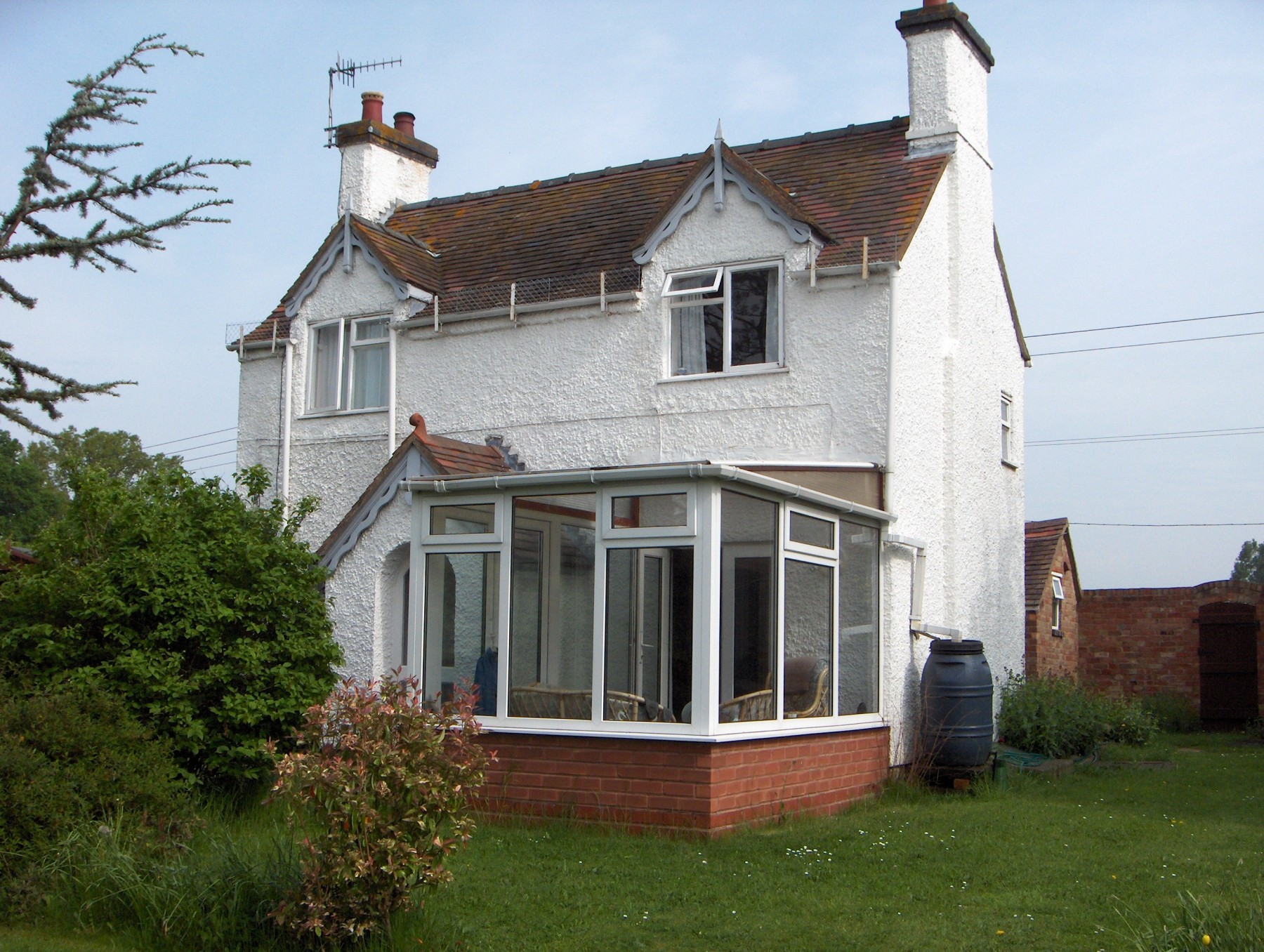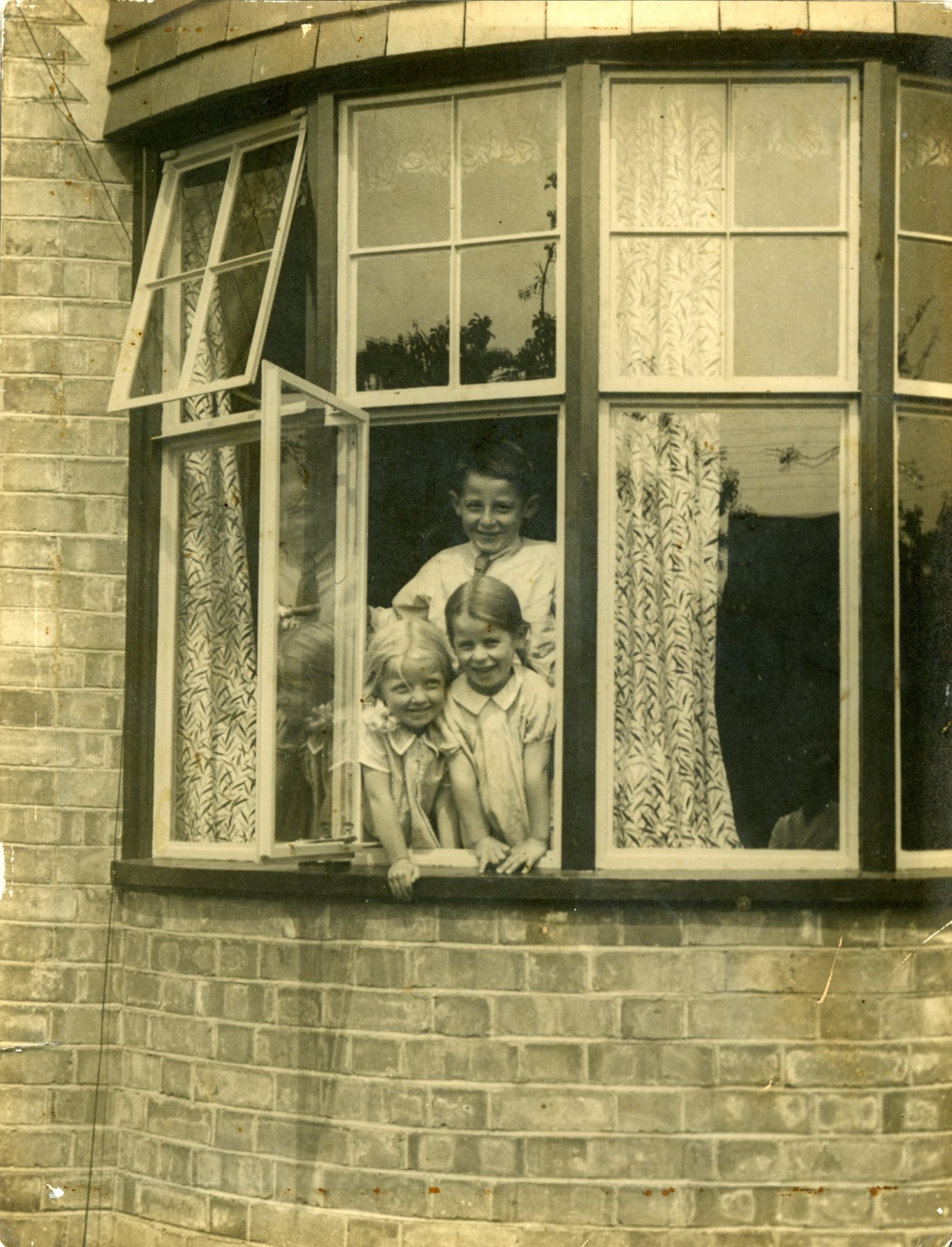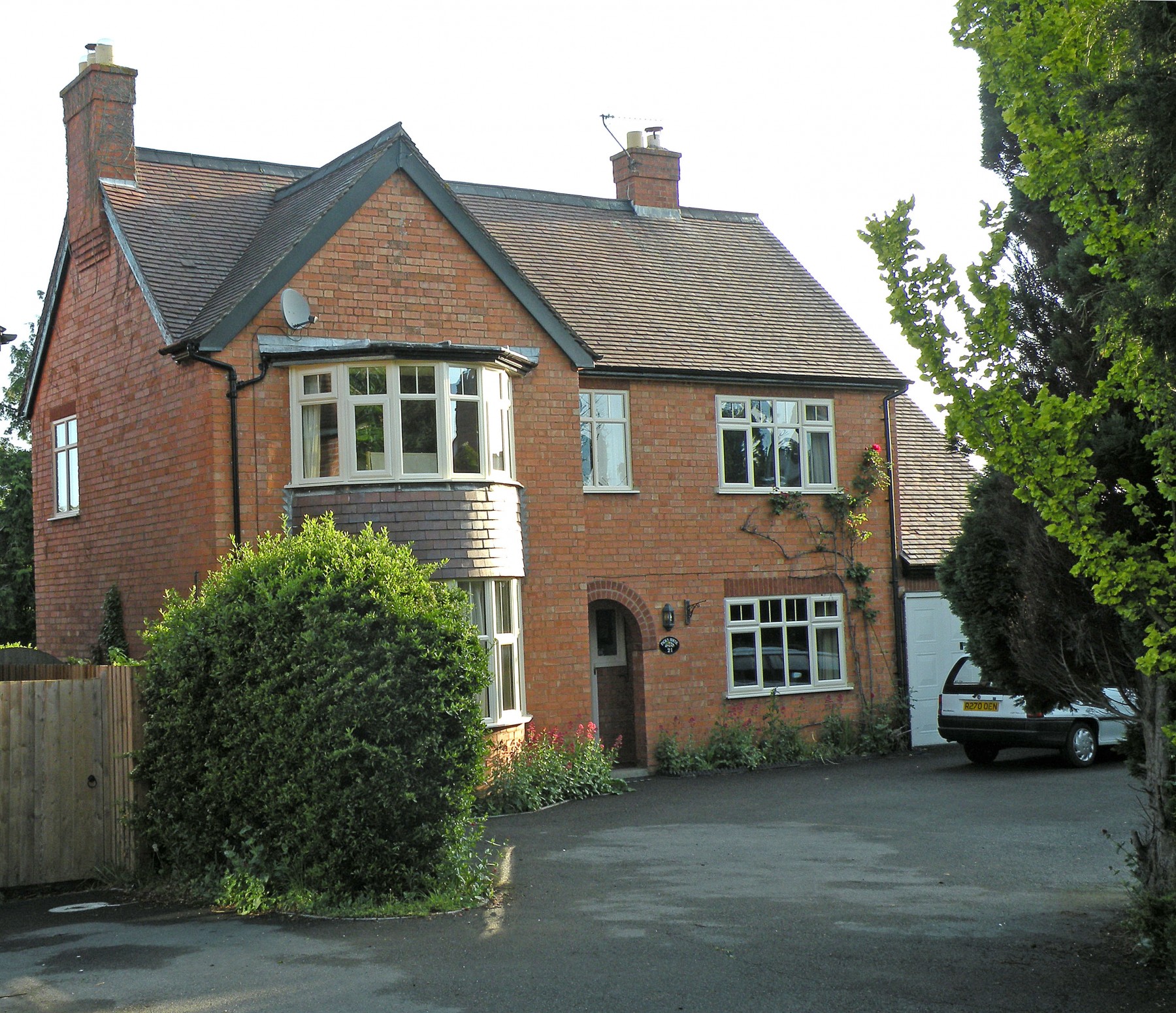 Michael was a pupil at Badsey Council School from January 1933 to August 1939, then moved to Prince Henry's Grammar School just after the Second World War had started.  On leaving school, he became a market gardener like his father.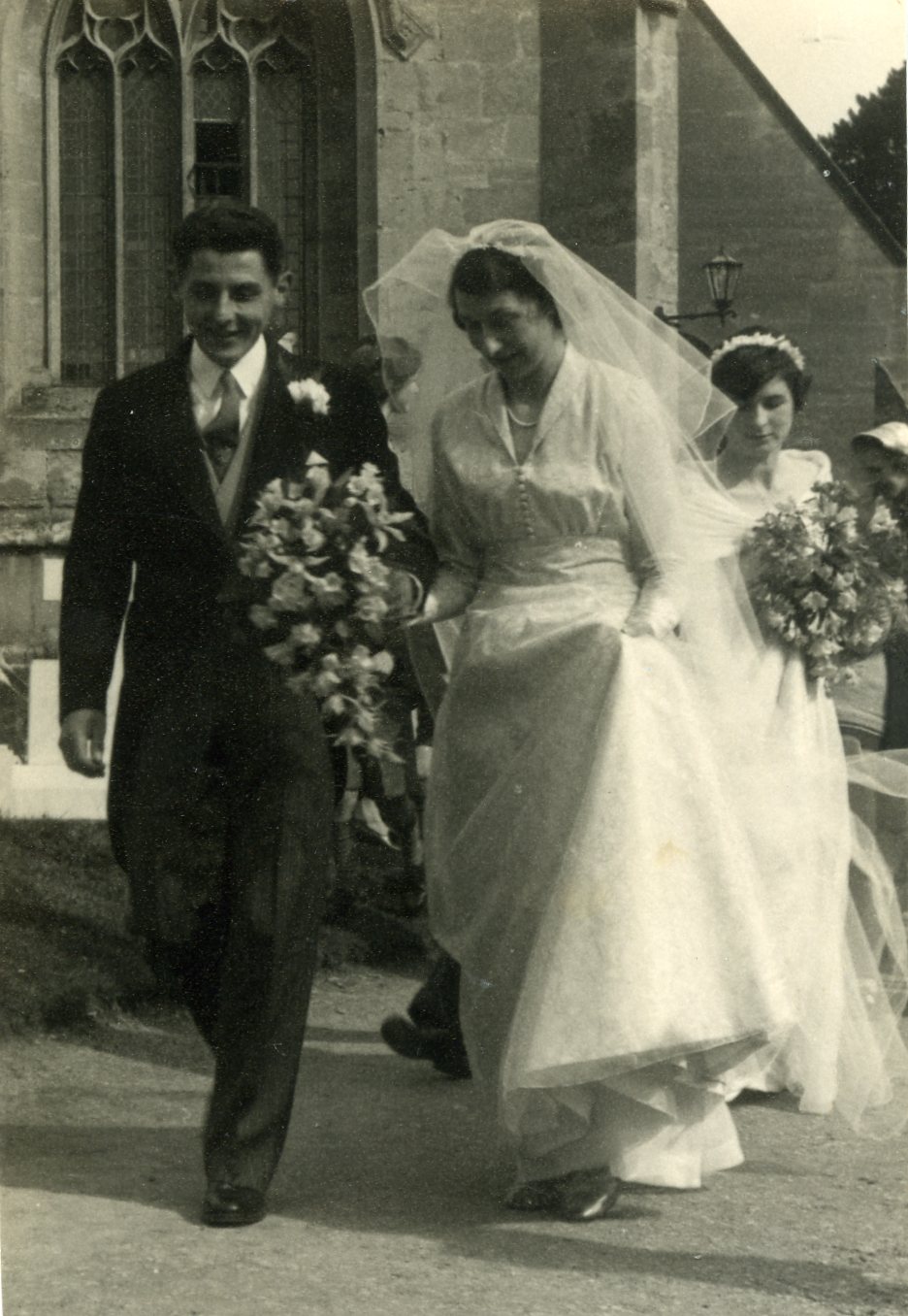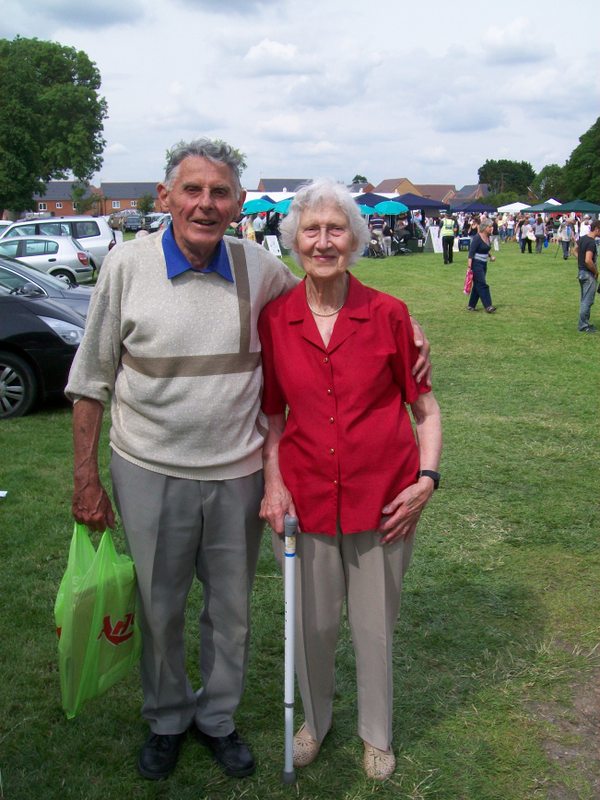 Michael married Olga Pamela Wheatley on 8th April 1953 in St James' Church, Badsey; a report of their wedding appeared in The Evesham Standard.  The newly-married couple set up home at Craigie and, in 1967, they adopted a baby boy.
Michael's two great passions in life were painting and planes. Whatever the subject, somehow an aeroplane always seemed to sneak into the picture somewhere (at least for exterior shots, not so easy for interior views)!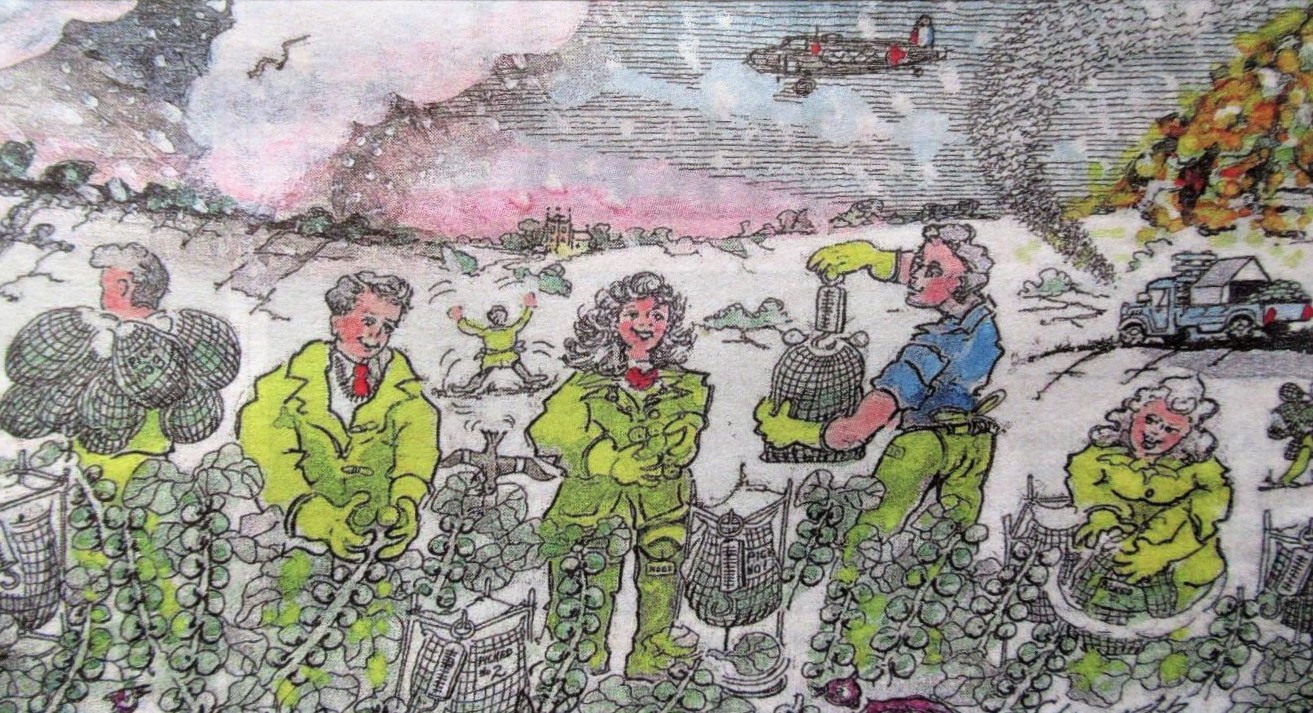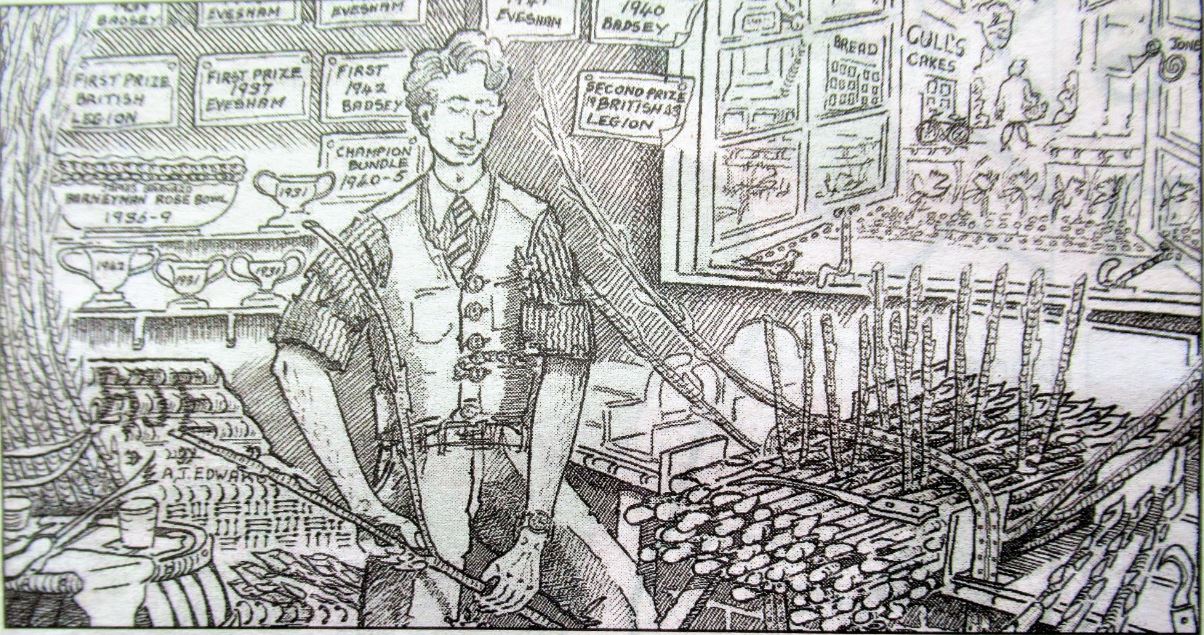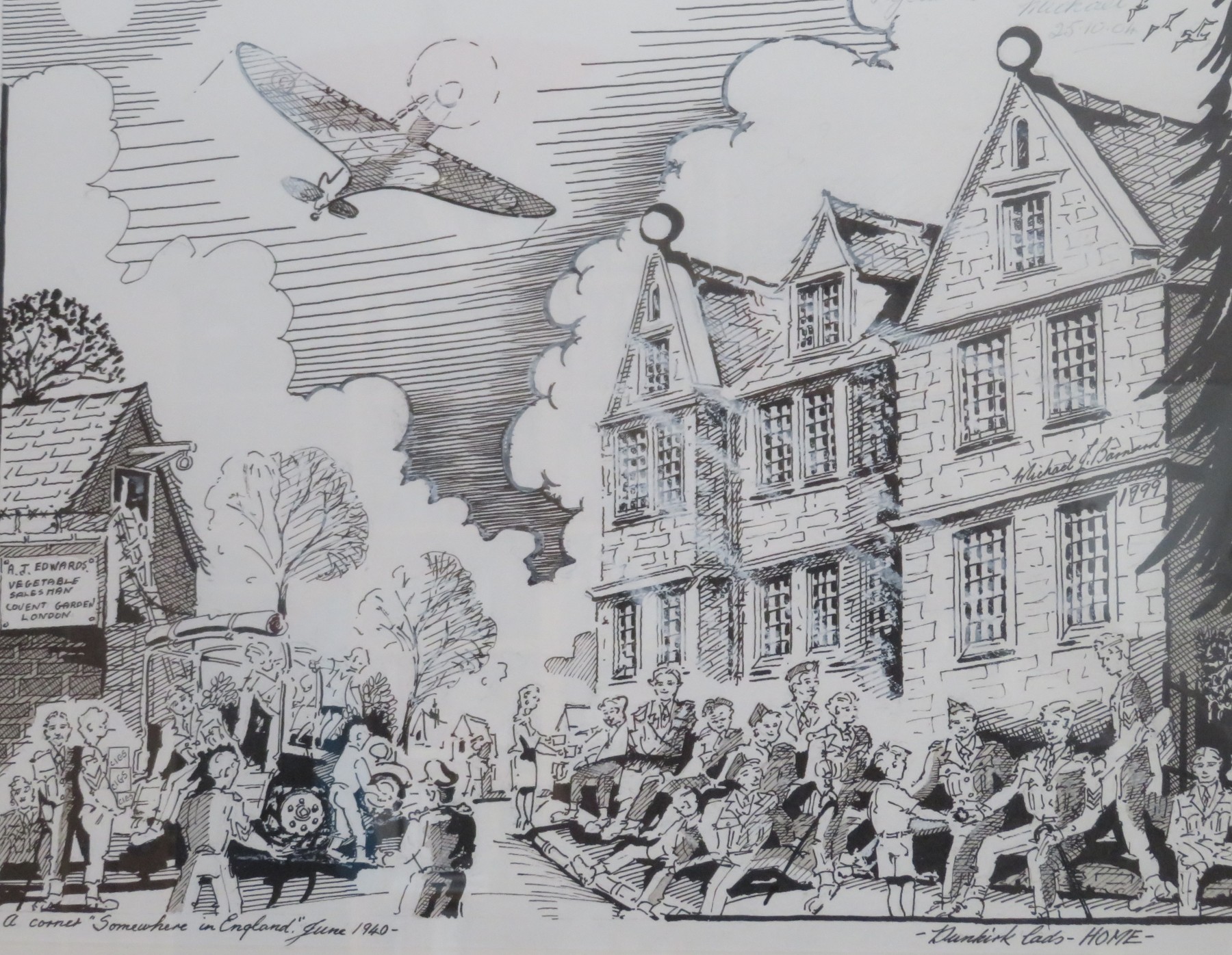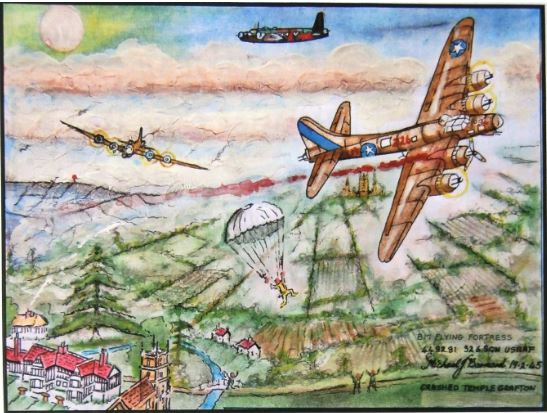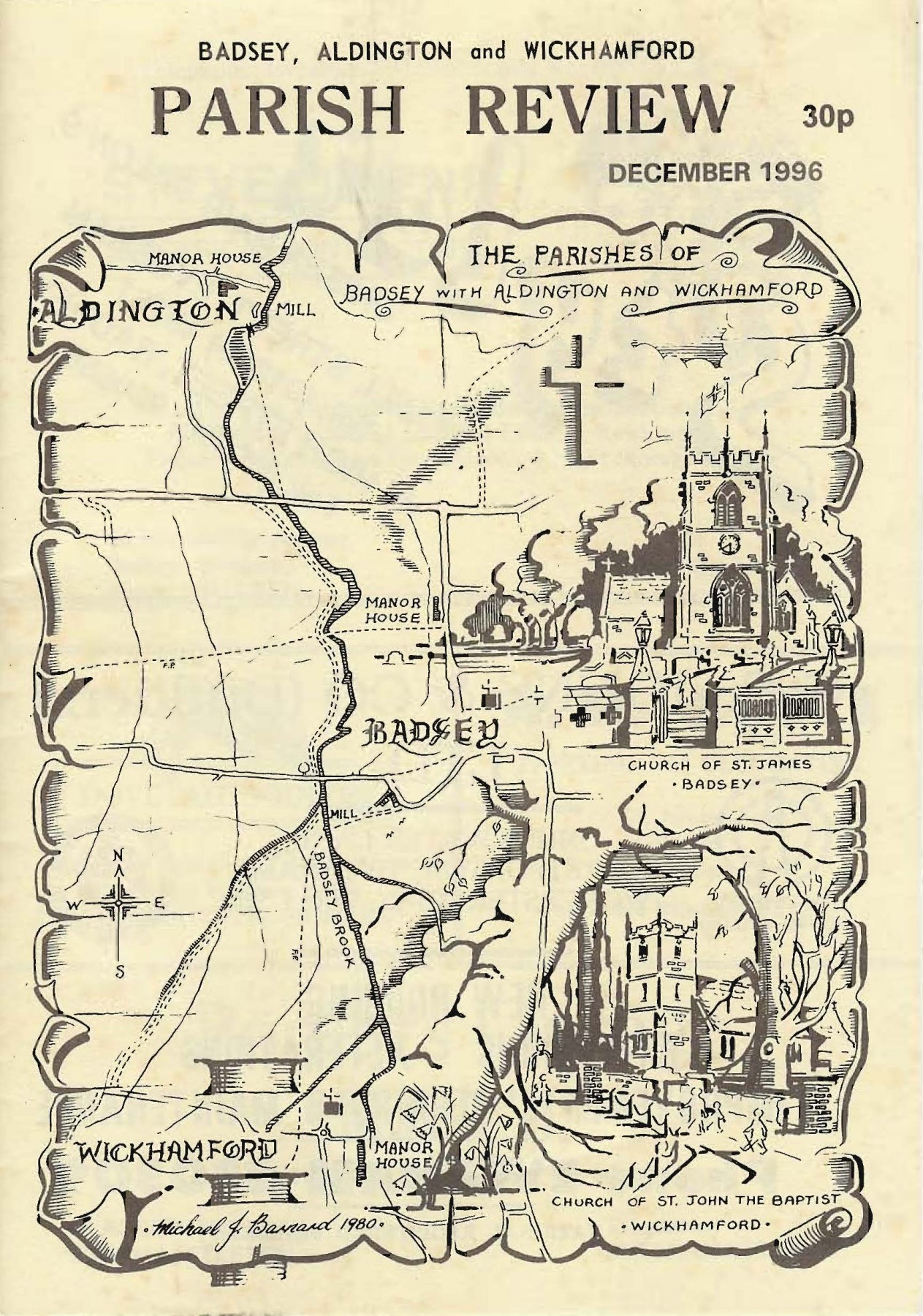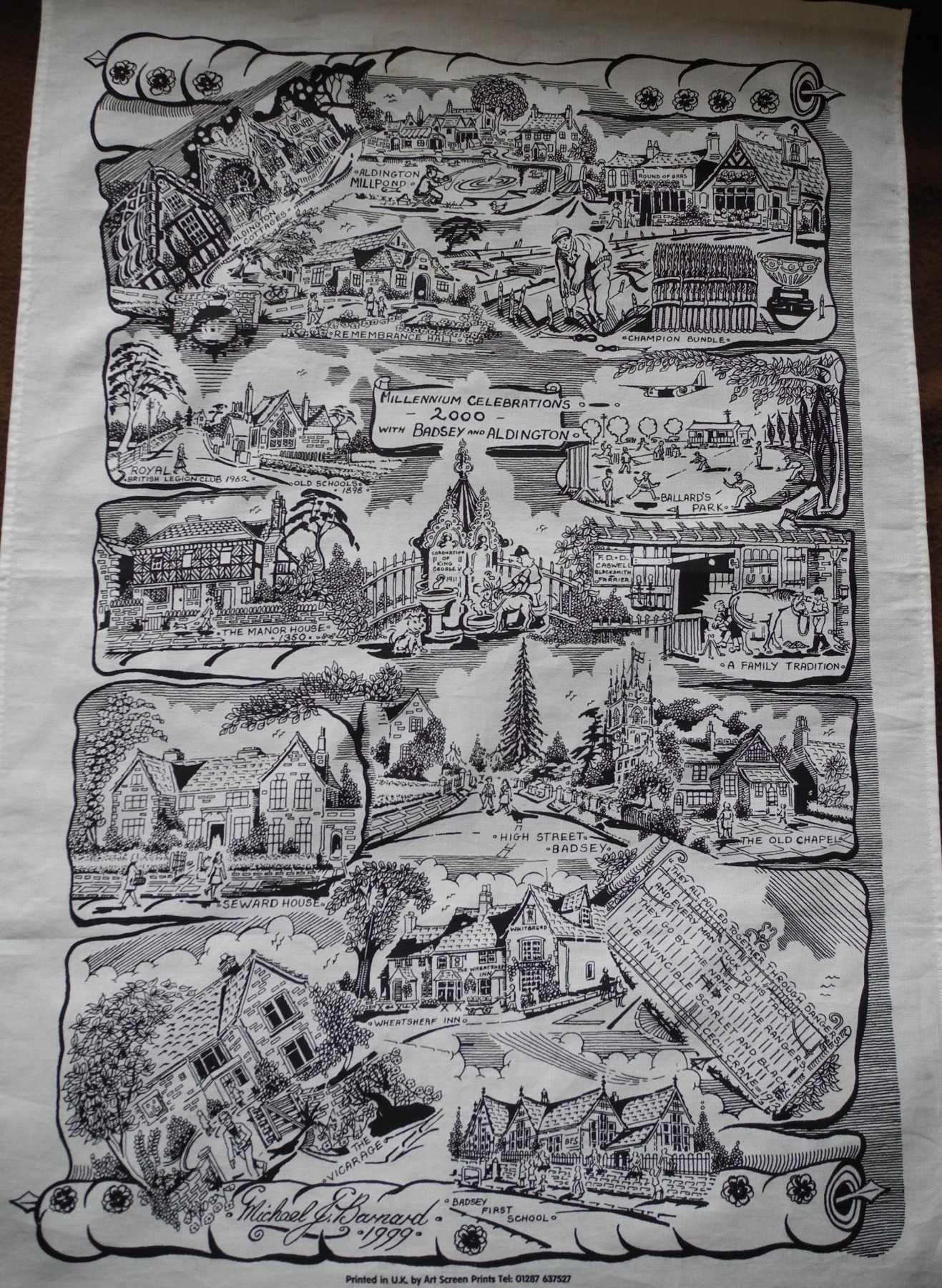 From January 1981 to December 1996, Michael Barnard's 1980 sketch map of Badsey, Aldington and Wickhamford graced the front cover of the monthly Badsey, Aldington and Wickhamford Parish Review (left). In 2000, he did the design for the Millennium Tea Towel (right).  It shows images of many well-known landmarks in Badsey and Aldington, and a rhyme by Cecil Crane, 1912, about Badsey Rangers.
Michael contributed several sketches for Badsey Society publications.  One illustration for Heads and Tales:  A History of Badsey Schools needed delicate handling, however.  Michael was very keen to emphasise the fact that Badsey School pupils were known for their beautiful handwriting.  He did a sketch of a blackboard with immaculate script and drew the Head Teacher, Mr Frank Amos, entering the classroom.  However, on showing the sketch to the late Miss Jean-Margaret Amos, the Head's only daughter, she did not like the way her father had been depicted.  What to do – how to keep both sides happy?  The solution, as you can see below, was to cut the sketch in half!
In the same year that Heads and Tales was published, Michael also produced a painting for Badsey First School, celebrating 150 years since the founding of the National School in 1854. He is pictured with the Head Teacher, Mrs Elizabeth Spencer (née Wheatley), who was also his niece by marriage.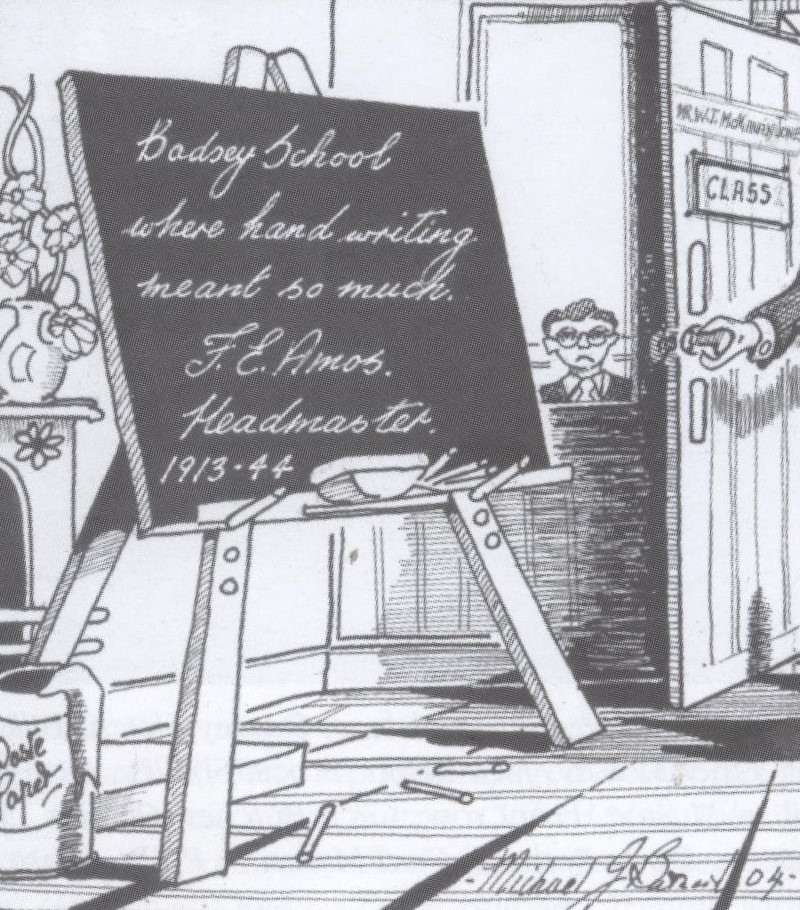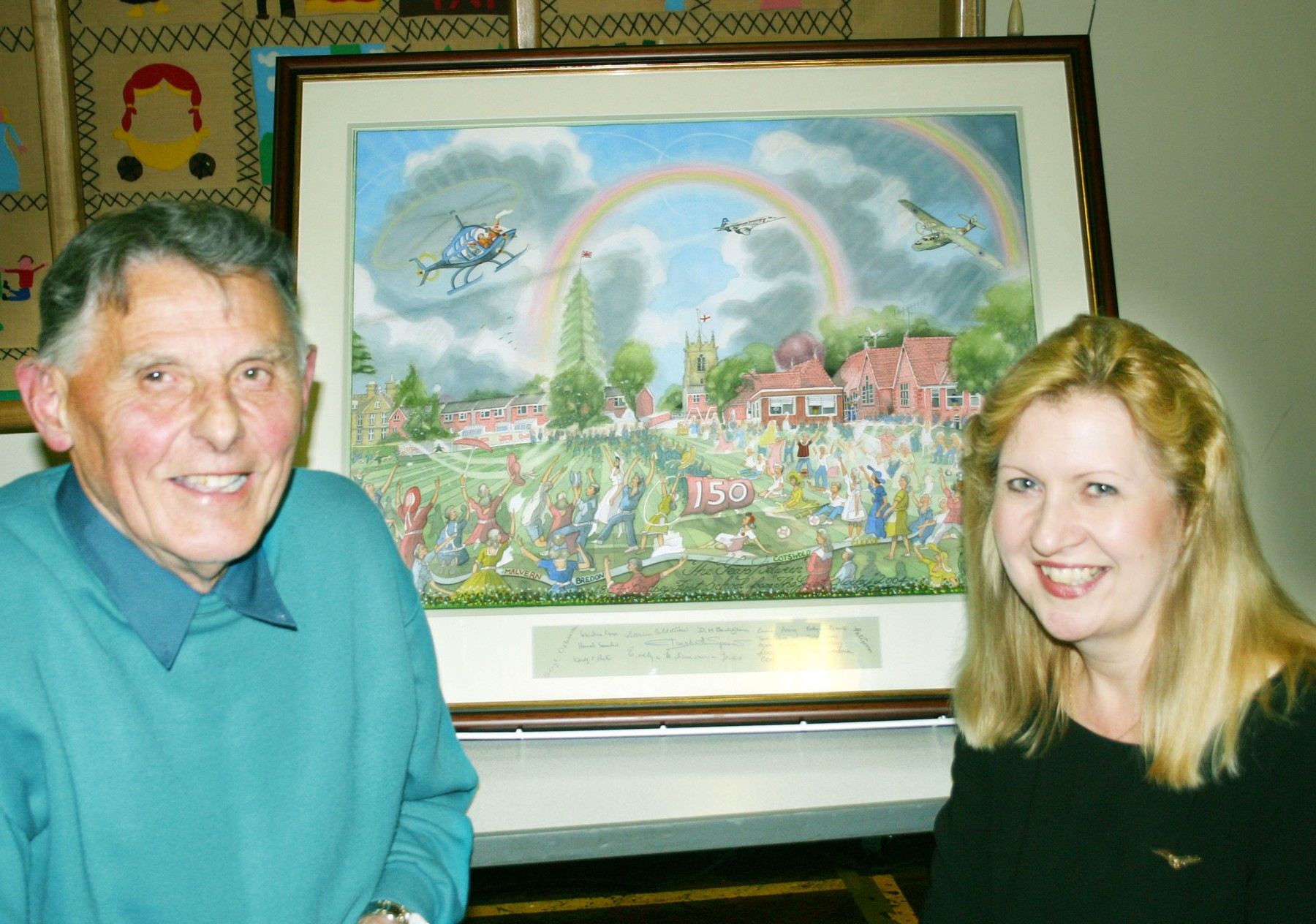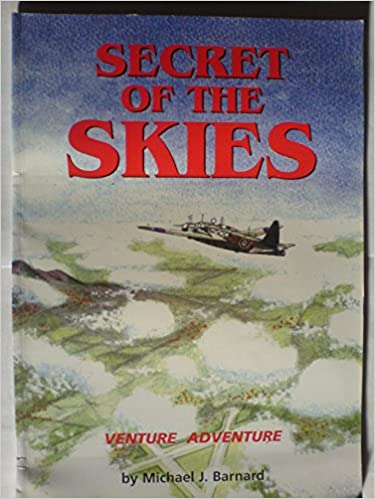 In 2002, Michael published a book called Secret of the Skies which recalled his time as a Cadet in the Air Training Corps.  First-hand accounts from Michael and ATC acquaintances told the story of everyday life at the local airfields of Honeybourne, Pershore and Defford, during WWII. The book contains nearly a hundred of Michael's unique drawings, many sketched back in the 1940s.  As he explained to a news reporter:  "Most of the drawings were pencilled on war time standard paper and are really lucky to have survived 55 years or so, but keeping them away from the light had helped to keep them sharp, enabling them to stand up to modern photography."
Michael and Pam remained at Craigie until the last few months of their lives, when failing health forced them to move to Austin Court Care Home, Evesham.  Michael died there on 13th March 2020.  Pam died four and a half months later on 31st July 2020.  They had been married for 66 years.
Maureen Spinks, August 2020