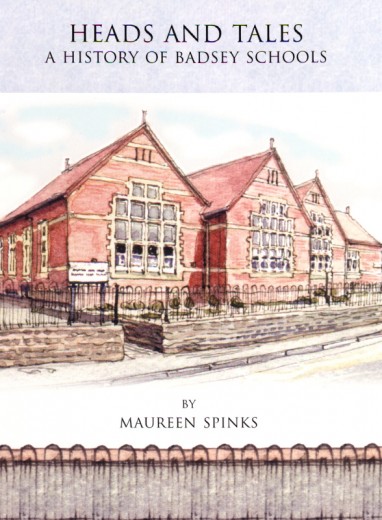 "Undoubtedly a book that anyone with family interest in Badsey will find irresistible"– Midland Ancestor
Book review by John Howe.
Written by Maureen Spinks.
192 pages. More than 200 photographs, maps and illustrations.
Published by the Badsey Society, 2004.
ISBN-10: 0-954746-90-2
ISBN-13: 978-0-954746-90-2
Price £6
This meticulously researched book charts the history of schools in Badsey from the very earliest known school in the 17th century, to the setting up of a National School 150 years ago, to the school we know today as Badsey First School. It will appeal to past and present pupils and staff, family historians and anyone with an interest in Badsey, Worcestershire.
Contents
Foreword by Elizabeth Spencer
Introduction
1 EARLY EDUCATION IN BADSEY
2 THE NATIONAL SCHOOL 1854-1893
3 BADSEY BOARD SCHOOL 1893-1903
4 BADSEY COUNCIL SCHOOL 1903-1918
5 BADSEY COUNCIL SCHOOL – THE INTER-WAR YEARS
6 BADSEY COUNCIL SCHOOL 1939-1948
7 BADSEY COUNTY PRIMARY SCHOOL 1948-1975
8 BADSEY FIRST SCHOOL 1975-2001
9 BADSEY FIRST SCHOOL TODAY
10 CONCLUSION
Appendix A The Headteachers of Badsey School
Appendix B The Teachers of Badsey School
Appendix C Non-teaching Staff
Appendix D Managers and Governors
Appendix E Names on the Honours Board
Appendix F The School Building
Appendix G Elizabeth Seward's Charity
Appendix H Parent Teacher Association
Appendix I Head Boys and Girls
Appendix J The Names on the War Memorial
Appendix K Schools throughout Worcestershire
Bibliography
Index of Surnames and Places