On 1st May 1868, a young schoolmistress named Sarah Bradley was presented with a bible on the occasion of her leaving the National School in Badsey.  Nearly 150 years later, the bible came into the ownership of David Haynes.  He discovered the large bible in 2012 – the boards were off and some of the pages were loose but it had the most wonderful engravings so he bought it and had it rebound.  He contacted The Badsey Society to see if we could tell him more about the original owner of the bible.  Read on to find out Sarah's story.
* * * * *
Sarah Bradley's Family Background
The only clue to Sarah Bradley's background is from the 1861 census.  The Badsey census reveals that 23-year-old Sarah Bradley was lodging at The Alley with the Allchurch family.  She was described as an unmarried schoolmistress who had been born at Broad Heath, Worcestershire.  Broadheath is a village about 3 miles north-west of Worcester.  However, a subsequent census return in 1871 describes her as born at Broadwas which is about 6 miles west of Worcester.  Both are in the Malvern Hills district.  The Broadwas birthplace appears to be the correct one.
Sarah was born at Broadwas in 1838 and baptised in the Church of St Mary Magdalene, Broadwas, on 25th March 1838, the elder of two children of Thomas Bradley, a carpenter, and his wife, Elizabeth (née Caless).  By 1841, the Bradleys had moved to North Newington (Elizabeth's place of birth), where a daughter, Eliza was born, but she died the following year.  North Newington is a village in northern Oxfordshire, about 2 miles west of Banbury. 
Thomas and Elizabeth still lived in North Newington at the time of the 1851 census; Thomas was by now a proprietor of houses.  Sarah was not at home.  It is possible that she was the "S Bradley" who was living and working in Great Malvern as a servant for S Chadwick, described as a proprietor of houses.
Badsey Schoolmistress
We know from the bible that Sarah Bradley was the very first Mistress of The United Badsey, Aldington & Wickhamford National School, which opened its doors on 20th November 1854.  It opened under the auspices of the National Society, a Church of England organisation "for promoting the education of the poor in the principles of the established church throughout England and Wales".
 
Sarah Bradley was just 16 when she took up her appointment at Badsey.  In the modern era, this seems very young for such a position but, in the mid-Victorian era, young women often assumed a great degree of responsibility.  In 1855, Billings' Directory described the school as "a neat building of recent creation … Sarah Bradley mistress, average number of scholars 45 …"
In 1862, the Revised Code was introduced which influenced the curriculum of the elementary school. Every year there was an examination in Reading, Writing and Arithmetic. For more than one generation of teachers and scholars, the daily routine became an unremitting grind in the "three Rs" (Reading, Writing and Arithmetics), with constant repetition and rote learning the normal method of instruction.  Individual initiative was crushed, as Miss Bradley would have had to meet the conditions of the Code, and discipline was severe.  The desire to obtain a good result arose partly from the fact that, in the early days especially, a teacher's salary often depended upon the amount of grant the school obtained.  Unfortunately the Log Books for this period at Badsey do not survive, but the books which survive for other schools at a similar period give an indication of a teacher's chronic anxieties at the time of inspection.  Religious instruction also had to be given, though it did not earn any financial reward, and the girls were required to learn needlework. From 1867, additional "specific" subject grants were offered for English grammar, geography and history.
The Bible presented to Sarah Bradley
After nearly 14 years as Mistress of Badsey School, Sarah Bradley decided it was time to leave.  Possibly the increasing demands laid upon teachers was a factor in her decision.  Sarah was presented with the bible as a leaving-gift.  The hand-written inscription in the front of the bible appears to be in the handwriting of the Reverend Thomas Hunt, Vicar of Badsey, who was also a school manager:
Sarah Bradley
Badsey, Worcestershire
1st May 1868
The Schoolmistress of the Badsey & Wickhamford  National Church of England School from its commencement Tuesday 20th November 1854 to Friday May 1st 1868 (a period of nearly 14 years) on which 1st May she left, much respected by all classes and deeply regretted by all the school children under her charge.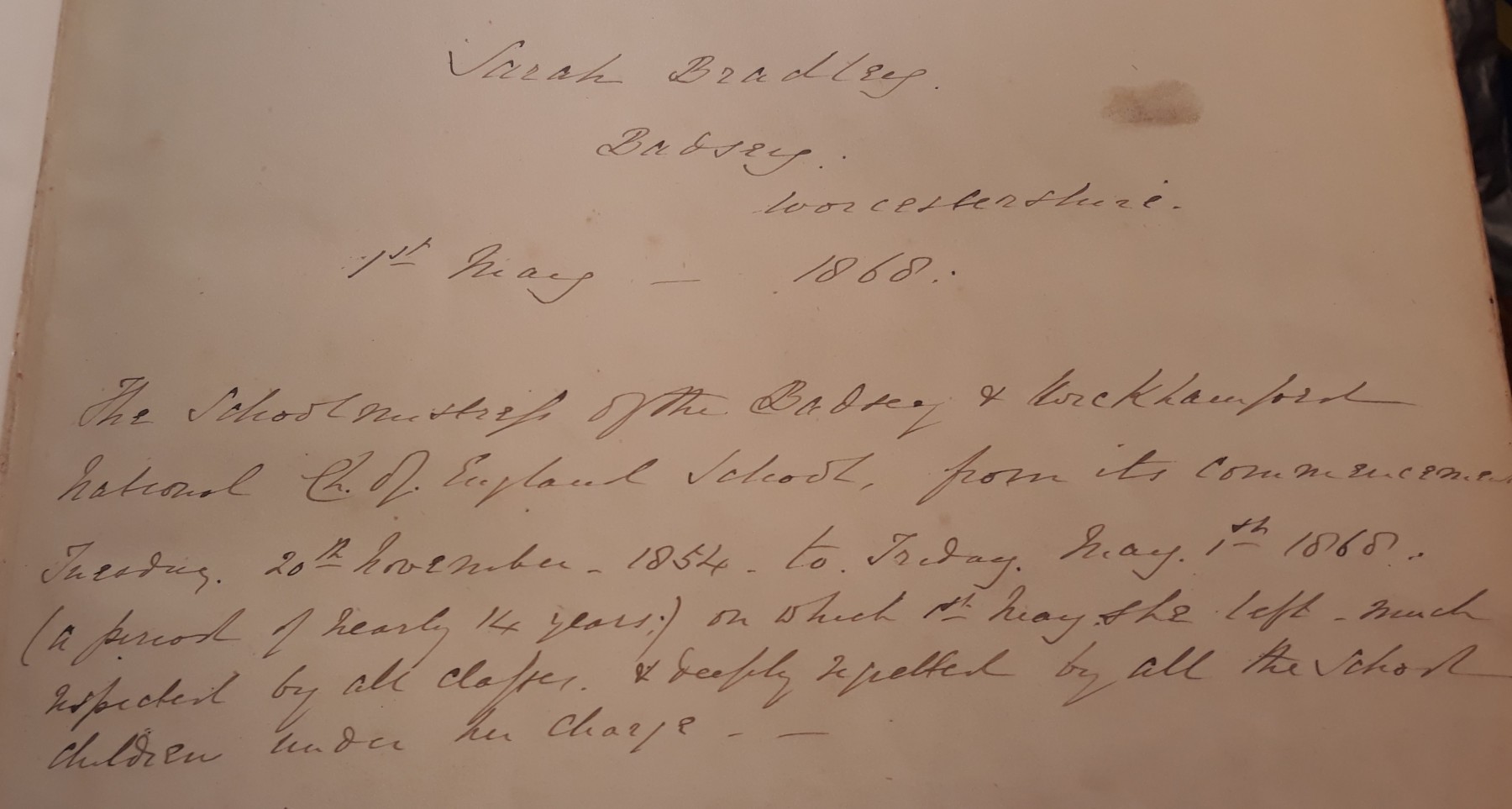 When David Haynes bought the bible in 2012, inside was a bookmark with a verse entitled "Affection's Offering" by Byron.  This was produced by Thomas Stevens of Coventry who first introduced his bookmarks around 1862; by 1876 there were 900 to 1000 titles being manufactured.  In the 19th century, a bookmark was a much appreciated gift.  There was also a verse entitled "To my Love".  The poems were used as a book mark for Psalm 22 which begins:
My God, my God, why have you forsaken me, 
and are so far from my salvation,
from the words of my distress?
O my God, I cry in the daytime,
but you do not answer;
and by night also, but I find no rest.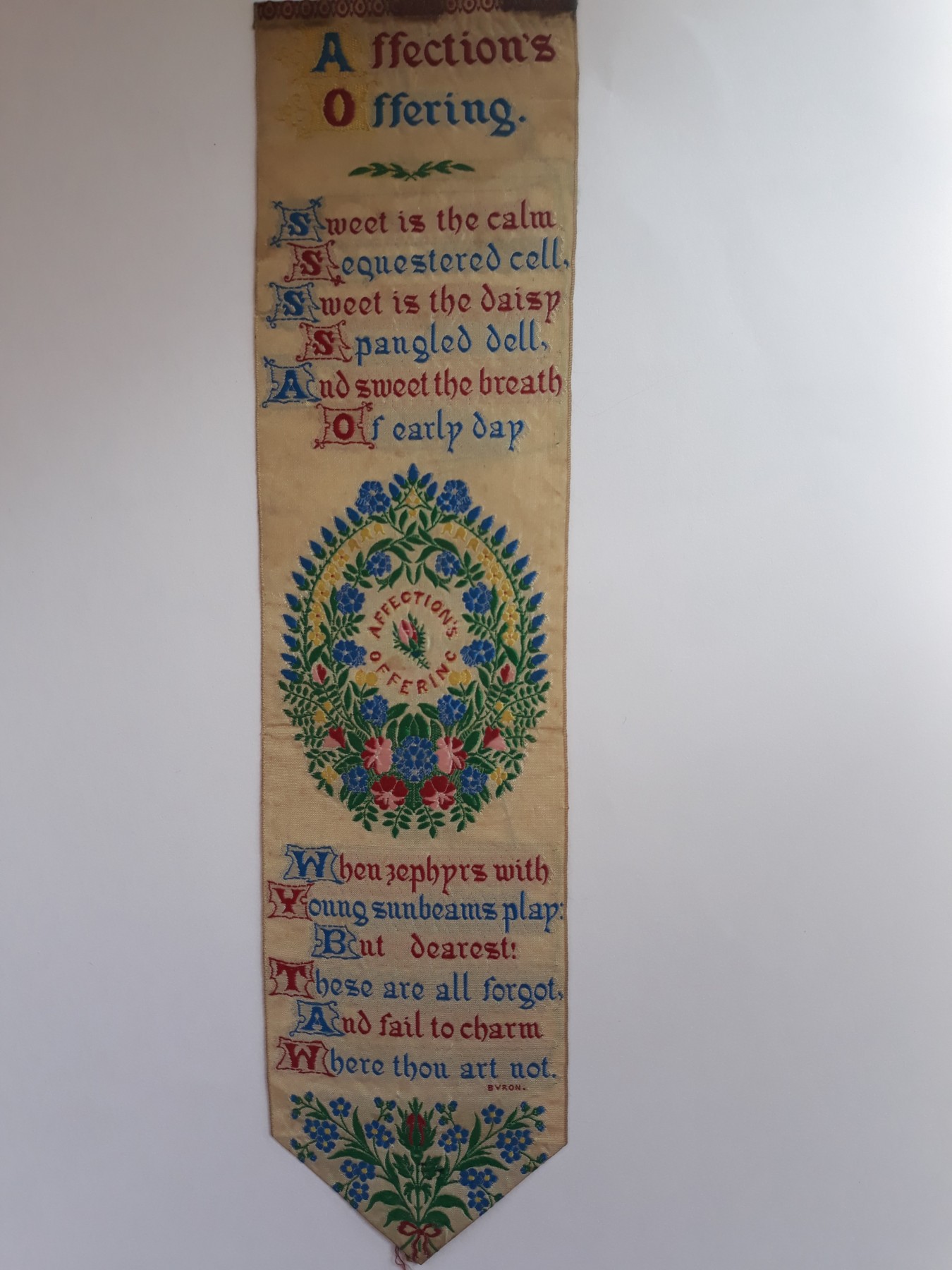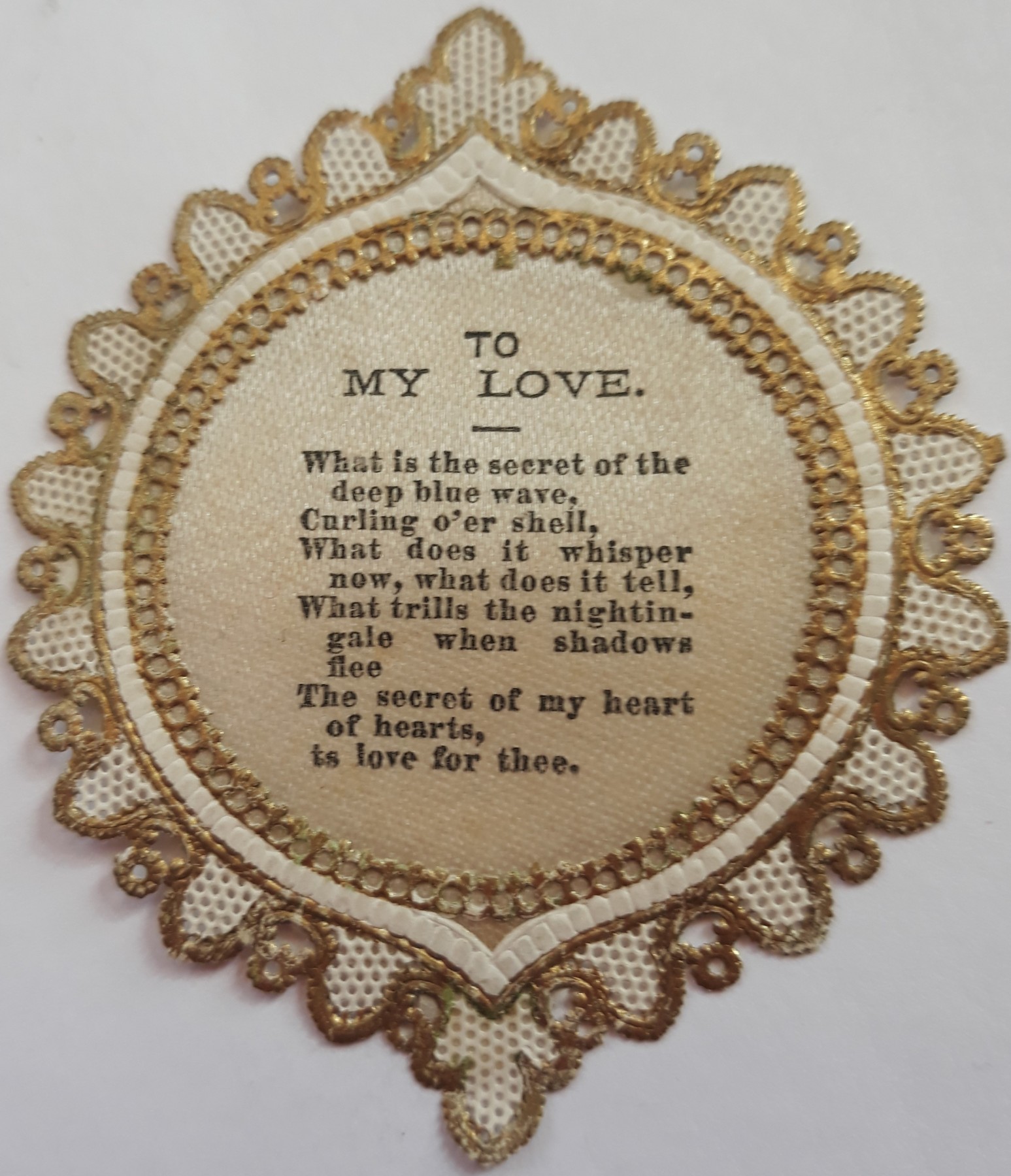 In addition there was a photograph of a young man in army uniform which appears to be from the First World War period; the photographer was Pearson of Hastings.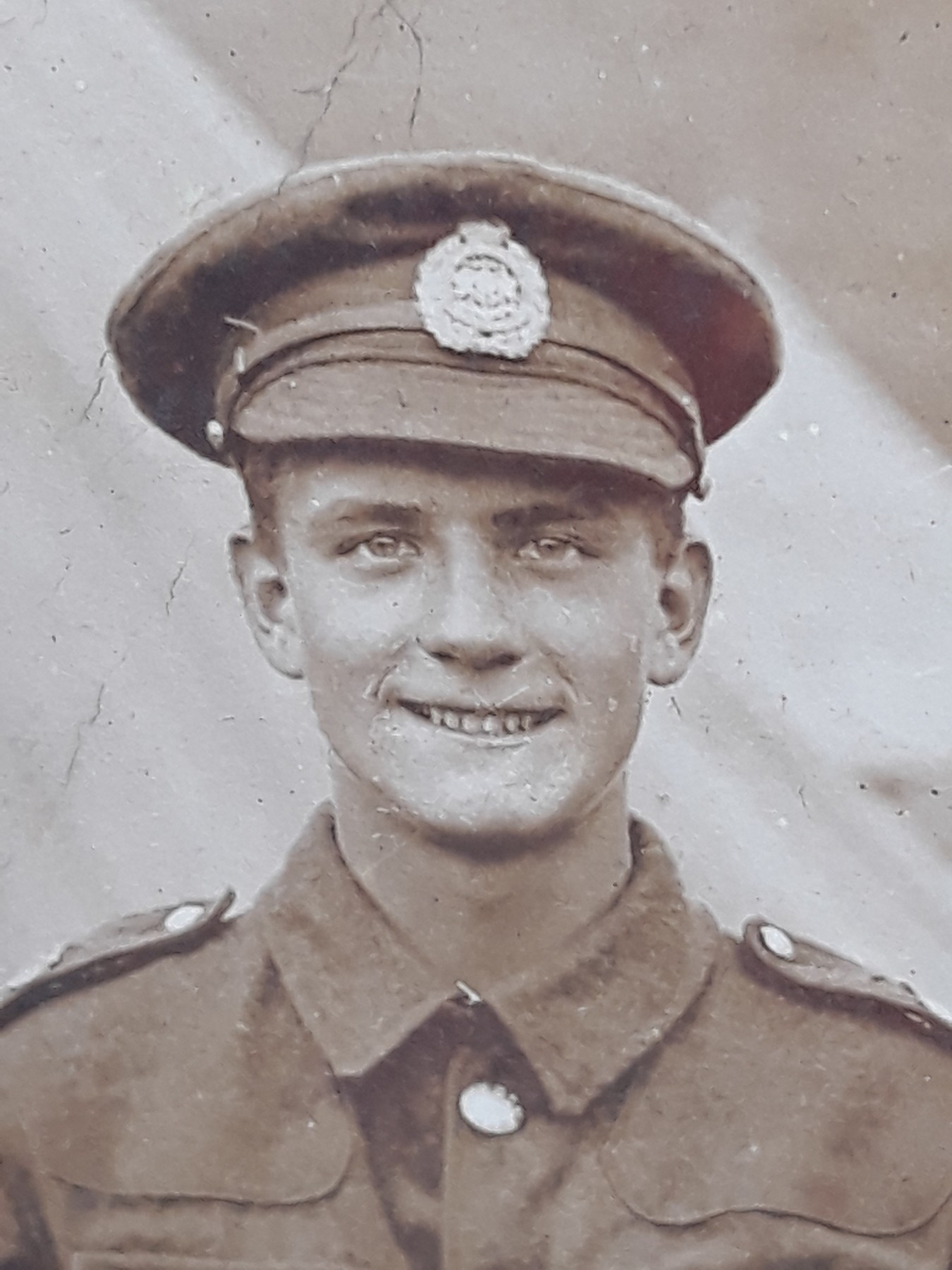 Life after Badsey
By the time of the 1871 census, which was taken on 2nd April, 33-year-old Sarah Bradley was living at Shenington, Oxfordshire, with her mother and step-father.  She was described as "formerly Governess".
Sarah's father, Thomas Bradley, had died at North Newington in 1858.  In 1860, her mother, Elizabeth, had married again to John Grant, a widowed North Newington farmer.  Elizabeth was widowed again in 1864.  In 1867 she married for a third time to widower John Gregory Plumb, a farmer from Shenington, Oxfordshire.  Shenington is about 5 miles west of Banbury.
John Plumb died at Shenington in September 1873.  By his will, made on 20th July 1870, his widow, Elizabeth, was to have his household goods and the house at Shenington for her lifetime.  With regard to the rest of his estate, this was to be sold by his executors and the money divided between his children from his first marriage.
After this, the trail of Sarah Bradley goes cold.  She is not to be found in any later census returns, nor has a record of her marriage or death been found.  On 4th March 1873 (six months before the death of her step-father), a 35-year-old Sarah Bradley arrived in New York having sailed on SS "Republic" from Liverpool, intending to settle in the USA.  Was this Sarah the former schoolmistress?  On 22nd July 1875, a Miss S Bradley made an application for a passport.  Passports were not obligatory for travel before 1914, but indicated that the bearer could travel "without hindrance".  Again, we have nothing to confirm whether this was Sarah Bradley, the former schoolmistress.
Did the bookmark, verse and photo found in the bible belong to Sarah Bradley?  Do the bookmarks resting at Psalm 22 indicate a failed love affair?  Who is the young soldier?  
Many questions, but ones that we may never be able to solve as we have no idea of the journey of the bible between it being given to Sarah Bradley in 1868 and David Haynes buying it in 2012.
If anyone has any further information about Sarah Bradley, please contact history@badsey.net.
Maureen Spinks, August 2021
Acknowledgements
With grateful thanks to David Haynes for contacting us with information and images of Sarah Bradley's bible.