The recent donation to the Badsey Archive of a letter which was written in 1936 by Harold Cave, the Hon Secretary and Treasurer of Badsey Rangers' Football Club, has led to an investigation into his life.
* * * * *
Early Life
Harold John Cave was born at Holdenby, Northamptonshire, on 11th February 1888, the only son of John Cave and his second wife, Julia (née Rogers).  Harold was baptised at All Saints, Holdenby, on 18th March 1888.  His mother, Julia, had been born at Wickhamford in 1851.  She had married widower, John Cave, at Badsey in October 1886, then gone to live with him in his native Northamptonshire.  John was a farm labourer at Gulliver's Farm, Holdenby, a village 6½ miles to the north-west of Northampton.  John Cave's first wife, Ellen, had died in 1878, leaving him with eight children ranging in ages from four to 21.
A year after Harold was born, his mother gave birth to a baby girl, Eva Florence, born on 26th February 1889 and baptised at Holdenby on 9th June.  Just two months later, Eva died.  The family must have been visiting Julia's mother at the time, as the death was registered at Evesham and baby Eva was buried in Badsey churchyard on 19th August.
At the time of the 1891 census, Harold was living with his parents at Gulliver's Farm Cottage, Holdenby.  His half-brother, Richard, also lived there.  Harold enrolled at the village school in Holdenby on 24th April 1892.
When Harold was aged ten, his father died and was buried at Holdenby on 26th September 1898.  The Cave family would have been living in a tied cottage, so it was necessary for Julia and Harold to leave Gulliver's Farm Cottage.  The Holdenby school register indicates that Harold left that school on 31st October 1898.  The Badsey Board School register indicates that he was admitted on 7th November 1898.
Harold and his mother went to live with his grandmother, Eliza Knight (Julia's mother), who had also just been recently widowed.  Eliza had married again in 1876 following the death of her husband, Thomas Rogers, in 1875.  Her second husband, John Knight, had died in April 1898.
Harold left school in May 1900, aged 12.  A Labour Certificate examination was held every April in Evesham for those wishing to leave school before the age of 14.  Harold was one of six children out of nine that satisfied the Inspector.
Market Gardening
The 1901 census shows 13-year-old Harold with his widowed mother and grandmother living at Sandford Villa, Badsey Fields Lane.  Harold was then working as a garden labourer.  He may possibly have begun working by then for Charles Binyon who gardened on the land behind Sandford Villa.  He certainly worked for him in later years before taking up market gardening on his own account.  Harold is mentioned frequently in Charles Binyon's diaries.
The Badsey Society archive contains two certificates awarded to Harold Cave at Badsey Flower Show in 1900 and 1901.  He gained first prize on both occasions but the writing has faded and we can now no longer tell for which class the award was won.
The National Farm Survey of 1941 reveals that Harold Cave owned 3¾ acres of land, which he had had for 30 years, and rented 8½ acres from Evesham Rural District Council.
Married Life
Harold married Ethel Frances Louise Reeves at Badsey on 26th February 1908; Charles Binyon was one of the witnesses.  They had four daughters, two of whom died in infancy:  Annie Julia (1908-1908), Frances Jane (1909-1909), Kathleen (1910-2004) and Gladys Evelyn (1915-2008).  At the time of the 1911 census, they were living on the High Street (probably lodging at the Spar) but, by February 1912, according to the nationwide Valuation Survey, Harold was able buy a terraced cottage, known as 5 Stockey Piece (or Cotswold View), Bully Brook Road (now Willersey Road). 
In about 1925, Harold and family moved in with his mother at Sandford Villa.  Julia died in May 1934.  At the time of the 1939 register, Harold and Ethel were still at Sandford Villa with their daughter, Kathleen.  Also in the same house, but recorded as a separate household was Harold and Ethel's youngest daughter, Gladys, and her new husband, Kenneth Dodd.  In another household within the house was Charles Arthur Binyon who lodged at Sandford Villa for many years.  Charles Binyon, described as Chairman of Agricultural Co-operative, was by now retired as a market gardener.
Harold Cave's Footballing Career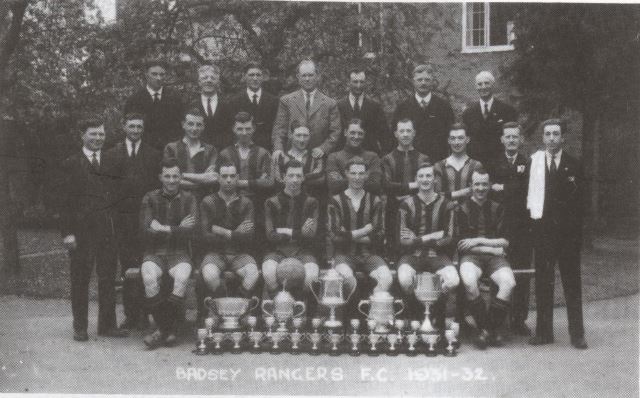 In the period between the two world wars, Harold Cave was prominent in Badsey footballing circles.  As a young man, he followed Badsey United.  After the war, with the formation of the Evesham and District Schools League, he began refereeing the home games of Badsey School.  He became Secretary of the Vale of Evesham Junior League and then appointed as Secretary of Badsey Rangers in August 1927.  Terry Sparrow, in his history of Badsey Rangers, wrote:  "Badsey Rangers Football Club has been well served during the past 100 years by many able and hard-working officials, but it is doubtful whether any one of them has made a greater impact on the club than Harold John Cave."  On pages 27-36 of Badsey Rangers Football Club, 100 Years (1989), Terry goes into great detail about the successes of the Club under Harold Cave's Secretaryship.
The successes of the club were numerous, as this headed notepaper below indicates.  Harold Cave was writing to 19-year-old Frederick Horne who had been born in Badsey.  Fred was only two when he left the village and now lived in Moreton-in-Marsh, but Harold would certainly have known his father, Lionel Edward Horne, who had lived in Badsey from 1903-1919 and remained a lifelong friend of Charles Binyon.  It is likely that the Horne family were regular visitors to Sandford Villa.  Harold may also have known Fred through the North Cotswold League, as Harold was also Secretary of that League for many years.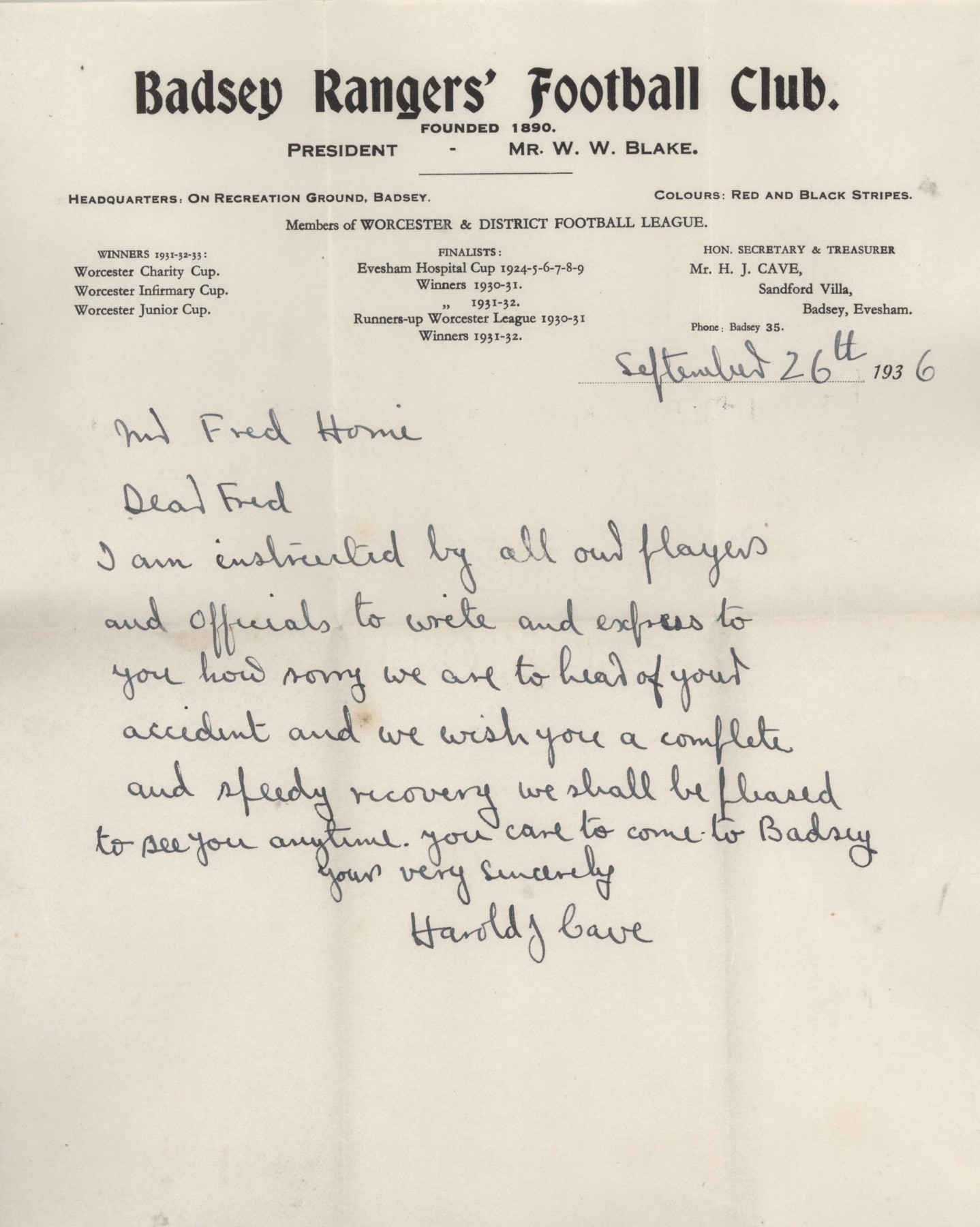 Following the declaration of war on 3rd September 1939, Badsey Rangers announced that it would suspend its activities for the duration of hostilities.  When the club was revived in the autumn of 1945, it was without their stalwart Secretary.  Harold John Cave had died in 1943, aged 54.
* * * * *
Harold Cave died in Evesham Hospital on 18th January 1943.  A very large number of people gathered at his funeral in St James' Church, Badsey, on 22nd January, including the representatives of several sporting organisations.  His obituary appeared in The Evesham Standard of 23rd January 1943.  Ethel Cave stayed on at Sandford Villa until 1954.  She died on 19th August 1964 and was cremated at Cheltenham.
Maureen Spinks, November 2020
See also: