Frederick William Bullock was born in Quedgeley, Gloucestershire in 1859, a son of Edward and his wife, Celia (née Phillimore).  For the 1861 census, the Bullock family were living in Hadnock House, Dixton Newton, Monmouthshire, where Edward farmed 380 acres and employed nine men and three boys.  He had five children by this time, with Frederick being the youngest. By 1871, Edward and Celia had moved to farm the 180 acres of Homestead Farm, Pencraig, Herefordshire.  Frederick was away at Blenheim House School, Longhope, Gloucestershire, for that census.  Ten years later, in 1881, the Bullock family were living in Wickhamford, at the 400-acre Field Farm; Frederick was there and his occupation was given as 'farmer's son'.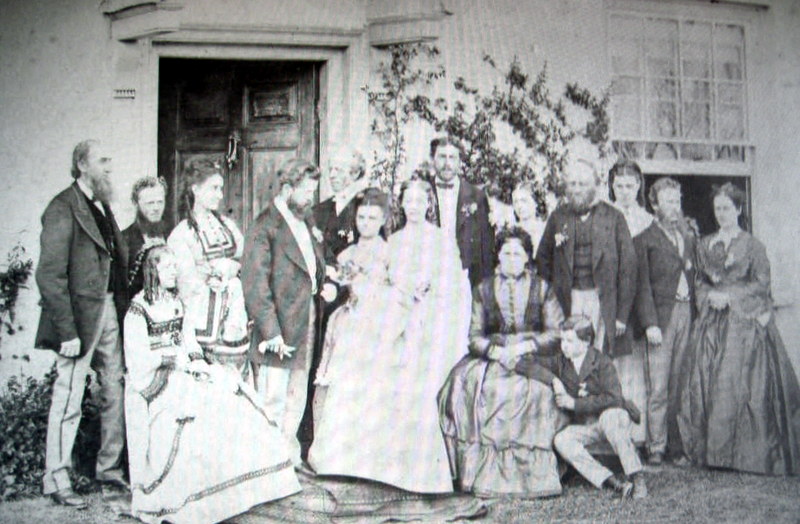 After this, Frederick Bullock had what is now called 'Oxley House' built on Longdon Hill and he planted up fruit trees.  He had married Lucy Amelia Leman, in Chipping Campden in 1885 and they had two children, William Edmund in 1887 and Celia Mary in 1889, by the time of the 1891 census.  Their home was called 'Longdon Villa' at this time.  Neither child was baptised in Wickhamford.  In April 1884, April 1888 and April 1889, newspaper reports of the appointments of Overseers of the poor in local villages show that Frederick William Bullock was given this role in Wickhamford. His father had held the position from 1875 to 1877.
Bankruptcy
Things started to go wrong for Frederick Bullock in 1893 and in 1894 there was a lengthy report, in the Worcester Chronicle of 13th January, of a meeting of his creditors in the offices of the Official Receiver in Worcester.  It was reported that he was a farmer and fruit-grower, who had no capital, whose father had supplied him with money from time to time, but no proper accounts had been kept.  He had obtained about 20 acres on a 21-year lease at a rent of £39 10s per annum.  He had stocked this with fruit trees and let out 10 acres at £50 p.a.
He also obtained ¼ acre of land adjoining, on a 99-year lease, at a rent of £1 p.a. and here he erected a dwelling house and two greenhouses costing about £700.  In February 1893, Frederick Bullock conveyed all of his interests to his father, as he owed him £1,000 at that time.  His father also discharged his son's debt of £90 owed to Lloyds Bank.  At the time of the hearing Frederick Bullock still owed money for the purchase of trees and seeds. He claimed that he was in the present situation as his holding had not yet come into proper bearing.  Mr E. Cox, the Assistant Official Receiver presiding, remarked that the debtor's father was the greatest sufferer.  
Another woman
Mr Cox went on to remark that it had been suggested to him that Frederick Bullock had been involved for some time with a lady, and that this had cost him a great deal of money.  Bullock denied this.  Mr O. H. New, representing the creditor, stated that he believed certain sums of money had been paid to her.  Bullock said 'not to any extent - £20 or so'.   Mr Cox queried whether, in fact, this might have been hundreds of pounds, but Bullock denied that.  
Mr Cox concluded by saying that the debtor had had opportunities for carrying out a successful career but had mismanaged his affairs throughout.  When pressed for an explanation for his large financial deficiency Bullock could only state that it had been spent on his business.
The Worcester Chronicle of 16th December 1894, reporting on the Adjudications in Bankruptcy, stated that Frederick W. Bullock of Longdon Hill Villa, Wickhamford had been adjudged bankrupt.  By 1891, his parents had moved to Brook Street, Gloucester, where his mother died later that year.  His father lived to be 91 years of age, dying at the same address in 1910.
By the time of the 1901 census, Hedley Masters was living at 'Longdon Hill Villa'.
Later life and Probate
For the 1901 census, Frederick Bullock was living as a boarder in Wolverhampton, and employed as an electrical worker.  He stated that he was a widower, but in fact his wife was still alive and had left him.  Lucy Bullock and her two children, now aged 13 and 11, were living with her brother-in-law in Beccles St Michael, Suffolk, where she was the housekeeper.  She was still there in 1911.  Frederick Bullock has not been located in the 1911 census.
Frederick William Bullock died in Wolverhampton on 15th November 1927.  Probate was not finalised until 1951, when it was granted to Mrs Sylvia Daisy Dean.  In the 1939 Register, she was Sylvia D. Bullock, the wife of Frederick Bullock's son, William, and they were living in Wimborne, Dorset.
In summary, Frederick William Bullock had good start in life and sound schooling, but appeared to take advantage of his father's generosity.  His poor management of his finances led to bankruptcy.  His wife left him, possibly due to his having an affair, and after he died, it took 24 years to finalise his estate.
Tom Locke – April 2021