What is now called 'Field Farm' at Wickhamford, together with its one time farmhouse – now known as 'Orchard Court' – was sometimes known as 'The Farm' during the 19th and early 20th centuries. Benjamin Carter ran this farm from the mid 1880s until his death in 1926.
The Carter Family background
The Carter family were living in the Cannington area of Somerset in the early 19th century.  Benjamin Carter was the fourth child of John and Elizabeth née Hurman, born on 1st February 1842 at North Farm in the village of Pawlett.   Benjamin's grandfather, John Carter helped with the establishment of Pawlett Wesleyan Chapel.  Methodist origins in the Pawlett area go back to 1803 when a house belonging to Joel Attwell of Stretcholt was registered as a place of religious worship. In 1810 worship was transferred to the home of John Carter, also of Stretcholt, after whom the present church is named.  In 1852 land was set aside on Pawlett Hill for a chapel to be built, which was completed in 1855.  The stone building was square with a thatched roof, and a stable at the rear for the visiting preacher's horse.  Joel Attwell was Benjamin's great-grandfather.
Early life
Benjamin Carter was baptised in Stretcholt when 11 months old.  His early education was at home, alongside his brothers and sister.  In January 1855 he enrolled at the Wesleyan College for Methodist Children in Taunton.  He also worked on his father's farm and became an adept horse rider.
First marriage
Benjamin Carter married Jane Tilley of nearby Huntspill, who was the daughter of farmer William Tilley and his wife, Elizabeth.  The wedding took place in Bridgwater Wesleyan Church on 17th October 1867 and they began their married life at Wood Farm near Fiddington.  They farmed about 180 acres, employing four men, two women and a boy to help run the enterprise that included a dairy herd.
They raised a family of five children – Benjamin Attwell, Albert Edward ('Ted'), William Sidney (known as 'Sidney'), Mary Tilley ('Mollie') and Jane Tilley (known as 'Pearl').  During the birth of Pearl, complications occurred which led to the death of Jane Carter on 29th July 1878.  She was buried in the Tilley family plot in the cemetery at Huntspill.
Benjamin and his young family continued to live at Wood Farm and a housekeeper. Emily Hayman, was hired to look after the children. 
Second marriage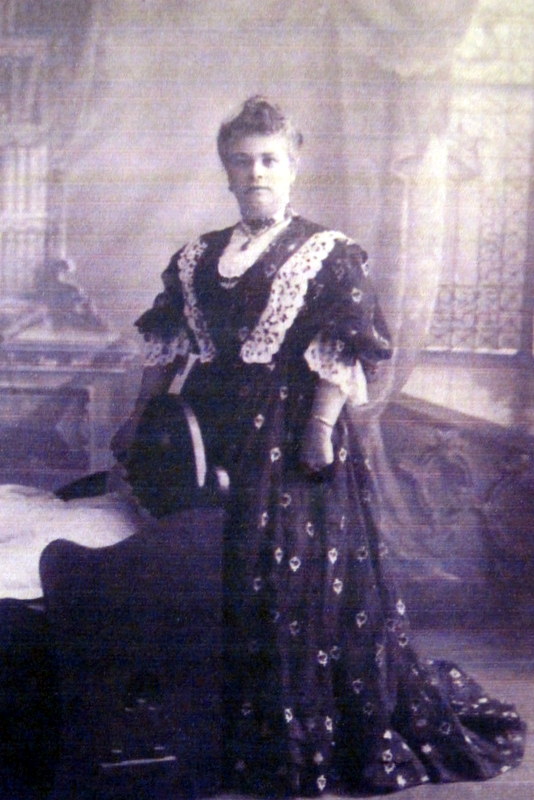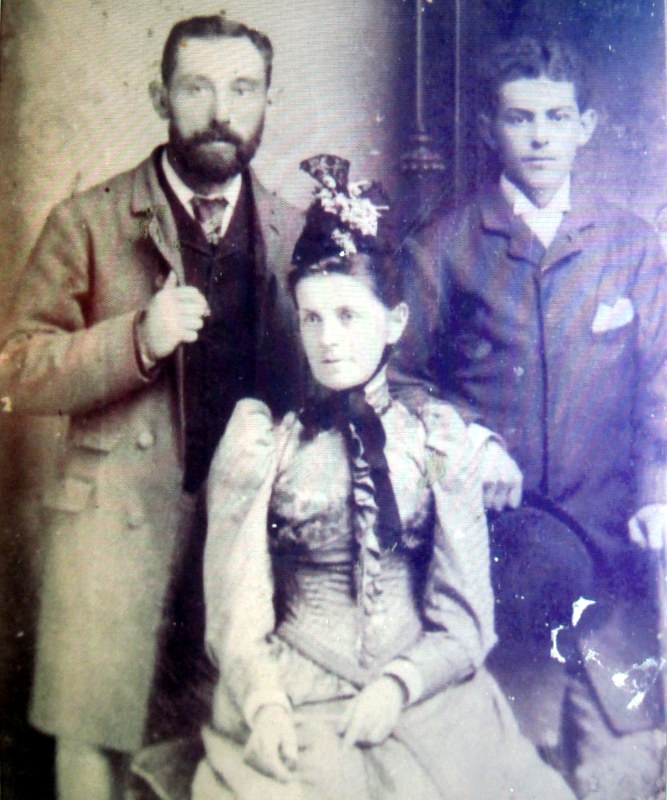 After a few years, Benjamin Carter and Emily Ann Hayman were married in the Methodist Chapel near her parent's home in Clifton, Bristol.  Soon after the wedding the family moved from Somerset to Manor Farm, Aston Somerville, Gloucestershire.  It was here that two more children were born – Lottie May and Emily Kathleen.  The Carters only stayed at Manor Farm for three years, before moving the short distance to 'The Farm', Wickhamford.
The Carter children
A summary of the seven children of Benjamin Carter is as follows.
With Jane née Tilley – 
Benjamin Attwell Carter - b. 22nd August 1868.  He emigrated and married in Canada.  He died in British Columbia on 27th July 1941.
Albert Edward Carter – b. 11th February 1872.  He farmed in Wickhamford at Pitchers Hill Farm, Manor Road (now 'Wickham Farm').  Married Mary Louise Perrett in 1895 and died 29th June 1946.  His son, Sidney Benjamin ('Syd') was the last of the family to live in Wickhamford.
William Sidney Carter – b. 20th June 1873.  Known as 'Sidney', he died in S. Africa on 8th March 1925.
Mary Tilley Carter – b. 25th September 1876.  Married Dr Samuel Jonathan David Esser in 1902.  She lived in Java and Holland before moving to S. Africa and she died 21st July 1958.
 Jane Tilley Carter – b. 15th July 1878.  Married Roger Van der Beken and died 12th June 1963.  She is buried with her parents in Bengeworth Cemetery, Evesham.
 With Emily Ann née Hayman – 
Lottie May Carter – b. 13th June 1882.  Married William H. Reynolds in 1910 and died in 1916 after having three children.
Emily Kathleen Carter – b. 28th December 1883.  Married Reginald Stevenson on the same day as her sister in 1910 and died in 1971.
Life in Wickhamford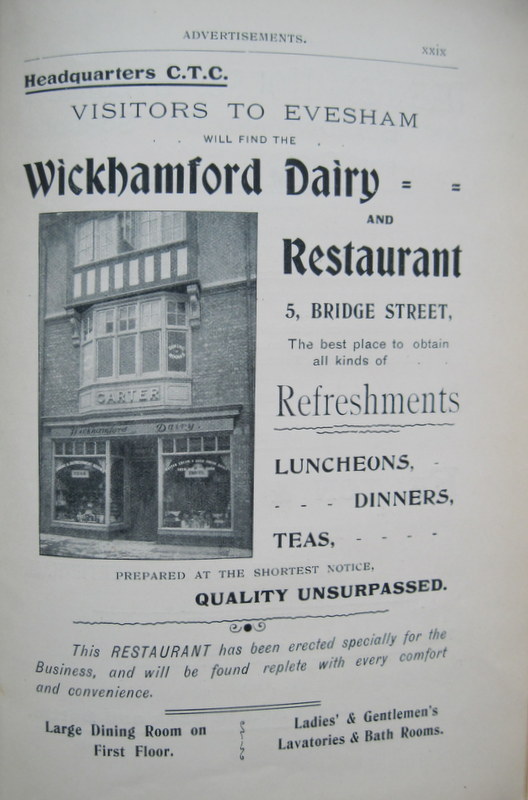 The Carter family appear in the 1891 census living at 'Field Farm'. Wickhamford.  All of the children were recorded there apart from William Sidney.  The eldest two sons were assisting their father on the farm and all of the girls were scholars.
By 1901, the farm was in the census as 'Wickhamford Farm' and William Sidney had returned home (on the census he was recorded as 'Sidney W.'), his elder brothers had left and Mary, Lottie and Emily were still present.
By 1902, the Carters were also running a dairy and restaurant in Evesham for the sale of their dairy farm produce.  The advertisement (pictured right) for Carter's Dairy and Restaurant in Bridge Street appeared in local publications in 1902 (this site is next to W.H.Smith).
Benjamin was active in the local Wesleyan community and was involved in fund-raising for the building of the Wesleyan Church in Bridge Street, Evesham.  A garden party was held at the farm in June 1909 to help in this.  This event was advertised in the Evesham Journal of 12th June, showing a remarkable array of sports and competitions.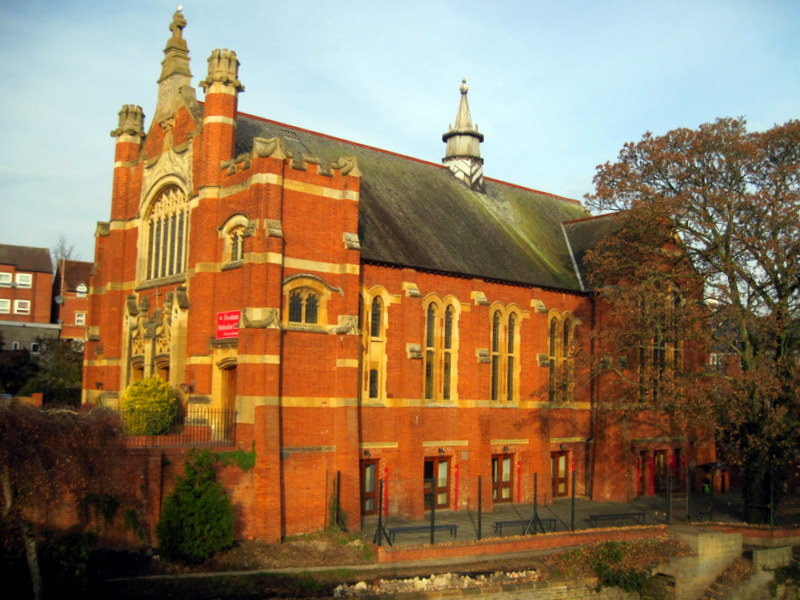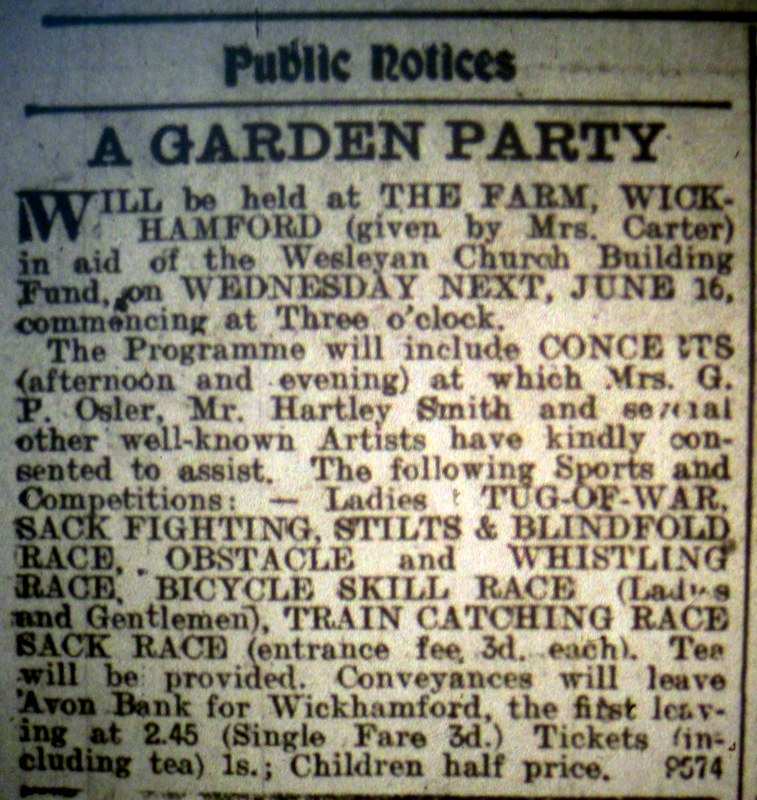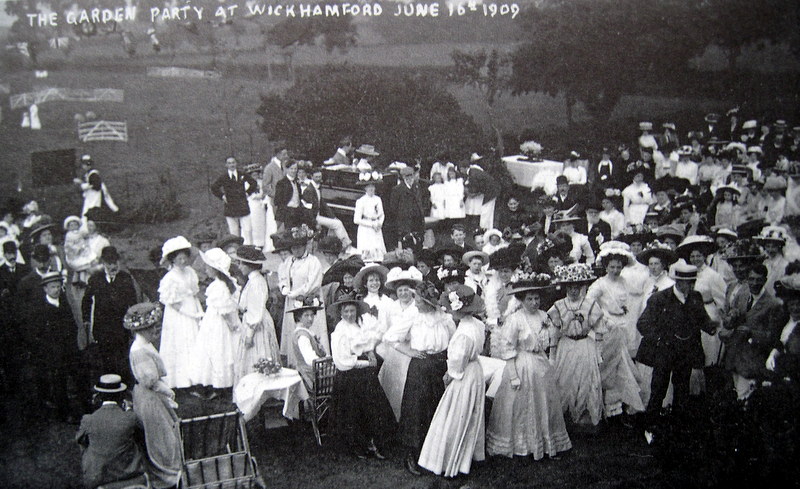 Soon afterwards, in the census of 1911, Benjamin and Emily Carter were living at Field Farm, but all of their children had now left home.  They employed two farm students as well as other farm staff.  The census form states that the house had 14 rooms, and a more detailed description appears in the Land Valuation Survey of August 1913.  The details of the house and outbuildings were given as follows:
Brick and tile house, fair repair: hall, drawing room, dining room, kitchen, back kitchen, cellar, office, pantry, scullery, dairy with room over, 4 bedrooms, bathroom hot and cold, 4 attics and box room, tap water. Brick and tile stabling for 4, harness room, loft over, cast horse stable for 6, wood and iron and brick and iron cow sheds, chaff house, granary and calf pen, cow stalls for 8 and feeding passage, Dutch barn 4 bays, 3 brick and slate pigstys, brick and tile open shed 5 bays, brick and tile cow stalls for 14.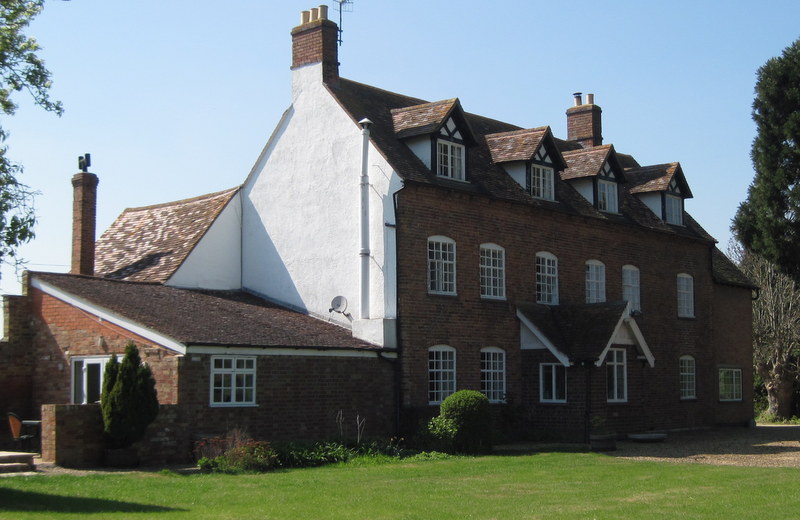 At this time the records show that Benjamin Carter was a tenant at Field Farm, which was owned by the Trustees of the late J. P. Lord.  This survey also showed which fields were rented by Benjamin and the total area was 350 acres. He was also renting five cottages near Field Farm and the buildings and land at 'Whitfurrows' at the other end of the village.   His obituary stated that at one time the size of the farm was nearly 1,000 acres, but this is probably an overestimate.  When Field Farm was put up for auction in 1869 by Lord Sandys its acreage was given as just over 400.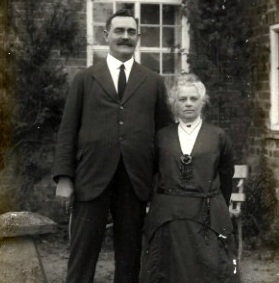 William Sidney Carter, Benjamin's third son had seen service in the army during the Boer War and eventually emigrated to South Africa to farm there.  He is pictured, right, with his step-mother, Emily, at Field Farm in 1923. He predeceased his father and step-mother in March 1925, but visited his family in England in 1923.
The deaths of Benjamin and Emily Ann Carter
At the end of his life Benjamin continued to take an active role on his farm and in the Wesleyan Church.  He was said to have been a good shot, a capable horseman (often making the rounds of his farm on his horse 'Doctor') and an accomplished driver.  He had experience with steam tackle and cultivators, but was not convinced that motor tractors were of much use on his heavy soil.   He was over 6 ft tall at the time of his death and for over 30 years had been chairman of Wickhamford Parish Meeting.  
He had been in good health until shortly before his death, but after catching a chill he developed appendicitis and had two operations for this condition.  He died on 16th October 1926.   His funeral service took place at the Wesleyan Church in Evesham and the service was conducted by the Wesleyan minister, Rev. P. H. Simpson and the vicar of Badsey and Wickhamford, Rev. W. C. Allesebrook.  He was interred in Bengeworth Cemetery.
Emily Ann Carter had been poorly for about a year and was unable to attend her husband's funeral and she died shortly afterwards, on 25th October. She was buried next to her husband.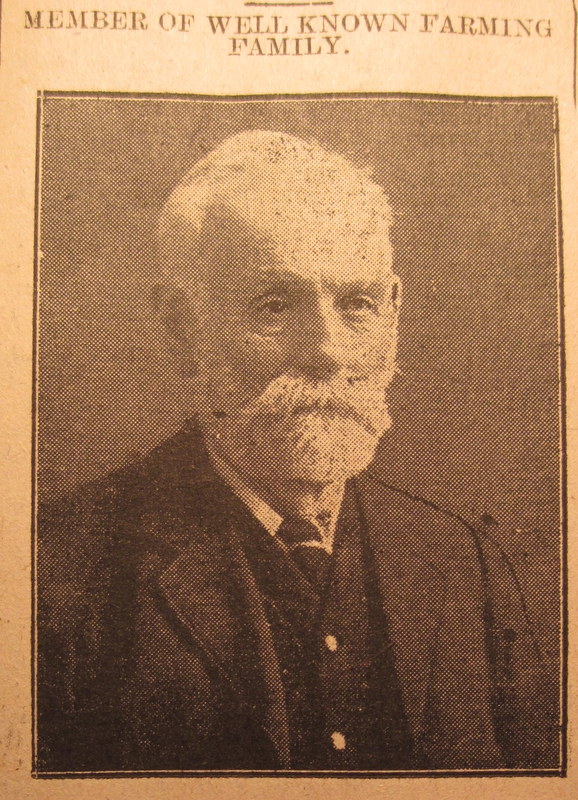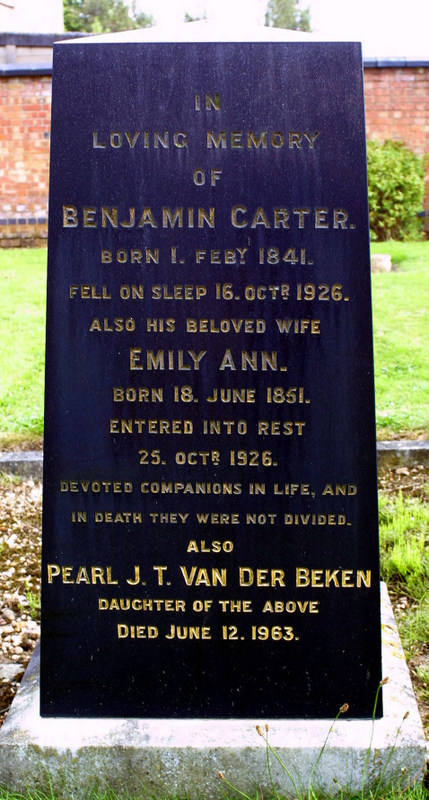 Acknowledgements
Much of the information for this article comes from two sources, the obituary of Benjamin Carter in the Evesham Journal and a history of the Carter family by Deane M. Carter published in 1991.  This is entitled 'The Carters of Pawlett: John Carter family history'.
Excerpts from this book and many family photographs were kindly supplied by Bronwen Pfister, a descendant of Benjamin Carter in South Africa.  Without her enthusiastic co-operation this article would not have been possible.
Some of the pictures of the Carter family in Deane Carter's book are of poor quality and have not been used in the main article, but, for completeness, two are reproduced below.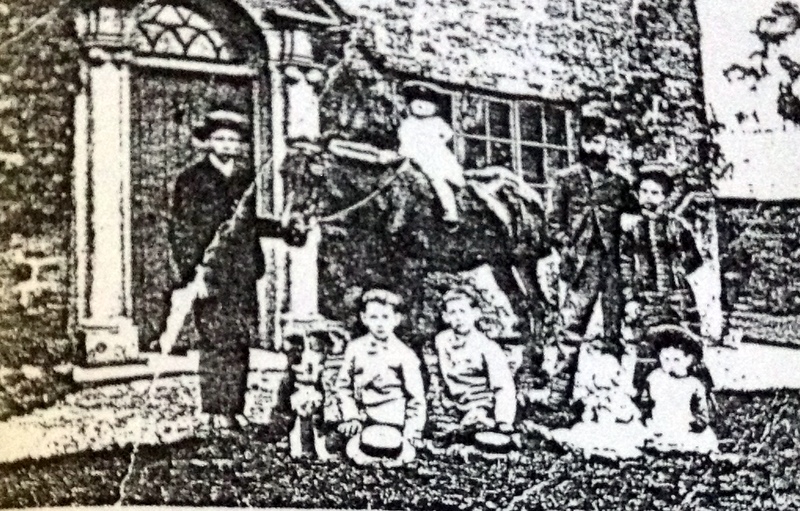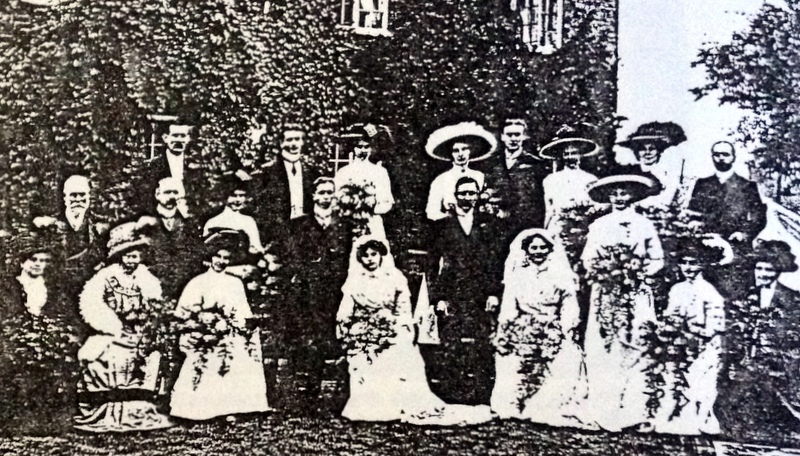 Tom Locke, January 2017