While most parents seem satisfied with baptising their children with one or two Christian names, the Field family of Wickhamford appeared to have gone overboard in this area.  The usual entries in the Baptism Register are of one or two children's names, with very rarely more.
John George Darby Hughes Field (1868-1939) was a market gardener living in Owletts End, Hampton, Evesham, in 1901, having wed Emily Jane Ludlow in Aston in 1900.  In 1905, when living in Bengeworth, he had been declared bankrupt (as reported in the Edinburgh Gazette, 27th October).  By 1911, the couple had moved to Pitchers Hill, Wickhamford (the present No. 87) and were still childless after eleven years of marriage.  According to the census return, no children had been born to the couple, so they had not had any that had died in childhood. (A check of the Evesham District birth and death records for 1900-1911 shows no evidence that any Field children died in this period, so the information on the census form was correct.)  He was by then aged 43 and a market gardener's labourer and she was aged 36, and a family seemed unlikely.  However, things did change and four children were born in the next decade. Emily produced all of her children when she was aged about 38 to 45.  Emily was killed in a car accident outside the Sandys Arms on 19th September in 1938, aged 63, and John Field died the following year on 27th September, aged 71. They are both buried in the churchyard of St John the Baptist, Wickhamford.
Leslie John Ludlow Field (1913-2000) was baptised, in Wickhamford, on 1st June 1913, having been born on the 27th March. One forename was a tribute to his mother's maiden name. Leslie Field was sent to Badsey School in 1917 and stayed until 1927.  He enlisted in the Army in 1930 – the Royal Warwickshire Regiment – and served throughout World War II.  He married Mollie P. Bateman in 1942.
William James Lloyd George Field (1915-1993) was baptised on 25th June 1916, but had been born the previous year, on 22nd August. John Field must have been very impressed with David Lloyd George, who became Prime Minister three months after William was baptised. William Field was unmarried and living at 8 Council Cottages, Pitchers Hill (now No. 19), at the time the 1939 Register was compiled, and working as a market gardener's labourer. William married Winifred M. Griffiths in 1940.
Kathleen Emily Mary Field (1917-?) was baptised on 12th August 1917, after her birth on 27th April.  'Emily' was used as it was her mother's name. She was unmarried and living with her brother William in 1939. Kathleen Field married Bertie Andrews in Wickhamford on 9th December 1939, but by that time both of her parents had died. 
Henry Francis Darby Field (1920-2016) was born on 25th January 1920 and he attended Badsey School from 1926 to 1934.  Henry Field (always known as 'Harry') joined the Army – The Royal Ordnance Corps – in 1940 and also served throughout World War II.  He married Betty Lucas in 1945.
Why the desire for so many forenames?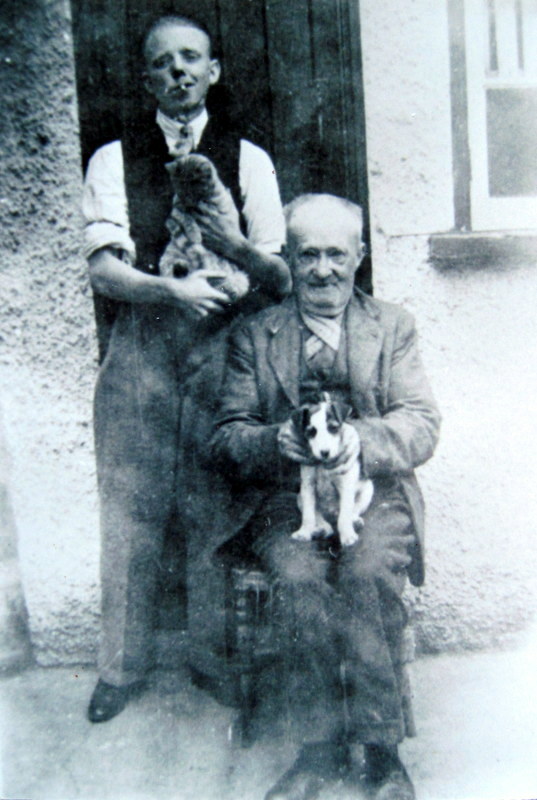 John and Emily Field used thirteen forenames for their four children.  Was this a tradition in John's family, as he had been given four?   He had been born in Hampton, Evesham 1868.  In 1871, he was a three-year-old, living with his parents, William and Sarah Field at a farm house in Little Hampton, Evesham.  William Field was farming 90 acres and employing five men, one boy and one girl, so doing very well for himself.  There was no sign here of multiple forenames for the parents.  His young son, for the census, was recorded as 'John D. H.', but his birth had been registered as 'John George D. H.'
William Field had married Sarah, in Evesham in 1867 (there are two possible brides, Sarah Mansell and Sarah Morgan, both in the June quarter of 1867).  William's parents were George and Emily Field née Hughes who had married in Evesham in 1843, which explains another later used forename.  This leaves the forename Darby to be found.  There are no Field/Darby marriages that seem to belong to this family, but a John Darby married Ann Hughes in Evesham in 1850 and this may be a distant link to the Field family?
Did the tradition of multiple forenames carry on?
The four children of John and Emily Field all married, between 1939 and 1945, and they had ten children between them, in the period 1940-1948.  All of these were given only two names each; the abundance of forenames was a short-lived occurrence in the Field family.
Tom Locke – April 2021