On a recent visit to Witley Court, seat of the Foley family for many generations, I was reminded that the Foleys also owned the Manor of Aldington for some 140 years.  Thomas Foley, an ironmaster, acquired the estate in 1665.  Six generations of Foleys, all named Thomas, were lords of the Manor of Aldington until the estate was sold in 1806.

This is the story of the people who owned much of Aldington from the mid 17th century to early 19th century.
* * * * *
Thomas Foley (1617-1677)
Thomas Foley was the first member of the family to own the manor of Aldington.  He was born on 3rd December 1617, the eldest surviving son of Richard Foley by his second wife, Alice Brindley.  His father was a prominent ironmaster who moved to Stourbridge about 1630, where he set up slitting mills (watermills for slitting bars of iron into rods) and obtained a virtual monopoly of nail-making in the West Midlands.  Richard Foley seems to have preserved neutrality during the Civil War, though his sympathies were royalist and he supplied ordnance to the King's armies.  Thomas Foley is not known to have taken part in the Civil War. 
In about 1640, Thomas Foley married Anne Browne, the daughter of John Browne, gun-founder, of Spelmonden, Kent.  They had four sons and two daughters.  Thomas bought the Manor of Witley and other lands from Sir William Russell in 1655.  Witley Court was by then a substantial Jacobean mansion, developed from the former medieval manor house.  Following the death of her father in 1651, Anne Foley had inherited from his large landed estates.  This became the principal source of their wealth and enabled them to buy Witley.  
In addition, Foley took over his father's business and made great profits from it in the 1650s and 1660s which he used to buy estates, such as the Aldington estate in 1665.  By an indenture dated 6th June 1665, William Courten, esquire, deceased, Samuel Baldwyn, George Carew, William Willoughby, of Hunsdon, Hertfordshire, esquire, and William Cherry, of Maidenhead, Berkshire, sold to Thomas Foley of Witley, Worcestershire, esquire:
All that Manor of Aldington alias Aunton, and all that farm called Aunton Farm now in the tenure of William Jarrett, gentleman.
Foley continued the lease to Jarrett.  An impressive marble plaque to William Jarrett, who died in 1681, may be seen on the north wall of St James' Church, Badsey.
Thomas Foley was appointed High Sheriff of Worcestershire for 1656–57.  In 1659 he was elected Member of Parliament for Worcestershire in the Third Protectorate Parliament.  He was defeated in the Worcestershire election in 1660, but was returned for the Convention Parliament for Bewdley, some five miles from Witley.  He did not stand in 1661 but in 1673 he was elected MP for Bewdley in a by-election to the Cavalier Parliament. 
In the late 1660s, he founded a bluecoat school at Stourbridge known as Old Swinford Hospital, which he endowed in his will.
Thomas Foley died on 1st October 1677 and was buried at Witley. 
Thomas Foley (c1641-1701)
Thomas Foley was born about 1641, the eldest of six children of Thomas Foley and his wife, Anne (née Browne).  He was educated at Pembroke College, Cambridge and was admitted to the Inner Temple in 1657.
Foley was appointed High Sheriff of Worcestershire for 1673-74.  He served as a Member of Parliament for Worcestershire from 1679 to 1685; again from 1689 to 1698 and then in 1699 and 1701 for Droitwich.
Foley inherited the principal share of his father's landed property but only a third part of the ironmaster's massive manufacturing interests, in his case a complex of furnaces, forges and wireworks based at Tintern in Monmouthshire, which he had previously run in partnership with his father.  He continued to work them, though, unlike his two younger brothers, made no great attempts at expansion. 
Thomas married Elizabeth Ashe, daughter of Edward Ashe, draper, a prominent Puritan, of Fenchurch Street, London, and Halstead, Kent.  They had four sons and four daughters.
Foley had fallen ill by mid-December 1700.  Despite his illness, he was re-elected for Droitwich in January 1701 but died on 1st February at Witley.  Rumour estimated his estate to have been worth at his death some £10,000 a year. One of his last acts was the foundation of a charity school at Pedmore in Worcestershire. 
Thomas Foley (1673-1732/33), 1st Baron Foley
Thomas Foley was born on 8th November 1673 at Witley Court, the eldest son of Thomas Foley.  He was educated at Sheriffhales academy and then for some years at Utrecht.  He was admitted at Lincoln's Inn in May 1695.
Thomas Foley was returned as Member of Parliament for Stafford at a by-election in November 1694, followed by an unopposed return at the 1695 general election.  He held the seat at Stafford until 1712 when he was raised to the peerage as Baron Foley as one of Harley's Dozen.  [These were 12 new peerages created in December 1711 by the Tory government which was struggling to gain a majority in the Whig-dominated House of Lords.  The new peers were nicknamed Harley's Dozen after Robert Harley, Lord High Treasurer, who came up with the idea.]
On his father's death in 1701, Thomas Foley had inherited his estates, which included Aldington.  When the lease of ironworks at the Worcestershire villages of Wilden and Shelsley Walsh expired in 1708, Foley took them in hand and they were operated as an estate enterprise by him and successive owners of the estate until 1776.  
In 1702, Thomas married Mary Strode by whom he had seven children, five of them pre-deceasing their parents.  The children are all named on the elaborate monument in Witley Church:
They had as their children, apart from Thomas and Elizabeth who survived them, Mary who died in the tenth year of her age; Strode Talbot, a young man of excellent parts, devoted to the pursuit of the more liberal studies, but no sooner had he shown his quality, when alas, he was taken from them in the twenty-fifth year of his age; Edward and Richard, both of whom died in the twelfth year of their age; and finally Anna, who had scarce passed the eighth day of her life as a tender infant when she died in her mother's arms.
Baron Foley significantly enlarged Witley Court by adding wings on either side.  He also decided to build a new church at Witley but died on 22nd January 1732/33 before it was completed.  His widow, Mary, and son, Thomas, 2nd Baron Foley, continued with the project.  Lady Mary died in December 1735, just before the Church of St Michael and All Angels was consecrated.  The 2nd Baron Foley continued with the completion of the church, including the memorial monument sculpted by Michael Rysbrack and dedicated to his parents and their five children who pre-deceased them.  The Latin wording on the monument spoke of his father in glowing terms: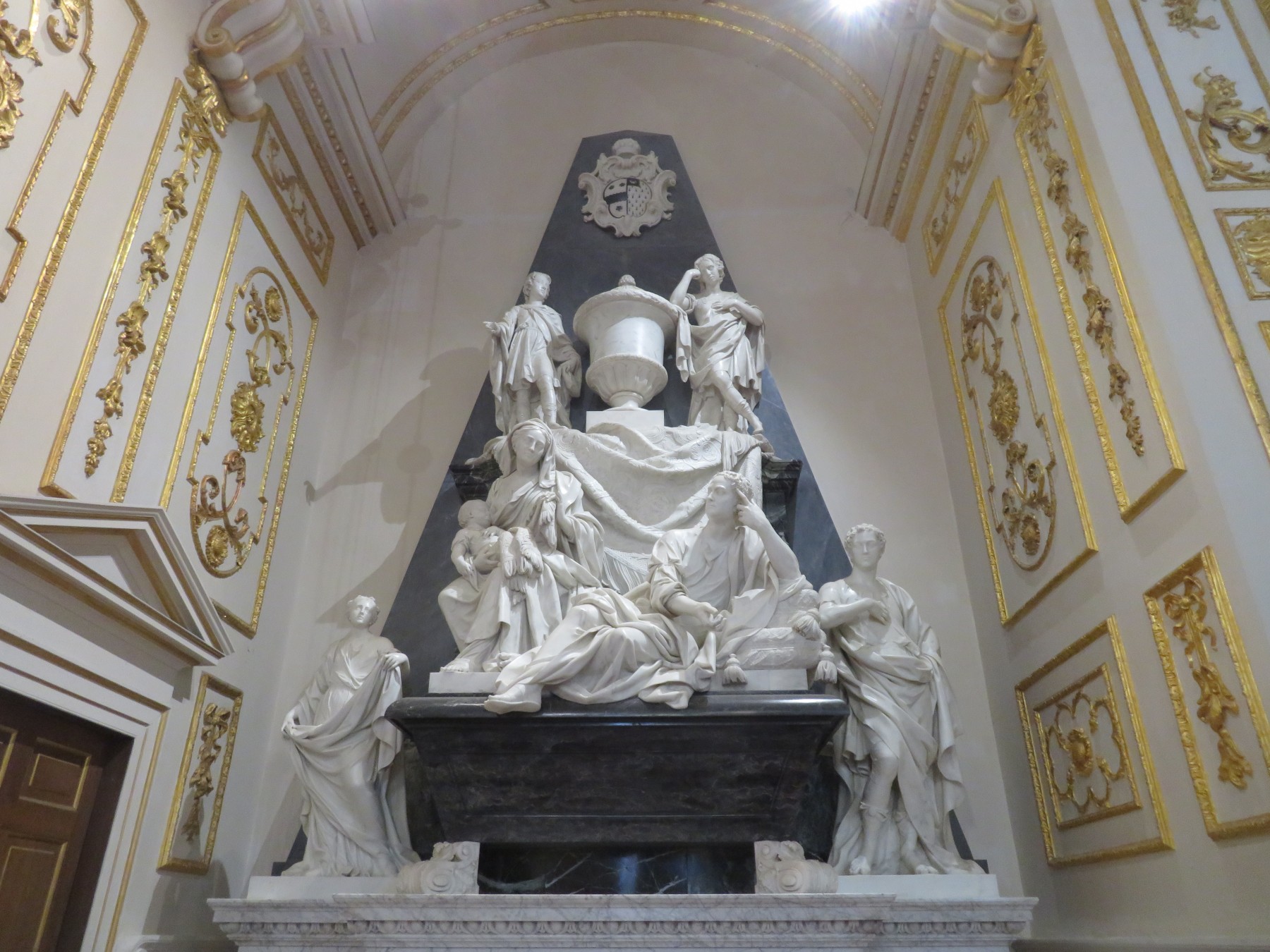 Near to this tablet are buried the mortal remains of Thomas Lord Foley, Baron Foley of Kidderminster, a man excellently endowed with domestic and civil virtues, from his earliest years he was imbued with right feeling stowards God, and towards men he harboured no sentiment but what was just and kind.
After long bearing the burden of service in the House of Commons, he was enrolled, by the grace of Anne, most dutiful of Queens, into the ranks of the British peerage, and for almost forty years as a member of its House, rendered unique service to the good of his country, neither distracted by the bias of party, nor ever yielding to the wiles of corruption, reserving for his only reward the consciousness of an honest life before him and the hope of a better one to come.  He died on the 22nd of January 1732.  He lived 59 years 2 months and 14 days.
He took as his wife, Mary, offspring of the ancient family of Strode in the county of Dorset.  She planned this mausoleum for the husband who had deserved so well of her and her children.  For herself she wished this church, raised up at her own charges, to be her monument.  She died AD 1735, at the age of 63.
Thomas Foley (1703-1766), 2nd Baron Foley
Thomas Foley was born in 1703, the eldest of seven children of Thomas Foley, 1st Baron Foley, and his wife, Mary (née Strode).  Only he and his sister, Elizabeth, outlived their parents.
Thomas Foley became 2nd Baron Foley on the death of his father in 1732/33 and inherited his father's vast estates, including ironworks at Wilden and Shelsley Walsh, and the Manor of Aldington.  In about 1740, he bought the Manor of Great Malvern.
The 2nd Lord Foley continued with the completion of Witley Church, including the memorial monument to his parents and siblings.  At this point in time, the interior was quite plain.  He transformed the church in 1747 when he acquired by private sale from the Duke of Chandos' Canons Palace, Edgeware, London, ten stained glass windows and oil on canvas paintings which were placed in situ on a new curved ceiling, purpose-built to hold the central painting, "The Ascension".  He employed mould-makers to reproduce its plasterwork, making the church one of the finest baroque churches in Britain.
During the second half of the 18th century, the park was landscaped, which included the relocation of the village of Great Witley, which came too close to the south front of the house.
Unlike his father, grandfather and great-grandfather, Lord Foley did not sit in the House of Commons.
Thomas died a bachelor in 1766, the title dying with him.  In his will, he left his estates to his second-cousin-once-removed, Thomas Foley of Stoke Edith.
Thomas Foley (1716-1777), 1st Lord Foley of the new peerage
Thomas Foley of Stoke Edith, Herefordshire, was born on 8th August 1716, the son of Thomas Foley, MP for Hereford City, and his first wife, Hester (née Andrews).  He was the great-great-grandson of Thomas Foley 1617-1677), the ironmaster who had bought both the Witley estate and the Aldington estate.
Foley was educated at Westminster School and Trinity College, Cambridge.  He married the Honourable Grace Granville in 1740.  They had four sons (one son dying in infancy) and four daughters.  He was elected to the House of Commons for Droitwich in 1741, a constituency he represented until 1746 and again from 1754-1768, followed by election to represent Herefordshire from 1768-1776.  
On the death of his father in 1749, Thomas Foley inherited the Stoke Edith estate.  In 1766, he inherited the estates of his second-cousin-once-removed, Thomas Foley, 2nd Baron, who had died childless.  The barony was revived in his favour in 1776 and he became 1st Lord Foley of the new peerage.
Just over a year later, he died in November 1777.
Thomas Foley (1742-1793), 2nd Lord Foley of the new peerage
Thomas Foley was born on 24th June 1742, the eldest of eight children of Thomas Foley, 1st Baron Foley, and his wife, Grace (née Granville).  He was educated at Westminster School and Magdalen College, Oxford.
Foley was Member of Parliament for Herefordshire 1767-1774 and Member for Droitwich from 1774-1777 when he succeeded to his father's peerage.
Foley married Lady Harriet Stanhope in 1776.  They had three sons and one daughter.  The eldest two sons died in childhood, so it was the third son, Thomas, who ultimately inherited.
Thomas Foley was a gambler and profligate spender.  Mrs Delany, a society gossip, wrote in 1773:  "Mr T Foley has lost at Newmarket etc fifty thousand pounds. He has now entered into an agreement with his father, that if he will pay his debts he will entirely leave off gambling."  In November 1775, George Selwyn, a fellow MP, wrote:  "Old Foley pays another £70,000 of debt, and settles, I hear today, £4,000 in present upon his son, and £6,000 a year more at his death." 
Foley became 2nd Baron Foley in 1777 on the death of his father, but did not inherit all of the estates, as these were divided between the 1st Baron's three sons.  Thomas Foley's share was the Great Witley estate and also appears to have included the Aldington estate.  However, he did not immediately become entitled to the estates, but only to an annuity. The balance of the income was applied to paying his debts. After his death in 1793, there were still unpaid debts, which the creditors exchanged for annuities terminating in 1808. By that time, his own son, also named Thomas, had come of age. In the meantime it had been necessary to obtain two private Acts of Parliament (in 1778 and 1796) to enable the trustees to make sales of parts of the estates, grant leases, and otherwise deal with the settled estate.
Thomas Foley died on 2nd July 1793.
Thomas Foley (1780-1833), 3rd Lord Foley of the new peerage
Thomas Foley was born on 22nd December 1780, the third of four children of Thomas Foley and his wife, Lady Henrietta (née Stanhope).  His two elder brothers died in 1789 and 1790, so it was left to Thomas, aged 12, to succeed to the estates and title on the death of his father in 1793.  He was able to take his seat in the House of Lords on his 21st birthday in 1801.
The extravagance and gambling of his father had brought ruin to the estates, so it meant that the 3rd Baron Foley began to sell off land.  His uncle, Sir Edward Winnington, of Stanford Court, Worcestershire, who had married Anne Foley (his father's sister), was a Trustee and made arrangements for the sales, as seen on an early 19th century Indenture held at Birmingham City Archives.  Seaneys Ground, part of Aldington Farm, was sold to John Procter (this is Synehurst, which is now in Badsey).
E A B Barnard, in his article about the Manor of Aldington, published in the Parish Magazine of 1916, said that the Foleys' land at Aldington, comprising some 250 acres, was sold in 1806 to several persons, with George Day of Evesham purchasing the Manor.  It is possible, though, that it may have been sold in 1803.  An Indenture dated 27th December 1803, held at Birmingham City Archives, needs to be studied in detail, as it seems to refer to "All that the Manor or Lordship of Aldington otherwise Aunton".  The parties to the indenture were Sir Edward Winnington and the Rev Richard Francis Onslow, Vicar of Kidderminster, of the first part; Thomas Lord Foley, Baron of Kidderminster, of the second part; Honourable Andrew Foley of Haseley Court, Oxfordshire, and Newport, Herefordshire, surviving Trustee, of the third part; John Procter of Evesham, baker, of the fourth part; and William Law Phelps of Evesham, Gentleman, of the fifth part.
Certainly, by 1806 (the year in which Lord Foley married), he had ceased to be Lord of the Manor of Aldington.  He died in London in April 1833 and was buried at Witley, the last Foley to be buried there as Witley Court was sold after his death.
The end of an era
After nearly a century and a half of ownership by the Foleys, the manor and lands of Aldington passed briefly to a speculator, George Day, before he in turn sold it to James Ashwin of Bretforton in 1808.
Did the Foleys ever visit Aldington?  One assumes that the first Thomas Foley, who bought the estate in 1665, probably visited the village but, as for the others …..?  The probable answer is that they never visited, but we shall never know for certain.  
Maureen Spinks, October 2021