After a recent "Reading Old Documents" workshop, Kerry Moreton took on the challenge of transcribing a 17th-century will which we had downloaded from the National Archives.  This was for a yeoman of Badsey by the name of William Forrest.  The Badsey parish records have very few incidences of the name Forrest or Forest, so it was not a common name in the village.  But, piecing together information from the will, the parish registers, old deeds and various internet references, we have been able to piece together details of his life and the property which he owned in Badsey.
* * * * *
William Forrest's will
William Forrest's will was made on 23rd June 1698 and Alice Bine and her son, John, were appointed executors.  The name is written as Bine in the will but more frequently appears as Byne.  William Forrest described Alice as his cousin, but it is thought she was his niece (it was quite common in those days for cousin to mean any relative). 
By far the biggest bequest went to Alice Byne for her lifetime and then to her son, John.  The inheritance was for "Lands, Messuages, Tenements and Hereditaments in Badsey" and, after all the other bequests had been made, the residue of his goods, chattels and personal estate.  Alice Byne's four younger children, Alice, Mary, Magnus and Thomas, were each to receive £10.
To his sister, Alice Boulton, William Forrest gave £5, and some of Alice's grandchildren and a daughter were also beneficiaries of his will.  To Alice Boulton, daughter of Peter Boulton, he gave 20 shillings; he described Alice Junior as his cousin but she was in fact his great-niece.  Elizabeth Markland, described as a cousin (but actually a niece, daughter of his sister, Alice Boulton), was given 20 shillings to buy a ring.   William, Grace and Hester Saunders, the children of Mr Thomas Saunders of Moore, each received 20 shillings.  They were more grandchildren of Alice Boulton, the children of her daughter, Margaret, who had died a few years earlier. 
Richard and Ann Haines, the children of Richard and Jane Haines of Charlton, each received £5, as did his cousin, Ann Fort, daughter of Margery Fort deceased, but it is not known who any of these people were.
The beneficiaries were all, without exception, either women or children.  One assumes that he felt that the men in the family would be provided for by other means.
Who was William Forrest?
William Forrest, a yeoman of Badsey, is thought to be the William Forrest who was baptized at Fladbury, Worcestershire (a village some seven miles distant from Badsey), on 27th February 1626, the son of George Forrest.
Because no wife or children were mentioned in William Forrest's will, it was thought at first that he may have been single.  However, a review of the parish records reveals that William may have been married to Alice who died at Badsey in January 1669.  Alice's burial was the first with the surname of Forrest to be recorded in the 17th century parish records.  There is also a burial for a John Forrest in February 1698 who may have been a son who pre-deceased his father.  
The house which William Forrest owned was the property known today as Barn Cottage and Orchard Cottage on Mill Lane.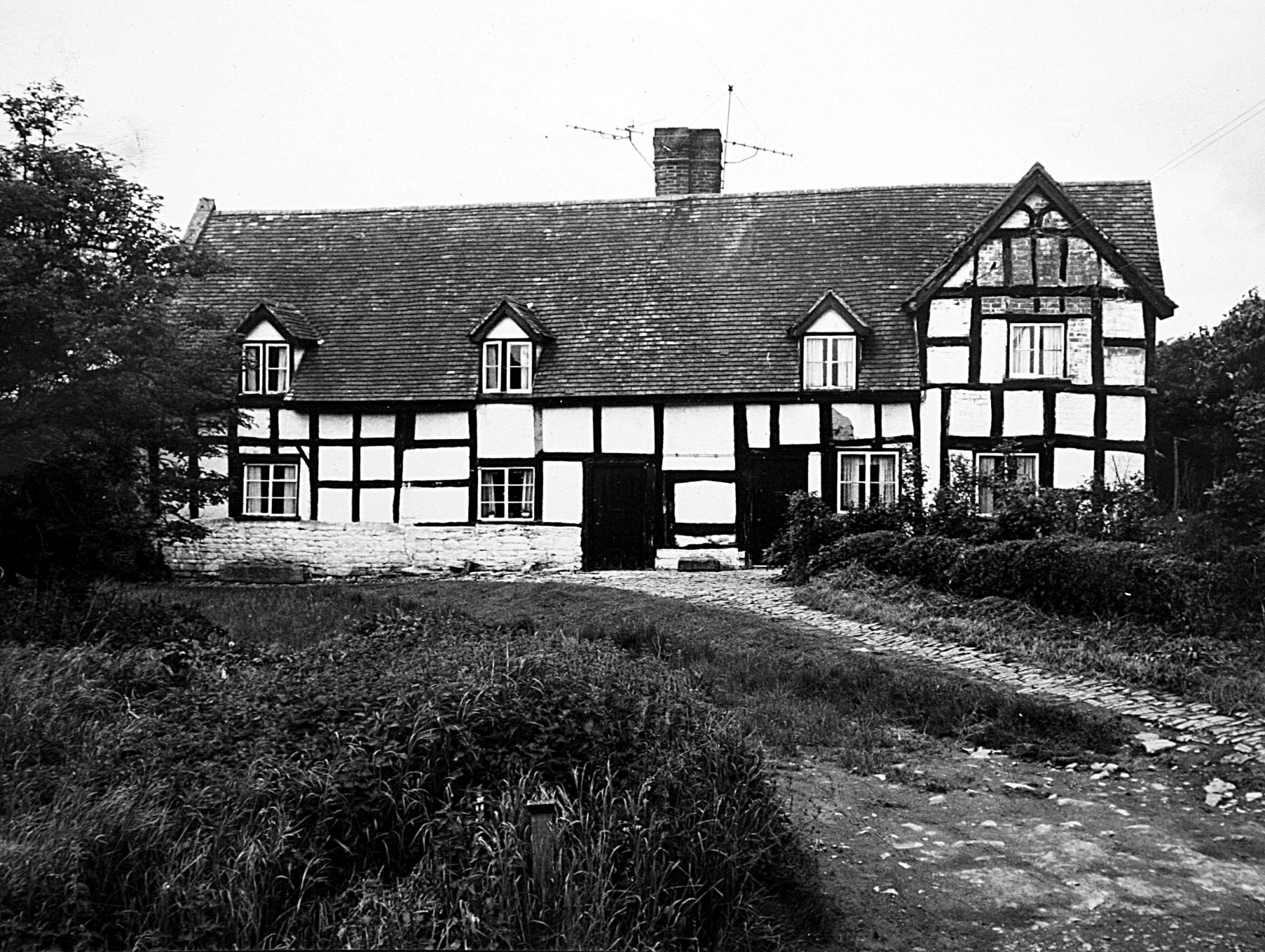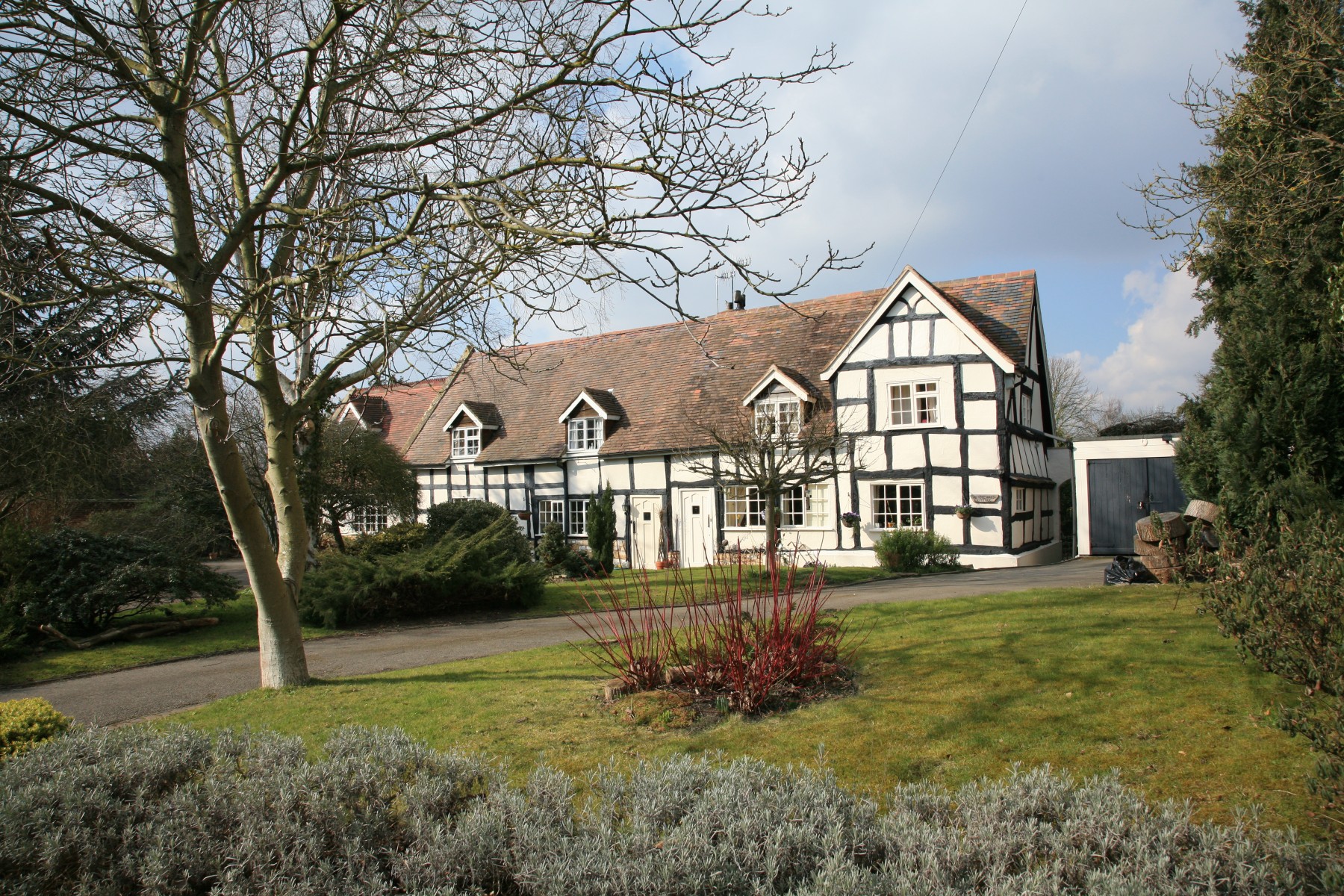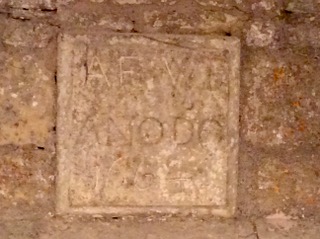 The current owners of Barn Cottage have provided photos of a stone plaque in their home which is carved with a date of 1664 and the initials AF & WF; this undoubtedly must stand for William and Alice Forrest.  The plaque is on what was once the end wall of the house and is situated beneath a plinth where a religious figure once stood set into the wall.   
The stone wall had come from Evesham Abbey.  If abbey stone was used in building, it had to be turned once so that you were not living in a consecrated building.  Barn Cottage probably dates back to the 16th century or even earlier, but it seems clear that William and Alice Forrest, possibly soon after moving to Badsey, set about on a restoration project, replacing the old wattle and daub wall with a stone wall.  The wall containing the plaque is no longer an exterior wall as an extension was added in the 1970s.
A deed of 13th July 1793 held at Birmingham City Archives gives us an idea of William Forrest's holdings in Badsey.  This was when Mary Fisher and Jane Sweet (née Fisher) sold a house and land at Badsey to Edward Savage – they were the heirs of Mary Fisher (née Johnson) who had inherited the property from her godfather, John Bodington, who had acquired the land from Alice Byne.  The Enclosure Award Schedules of 1815 confirm that Edward Savage held 32 acres, which was the same land that William Forrest had owned in the 17th century.
Nearly two years after making his will, William Forrest died at Badsey in March 1700 and was buried on 29th March.
William Forrest's niece – Alice Byne (née Forrest) and descendants
Alice Byne, who inherited property in Badsey, was born Alice Forrest in about 1655.  She was the daughter of Thomas Forrest, a haberdasher of Tower Hill, London, and his wife, Anne (née Burrowes).  Her father, Thomas, is thought to have been born in Fladbury and thought to have been the brother of William Forrest. 
Alice married John Byne, a stationer, in the mid 1670s and they had five children:  Alice (1676-1760), John (1679), Mary (1683), Magnus (1685) and Thomas (1686).  The children were aged three to 13 when John died in 1690.  In his will, John Byne referred to "my honoured Mother Mrs Anne Forrest Widdow", to whom he left £5 to buy mourning clothes.  She was in fact his mother-in-law rather than his mother.
There is a reference to Alice in 18th century Badsey Mill deeds where she is referred to as having land north of the mill "heretofore of Mrs Alice Byrne Widow".
In a book entitled, Searches into the History of the Family of Byne or Bine of Sussex, by Walter Charles Renshaw, printed at the Chiswick Press, London, 1913, Renshaw notes that on 22nd January 1716 Alice Byne's eldest son, John, a mariner, filed a bill in Chancery against his mother. John claimed that, in his will of 1698, Alice's uncle, William Forrest of Badsey, had bequeathed all his lands in Badsey to Alice for life, and to her son John Byne "in fee", and that he had divided his personal estate equally between the two of them.  John's complaint was that his mother had already felled and converted to her own use a large quantity of timber on those lands. The outcome of this dispute is not known but it appears that the remainder of John Byne in this property at Badsey must have been sold, for John Bodington of Stepney, citizen and apothecary of London, by his will dated 25th March 1728 and proved 17th April 1728 made a devise of his reversion in freehold lands and tenements at Badsey expectant on the death of Alice Byne, bequeathing them to his "goddaughter", Mary Johnson.  Whether John Bodington and Mary Johnson were related to the Byne and Forrest families is not known, but Joseph Greene of London, goldsmith, was one of the executors, and his wife, Mary, was given a legacy of £10; Mary Greene was a daughter of Alice Byne.  Mary Johnson married Thomas Fisher.  The land and property remained in her family until 1793 when her daughters, Mary Fisher and Jane Sweet, sold it to Edward Savage.
Alice Byne died in February 1738 and was buried at St Botolph Aldgate.  By her will made on 14th August 1733, she stated:  "I give to my daughter Alice Bouts widow all that my meadow in Badsey co Worc near the Mill Taile called Crab Tree Close which I purchased and I devise to her all my freehold estate in Distaff Lane, London, and after her decease I devise the same to my granddaughter Ann Bouts and in default of her issue then to my granddaughter Mary the wife of John Gibson." 
It is not known how long the meadow at Badsey remained in the family.  Alice Bouts, the widow of Thomas Bouts, died in 1760.  She was buried at St Botolph's Aldgate on 20th April 1760.
William Forrest's sister – Alice Boulton (née Forrest) and Descendants
Alice Boulton was named in William Forrest's will as his sister.  She was born at Fladbury in 1629, the daughter of George Forrest.  Alice married William Boulton, a gunmaker, and spent the rest of her life in London.  She had at least seven children:  Anna (1654), Margaret (c1660-1695), William (1663), Peter (1664-1743), Thomas (1668), Elizabeth (1668-1728) and Richard (1671-1737).  Alice's husband died in 1676 leaving her with a young family.
It is assumed that Anna, the eldest daughter died in in childhood.  Margaret, the second daughter, married Thomas Saunders of Moor in the parish of Fladbury.  She had died by the time that William Forrest made his will, so her three children, William, Grace and Hester, were named as beneficiaries.  Elizabeth, the third daughter, who had been widowed in 1692, was now married to Martin Markland, was given 20 shillings.  None of Alice Boulton's sons were beneficiaries of the will, although Peter Boulton's daughter, Alice, was given 20 shillings.
Acknowledgements
Maureen Spinks, November 2020