Some time around 1820, Wingfield Gee, a silk throwster, moved from his native Cheshire to Worcestershire.  He and his sons were associated with the silk mill at Badsey from around 1830 to the late 1840s.
* * * * *
Wingfield Gee (1788-1850)
Wingfield Gee was born at Astbury, Macclesfield, Cheshire, in 1788, the fourth of five children of Jesse Gee and his wife, Frances (née Harding).  He was baptised on 7th September 1788.  
On 25th September 1810, Wingfield married Ann Pickering at Prestbury, Cheshire, a village 1½ miles to the north of Macclesfield.  Their first two children were born when they were living in Prestbury – Sarah (1812-1894) and George Bayley (1814-1816) – and were baptised at Ebenezer Chapel, Prestbury.  Young George was buried at Ebenezer Chapel in June 1816.  By November 1816, when a son, Thomas (1816-1861) was born, they were living at Congleton.  He was baptised at Millstreet, Congleton, on 29th December 1816.
Some time between 1817 and May 1824, the Gee family moved to Overbury, Worcestershire, where Wingfield Gee gained employment at the silk mill.  Three children were born at Overbury – Wingfield (1824-1893), Sophia (1826-1901) and John Harding (1830) – all baptised at St Lawrence Wesleyan Chapel, Evesham. 
At some time in the 1820s, Wingfield Gee entered into partnership with George Agg and went to work at Murcott Mill.  We know this because several Gazettes of February 1829 recorded:  "Partnership dissolved – George Agg and Wingfield Gee of Overbury, Worcestershire, and afterwards of Murcott, Childswickham, Gloucestershire, silk throwsters."  Possibly they may have gone into partnership in 1826.  In June of that year, George Agg, an auctioneer, was selling equipment at Overbury Silk Mill on behalf of the assignees of John Mann, silk throwster, a bankrupt.  Two months later, auction details (George Agg again as auctioneer) appeared in The Worcester Journal for a cottage and garden and remains of a leather mill at Murcott.  The mill was described as "part of which mill has been lately taken down for the purpose of being converted into a Silk Mill" and was considered suitable for "any person wishing a Corn, Cotton or Silk Mill, or any other Manufactory requiring water, as the stream is never failing and copious, and the fall of water ample".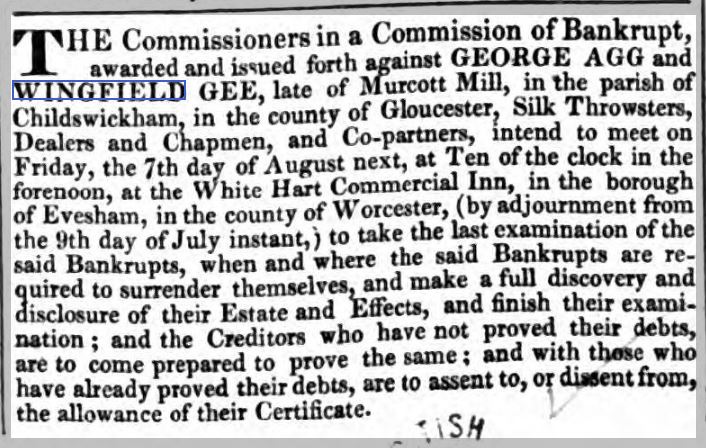 Wingfield Gee and George Agg were declared bankrupt in 1829 and, on three occasions in May and June, were required to appear before the Commissioners.  The last examination by the Commissioners took place on 7th August 1829 and the final reckoning took place in April 1830.  By December 1829, Murcott Mills, "now let as Silk Mills and are perfectly new with all the requisite machinery", were being offered for sale or let.
All was not well at Overbury either.  The Worcester Herald of 23rd May 1829 reported that:  "Within the last few weeks, two extensive silk mills at Overbury have suspended work for the present which has reduced a great number of the inhabitants to a state of idleness, we will not say poverty, because their more wealthy neighbours, with a laudable spirit of liberality, well worth the imitation of more  populous districts, have devised every means that benevolence could dictate, to alleviate the misery and distress which must otherwise have fallen upon the poor but grateful artisans."
It was probably in about 1829 or 1830 that Wingfield Gee became connected with the mill at Badsey. According to Perry's Bankrupt Gazette of 27th May 1831, the partnership of John Thorp and Wingfield Gee of Evesham, silk throwsters, was dissolved on 24th May.  However, it appears that Gee was kept on to manage the mill, as on 2nd June 1834, a Vestry Meeting at Badsey resolved:  "… to reduce Wingfield Gee's poor rate upon Badsey Silk Mill from £80 per year to £60 … they considered £80 too much, as the corn mill is out of work and also that Mr Gee employs many children who would be chargeable to the parish." This Vestry Meeting took place one week after the death of John Thorp, the owner of Badsey Silk Mill. Thomas Thorp, John Thorp's half-brother, took over as trustee and executor of his will.

Wingfield Gee was still connected with Overbury and split his time between Badsey and Overbury, some 11 miles distant from each other.  His sons, Thomas and Wingfield, also became silk throwsters.    At the time of the 1841 census, Wingfield Gee and son, Wingfield, were living in Overbury, whilst Thomas and his new wife were living at Badsey Mill.  According to Bentley's Directory 1841, Thomas Gee and Wingfield Gee & Son were listed as silk throwsters in Badsey.
A reference in The Worcestershire Chronicle of 16th March 1842 referred to a sad accident that occurred at "Mr Gee's silk mill at Overbury".  Wingfield Gee was master of the mill, but it was owned by Thomas Thorp, John Thorp's half-brother.  Reverend William Smith, Vicar of Overbury, in a letter to The Worcester Journal in July 1843, referred to "the master of the silk mills, a Methodist and violent Radical".  In reply, a notice in The Worcester Journal, sent by the Bishop of Worcester to the Reverend William Smith, Vicar of Overbury, lists "Wingfield Gee, silk throwster (dissenter), Wingfield Gee Junior, silk throwster (his son, under age), Thomas Gee, silk throwster (ditto)".
By 1845, Wingfield Gee appears to have moved to Badsey as this was given as his abode when his youngest daughter, Sophia, married Samuel Foden at Birkenhead in September.

Wingfield Gee moved from Worcestershire to Derbyshire probably towards the end of 1848.  In The Worcester Journal of 14th September 1848, "Mr Wingfield Gee of Evesham, Worcestershire, now in his 60th year" was selling a life policy.  His wife, Ann, had died in 1847, and Thomas Thorp had died early in 1848.  His son, Wingfield, and family, also moved to Derby.  They had possibly gone to work at Lombe's Mill, Derby, the first silk mill erected in England in 1717.
Wingfield Gee Senior died at Derby in 1850.  
Thomas Gee (1816-1861)
Following in his father's footsteps, Thomas Gee (1816-1861) became a silk throwster.  Born at Congleton, Cheshire, on 28th November 1816, he spent most of his childhood in Overbury, Worcestershire.  
Thomas married Sarah Sophia Sheaf in the first quarter of 1841.  At the time of the 1841 census, they were living at Badsey Mill with four servants.  They had three children:  Margaret Sarah (1841-1847), Charlotte (1846-1910) and Mary Ann (1848-1875).  Margaret was born in the Tewkesbury district, which was probably Pendock where her younger sister, Charlotte, was born a few years later, as it was in the same registration district of Tewkesbury, six miles to the west of the town.  When Margaret died in February 1847, the family's abode was given as Badsey and she was buried in Badsey churchyard.  
By 1851, Thomas Gee had left the silk industry and become an Innkeeper.  At the time of the census he was staying with his parents-in-law, John and Sarah Sheaf, in Cleeve Prior.  Meanwhile, Sarah Gee and her three-year-old daughter, Mary Ann, were in Cowl Street, Evesham, where Sarah was a Beer House Keeper; and five-year-old, Charlotte, was staying with her mother's cousin, Edward Wilson, then living in Birmingham.  Thomas' father and brother, Wingfield Senior and Junior, had both left Worcestershire for Derby.  Times were hard in the silk industry, so it may have been at this time that Thomas decided to change career.
Thomas Gee died at Evesham in early 1861 and was buried at All Saints, Evesham, on 31st January.  A short while later, at the time of the 1861 census, Sarah, recently widowed, was Innkeeper of the Red Lion Inn in the Market Square, Evesham.  Her two daughters, Charlotte and Mary Ann, also lived there, plus a lodger, Frederick Fleet.  Sarah married again, in 1865, to Thomas Walker.  At the time of the 1871 census, they were living at Vine Street, Evesham, where Thomas as a spirit merchant and gardener.  Sarah died at Evesham in 1878.
A year after her mother's remarriage, Charlotte Gee married Frederick Meddings, a builder, in 1866 in Birmingham.  They had four children in total and lived variously at Evesham, Islington, Pershore and Edgbaston.  Charlotte died at Edgbaston in 1910.  Sarah's youngest daughter, Mary Ann, pre-deceased her.  Mary Ann had married William Thomas Clarke at Evesham in 1872; she died three years later.
Wingfield Gee (1824-1893)
Like his older brother, Thomas, Wingfield Gee also followed their father into the silk throwster profession.  Whilst his older siblings were born in Cheshire, he was the first in the family to be born in Worcestershire.  He was born at Overbury on 8th May 1824 and baptised on 24th September 1828 (together with his younger sister) at St Lawrence Wesleyan Chapel, Evesham.
Wingfield married Mary Ann Buckner at Claines, Worcestershire, on 1st December 1847.  They had at least two daughters, Mary Celina (c1848) and Ann Elizabeth (1850).  
Wingfield Gee moved from Worcestershire to Derbyshire in the late 1840s, probably in 1848 following the death of Thomas Thorp.  His father, Wingfield, also moved to Derby.  They had presumably gone to work at Lombe's Mill, Derby, the first silk mill erected in England in 1717.  They were certainly living in Derby by the second quarter of 1850 when Ann was born.
According to the 1851 census when they were living in Derby, Mary was born in Cheltenham (although her birth does not appear to have been registered).  
Nothing more is known of Wingfield Gee for several decades.  There appears to be no record in the 1861, 1871 or 1881 census either for Wingfield or his family.  It is likely that he was living in Gloucester by February 1882, as there is mention in The Gloucester Journal of a Winfield Gee attending the funeral of a fellow mason.  He is next heard of in 1891, described as a General Labourer and a widow when he was an inmate at Hampton Workhouse, Evesham.
Wingfield died at Evesham in 1893 and was buried at Waterside Cemetery on 18th August in an unmarked grave.
John Harding Gee (1830-1911)
We shall probably never know for certain, but it is probable that Wingfield Gee's youngest son, John Harding Gee, did not follow in his family's footsteps and become a silk throwster.  His whereabouts at the time of the 1851 census are unknown, so we do not know what job he was doing then.  When he married Sarah Smart on 25th September 1854 at St Margaret's Church, Westminster, London, he gave his profession as miller and that of his father as millwright.  Possibly he may have meant "silk miller" but this has not been verified.  
In 1856 at Cirencester, John Harding Gee joined the Scots Fusilier Guards.  At the time of the 1861 census, John was visiting his older sister, Sarah Smith at Wickhamford Corn Mill; Sarah was married to Samuel Smith, the miller.  He was described as unmarried and in the Scots Fusilier Guards.  However, a report in The Reading Mercury of 15th February 1862 said that he had been apprehended on suspicion of being a deserter from the 2nd Battalion of Fusilier Guards.  On 11th July 1863, The Wigan Observer reported that "a respectable and good-looking man who gave the name of John Harding Gee" was charged with vagrancy.  He was committed to the House of Correction with hard labour for one month.  The following year he was in Dorset when the local paper of 12th March 1864 reported that "John Harding Gee, a miller, a native of Worcestershire, was charged with being drunk and breaking a window at the Antelope Hotel.  It appears that the prisoner came into the yard early in the morning and asked to be permitted to sleep in a loft; but being refused, he went out and pushed his hand through a pane of glass."  This resulted in one month's imprisonment with hard labour.
In June 1870, John Harding Gee was again in gaol, this time for seven days, for being drunk and disorderly in King Street, Reading.  He was no sooner out of gaol than he was committed to Reading Gaol for 14 days.  Described as a tramp, he was brought up in custody charged with sleeping in a pigsty without having any visible means of subsistence; he was also drunk and used very abusive language.  Whilst in the cell at the police station, he tore his trousers into pieces, the reason being because they were so shabby he was ashamed of them.  Three months later at Burslem, he was charged with being drunk and damaging a gas lamp.  In January 1875, John Harding Gee pleaded guilty to a charge of begging at Aldershot which resulted in three weeks' imprisonment.
The whereabouts of John Harding Gee and his wife at the time of the 1871 and 1881 census are unknown but, by 1891, John appears to have turned his life around, and was living with Sarah (this appears to be the Sarah that he married in 1854) at Dock Street, Newport, Monmouthshire, where they remained for the rest of their lives.  He was a refreshment house keeper and also a herbalist by 1901 (according to Kelly's Directory).
Sarah Gee died at Newport in September 1910 and John died five months later on 1st February 1911.  Probate of his will was granted to John Edward Hawkins.  Now John Hawkins had married a Sarah Elizabeth Gee at Tiverton, Devon, in 1884.  This Sarah had been born in August 1867, either in Devon or in Cardiff (differing birthplaces given on census returns).  No trace of her birth registration or of her whereabouts in 1871 and 1881 have been found.  Her father, John Harding Gee, remained an enigma for most of his life.
The Gee Daughters
Following the Gee family's move to Worcestershire, each of Wingfield Gee's two daughters spent either the rest of her life in Worcestershire (in the case of Sarah, living all the time after marriage in Wickhamford) or a substantial amount of time in Worcestershire (in the case of Sophia who married twice at Wickhamford and ended her days there).
Sarah Gee (1812-1894)
Sarah Gee, the eldest daughter of Wingfield Gee, married Samuel Smith in about 1836.  Samuel had been born at Wickhamford in 1809 and, like his father, was a Miller.  They lived briefly in Badsey where a son, Wilson, was baptised and buried at the age of three weeks in 1837.  By 1839, they were living in Wickhamford where Wingfield John (1839-1916) and George (1846-1888) were born.  At the time of the 1861 census, Sarah's younger brother, John Harding Gee, a Scots Fusilier Guard, was visiting them.  Samuel Smith died in 1879 and Wingfield took over from his father as Miller.  Sarah Smith died in 1894 at Wickhamford.  
Sophia Gee (1826-1901)
Sophia Gee married Samuel Foden in September 1845 in Birkenhead, Lancashire.  By 1851 she was widowed and lodging with her sister-in-law, Sarah Gee (wife of Thomas), in Cowl Street, Evesham.  By 1861 she was lodging in Vine Street, Evesham, working as a dressmaker.  In 1871 she was visiting her sister, Sarah Smith, at Wickhamford Mill.
Sophia married for a second time on 27th July 1876 at Wickhamford.  Her husband was her first cousin, Isaac Gee, a commercial traveller, who was also widowed.  Sophia's address was given as Wickhamford, so she had presumably made her home at Wickhamford Mill with her sister.  Isaac was the son of Sophia's uncle, Richard Gee, who, like his brother, Wingfield, had been a silk throwster.  Isaac, too, had initially gone into the silk throwing business.  He had been working as a silk throwster at the time of his first marriage in 1850 in Derby, but was described as a clerk in the 1851 census and as a tea dealer in the 1861 census.  Billings' Directory of 1855 mentioned him:  "… the silk factory has been closed for some time, but work is now about to be resumed … by Mr Isaac Gee."  But this is thought never to have happened.
After less than two years of marriage, Sophia was widowed again when Isaac died at Kings Norton in April 1878.  The 1881 census found her in West Bromwich working as housekeeper for Thomas Bridge, an iron manufacturer. 
Sophia married for a third time to widower Charles Pearson on 17th May 1883, again at Wickhamford.  In 1891, they lived at 57 Enville Street, Stourbridge, where Charles was Innkeeper and his 26-year-old son Edward by his first marriage was Assistant.  Charles had died by 1901 and Sophia was then staying with her nephew, Wingfield John Smith, the Corn Miller at Wickhamford; Sophia was described as "living on own means".  Sophia died at Wickhamford a few months later and was buried in the churchyard on 28th October 1901.
Maureen Spinks, October 2020
See also