John Gibbs was baptised in Wickhamford on 20th January 1805, the second child of Richard and Edith Gibbs. Richard Gibbs (b. 1761, Feckenham)) had married Edith Hall in Bretforton in February 1803 and their first child, Richard, was baptised in Wickhamford in late 1803.  They went on to have a daughter, Edith, baptised in the village in 1806 and then two more daughters, Ann Lucy and Sarah, baptised in Badsey in 1810 and 1812 respectively.   Whilst in Wickhamford, Richard was a tenant farmer at Field Farm, Longdon Hill.
John Gibbs became a gas engineer and was responsible for the introduction of gas street lighting to Evesham.   He died in 1881 and a very full obituary was published in the Evesham Journal.  This is reproduced below, in full, as it gives an extensive insight into his life.
THE LATE MR JOHN GIBBS
Our obituary contains a notice of the death of this gentleman on the 14th inst., at his residence, Prospect House.  Mr. Gibbs was born on the 11th of January, 1805, at Wickhamford.  His father then occupied the farm on the other side of Longdon Hill, but removed afterwards to Aldington and thence to Stretton-on-the Fosse.  At an early age Mr John Gibbs exhibited unusual qualifications for scientific pursuits, and devoted himself to practical mechanics and the study of chemistry and natural history.  Sixty years ago the manifestation of talent of this kind was regarded with little encouragement, and "philosopher," or lover of science was apt to be treated as a dreamer and comparatively useless person.  The young man's pursuits in this instance fortunately met with some sympathy, and he was put in the way to follow the bent of his genius. 
After an apprenticeship to a chemist at Warwick he went to London, and worked in chemistry at Apothecaries Hall.  In London he became acquainted with many of the scientific men of the day, and after residing there about three years he returned to the country and lived with his father, first at Aldington, and afterwards at the family estate at Stretton.  Here he was constantly engaged in experiment and research, and waited for an opportunity to bring his knowledge to bear upon some original undertaking.  In 1835, Mr. Gibbs undertook to light the town of Evesham with gas, and entered into a contract on the 5th of February in that year with the Town Commissioners to supply public lights for 21 years.  To him and the circle of friends who gathered round him in Evesham is indebted for the foundation of the Evesham Institute, which opened as a Mechanics' Institute in 1838. 
After Mr. Gibbs had disposed of the Evesham Gas Works to a company, he took a farm at Offenham, and thence removed to Birmingham, in 1847, to enter on the Glascote Colliery and Tile Works, in conjunction with his brother-in-law. Mr C. Canning.  The development of the clay works requiring his personal attention, he removed to Tamworth for a few years, and whilst there the manufacture of terra cotta was established, which has been carried to so much perfection in the decoration of the Natural History Museum at South Kensington, the whole of the work for which was done by the firm of Gibbs and Canning, at the Glascote Works. 
On his retirement from this business, after a few years at Norwood, he came finally to Prospect House, and there he closed a useful life in the enjoyment of the society of his friends, and in the exercise of his genial hospitality.  He will be missed by many friends, who found in him a centre of association, and who enjoyed his conversation, which was both instructive and delightful.  A student of nature, he regarded her laws with reverence, and was loyal in the pursuit of truth as manifested in the visible creation.  Every branch of science interested him, and he was also versed in local history and tradition, for his memory was retentive and he was ever ready to impart from his stores to every one about him.  He was approaching the completion on his 77th year when he calmly and peacefully succumbed to the infirmities which had long and often sorely tried him.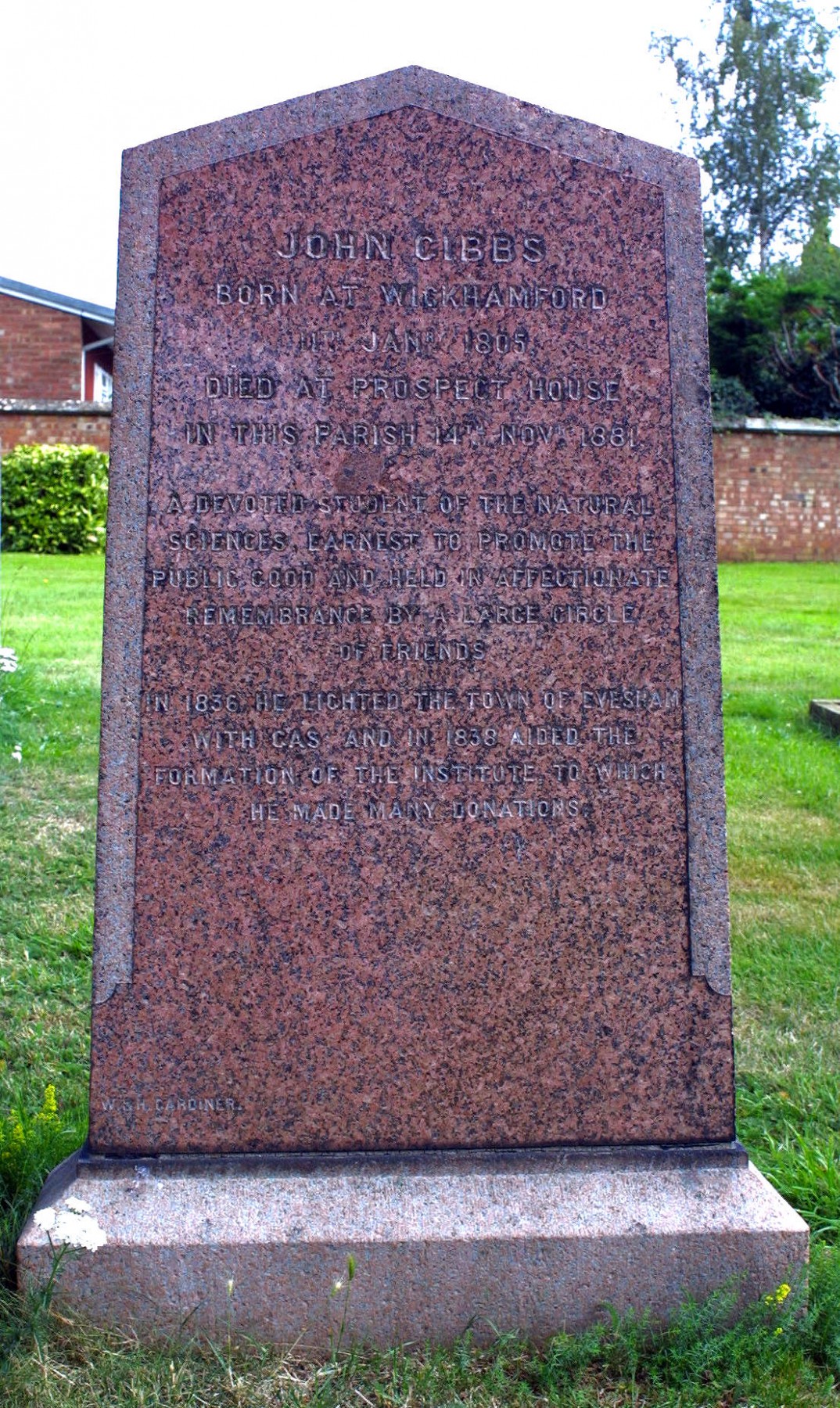 John Gibbs was buried in Bengeworth Cemetery and the very impressive headstone is produced to the right.  The inscription says:
JOHN GIBBS/BORN AT WICKHAMFORD/11TH JANRY 1805/DIED AT PROSPECT HOUSE/IN THIS PARISH 14TH NOV 1881
A DEVOTED STUDENT OF THE NATURAL/SCIENCES, EARNEST TO PROMOTE THE/PUBLIC GOOD AND HELD IN AFFECTIONATE/REMEMBRANCE BY A LARGE CIRCLE/OF FRIENDS
IN 1836 HE LIGHTED THE TOWN OF EVESHAM/WITH GAS AND IN 1838 AIDED THE/FORMATION OF THE INSTITUTE TO WHICH/HE MADE MANY DONATIONS
Census records
The obituary makes little mention of family details for John Gibbs, but he has been found in various censuses.  In the four later census returns given below he is always recorded as 'unmarried' and his place of birth recorded as 'Wickhamford'. 
In 1841, he was living in High Street, Evesham, and his occupation was given as a Gas Proprietor.
In 1851, he was living in Highfield Road, Edgbaston, Birmingham, aged 46.  His occupation description is lengthy and is hard to read.  It does refer to fire brick manufacture and pipe making and employing 300 hands.
In 1861, he was living in Glascote, Tamworth, Warwickshire, ages 57, his occupation recorded as Production of sewerage pipe & clay works.
In 1871, he was living in Penge, Surrey, aged 66, as a Retired Manufacturer.  He had three servants.
In 1881, a few months before his death, he was living in Elm Road, Bengeworth, Evesham, with three servants, and was again recorded as a Retired Manufacturer.   This location would have been Prospect House although this is not stated in the census.
Evesham Gas Works
Gas lighting started to be introduced into English cities in the 1810s.  John Gibbs was responsible for the installation of gas lighting in Evesham and these were first used on 5th September 1835.  The town commissioners had entered into a 21 year contract with John Gibbs to supply the lighting.  At this time John Gibbs was living in Offenham
The Mechanics' Institute
John Gibbs was instrumental in founding the Evesham Literary, Scientific and Mechanics' Institute, which was established in January 1838. Soon afterwards, £170 was donated and subscribed. Its objective was instruction of members in the principles of the arts and in various branches of science and useful knowledge.  In George May's book 'A Descriptive History of the Town of Evesham, from the Foundation of Its Saxon Monastery with Notices Respecting the Ancient Deanery of Its Vale', published in 1845, he refers to the Institute having 110 members, a library of 480 volumes and much scientific apparatus.  It was located in a lower room of the Public Library, which at that time, was across the market square from the Town Hall.
Glascote Colliery and Tile Works, Tamworth
In 1847 John Gibbs and his brother-in-law established Gibbs and Canning Ltd for the production of pipes, bricks, sinks, vases and jars.   They went on to produce architectural ceramics in terracotta.  Their most famous use of terracotta was in the Natural History Museum, South Kensington, where all of the external and internal walls were decorated with tiles and figures produced by the company.  The museum was built during 1873-1880.
Prospect House, Bengeworth, Evesham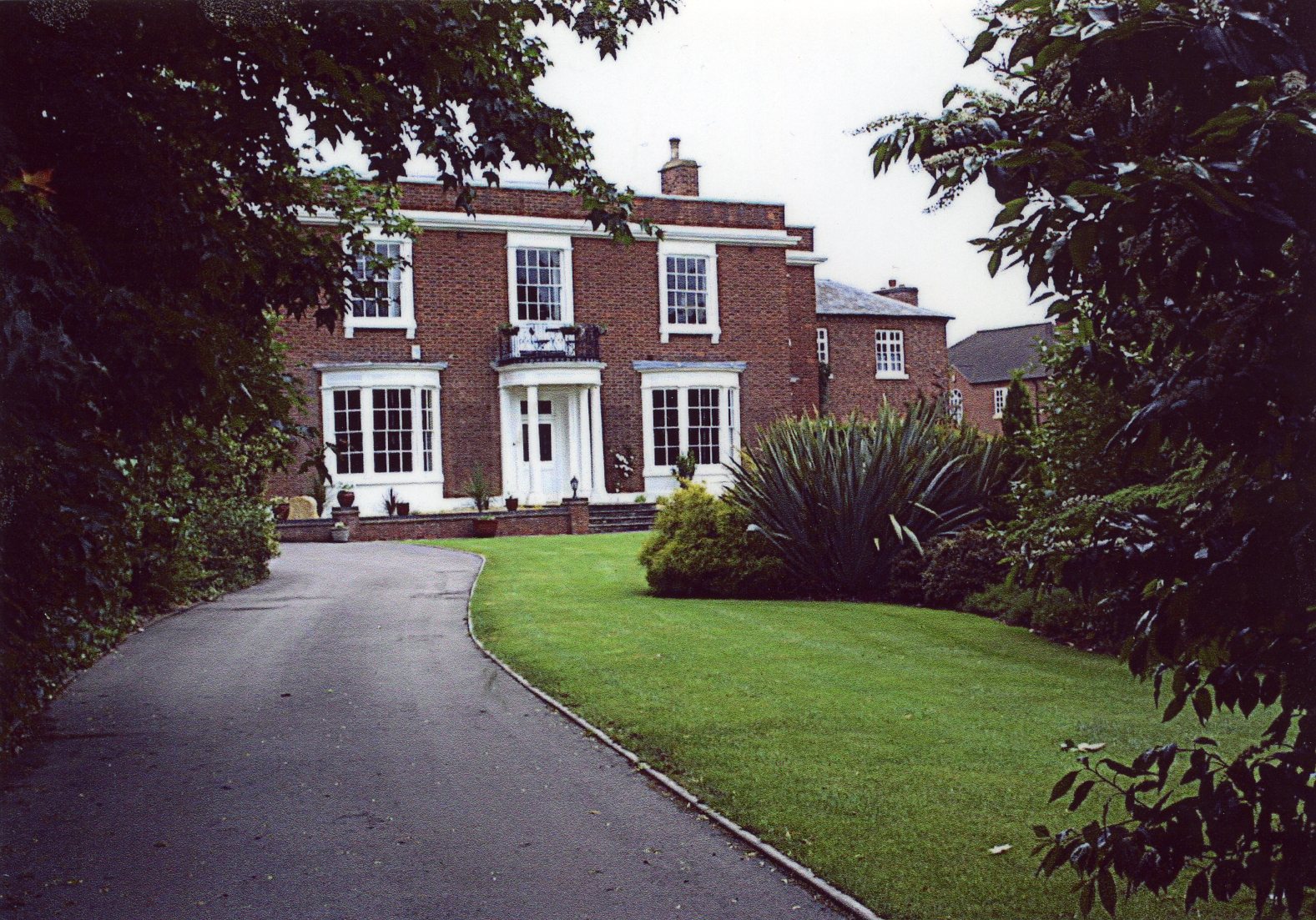 In his later years John Gibbs lived at Prospect House, situated on the south side of Elm Road just past the junction with the Offenham Road.  The house is still there, but the views it once had over the countryside towards Badsey are now obscured by recent housing developments.  These photos were taken in about 2004 before the housing development.
Acknowledgements
Peter Stewart kindly supplied the photograph of John Gibbs' headstone and Maureen Spinks supplied the photos of Prospect House.
Tom Locke, October 2019