In the second half of the eighteenth century, Wickhamford Manor was occupied by a branch of the Holland family of Cropthorne. At that time the Manor was usually referred to as Manor Farm.
A document in the archives at The Hive, Worcester dated 29th September 1762 shows a summary of the rentals due in Wickhamford, presumably to the Sandys family of Ombersley, who owned much of the property in the village at that time. At the head of the list is "Mr Fra. Holland" and he was due to pay £250.0.0 for the 'Manour Farm' and some other property. This sum is the equivalent of £31,000 today, when the calculation is based on the Retail Price Index, i.e. purchasing power. It is the equivalent of £414,000 based on average earnings then and now. (The total amount due for the entire village in this document was £456.17.0.)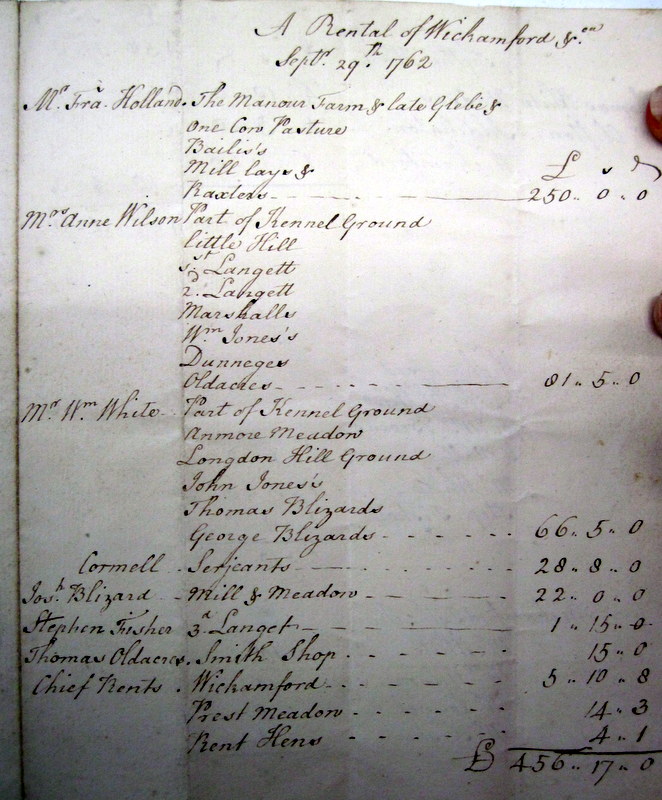 The Francis Holland referred to in this document married Mary Bagrand in St Michael's Church, Cropthorne on 16th January 1760. A son, also called Francis, was baptised in Wickhamford on 29th January 1763.
One other document concerning Francis Holland senior is a letter sent to Lord Sandys in London on 12th November 1766. This concerns his wish to plant some hedges in Wickhamford and he is asking his Lordship to clarify the ownership of some fields. A sign of the times is the way he signs off his letter as 'your Lordships most obedient and very Dutiful Humble servant'.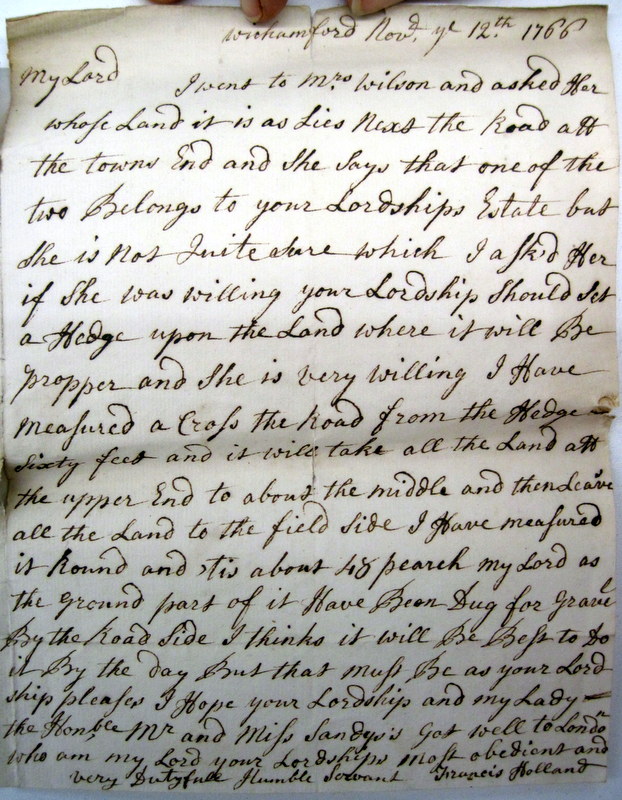 Francis Holland junior married Ann Corbett in her home parish of Quinton, near Stratford, Warwickshire on 21st January 1789 and the couple lived at Wickhamford afterwards.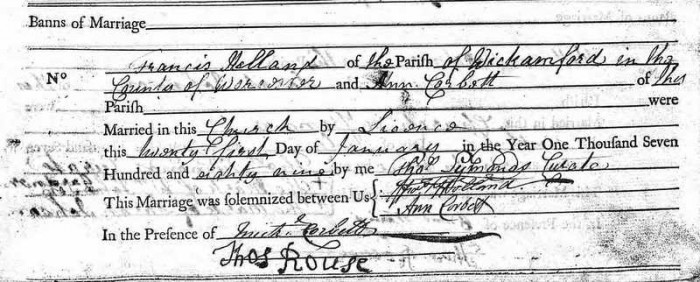 They had six children baptised at St John the Baptist Church, Wickhamford – Maria-Corbett (22nd Nov. 1789), Mary Ann (22nd June 1791), Corbett (9th Dec. 1792), Elizabeth (7th Sept. 1794), Francis (10th July 1796), and finally Susan (13th May 1798). None of the family married or are buried in Wickhamford and there are no memorials to the family in the Church.
Ann Holland died at the early age of 40 and was buried in Cropthorne on 30th July 1802, but Francis (junior) lived to the grand age of 85 and was buried in the same village on 23rd February 1848. The third Francis Holland (b. 1796) was living in Cropthorne until his death in 1878 and the family continued there for two more generations before the male line ran out.
From the information presented above, it would appear that two generations of the Holland family rented Wickhamford Manor from the Sandys family during the approximate period 1760-1812. (One last reference found of 'Francis Holland of Wickhamford' is his being mentioned in a document concerning the conveyancing of a property called Pophills in Salford Priors in 1812.)
In the Churchyard at Cropthorne is one large tomb containing the remains of four members of the Holland family associated with Wickhamford –
Francis Holland 'Late of Wickhamford' died on 17th July 1782, aged 59,
his wife, Mary, who died in December 1802, aged 79,
their son, Francis Holland, who died on 17th February 1848, aged 85,
his wife, Ann, who died 26th July 1802, aged 40.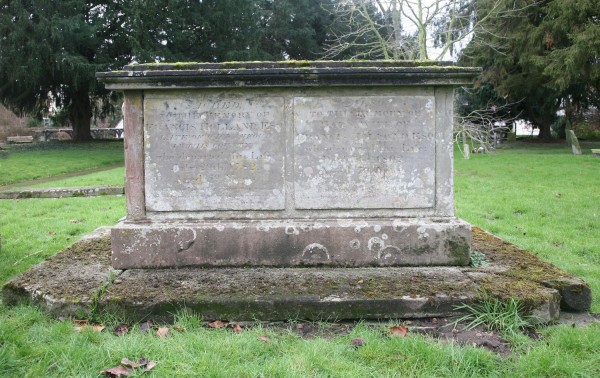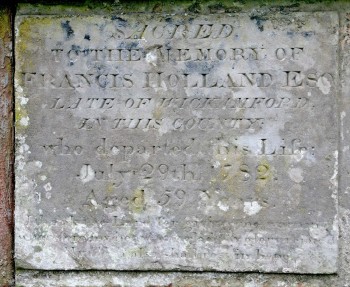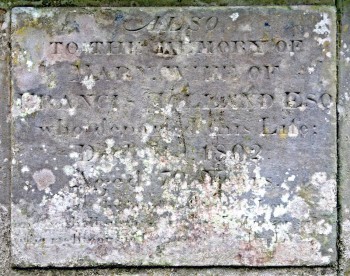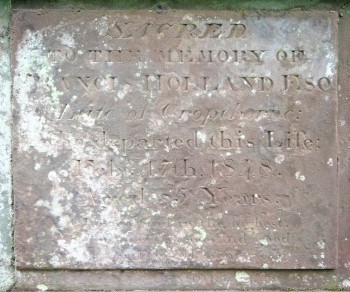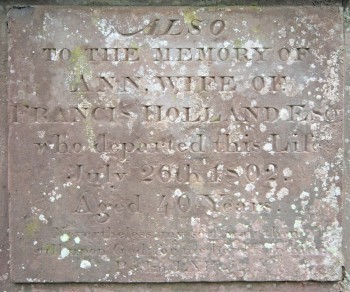 The third generation Francis Holland (b. Wickhamford, 1796) married twice and a memorial plaque in Cropthorne Church (see below) commemorates his first wife, Jane (d. 1851) and Francis (d. 1878). Although he appears in the 1871 census as 'Francis Holland', at the time of his death he was recorded as 'Francis Holland Corbett'.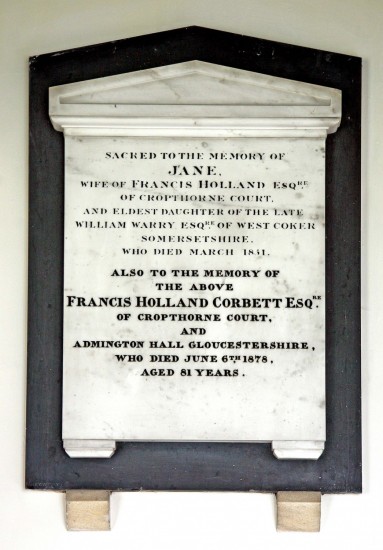 Finally, there is a tragic story concerning the eldest child of Francis and Ann Holland, born in Wickhamford in 1789. Maria-Corbett Holland married Dr Charles Frederick Vandeburgh R. N. on 5th May 1818 at Cropthorne. The couple had a son, Frederick Corbett Vandeburgh, born on 18th February 1819 and baptised in Liverpool on 5th May that year. Maria-Corbett died in Liverpool on 19th October 1825 and her widower remarried in Chester in 1826, to Louisa Crockford. He and his heavily pregnant wife were visiting Cropthorne June 1828 and staying with his erstwhile father-in-law, Francis Holland. The following newspaper item reports the sad events that occurred.

The child, Emily, was not baptised until 7th July 1830, in Liverpool.
Acknowledgement
Thanks are due to Peter Stewart for taking the photographs of the Holland tomb and Church plaque in Cropthorne.
Tom Locke and Val Harman – January 2014