The boundaries of Bengeworth, Badsey and Wickhamford meet on Knowle Hill, with houses in each parish, but only one lies in Wickhamford:  The Ridge.  This was built in the early years after the Great War and when the Electoral Roll was put together in 1924 Henry Thomas and Sophia Horsfield were living there.
Family background
At the 1881 census, Thomas Horsfield (29), as he was usually known, was a Public Accountant who had been born in the Manchester area.  His wife, Sophia (31), had been born in Southport, Lancashire.  Her maiden name was Kay and they had married in Wigan in 1875.  In 1881, they had three sons, James Kay (4) and Thomas Herbert (3) and Ernest (1) and they lived at Woodland Villas, Heaton Norris, Lancashire.  By 1891, the family had moved to Chapel-en-le-Frith, Derbyshire and there were two more children, Grace Sophia (5) and Henry Taylor (1).  Thomas Horsfield was then described as a Chartered Accountant and the family had three live-in servants. 
In 1896, Thomas Horsfield and his eldest son, James Kay Horsfield, who was described as a clerk, visited Boston, USA, arriving in May and returning to England in August.  Thomas and Sophia Horsfield were in yet another part of the country by 1901, in Hornsey, Middlesex, where both were recorded as patients in a Nursing Home.  
Arrival in Worcestershire
The Horsfields had moved to Worcestershire by the time of the 1911 census.  They were living at 2 Leicester Gables, Evesham (this was near St Mary's Church, just south of the railway line) and Thomas Horsfield was recorded as a retired chartered accountant, although still only aged 59.  Whatever ill-health had affected him in 1901, could this have led to his early retirement?  
Apart from Sophia, there were three other family members living at home, plus a servant.  These were Thomas Herbert Horsfield, who was married (on census night his wife, Amy, whom he had married in 1905, was visiting her parents in Lancashire, with their children), Grace Sophia Horsfield, single, and a grandson, Thomas Herbert junior, aged 9 years.  The child had been born in New Zealand, and was James Kay Horsfield's son (see below). Thomas Herbert Horsfield was aged 33 and a fruit grower and market gardener who was an employer.  Possibly it was because of Thomas Junior's change in occupation (he had been an engineer in 1901), that the whole Horsfield family decided to relocate to this major fruit-growing area of the Vale of Evesham.  (Thomas died in May 1948, by which time he was living in Eckington.  He left an estate of £9054 2s and one of the beneficiaries was Thomas Ernest Horsfield, Wing Commander, R.A.F.)
Later in 1911, Thomas and Sophia were living at Lanesfield, Greenhill, slightly to the north of Leicester Gables.  This was the home address given in October 1912 when their son Ernest, a chartered accountant, died at Barnwood, Gloucestershire (a private mental hospital).  They remained there until 1915.  By the time of the 1921 census, Thomas and Sophia Horsfield were living at 64 Port Street, Evesham, together with their unmarried daughter, Grace, aged 36.  Their grandson, Thomas, now 19, who had lived them since arriving from New Zealand a decade earlier, was a boarder at The King's School, Worcester.  Thomas Senior was now a fruit grower and an employer.
The move to The Ridge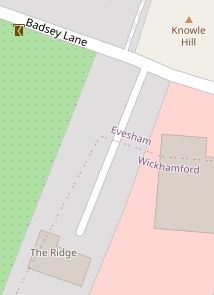 Some time between April and October 1924, Thomas and Sophia Horsfield moved into a newly-built bungalow which was situated at the top of Knowle Hill.  From the rear of the property was a view to the south and the Cotswold Hills.  They named their new home "The Ridge".  The timing of this move can be dated to the fact that they appeared in the Bengeworth Electoral Register, dated 15th April 1924, as still at Port Street, but were recorded in the Wickhamford Electoral Register, dated 15th October 1924, as living at The Ridge.  Possibly Thomas had bought the land on which The Ridge was built, or it was on land owned by one of his sons (see below).  Whilst the land at Knowle Hill was primarily in Evesham, the new bungalow was actually located on land which belonged to Wickhamford parish.  
Thomas and Sophia remained living at The Ridge for the rest of their lives, Thomas dying there on 8th July 1931 and Sophia on 28th January 1934.  Their daughter, Grace, also lived there until the death of her mother.  Shortly after this, she married the Reverend Charles Heynsbergh Vanderberg and moved away from Worcestershire.  Thomas and Sophia's grandson, Thomas, by now a Catholic missionary in Ghana, came home for a few months after his grandmother's death, possibly to settle affairs in Worcestershire.
Land ownership on Knowle Hill
In the Valuation Survey of c1912, over 11 acres of land in Wickhamford was occupied by a Horsfield (first name unknown).  He paid an annual rent of £22 7s 6d to the owner, the Trustees of Captain John Pickup Lord.  Mr Horsfield also rented land in Bengeworth, so it is highly likely that this was one of Thomas Horsfield's sons, and was the land on which The Ridge was built after the Great War. 
By the outbreak of war, two of Thomas Horsfield's sons, Thomas Herbert Horsfield and Henry Taylor Horsfield, had bought land at Knowle Hill.  Both appeared on the 1914-1915 Electoral Register for Bengeworth as the land was in Bengeworth parish, Evesham.  Thomas' address was given as 20 Elm Road and Henry's as 24 Greenhill, which was the house known as Lanesfield where his parents were then living.  (From the 1919 Electoral Registers onwards, Thomas Herbert Horsfield was incorrectly listed as Thomas Henry Horsfield; he was then living at South Littleton.)  In the 1921 Electoral Register, Henry's abode was given as Port Street, Evesham (his parents' address) but he was in fact married by then and living in Broad Campden.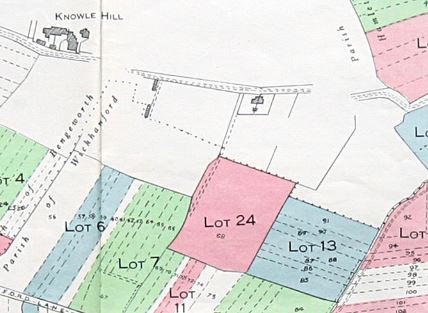 As was often the case, people who had been renting land from the Lord Trustees, then took the opportunity to buy it.  As can be seen from a section of this 1930 map of Captain Lord's Wickhamford Estate, land still unsold and being put up for auction in 1930 was coloured and with a Lot number; the white fields indicated land previously sold.  It is these white fields at Knowle Hill which must have been bought by Thomas and Harry Horsfield nearly two decades earlier.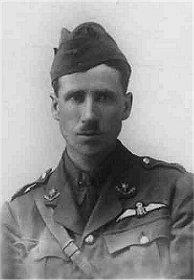 It was Henry Taylor Horsfield, known as Harry, who first had a bungalow built on Knowle Hill, most likely in 1923.  Harry had married Florence Mary Muir in 1920 and they went on to have six children.  They initially lived in Broad Campden where their first child was born, but their second child was born in Evesham.  Certainly by the time the Electoral Register, dated 15th April 1924, appeared, they were living at Knowle Hill.  As this bungalow was wholly in the parish of Bengeworth, Harry, unlike his parents, never appeared on the Wickhamford Electoral Register.  Harry had served in the Great War, firstly in the Worcestershire Regiment and then in the Royal Flying Corps and Royal Air Force, rising to the rank of Captain.  Harry continued to live at Knowle Hill until at least 1945 when his wife, Florence, died.  During the Second World War he was an officer in the Home Guard.  Henry and Florence's son, Sgt Hugh Christopher Horsfield, R.A.F. was killed in action in the Middle East, aged 20, on 23rd May 1942; he is buried in Tobruk, Cemetery, Libya.  Harry later married Helen Lees Milne, widow of George Lees Milne of Wickhamford Manor, but the marriage did not last.  Harry ended his days in Buckinghamshire, so may have moved away from Worcestershire in the 1950s. 
The Black Sheep of the Family
James Kay Horsfield, eldest son of Thomas and Sophia, emigrated to New Zealand in 1900, together with his future wife, Alice Harding.  They departed on the S.S. Rakaia on 4th September 1900, bound for Auckland.  They had one son, Thomas Herbert, born in Auckland on 24th November 1901.  The couple were on an Electoral Roll in Dannevirke in 1908 and he was recorded as an Accountant.  It appears that this was not his only occupation, as he appeared in a number of editions of the New Zealand Police Gazette.   In 1904 he was convicted on seven charges of theft, in Wellington, but not jailed.  In 1909, he was imprisoned for one month for breaking and entering and theft in Wellington.  He seems to have left his wife by 1911 as he was in Court in Christchurch because of being in default of maintenance.  He was given 14 days to pay.  At this time, he was photographed for the Police records, where his name was incorrectly spelt 'Horsefield'.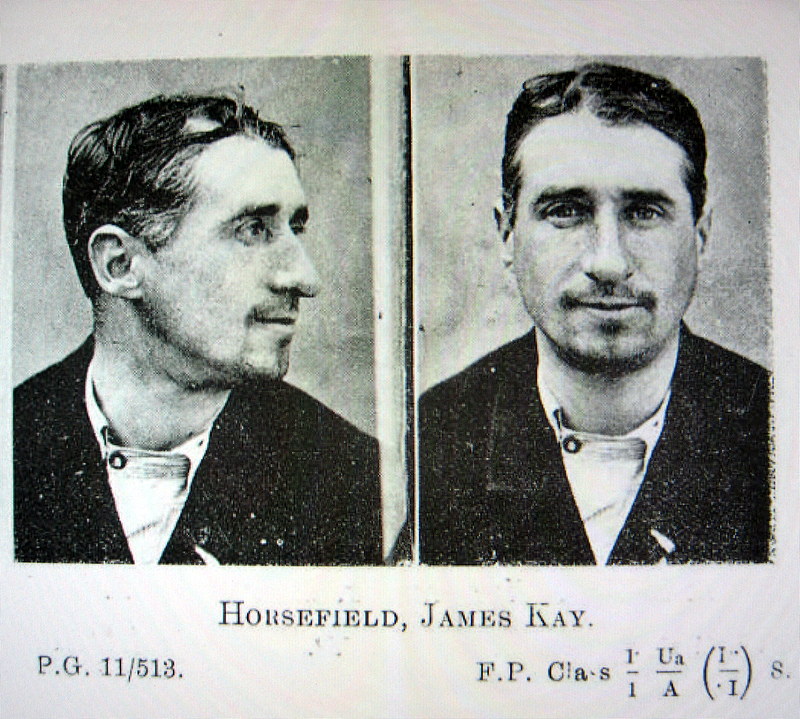 In 1912, still in Christchurch, he was sentence to 6 months in prison for default of maintenance and, in June 1914, a further 6 months for theft.
After the outbreak of the Great War, James Kay Horsfield enlisted in the New Zealand Army, when he gave his occupation as a labourer.  He was a Private (No 14986) in the 1st Battalion Canterbury Regt and came to France in the New Zealand Expeditionary Force.  He was killed in action on 12th October 1917, in Belgium and his body was not recovered. He is commemorated on the Tyne Cot Memorial, Belgium.
Friendship with the Sladden family
Letters written by the Sladdens of Seward House, Badsey, reveal that they were friendly with the Horsfield family as there were several references to them in letters by May Sladden, Eugénie Sladden and Mela Brown Constable.
It may have been May Sladden who first got to know them through business dealings with Thomas Horsfield concerning Greenhill School.  In 1911, Thomas Horsfield had begun renting the old Grammar School premises (a house known as Lanesfield, buildings and grounds) on Greenhill, the Grammar School having recently moved to new premises on Victoria Avenue.  In a letter of 8th October, May wrote:
School goes on as usual, we all feel happier in our new premises.  The agreement with Mr Horsfield is not quite done with, but I hope will be signed in a day or two.  We have put it into the hands of Mr Sharp, a young solicitor who is in Mr Tom Cox's office.  The others laugh at me "interviewing my solicitor". 
Thomas and Sophia's grandson, Thomas Herbert Horsfield, newly arrived from New Zealand, became a pupil at Greenhill School.  May and her sister, Ethel, began socialising with Thomas and Sophia's youngest two children, Grace and Harry, and often played tennis with them.  May Openshaw, whose family lived at Bowers Hill, Badsey, was an assistant teacher at Greenhill School and was part of the same social group.  By the outbreak of the First World War, she had become engaged to Harry Horsfield.  The engagement did not survive the war, as Mela Brown Constable wrote in a letter of 29th July 1917 to her fiancé, Cyril Sladden:
Isn't it sad? Harry Horsfield has broken off his engagement with May Openshaw? The latter has joined a concert party under Lena Ashwell to tour in France. They say she is very hard hit about it. Harry Horsfield behaved very badly – because he came home, spent all his leave with her and her people, then broke it off after leaving her to go back to the Front. Such is life.
Sadly, few of the Sladden letters have survived after this date and there is no further news of the Horsfields from this source.
Horsfield Family Grave, Evesham
The family grave of the Horsfield family is located in Waterside Cemetery, Evesham. Buried there are Thomas and Sophia and their son, Ernest.  The stone also records the death of James Kay Horsfield in Flanders.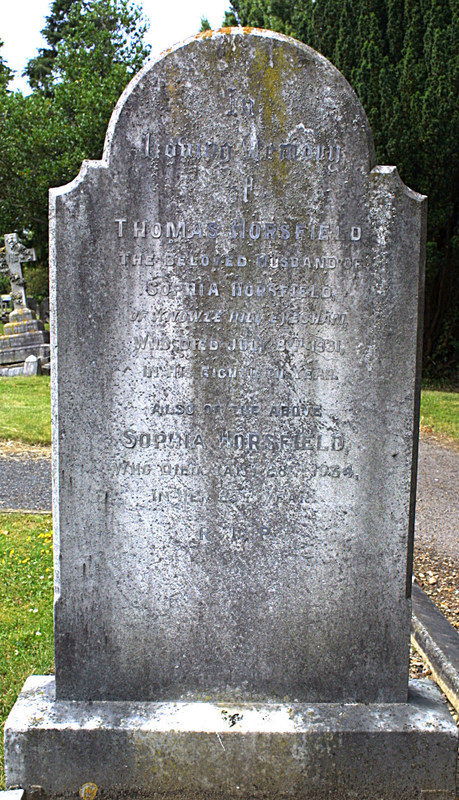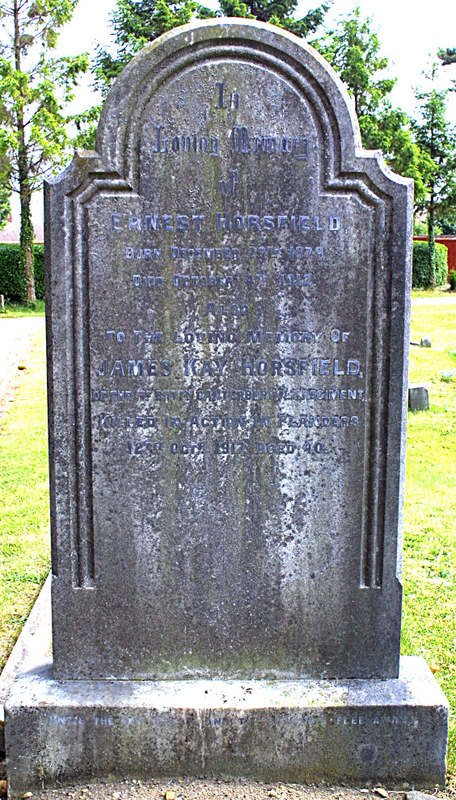 In Loving Memory of THOMAS HORSFIELD, THE BELOVED HUSBAND OF SOPHIA HORSFIELD OF KNOWLE HILL EVESHAM, WHO DIED JULY 8TH 1931 IN HIS EIGHTIETH YEAR. 
ALSO OF THE ABOVE SOPHIA HORSFIELD, WHO DIED JANY 28TH 1934, IN HER 85TH YEAR R.I.P.
In Loving Memory of ERNEST HORSFIELD BORN DECEMBER 29TH 1879 DIED OCTOBER 4TH 1912
ALSO TO THE LOVING MEMORY OF JAMES KAY HORSFIELD OF THE 1ST BATTN. CANTERBURY N.Z. REGIMENT KILLED IN ACTION IN FLANDERS 12TH OCT 1917, AGED 40 "UNTIL THE DAY BREAK AND THE SHADOWS FLEE AWAY."
Another Horsfield reference in Wickhamford
In the 1939 Electoral Roll for Wickhamford, dated 16th October 1939, a Thomas and Mary Grace Horsfield were listed as voters whose address was given only as "Bungalow".  The Electoral Roll indicates that they were a married couple as the Dw code against Mary's name stood for "qualification through husband's occupation", but this is thought to be an error.  The only Mary Grace Horsfield in the family was Mary Grace, the 28-year-old unmarried daughter of Thomas and Sophia Horsfield's eldest surviving son, Thomas Herbert Horsfield.  The year before she had been living in the family home at South Littleton; when the 1939 Register was drawn up in September 1939, she was living in Pershore and working as a teacher.  Perhaps at some time in 1939 she had lived temporarily at "Bungalow" and the Thomas listed was her father.
But where was "Bungalow" in Wickhamford?  First thoughts are that it was The Ridge, but the same Electoral Roll lists a John Terry Little and Lilian Helen Little as living there.  At the time of the 1939 Register, the Joseph and Samuel families were in occupation of that property.
Acknowledgements   
Thanks are due to Shirley Tutton and Peter Stewart for their help in putting this article together.  Also, to Jackie and Paul Knight of The Ridge, Knowle Hill, for their patience in dealing with many questions. Maureen Spinks supplied some additional information, including the information on the Sladden letters.
Tom Locke – November 2022