John and Alice Idiens lived at Wickhamford Manor for a short period around 1901. He had an interesting life in the area and eventually emigrated to British Columbia, Canada.
John Idiens' family background
John Idiens was born in 1852 in Birmingham, the son of John and Sophia Idiens. John Idiens Senior had been born in Wolverhampton about 1818 and was a Railway Clerk who married Sophia Clarkson in 1846 and they had seven sons and four daughters - Emily Elizabeth (1847), William (1848), Mary (1851), Joseph (1851), John (1852), another Joseph (1855), Thomas Frederick Henry (1856), Ellen Sophia (1859), Frank Clarkson (1863), Arthur Charles (1865) and Alice (1867).
At the time of the 1861 census, the Idiens family were living at Stratford Place, Camp Hill Railway Station, Aston, Birmingham. In between the birth of the youngest child in 1867 and the 1871 census, they moved to Evesham, where John was Station Master for the Midland Railway.
John and Alice Idiens' family
John Idiens Junior married Alice South from Tettenhall, Staffordshire, in 1879. They had fours sons and three daughters, all born at Evesham - Harold John (1880-1953), Albert William (1883-1953), Alice Marguerite (1885), Edith Mary (1887-1981), Walter Cyril (1888-1973), Doris Ruth (1889) and Stanley South (1891-1980). At the time of the 1881 and 1891 censuses, the family were living in High Street, Evesham. In 1881, John's mother was staying with them, and they had a servant and a nursemaid for their baby son and John was described as a coal merchant. By 1891 he was described as a merchant, and he employed a Governess and two servants for his growing family. John's widowed mother-in-law, Mary South, was also staying, presumably in anticipation of assisting with the birth of their last and final child, Stanley. There is a record of the birth of Elsie Mary Idiens in Evesham in 1882 and the death of that child in 1886 and this could be another daughter of John and Alice.
Wickhamford Manor
At about the end of the 19th century, they became tenants at Wickhamford Manor (all the children were there at the time of the 1901 census, except Alice and Edith who were staying with their aunt, Mary South, in Wolverhampton). The Idiens family became involved in the local community. The Parish Magazine of November 1899 records that Mr J Idiens promised money for Wickhamford Church fund. In November 1900, Mrs Idiens was involved with a Sale of Work for Wickhamford Church and in March 1905 a subscription for a dance for the Clock Fund. In January 1902, their eldest son, Harold, was mentioned as organist at Wickhamford. (A war report of 1915 reveals that their second son, Albert William, was also once an organist). In April 1905, their third son, Walter Cyril, received confirmation. In April 1910, Mrs Idiens presented 12 volumes to the Parish Library and John Idiens was a manager at Badsey School from 1902-1904. It is assumed they lived at Wickhamford until 1906 when George Lees-Milne bought the Manor from J P Lord's Trustees.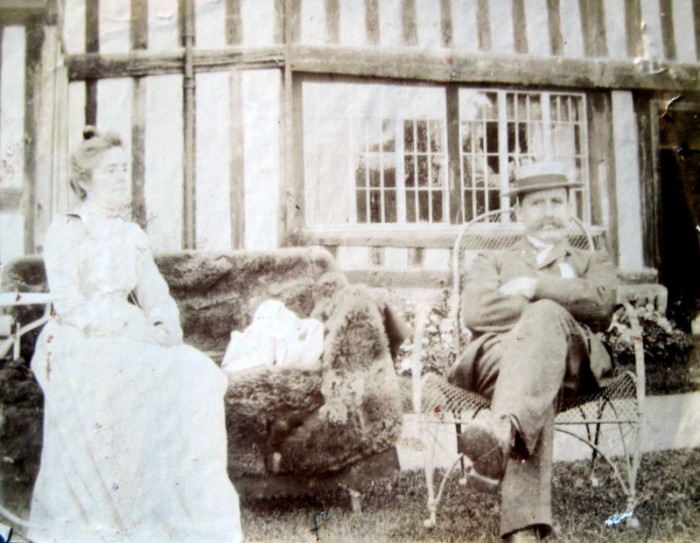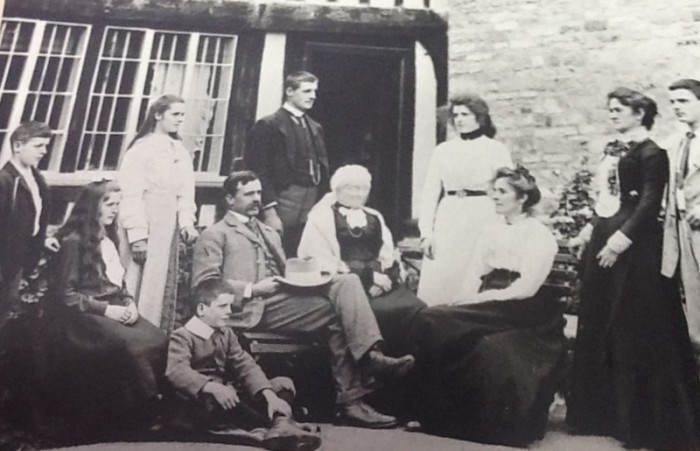 John Idiens & Sons, Limited
On 29th May 1899, John Idiens & Sons was incorporated as a company (no 62,324). There were three main objectives of the company:
To purchase, take on lease, or in exchange, hire or otherwise acquire any real or personal property, … and in particular Land, buildings, easements, etc

To raise or borrow or secure the payment of money, etc, etc.

To sell, improve, manage, develop, exchange, enfranchise, lease … deal with any part of the property of the company
The registered address of the Company was 91 High Street, Evesham.
John Idiens is said to have dabbled in many different businesses but eventually lost all his money. The story is told that he bought a lot of land off Christ Church College and defaulted on some or all of the payments. The following notice appeared in The London Gazette of 30th April 1901 -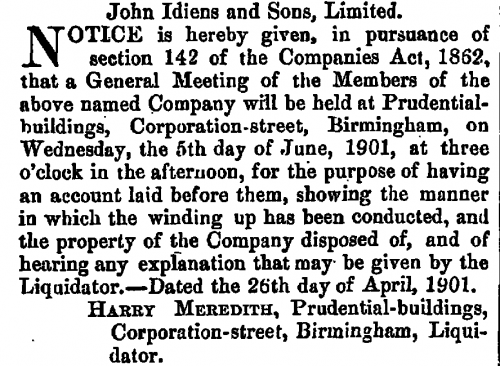 John Idiens had taken out a lease on Bowers Hill Farm, Willersey Road, Badsey in 1898, but his occupation in the 1901 census was still given as 'Coal Merchant'. In 1905, he bought Bowers Hill Farm from Henry Panting Byrd.
John Idiens was mentioned in Rural England: Being an Account of Agricultural and Social Researches Carried Out in the Years 1901 And 1902, by H Rider Haggard.
Financial problems
With the growing population involved in market gardening in the area, John Idiens decided to build fourteen semi-detached cottages with frontages on the Willersey Road at Bowers Hill. On 18th May 1905, the Company borrowed £7,000 to finance the scheme form W.B. Cregoe-Colmore. He did not manage his own affairs due to ill-health, so the mortgage was in the names of his Trustees, J.C. O'Neal and W.J. Haley. The application was for a total of £8,000 with £500 to be deferred until seven of the cottages had been built and £500 held over until completion of the project. In the event only seven of the cottages were built and it seems doubtful if more than the original £7,000 was ever advanced.
On 18th October 1905 the Company entered into a contract with the General Land and Drainage Improvement Co. to install a new water supply to the cottages at a cost of £2,283 3s 0d, payable over 40 years at £55 7s 7d every half-year. Other paperwork from the time shows that the occupier of the land to be developed was Harold Idiens and the Avon Orchard Company. Apart from Bowers Hill, the Idiens family were also involved in building a terrace of fourteen houses and a smithy on the Willersey Road on the Badsey side of Bully Brook.
It is difficult to know how the Idiens' building venture at Bowers Hill could ever have been viable as interest alone on the original mortgage was £280 per annum and it is unlikely that the ten cottages would have yielded more than £13 per annum each in rent.
Things came to a head in 1911 when W.J. Halsey and his co-Trustee A.A. Barnard (who had replaced the now deceased O'Neal) paid off the drainage company loan on 22nd August and then commenced action against John Idiens in the Chancery Division of the High Court of Justice (no. H2865 in 1911).
The Company was given time to pay, but did not and so on 17th September 1912 the Court made an order "….in an action in which W.J. Halsey and A.A Barnard were plantiffs and John Idiens and Sons Ltd and the United Counties Bank Ltd were defendents, whereby the defendents were foreclosed from all rights…….of the Bowers Hill Estate".
Four years later John Idiens and Sons Ltd was dissolved and its name struck off of the Companies Register (London Gazette, 31st October 1916).
Life after Wickhamford Manor and the Idiens family move to Canada
By the time of the 1911 census, John and Alice Idiens were living in Poole, at a house on The Promenade called Kiabra and John was described as of "private means". Four of the children lived at home - Albert and Cyril who were market gardeners, Stanley who was a bank clerk, and Edith.
John and Alice Idiens emigrated to Canada in 1913, following in the footsteps of some of their children. Walter Cyril had left in October 1912 and Stanley in December 1912; it is thought that Albert and Alice had also gone. On 2nd April 1913, John and Alice boarded Royal Edward at Bristol, bound for Halifax, Nova Scotia, together with their daughters, Edith and Doris who accompanied them. They went to live firstly at 2625 Roseberry Avenue, Victoria, British Columbia, which is on Vancouver Island. They then moved to the town of Comox where Alice Idiens died in 1933 and John in January 1939 and is buried in Courtenay, about 3 miles from Comox.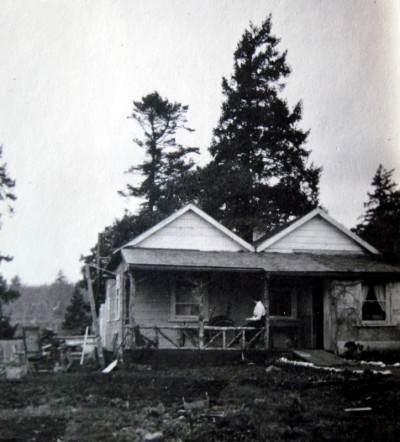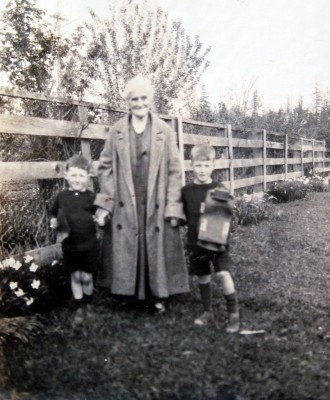 The children of John and Alice Idiens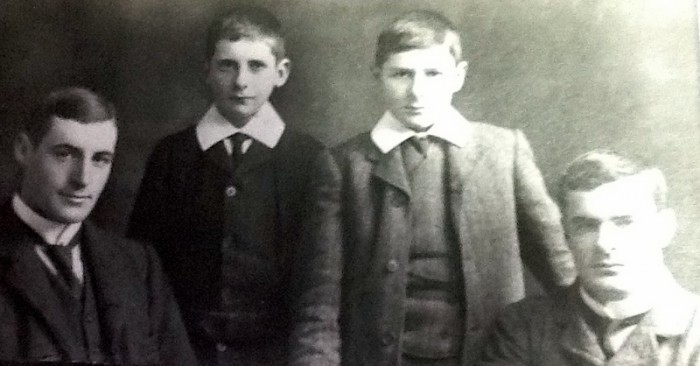 Harold John Idiens (1880-1953) remained in England. He served in the Great War (see below) and he married Elizabeth Helena (Lena) Crisp in 1921. In the post Second World War period, Mrs Idiens stood unsuccessfully for the Badsey Parish Council for Bowers Hill. They lived at Three Ways and sold this in 1952 and then went to live at Greenhill, but, very soon after, she drowned herself by jumping in the river in August 1952. Harold Idiens drowned himself in the river, four months later. They had no children but he left an estate of some £26,000.

Albert William Idiens (1883-1953) was an articled clerk to a solicitor in 1901 but, by 1911, when living at home, he was a market gardener. He emigrated to Canada in about 1912 but his name has not been found on a passenger list. He joined the 2nd Canadian Contingent on the outbreak of the First World War and served two years in the yeomanry (see below). He married Margaret Elsie Jean Reid at Royal Oak, Canada, in 1924. He died at Sidney, Canada, in 1953.

Alice Marguerite Idiens (1885- ) was working as a lady's help in a boarding house in Bournemouth at the time of the 1911 census. She emigrated to Canada in about 1912 but her name has not been found on a passenger list. On 5th July 1913, she married Edmund Ewart Bradford at Royal Oak, Canada.

Edith Mary Idiens (1887-1981) was still living at home in 1911. She emigrated with her parents to Canada in April 1913. She married Major Albert John Orchard (1881-1963), of the Indian Army at Christ Church Cathedral, Victoria, British Columbia, on 4 July 1914. Major Orchard was stationed at Jubbulpore as a captain in the 8th Rajputs. On their wedding day, the couple left on the 3 o'clock boat for Vancouver on their way to England, where they were to stay for three weeks and then proceed back to India. At some time in 1920, after the Great War, the Orchards settled in Victoria, where they had two sons and a daughter, Alice, and lived mainly at 3329 Linwood Avenue. Albert Orchard died there in 1963, leaving his wife and their daughter at home. Edith Orchard lived to be 95 and died in December 1981.

Walter Cyril Idiens (1888-1973) was still living at home in 1911, working as a market gardener. He left for Canada on 16th October 1912. He was described as a fruit grower and he left Bristol on Royal Edward, bound for Montreal. He married Nora Hall at Comox in 1941 and died there in 1973.

Doris Ruth Idiens (1889- ) was teaching at a school in Wolverhampton in 1911; the school belonged to her aunt, Sarah A South. Doris emigrated with her parents to Canada in April 1913. On Boxing Day 1921, Doris married Joseph Vincent Murphy at Comox.

Stanley South Idiens (1891-1980), was still living at home in 1911, working as a bank clerk. He emigrated to Canada on 22nd December 1912. He left Liverpool, bound for Halifax, Nova Scotia. He joined the Canadian Army in October 1916 during the First World War and served two years in the yeomanry (see below). He died at Comox in 1980.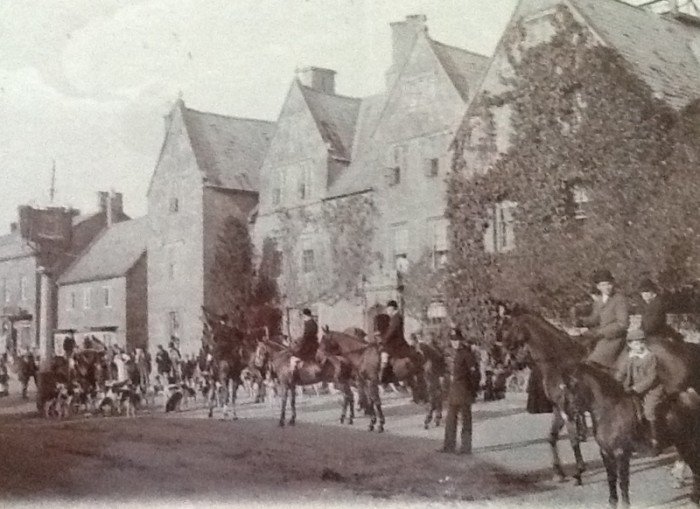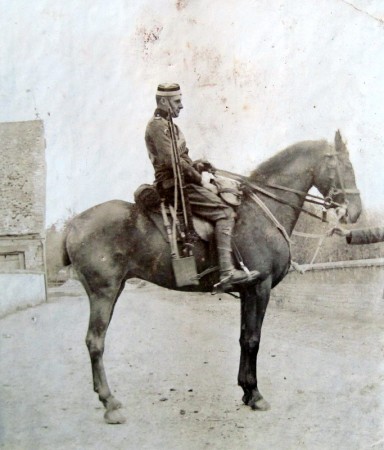 Pte Stanley South Idiens
He joined the Canadian Army Service Corps (No 200012) on 16th October 1916. He had been a bank clerk prior to enlistment and served with the 1st Motor Transport Base Depot and then with E Battery Anti-Aircraft Artillery. His service details are not known, but presumably included time in France.
Acknowledgements: Thanks are gratefully given to Maureen Spinks for most of the background material on the Idiens family, to Terry Sparrow for the section on the Idiens venture into building at Bowers Hill and to Pat Goldstraw for pictures of the family in Canada and in the Army. Some photographs were also kindly supplied by Walter Cyril Idiens' daughter, Rosanne Richards of Canada – see also Appendix.
Tom Locke – February 2013
Appendix
Amongst the photographs supplied by Rosanne Richards were two of probable Idiens ancestors but whose identities are now lost in the mists of time. It is possible that they are John Idiens' parents, John and Sophia Idiens. Unfortunately, the picture of the gentleman was copied at an angle, which gives distorted images, but are nevertheless interesting.