When Badsey Flower Show is able to take place again, it will be without the measured tones of the person who, for over 40 years, has made the announcements over the tannoy.  Gordon Lashford, "the voice of the Flower Show", has died on 13th December 2020 at the age of 90.
* * * * *
Early Life
Gordon John Lashford was born in Kidderminster on 25th July 1930, the eldest of three children of Jack Lashford and his wife, Vera Maud (née Tolley).  Gordon was living on Vine Street, Kidderminster, when the Second World War broke out.  His father was described as a "Charge Hand, Electrician".  But, from an early age, Gordon was involved with the family's homemade icecream business and sweet shop in Stourport High Street.  This was run by his grandparents, John and Hester Lashford, and then by his parents.
In his youth, Gordon trained as an electrical engineer.  His National Service took place with the RAF on Salisbury Plain.  He always used to say that the furthest he ever got off the ground was the top of the control tower.
Married life and career with the MEB
On 4th October 1954, Gordon married Joyce Olive Wadsley at the Parish Church of Emmanuel, Holcomb, Lancashire.  They had met in Kidderminster when Joyce moved there to become a publicity artist at Carpetrades (her scholarship to the Royal College of Art had been deferred as priority had to be given to returning war veterans).
Gordon was by now a junior engineer with the Midland Electricity Board in Evesham.  Gordon and Joyce set up home in an MEB flat above the MEB showroom in Pershore High Street.  Twin girls were born in 1957.
In 1959, the Evesham area of the MEB merged with Banbury.  Gordon was promoted and the family moved to Banbury.  Ten years later, the MEB "drew in its reins" and Gordon was called back to work in Evesham.  This was the year, 1969, that the Lashfords settled in Badsey.
Life in Badsey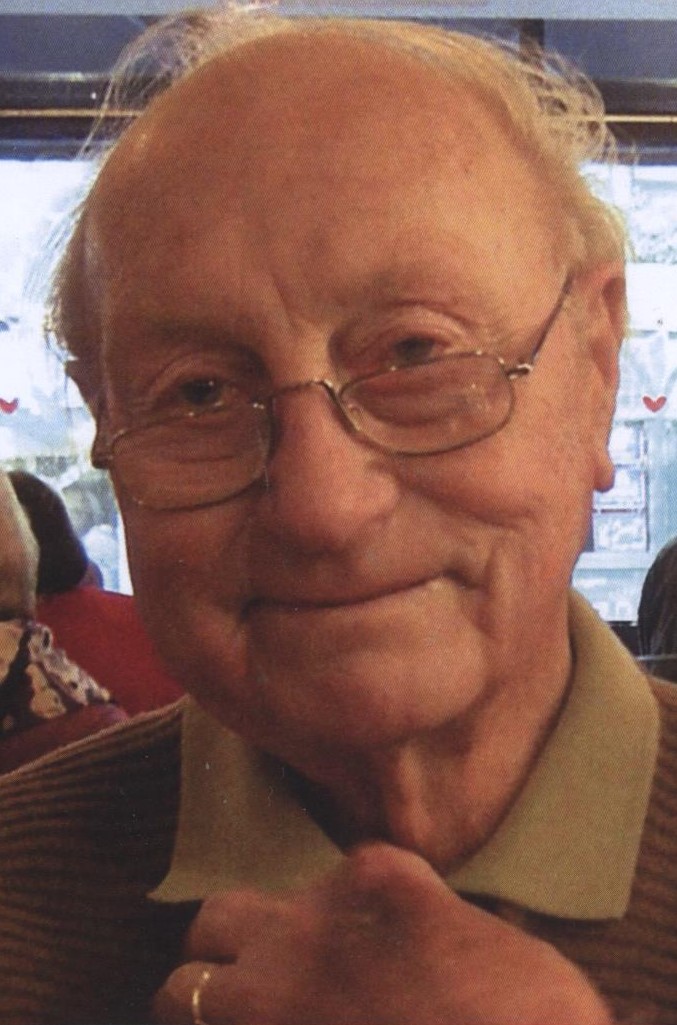 Gordon and Joyce moved into a new home on Old Post Office Lane which remained their home until the end of their days.  They embraced village life and quickly became involved with many local organisations.
Gordon was perhaps most well-known for being the voice of the Flower Show.  For over 40 years, his was the voice heard over the tannoy making announcements and naming the trophy winners at the end of the Show.
Gordon was a member of Honeybourne Wine Circle, being a keen wine and beer maker.  For some years he was the wine judge at the annual Moreton-in-Marsh Show.  Both Gordon and Joyce were members of Evesham Sailing Club.
Gordon retired in 1990.  Sadly Joyce died suddenly just two years later.  Gordon found solace by helping further in the village.  He was a Governor of Badsey First School from 1994-2002.  He joined The Badsey Society in its foundation year, 2002.
Gordon had always been involved with the MEB retired members' Christmas parties, but in 1992 he became actively involved in running the Retired Members' Club with his friend, "Gordon the Younger".  They organised many holidays and outings.  Gordon became the Chairman, a post which he retained until his death.
On retirement, Gordon had joined Probus (a club for retired professionals) and was President in the year 2000.  On his 90th birthday in July 2020 he received honorary life membership.
Gordon died peacefully in in the Alexandra Hospital, Redditch, on the morning of 13th December 2020.  A Service of Thanksgiving for his life was held in St James' Church, Badsey, on 29th December 2020, with committal taking place at the Vale Crematorium.  With current COVID restrictions still in place, the service was also relayed into the churchyard for socially-distanced listeners).
Acknowledgements
With thanks to Janie Lashford for providing information on her father's life.