On 12th October 1863 at auction, William Parker bought the former Silk Mill, situated at the end of Mill Lane, Badsey.  He wasted no time in converting it to residential accommodation.  Here is his story.
* * * * *
Early life of William Parker (1827-1883)
William Parker was born at Warwick in the latter part of 1827, the younger of two children of William Parker and his wife, Mary (née Smith).  He was baptised at St Mary's, Warwick, on 2nd January 1828.  His older sister, Prudence Grace (1824-1895), was born at Pillerton Hersey, Warwickshire.  
William Parker was at least the fifth generation of Parkers to be called William.  His great-great-grandfather William, living at Welford, Gloucestershire, in the 1740s with his wife, Mary, had a son, William, baptised there on 21st September 1743.  Great-grandfather William married Elizabeth Evans at Chipping Campden in 1766 and their son, William, born the next year, was baptised at Welford on 24th October 1767.  Grandfather William married his namesake, Elizabeth Parker, at Preston-on-Stour in 1789, and their son, William was baptised at Preston-on-Stour on 11th December 1791.  This was William's father who married Mary Smith at Pillerton Hersey, Warwickshire, on 3rd May 1824.
By 1841 the Parker family was living at Marlcliff, Bidford, Warwickshire, where William Senior was by now a farmer.
Arrival in Badsey
At the time of the 1851 census, William and his older sister, Prudence, were living at Badsey Manor House (he mistakenly appears on the census as Edward Parker).  He was described as a farmer of 82 acres employing one man.  William was also listed on the 1851 electoral roll for Badsey, his qualification being that he was the occupier of Manor Farm.  Males aged 21 years and over who were 40 shilling per annum freeholders, £10 per annum long lease holders or £50 per annum short leaseholders, were qualified to vote.
Meanwhile, William and Prudence's parents, William and Mary Parker, were living at Oden Farm, Cleeve Prior; William was described as a farmer of 111 acres employing one lad.  William and Mary's close neighbours in Cleeve Prior were John Sheaf and his wife, Sarah (née Wilson).  Sarah was the daughter and sister of previous Lords of the Manor of Badsey and aunt of the current Lord, all three named Edward Wilson.  The Wilsons had owned Badsey Manor for some two hundred years but were experiencing dire financial problems.  Sarah's nephew, Edward Wilson, described as a Land and House Proprietor in 1851, was living in Birmingham whilst renting out the Manor.
Therefore, it may have been through his parents' connection with the Sheaf family that William Parker Junior was able to take on the tenancy of Badsey Manor House.  In 1852, he signed a 14-year lease. 
William Parker began to participate in Badsey social life.  A newspaper report of January 1853 records that he took the chair at a housewarming dinner at The Wheatsheaf. 
On 27th July 1853 at St James, Badsey, William married Emlin Corbett.  Emlin was the daughter of Cotterill Corbett of Lichfield and his wife, Emlin (née Holland).  Her father had died when she was less than a year old and her mother remarried five years later to George Sheaf.  George Sheaf was the first cousin of John Sheaf who was the neighbour of William's parents in Cleeve Prior, so this was probably how she met her future husband.
William and Emlin had five children, all born at Badsey, although only three survived to adulthood: William Corbett (1854-1914), Samuel Smith (1856-1858), Emlin Grace (1859-1863), Prudence Mary (1861-1921) and John (1862-1941).  Nearly all the children were given family names, Samuel Smith being William's maternal grandfather and Grace being his maternal grandmother's name.  
In 1861, William Parker was described as head of the household at the Manor House which comprised his wife, young family and, by now, his parents, William and Mary, who had retired.  He was by now a farmer of 120 acres employing eight labourers and one boy.  In 1862, William Parker was appointed surveyor for Badsey.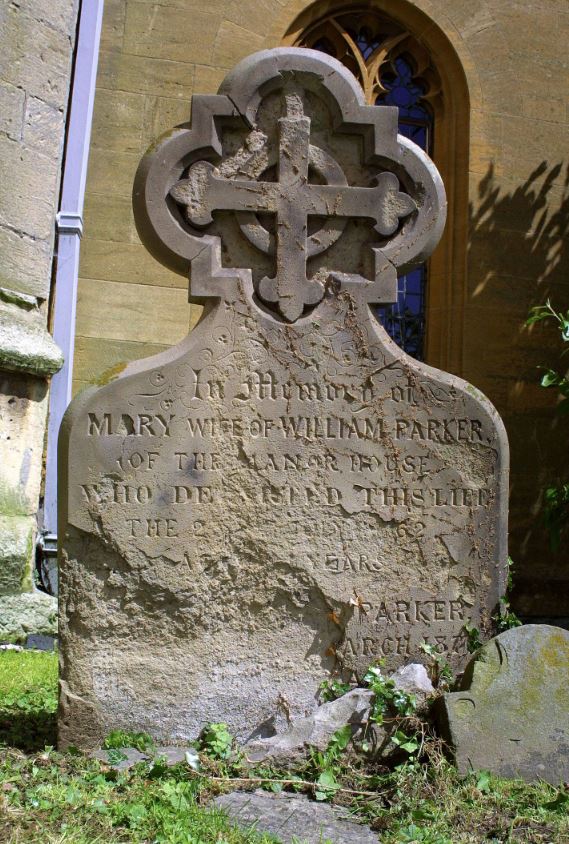 William's mother, Mary Parker, died in July 1862.  The announcement of her death appeared in The Worcester Journal of 2nd August 1862:  "July 23, at the Manor House, Badsey, aged 64, deeply regretted, Mary, wife of William Parker."  Her grave in Badsey churchyard noted that she was "of the Manor House".
IN MEMORY OF
MARY WIFE OF WILLIAM PARKER
(OF THE MANOR HOUSE)
WHO DEPARTED THIS LIFE
THE 25 [JULY]
[18]
62
[AGED 64]
Purchase of Badsey Silk Mill
In October 1863, William Parker bought the Silk Mill at Public Auction at The Northwick Arms Hotel, Evesham, for £490.  The auction particulars described the mill as substantially and handsomely built, containing four floors, each 76 feet 8 inches long and 27 feet 10 inches wide.  The conveyance was formally signed on 25th January 1864 with Eliza Thorp and Frank Thorp whose grandfather, John Thorp, had bought the old Corn Mill in 1818 and converted it into a Silk Mill.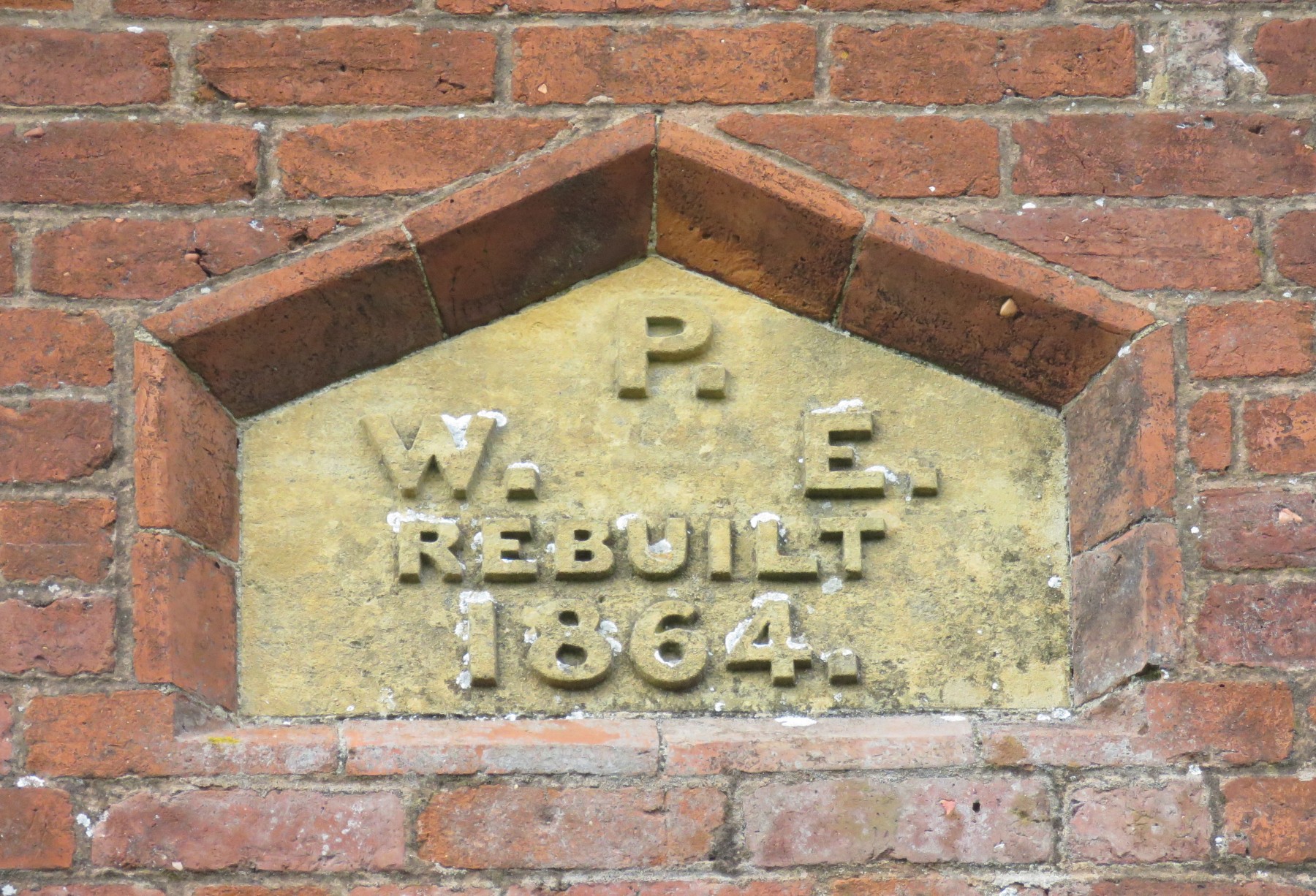 Following his purchase of the property, Parker set about converting it into residential accommodation.  He reduced the height of the mill building and then had the premises made into a row of cottages.  The stone in the central gable, which is still in position, confirms the date of the development as 1864.  There is a "P" at the top for Parker, on the left is "W" for William" and on the right is "E" for Emlin.  The fact that the "E" for Emlin was included on the plaque is significant, as it probably indicates that it was some of Emlin's money which contributed.  Some years earlier, Emlin had inherited a property in High Street, Stratford-upon-Avon, from her aunt, Rebecca Corbett, which may have made the purchase possible.  
Leaving Badsey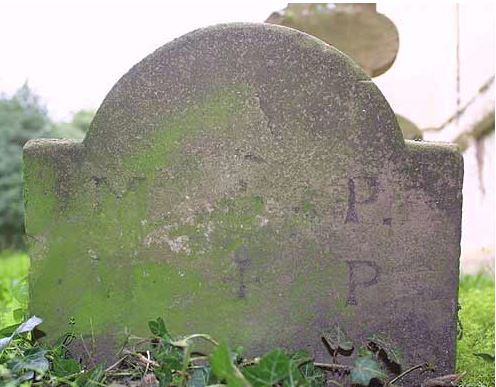 In 1866, Badsey Manor was sold, so William Parker's tenancy finished.  The Parkers then moved to Haslor Farm in the hamlet of Charlton in the parish of Cropthorne.  In 1871 William was described as a farmer of 348 acres employing ten men and three boys and in 1881 he was described as a farmer of 900 acres employing eight men and eight boys.  William's widowed father moved with them to Charlton and was recorded on the 1871 census as a retired farmer.  He died in March 1879 and was buried with his wife at Badsey on 4th April 1879.  The inscription at the bottom of the gravestone is largely eroded but it is possible to make out the surname of Parker and the fact that he died in March.  The footstone (above) has the initials "M + P" and "W + P".
The 900 acres that William Parker was farming in 1881 included a farm at Bretforton.  Whilst William, Emlin and their eldest son, William, were based at Charlton in 1881, their other two children were at Manor House Farm, Bretforton.  Eighteen-year-old John Parker, described as Son (Head), a farmer's son, lived there with his sister, Prudence, and also two of his cousins, William Warmington and Helena Warmington.
William Parker died at Bretforton on 17th January 1883, but was buried at Badsey close to his parents.  He did not leave a will, so administration of his personal estate was granted to his widow, Emlin; he left £1,994 6s 6d.
By 1891, widowed Emlin Parker was living at Manor House Farm, Bretforton, with her eldest son, William, who was described as a farmer and unmarried.  William married in 1898 and in 1901, Emlin was living with her other son, John, at Atherstone.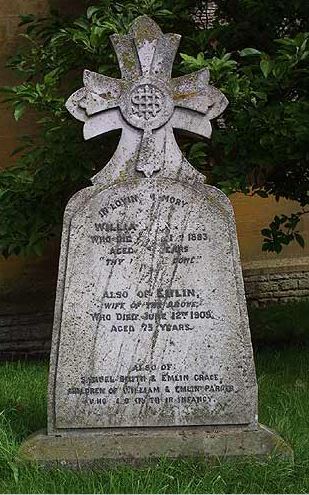 Emlin, died at Church Honeybourne (where her elder son was now living) on 12th June 1905.  She was buried four days later at Badsey beside her husband.  
IN LOVING MEMORY OF
WILLIAM PARKER
WHO DIED JANY 17TH 1883,
AGED 55 YEARS.
"THY WILL BE DONE."
ALSO OF EMLIN,
WIFE OF THE ABOVE,
WHO DIED JUNE 12TH 1905,
AGED 75 YEARS.
ALSO OF
SAMUEL SMITH & EMLIN GRACE
CHILDREN OF WILLIAM & EMLIN PARKER
WHO DIED IN THEIR INFANCY.
William Corbett Parker (1854-1914)
William Corbett Parker (given the middle name of Corbett after his mother's maiden name) inherited the land and property that his father had owned.  This comprised Mill Orchard (nearly 2½ acres) and the ten cottages that his father had had built in 1864 (five in the 1818 purpose-built brick silk mill and five in the older mill, originally used as a corn mill but then as a silk mill).  By October 1912 when the nationwide Valuation Survey took place, the cottages were deemed to be in a very poor state of repair.
William was born at Badsey Manor House in 1854, the eldest of five children of William Parker and his wife, Emlin (née Corbett).  He was baptized in St James' Church, Badsey, on 27th December 1854.  He lived in Badsey until the age of about 12 when the family had to vacate the Manor House because it was being sold.
William Corbett Parker then spent the next 15-20 years at Haslor Farm, Charlton, Cropthorne, assisting his father.  Some time in the early 1880s, the Parkers moved to Bretforton where they had taken on the tenancy of Manor Farm.  Mr W C Parker was mentioned in the Badsey Vestry Minutes of 20th November 1890 when there was discussion about the water supply.  He proposed that the mains be carried on as far as any building was done or proposed to be done on Bretforton Road (it was a time when this part of the village was beginning to be developed), but an amendment that there be no extension was carried by a large majority instead.
William married Elizabeth Rimell at Pebworth on 27th April 1898.  They had two sons and four daughters:  William Rimell (1899-1976), Emlin Grace (1901), John Corbett (1902-1967), Prudence Mildred (1904-1995), Mary Elizabeth (1906-1972) and Kathleen (1908).  The four eldest children were all born at Bretforton.  Some time between Prudence's birth in January 1904 and June 1905, the family moved to Manor Farm, Church Honeybourne; this was where William's mother, Emlin, died on 12th June.  They were still at Church Honeybourne at the time of the 1911 census, although the two eldest children were away at boarding school.
William Corbett Parker died at Church Honeybourne on 11th October 1914, aged 59, and was buried at Badsey, the third generation of his family to be buried there. 
By his will of 25th January 1912, William Corbett Parker left everything to his wife for her lifetime and then to distribute amongst his children in equal shares.  He just referred to his "real and personal estate" rather than describe his property holdings; he lefts effects of £3,171 7s 3d.  The Valuation Survey notes say that the cottages were passed for estate duty at £750 on 25th February 1915.  His widow, Elizabeth, survived him by only six years, dying at Church Honeybourne on 21st March 1921.  She, too, was buried at Badsey.  Elizabeth left effects of £4087 12s 5d in her will.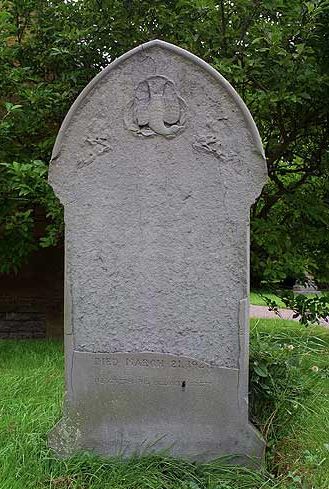 IN
LOVING MEMORY OF
WILLIAM CORBETT PARKER
WHO DIED OCTOBER 11TH 1914,
AGED 59 YEARS.
"[-]
EVER CALLED ON THEE IN VAIN"
ALSO
IN LOVING MEMORY OF
ELIZABETH PARKER
THE DEARLY LOVED WIFE OF THE ABOVE
BORN JUNE 29TH 1866
DIED MARCH 21ST 1921
"HE GIVETH HIS BELOVED SLEEP." 
It is assumed that the Mill cottages and the orchard were sold either after the death of William Corbett Parker or of his widow.
Many years later, when William Corbett Parker's daughter, Mrs Mary Elizabeth Hall, who spent her declining years in Wickhamford, died in 1972, the note in the Parish Magazine said:  "Mrs Hall was of the family of Parker, who at one time lived at Badsey Manor".  Mary herself never lived there, her father only for 12 years and her grandfather for about 16 years, but she was obviously very proud of her Parker lineage.
Maureen Spinks, November 2020