Louisa Ann Meurig Morris was a famous spiritualist and medium in the 1930s.  She lived in Wickhamford for part of her childhood, from about 1905 onwards and perhaps until her marriage in 1918.
Family background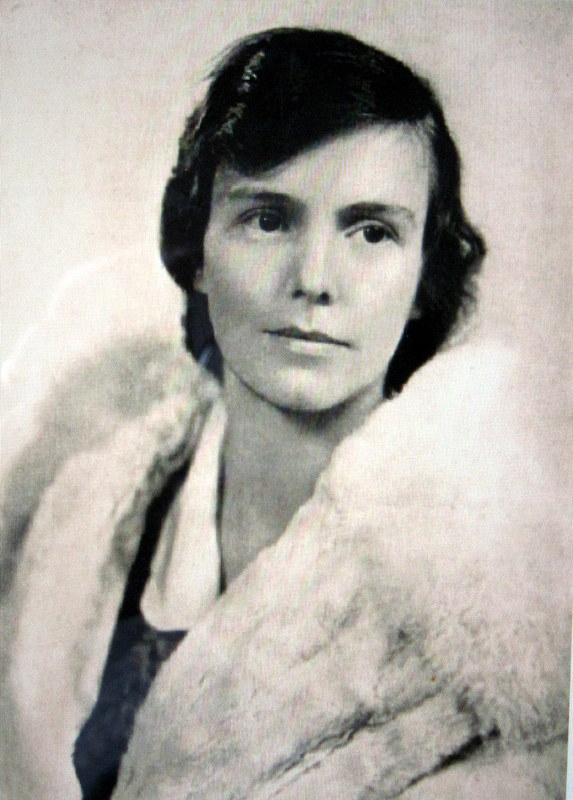 Louisa was a daughter of Frederick and Ellen Baylis (the surname appears in various records with one 's' or two).  He had been born in Evesham and she in Bidford-upon-Avon. They married in Evesham in mid-1889; her maiden name was Richardson and his surname was recorded as 'Bayliss'.  At the 1891 census they were living at 19 Vine Street, Evesham and had a one-year-old daughter, Ethel.  He was a market gardener's labourer, aged 22 years.  By the 1901 census, the Baylis family were living at 42 Mill Street, Evesham, and the couple had five daughters, the youngest one whom was Louisa Ann.  She had been born on 17th November 1899.  According to one source, Louisa had been born while the family were living in Chapel Street.  A month after her birth her parents were appointed caretakers of the newly built Wesleyan Church, situated by the Workman bridge in Evesham.  They later moved back to Chapel Street and then, probably in late 1905, to Wickhamford.  Louisa attended Evesham Council School until the move to Wickhamford.
Life in Wickhamford
At the 1911 census, the Baylis family were living at the present-day number 85 on Pitchers Hill and Frederick was still a market gardener's labourer.  The older girls had left home but between 1901 and 1911 Ellen had three more children, a sixth girl and then two boys.  Frederick Frank was born in Evesham in 1905 and the youngest, Edward Leonard, was born in Wickhamford on 21st March 1907.  He was baptised in St John the Baptist Church there on 12th May.   Louisa Ann Baylis entered Badsey School on 8th January 1906 and left on 10th January 1913 for schooling in Evesham.
Frederick Bayliss died in 1924 and was buried in the churchyard on 18th June; he was 55 years of age.  The following year Ellen Bayliss (54) was remarried in Wickhamford, to widower Thomas Edward Beane (62), a market gardener.  He died in 1945, aged 81, and she had died four years earlier, aged 72.  At this time their names were spelled 'Bean'; they have no headstone.
After leaving school, Louisa worked as a nursemaid at Field Farm, Longdon Hill, Wickhamford and then at the Woolpack Inn, Port Street, Bengeworth, Evesham.  At this time, she met her future husband, William Morris, who was employed by the chemist shop, Boots.  Louisa Ann Baylis married William Meurig Morris in Kings Norton in mid-1918.
A Spiritualist life
It is said the Louisa showed an interest in religious matters from a very early age. The Gale Encyclopedia of Occultism & Parapsychology recorded that Louisa's psychic gifts were noticeable from an early age, but were stifled by an orthodox education.  She had a séance with a direct voice medium in Newton Abbot in 1922 and within six weeks she "went under control". It was said that she would be trained for the delivery of teaching under a spirit called 'Power'.  Under the influence of 'Power', her soprano voice changed to a ringing baritone.  Recordings exist of her spiritual sermons.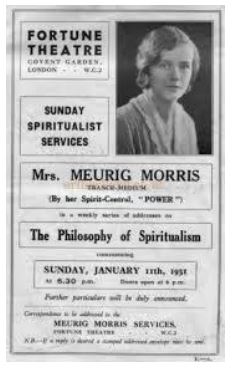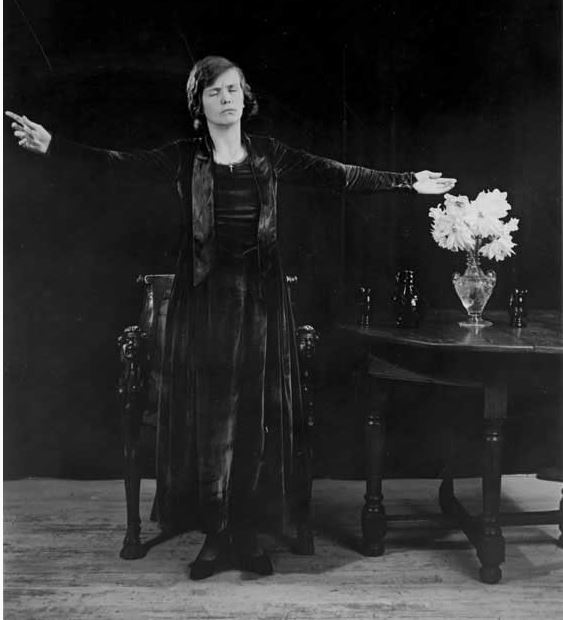 This British Movietone production, filmed at the Fortune Theatre on 26th January 1931, is the first séance recorded in the history of sound motion pictures. Featured in this film are Lady Jean Conan Doyle and Denis Conan Doyle. The event took place 7 months after the death of Sir Arthur Conan Doyle, who was very interested in spiritualism.
By 1930, Louisa and William Meurig Morris were living at 19 Archibald Road, Islington. The newspaper archives have very many reports of her appearances during the first half of this decade, but almost none after she went to S. Africa. In 1932 she was involved in a libel case against Associate Newspapers over an article in the Daily Mail which questioned the authenticity of her spirit sermons at the Fortune Theatre, London.  Although she won the case, she was not awarded any damages and an appeal to higher courts was rejected.  She is said to have separated from her husband following the renown brought to her by her successes in spiritualism. However, another source records that she lived with her husband at the Hampstead addresses in 1935 to 1938.
In 1935, 'Mrs L.A. Maurig Morris', of 6 Ellerdale Road, Hampstead, described as an author, aged 35, sailed to Cape Town, South Africa aboard the City of Exeter, departing on 1st June.  Accompanying her from the same address were Mr L. Cowen, also listed as an author, aged 70, and General Sir Pomeroy Holland-Pryor, retired and aged 67.  Laurence Cowen also lived at the same Hampstead addresses as Louisa in 1936 (1 Campayne Mansions) and in 1937/38 (60 Priory Road).  Cowen was an author and playwright who had met Louisa in 1929 and became converted to spiritualism. It was he who arranged the venues for her Sunday meetings in the Fortune Theatre.  According to one source, "Public attention was further aroused by the provincial tours Cowen arranged at great personal sacrifice."
Sir Pomeroy Holland-Pryor described himself as a 'Convinced Christian Spiritualist'.
Later life
When the 1939 National Register was made at the outbreak of the Second World War, Louisa was living again at 6 Ellerdale Road, Hampstead, but without her husband.  This very large property was built by architect Richard Norman Shaw; his family lived there in 1911, when 16 rooms were recorded.  By 1939 it was occupied by 15 people, including Pomeroy Holland-Pryor and many professional people.  Louisa Ann Morris's occupation is recorded as 'Independent' and she is marked as 'Married'.  Her husband, William M. Morris was living at 89 Hampstead High Street, together with Laurence Cowen (entered in the Register by the recorder as 'Lawrence Cowan').  William had returned to his roots, as his occupation was entered as 'Manager Drug Store.'
Louisa Ann Meurig Morris died, aged 91, on 4th November 1991 at 24 Peel Street, London W8. Her death was registered in the Borough of Kensington and Chelsea.
Footnote
An horrific incident occurred in Murcot on 9th October 1918, when Louisa's younger sister, Ivy, was involved in an accident on a farm.  She was working on a machine crushing cattle cake and went to put flour on a slack drive belt when her hair caught in the spindle.  Her hair was scalped off and she was shockingly injured before the machine could be stopped.  She died on 2oth November.  As this event took place only a short while after Louisa's marriage, it may be possible that it played a part in her developing an interest in spiritualism?
Tom Locke: November 2018