For a short time between the 1871 and 1881 censuses Wickhamford Manor was rented to farmer John Phillipps and his family. The surname spelling, with two final 'p's is unusual, but helpful in tracing the family.
Phillipps family background
In 1861 John Phillipps (28) was unmarried and farming 319 acres at Laverton Meadow, Buckland, North Gloucestershire. He employed six men and three boys and lived with his widowed mother, Hannah (72) and unmarried sister, Sarah (37). He had been born in North Bradley, Wiltshire and baptised there on 17th June 1832, the son of William and Hannah. (The family name was spelled 'Phillips' at this time.) John Phillipps married Annie Miriam Wells in Childswickham on 30th March 1865. Annie had been baptised in Childswickham on 9th July 1837, the daughter of Robert and Ann Wells.
At the 1871 census John Phillipps (38) was farming at 'Gostel' Farm, Broadway. This was the name at that time of the present Gorsehill Abbey Farm, located just to the East of the Wickhamford parish boundary. He was farming 180 acres in 1871, employing four labourers and a boy. John and Annie Miriam (33) had five young children – Annie (5), Elizabeth (4), William (3), John (1) and Rosa (4 months) - and they also employed two young girls, one as a general servant and one as a 'nurse girl'. The latter was definitely required with all of those youngsters. The family must have only recently moved to Broadway, where Rosa was born, as the older children were born in Snowshill according to the 1871 census (or Brockhampton, near Winchcombe, according to the later 1881 census - actually Brockhampton Farm, Snowshill).
A brief time at Wickhamford Manor
John Phillipps moved his family to farm the land at Wickhamford Manor around 1874-75. Another child, Arthur (see photograph below), had been born in Broadway in late 1873 and then two sons were baptised in Wickhamford Church. Charles Herbert Smart Phillipps was baptised there on 11th April 1876 and Thomas Smart Phillipps followed on 17th August 1877. John would probably have had around 200 acres of Manor land to cultivate – arable crops, fruit and possibly hops were grown there at around this time.
No details of the life of the Phillipps family at Wickhamford Manor appear in the public records, but one interesting note exists in some papers held at Badsey Church.
During the time that Rev. Peter Braby was vicar of Badsey and of Wickhamford (1958-73) he interviewed retired schoolmaster William Mason (b. 1889 in Badsey), who had lived in Manor Road, Wickhamford before the First World War. Amongst many other reminiscences, he talked about the fact that his father, John Mason, had worked for the Phillipps family at the Manor. He was an agricultural labourer (44) living in Wickhamford at the 1881 census. William Mason referred to the occupant of the Manor as Sir Thomas 'Phillips' who was a man 'who owned half of Broadway'. However, he seems to have been muddling up his early recollections and the tales his father, John, had told him. There was a Sir Thomas Phillipps, a renowned collector of books and manuscripts, who owned Broadway Tower, (which he bought in 1822 and moved from there to Cheltenham in around 1864), but he had no connection with Wickhamford Manor. The other story William Mason remembered his father telling him was that the occupant of the Manor was notorious because "he dressed as a tramp and used to fry bacon on the side of the road".  
It is possible that John Phillipps was being referred to here and he may have developed some eccentricities towards the end of his life. He died in Wickhamford on 16th November 1878 and was buried in Buckland churchyard; his wife, Annie, then moved out of the Manor.  John Phillipps was a distant cousin of Sir Thomas and was mentioned in the latter's Will.
Life after Wickhamford Manor
By the time of the 1881 census, Annie Miriam Phillipps was living in Buckland, (near Broadway, but over the county border in Gloucestershire) and was recorded as a widow and 'Retired Farmer'. She had three lodgers in her household, a farmer of 320 acres, his wife and daughter. Annie Phillipps had all of her children living with her, apart from Charles. He had died as a one-year-old infant in mid-1877 and was buried in Buckland. John Phillipps parents were also buried there, William in 1860 and Hannah in 1877 (see photograph below). John and Annie's daughter Mary Elizabeth died in 1886, aged 19 and is buried in Buckland, too. Annie Miriam Phillipps died in 1900, aged 63. Also in Buckland churchyard is the grave of John Phillipps' older sister, Sarah, who died in 1903 (see photograph below).
Thomas Smart Phillipps enlisted in the Worcestershire Regiment on 12th June 1893, when he was living in Birmingham working as a grocer and claiming to be eighteen. He was still sixteen at this time and appears to have been discharged, for Thomas 'Phillips' rejoined on 13th March 1895. He was still living in Birmingham and a grocer. There are no details of his service, but he was discharged for a second time, on 29th July 1896, receiving a payment of £1. On both enlistment forms he was described as around 5'6" tall with a dark complexion, grey eyes and brown hair.
Thomas Smart Phillipps is recorded in the 1911 census as married with one child, 11-month-old Evelyn, and living in Aston, Birmingham where he worked as a shop assistant and grocer. He had married Annie Margaret Turner in Guildford in 1904 and the couple later had twins in 1917, Nancy and Thomas but the boy died very soon afterwards. Thomas Smart Phillipps died in Birmingham in 1960, aged 83.
The eldest daughter of John and Annie Miriam Phillipps, also Annie Miriam, married William Hodges in 1886 and they had at least nine children. When the Phillipps family were at Wickhamford Manor, Hodges was their farm manager and for a while he lived at Bowers Hill. (see photographs of Annie Miriam and William Hodges below)
Conclusions
The dates of the various events in the life of the Phillipps family show that they moved to Wickhamford Manor some time in 1874 or 1875 and had moved to Buckland after William died in 1878. Their stay at the Manor therefore lasted only three or four years, so it is remarkable that William Mason was able to record his father's recollections of the family, even if he had some facts wrong.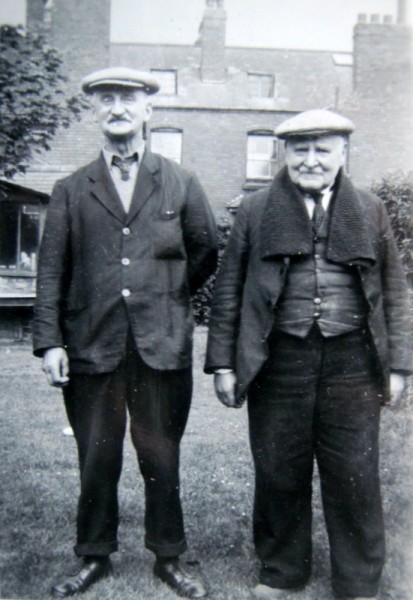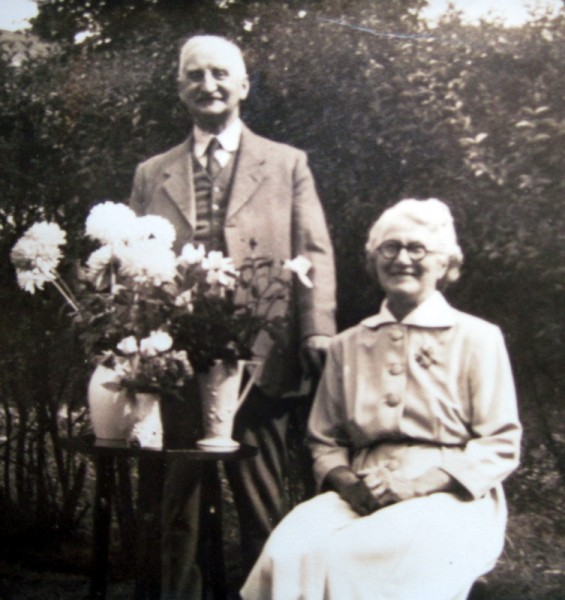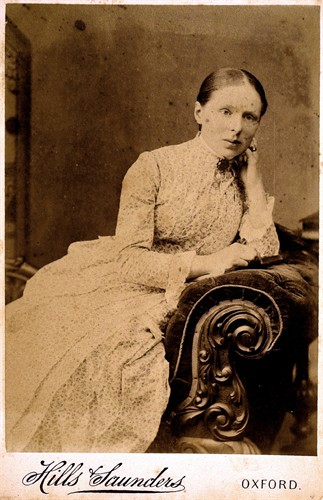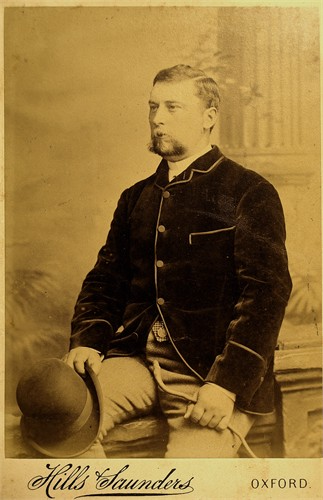 Acknowledgements
Thanks are due to Peter Stewart for drawing our attention to the notes concerning the recollections of William Mason, locating the burials of the Phillipps family in Buckland and photographing two of the graves.
Thanks are also due to Richard Young for supplying the photographs of the some Phillipps family members.
The photographs of Annie Miriam and William Hodges are from the Curtis-Aylworth family tree on ancestry.co.uk
Tom Locke – September 2013 (revised July 2017)