In the late 19th century, Wickhamford Manor was owned by the Trustees of the late John Pickup Lord and rented out to tenant farmers. The property was operated as a farm with a range of buildings at the back of the Manor around a large yard. Between the Manor and the Churchyard was a large stone barn. The outbuildings around the Manor were demolished at the end of the 19th century, but would have been in situ when the Pope families were in residence at the Manor.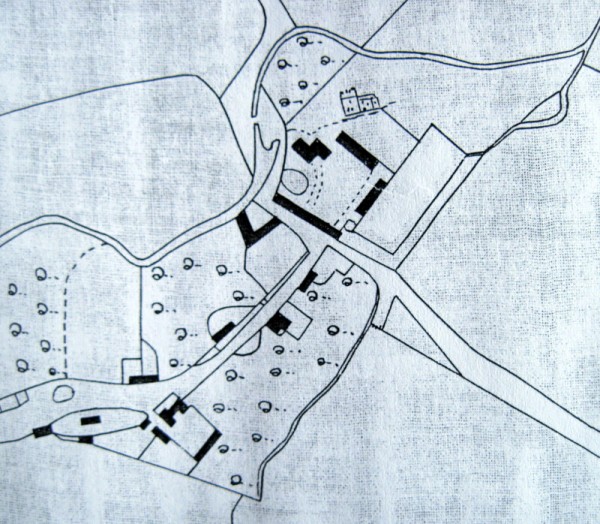 In the second half of the 19th century Edward William Pope and his brother, John Pearce Pope, were tenants of Wickhamford Manor at the time of the 1881 and 1891 censuses respectively. The first part of this article gives information on previous generations of the Pope family, before their arrival in Wickhamford. Details then follow concerning the Pope brother occupancy of the Manor.
1. The ancestors of Edward William and John Pearce Pope
Edward Pope and his wife Hannah, nee Wallington, were great grand-parents of two future occupants of Wickhamford Manor – Edward William and John Pearce Pope.
Their son, William Wallington Pope was born at Wottton under Edge in 1799. He married Elizabeth Fowler at Berkeley in 1818. They had a large number of children, mostly born whilst living in Newent; their third son, Daniel, was born there in 1821. The Popes moved to Pendock, Worcestershire, in the mid 1830s where the youngest children were born. In 1841, the family was living at Pendock Court Farm and continued to live there until William's death in 1865. The two youngest girls were at school in Tewkesbury High Street in 1851. Elizabeth Pope died at Withington, Herefordshire, in 1868.
Daniel Pope married Caroline Maria Wintle at Taynton in 1847. They had four sons and one daughter: Edward William (1848-1882), William Wallington (1850), John Pearce (1852), Mary Caroline (1855) and James (1857-1857). Edward was born at Upleadon, Newent, but the family had moved to Pixley Court, Pixley, Herefordshire, by 1850 when William was born, and where the family remained until Daniel's death in 1886. Caroline died in 1857 giving birth to her youngest child, James, who also died.
Daniel married again in 1859 to Mary Ann Hodges. They had one son and three daughters: Louisa Ann (c1860), Mary Ann (c1861), Fanny Maria (1862-1924) and Joseph (1866-1915). Daniel was described as a farmer of 240 acres employing five men and three boys in 1861. William and Louisa were the only children at home in 1861; Edward's whereabouts are unknown, but presumably away at school; John and Mary were at Bickenshill School, Dymock; three servants lived in the household. The household at Pixley Court in 1871 comprised Daniel and Mary, their four children and John (by Daniel's first wife) and three servants. Daniel was by now a farmer of 280 acres. (Daniel Pope, farmer and hop grower, Pixley Court, was listed in Littlebury's Directory and Gazetteer of Herefordshire, 1876-77.) In 1881, Daniel and Mary Ann lived at Pixley Court with their four children and three servants; Daniel now farmed 300 acres and he died at Pixley in 1886. In 1891, Mary Ann was living at the Temperance Hotel, Hentland, Herefordshire, described as living on her own means; her daughter, Fanny, was the hotel keeper. Mary Ann's children, Mary Ann and Joseph, also lived there. Mary Ann and her three children were still at the Temperance Hotel in 1901.
Pixley Court appears to have remained in the Pope family for some decades after Daniel's death. Daniel and Caroline's second son, William Wallington Pope (1850-1880), did not marry. He was also a farmer but fell upon hard times and took to drinking. In the latter year of his life he had been living with his brother, Edward, at Wickhamford. He died in December 1880 of a chlorodyne overdose when staying at the Reindeer Hotel, Guildford.
2. The Pope occupancy of Wickhamford Manor
Edward William Pope (1848-1882)
In 1881 the tenant of Wickhamford Manor was Edward Pope, who farmed 204 acres and employed four men and three boys at this time. As described above, he was the eldest son of Daniel Pope and his wife Caroline Maria née Wintle, and had been born in 1848 at Upleadon, Newent. Edward had married Maria Champion in 1869 in the Upton on Severn district. Maria was ten years his senior and was the younger sister of Elizabeth Champion who had married Edward's uncle, William Wallington Pope, in 1846. Edward and Maria had three sons and two daughters: Daniel (1870), Edward William (1872), Maria Caroline (1873-1945), Joseph (1876) and Elizabeth (1878-1913).
Edward died soon after this census, in the late Spring of 1882 and was buried in the churchyard on 6th May, aged only 33 according to the Burial Register. (The Index of Deaths gives his age as 34.) At some point his widow, Maria, moved out of the Manor and by the time of the 1891 census was farming at Crane Farm, South Cerney near Cirencester. She still had Edward and Joseph living with her.
Edward's youngest daughter, Elizabeth, retained connections with Wickhamford, marrying William Smith of Pitchers Hill Farm in 1900; she is buried in the churchyard at Wickhamford, dying at the age of 35. Some 40 years after Edward's death, his elder daughter, Maria Caroline, returned to the village of her childhood when her husband, William Manners, took a job at Wickhamford Mill. Maria and William later moved to a new house on Bretforton Road, Badsey, and remained there for the rest of their lives.
John Pearce Pope (1852-1906)
The 1891 census in Wickhamford shows that a different family by the name of Pope were renting the Manor and farming there. This time it was John Pearce Pope (38), his wife, Hannah Maria (47) and their five children: John Pearce junior (16), Hannah Maria junior (12), Sarah Ann Emily (11), Tom (9) and Frances Jane (6).
John Pearce Pope, was the third son of Daniel and Caroline Pope, born at Pixley Court, Herefordshire in 1852, and was Edward William Pope's younger brother. John had married Hannah Maria Pope (née Champion) at Hanley Castle in 1873. Hannah was doubly connected to John as she was already his sister-in-law, by virtue of the fact that John's older brother, Edward, had married Hannah's older sister, Maria, in 1869; in addition, Hannah was the widow of John's first-cousin-once-removed, James Wallington Pope (1843-1870). (John's grandfather, William Wallington Pope (1799-1865), and James' father, Edward Pope (1801-1843), were brothers.). James had died at Birtsmorton in 1870. In the 1871 census Hannah Maria Pope was stated to be the Head of the household at Morton Court, Birtsmorton, a farmer employing six labourers and three boys. She had three young children – William W. (4), Mary (2) and Edward (1) – and had a live-in companion and two domestic servants.
Following Edward's death in 1882, it seems that the brothers' uncle, Joseph Pope, came to look after the farm. He is listed as overseer for the village in 1883 and 1884. By April 1884, John was resident at Wickhamford Manor, managing the farm on behalf of his uncle (evidenced by accounts in the British Newspaper Archive of County Petty Session reports in which John Pope summoned one of his servants for absenting himself without leave). John also became an overseer, like his uncle.
John and Maria's five children lived at the Manor, but it seems that Maria's children from her first marriage may have lived primarily with other relatives. John sent his children to school in Bengeworth, probably because Badsey School had a number of financial problems at the time that they moved to the area. However, the younger children all started at Badsey in 1894, by which time the reputation had greatly improved. John did not always find favour with the Managers of Badsey Board School as the Minutes for 6th October 1898 reveal: "School Attendance Officer reported that the attendance on 3, 4 and 5 was very bad on account of a number of children being hop picking at Wickhamford. Clerk directed to write to Mr Pope strongly informing him proceedings would be at once taken in any future case of employment."
John Pope and family left Wickhamford around 1900 and went to farm at Church Farm, Whittington, near Pershore. Hannah died in 1905 and John in 1906; both are buried in the churchyard of St Philip & St James, Whittington.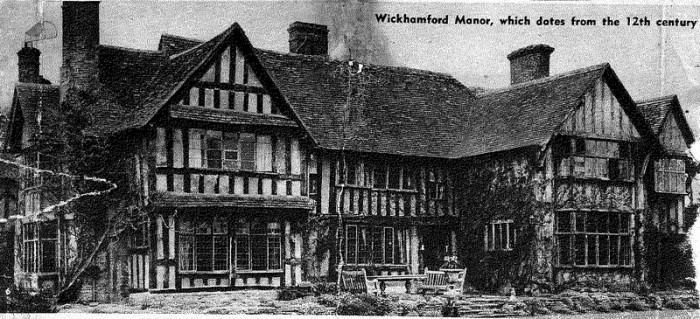 3. The Champion Link
Although the two Pope occupants of Wickhamford Manor are siblings, the two families are also united on the female side. Edward Pope had married Maria Champion in 1869 in Upton and John Pearce Pope had married Hannah Maria Pope nee Champion in 1867, also in Upton.
In the 1851 census at Waterhatch, Sudeley Manor, Winchcombe, were the family of Jane Champion (51) a farmers wife and her children – Jane (22), James (18), Sarah (16), Marion (14), Caroline (12), William (10), Hannah (7), all born in Berkeley. Her husband, James (45) was away from home on census night. The 1861 census of this family, farming 401 acres, has a daughter now referred to as Maria (24) as one of the offspring. The two wives of the Popes of Wickhamford Manor were the Champion sisters.
4. A visitor to Wickhamford Church in 2013
In January 2013, Linda Lake from Ontario, Canada, visited Wickhamford and left a message in the Church visitor's book, asking for information on her Pope ancestors. She is a descendent of John Pearce Pope's daughter Hannah Maria (1878-1975) who went with many of the Pope family to New Zealand. Hannah Maria married Albert Smith on 12th February 1896 in Wickhamford Church and is buried in Papakura, New Zealand. Albert and Hannah had twelve children and Linda Lake's grandmother was their third child, Alice Maud Smith. Linda has supplied the following photographs of her family.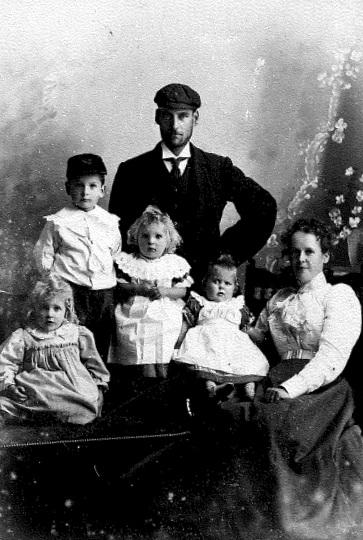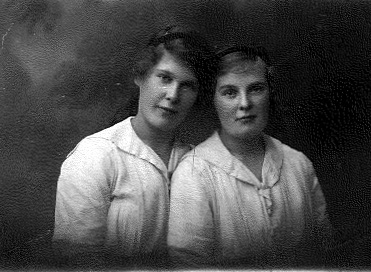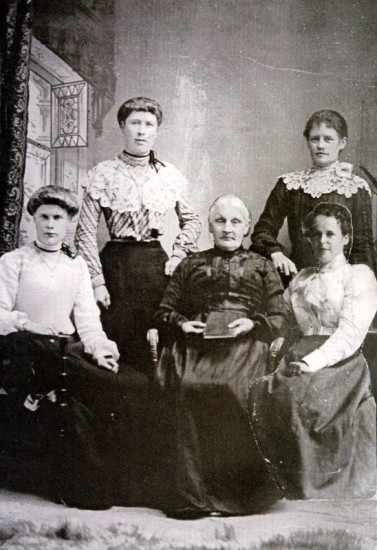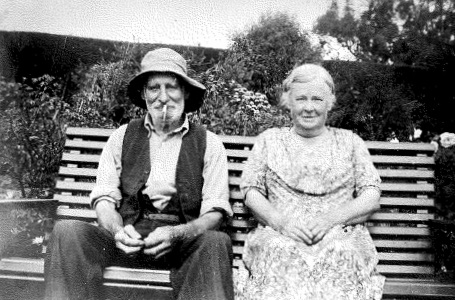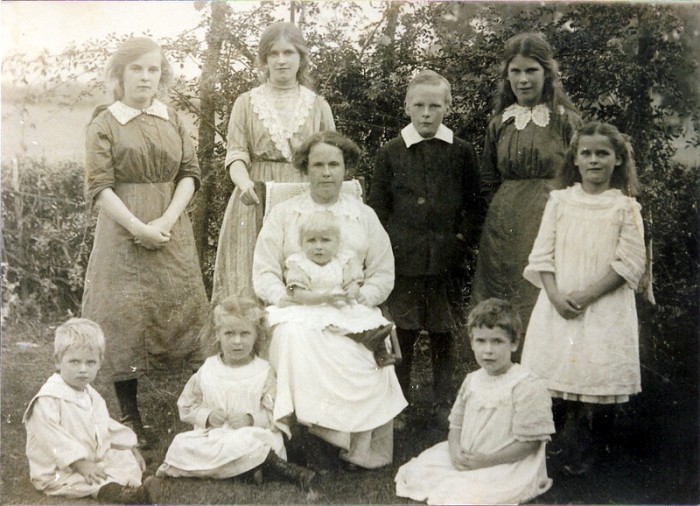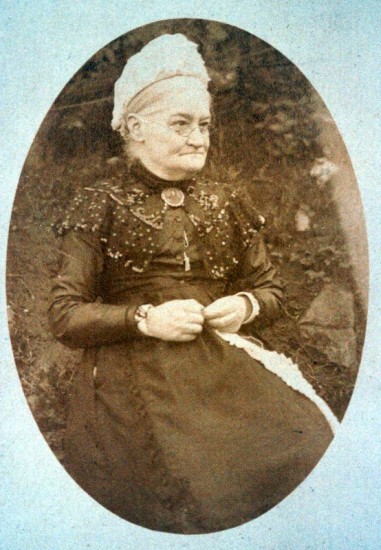 Acknowledgements –
We are very thankful to Linda Lake (right) for leaving her message in the Church Visitors book and for generously supplying the photographs in this article.
Maureen Spinks has supplied additional material that has been included in this latest edition of the article.
Tom Locke & Valerie Harman
April 2013