The historical records in the late 18th century mainly concern the wealthy landowners. Usually, the only references to the poorer inhabitants of villages are in the Parish Registers. One exception is William Richards of Wickhamford.
A Master Weaver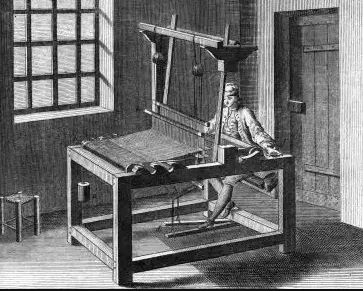 His name appears in the records of Apprenticeships from this period.  He was a weaver living in Wickhamford and he took on two apprentices:  Thomas Butler in 1780 and John Nightingale in 1782.  The latter died in late 1794, aged 24, and was buried in Badsey.  He would have been about twelve years of age when first apprenticed to William Richards.  An apprenticeship usually lasted about five years and cost the child's family a few pounds, but the Master was responsible for housing, feeding and training the boy.  Weaving had been an occupation in Wickhamford for a while, as there is another record, from 1761 of John Miland of Wickhamford having taking on an apprentice weaver that year.  There are records from Badsey of weavers employing apprentices in the 1720s and later in 1750 and 1779.
Where William Richards was living in Wickhamford is not recorded, but, as a Master Weaver, he probably lived in a cottage between the Manor and The Elms (now Elm Farm) in the village street.  Other cottages were then on land where the village street met the Evesham to Broadway road, but these were likely to have been of poorer quality and lived in by agricultural workers.
Silver watch theft
At the time he had apprentices living with him, his home was broken in to and property stolen.  This event was reported in Aris's Birmingham Gazette of 16th June 1783:
Last Week the Dwelling-house of William Richards, Weaver, of Wickhamford near Evesham, was broken open, and a Silver Watch stolen thereout. The Person suspected to have committed the above Robbery is well known, and a proper Search is making after him.
There are no other reports concerning this theft or who was the culprit.
Recorded events in his life
William Richards's name was recorded in Probate records a few years before the theft.  "Ann Richards (or Grove)" of Wickhamford died in late 1775 and her Will was Proved at Worcester on 30th January 1776.  Probate was granted to William Richards, described as a widower of Wickhamford and Robert Waring, of "Michael in Bodwardine" (see footnote).  It seems to be that Ann's two surnames refer to her maiden name and married name.  There is a record of William Richards marrying Ann Grove at Saintbury, Gloucestershire, on 17th February 1775.  This is quite near Wickhamford, so they are likely to be the couple concerned.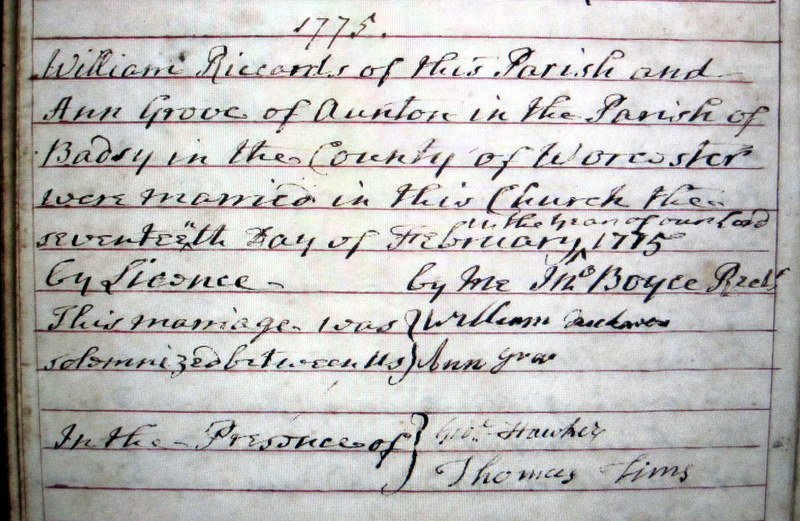 The original Marriage Register of Saintbury records that William 'Riccards' was 'of this Parish' and that Ann Grove was from what appears to be 'Aunton'.  Another Saintbury record book, of Banns and Marriages, reveals that Ann Grove came from 'Awnton' in the Parish of 'Badsy', in Worcestershire.  Awnton is an old name for Aldington.  Both were literate and signed the Register. The marriage was by Licence and the witnesses were George Hawker and Thomas Sims.
Normally a marriage would take place in the bride's parish, but in this case, it was in the groom's parish.  This may be why it was done by Licence.   The Grove family location would explain how William Richards came to live in the adjacent Parish of Wickhamford.  A William Richards was baptised in Cheltenham on 6th June 1733, a son of Samuel Richards.  If this is the man in this story, he would have been 41 years old at his marriage.
As Ann Grove married William Richards in February 1775 and died less than a year later, it is likely to have been as a result of a problem in pregnancy or childbirth.  There was a baptism of Ann 'Ricketts' in Wickhamford on 3rd January 1776, the daughter of Ann and William Ricketts.  In Badsey, Ann Ricketts was buried on 38th August 1776, but no ages was recorded at this time.  She may have been the child of Ann and William.  Ann Grove had been baptised in Badsey on 28th June 1742 – a daughter of Thomas and Sarah Grove of Aldington. She would have been married later in life and aged 34 when she died. The fact that she left a Will, could indicate that she came from a reasonably well-off family.  The Will was proved on 30th January 1776. There is a record of a burial in Badsey on 2nd January 1776 with the name 'Ann Rickets'.  This is certainly Ann Richards.
Another link in this story is that Ann's father, Thomas Grove of Aldington, died in 1773 and his Probate record gives his occupation as 'Weaver'.
There are no other Parish Register entries in Wickhamford concerning William Richards or any family.  This is not surprising if he came from Saintbury.   His name does appear in the Badsey Marriage Register on 26th October 1778, as a witness to the marriage of Thomas Pain and Elizabeth Taylor, both of Aldington.
Summary
It would be reasonable to assume that 41-year-old William Richards married 31-year-old Ann Grove in Saintbury in 1775 and that she died within a year of the marriage.  No record of the burial for William Richards has been found in the Evesham area, so he seems to have left the district in later life.  The item in the Birmingham newspaper of 1783 was a very early report of an event in Wickhamford concerning a non-aristocratic villager.  This led to this story about William Richards. 
Footnote
The name in the Probate entry - Robert Waring, of "Michael in Bodwardine" – refers to the Parish of St Michael in Bedwardine, Worcester.
Tom Locke – November 2022