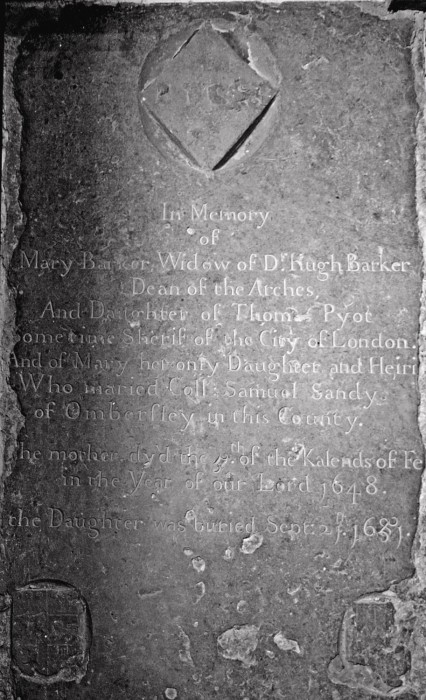 This memorial stone is on the floor of the Chancel of the Church of St John the Baptist, Wickhamford. It commemorates Mary Sandys, the wife of Colonel Samuel Sandys, and her parents, Hugh and Mary Barker nee Pyot.
Although Mary Sandys was buried at Wickhamford, her parents are interred at New College Chapel, Oxford and there is a Memorial tablet to Hugh Barker, in Latin, in the Chapel. Not all of the details on the tablet at Wickhamford seem to be accurate, as can be seen from the information found on the family that is given below on the people mentioned.
1. Dr Hugh Barker
Hugh Barker was the son of Robert and Mary Barker nee Danvers. He was born in Culworth, Northamptonshire in 1564.
An entry or Hugh Barker appeared in the Dictionary of National Biography, 1885-1900, Volume 3. Here he was described as an English lawyer, who was educated at New College, Oxford, where he graduated D.C.L. on 17th June 1605. He became Master of the Free Grammar School at Chichester in 1604. He was subsequently Chancellor of the Diocese of Oxford and Fellow of the College of Advocates, London on 9th June 1607. He died in 1632 and was buried in the upper end of New College Ante-Chapel, where his virtues are commemorated in a Latin epitaph (see Appendix). He had signed a Will on 4th January 1628 and Probate was granted on his estate on 10th October 1632.
The Dictionary entry also refers to his being Dean of the Court of Arches in London. This position is that of a judge who sits at the ecclesiastical court of the Archbishop of Canterbury. A list of Deans of the Arches is to found on a Wikipedia entry on this topic, but Hugh Barker's name only appears here as a footnote. From 1624-1633 the Dean is listed as Sir Henry Marten with a footnote to the effect that the first edition of the Dictionary of National Biography has Hugh Barker as Dean, but that this was retracted in the 1904 edition Errata.
Other references record him as a scholar of Winchester College in 1577, Fellow of New College, Oxford, 1586-91, B.C.L. 19th February 1592. He is mentioned in passing in 'A History of the Sandys Family' (published in 1907) as obtaining the degree of LL. D., so was a Doctor of Divinity.
The Bodlean Library in Oxford has various papers concerning Dr Hugh Barker, including a bequest of £20 to the poor parishioners of Piddington, deeds relating to the wardship of his daughter Mary (1633-39) and various letters to him and his widow concerning their Sussex affairs. (There are three villages called Piddington, in Northants, Oxfordshire and Buckinghamshire; it is not known which one is referred to here, although the former is most likely, as Hugh was born in that county).
The Record Office in Berkshire also holds some papers relating to Hugh and Mary Barker. These are an assignment of the lease of parsonage of North Marden, Sussex (1628); detailed bills for gold and silver, lace, brocade, taffeta, etc., to amounts of £45, £65, and £104 (1636); a receipt by the borough of Chipping Norton (with a well-preserved seal) for legacy from Dr. Barker to the poor (1632/3); a licence to Mary Barker, widow, to eat meat (1632/3).
2. Mary Barker nee Pyot
Mary Pyot was the daughter of Thomas Pyot, according to the Memorial stone, a man who was Sheriff of London. The list of Sheriffs of London includes Richard Pyot holding that office in 1611 (two men held the post annually), but there is no Thomas Pyot on the list.
In the Parish Church of St Lawrence Jewry in London on the north side of the Chancel is a window 'glazed at the charges of Richard Pyot, Grocer, and Alderman of this City of London, Anno Dom. 1618'.  (Sir Robert Ducie, Lord Mayor of London in 1631, had married, ca 1608, Elizabeth Pyott, daughter of Richard Pyott, Alderman of London.)
Mary married Hugh Barker on 5th June 1620 in St Mary's Church, Low Leyton, Essex. Family trees show that she was the daughter of Richard Pyott and Margaret nee Floyer. Other information suggests that she signed a Will on 13th October 1648, but did not die until 1654, when she was buried in New College Chapel, Oxford. Probate was granted on her estate on 6th May 1654.
The tablet in Wickhamford Church states that she died in 1648. It would appear that both her date of death and father's first name are incorrect on this tablet, which may have been inscribed from memory after the death and burial of her daughter, Mary Sandys nee Barker, in 1681.
3. Col. Samuel Sandys
Sir Samuel Sandys (15 June 1615 – 5 April 1685) was an English politician who sat in the House of Commons at various times between 1640 and 1685. He fought for the Royalists in the English Civil War.
Sandys was the son of Sir Edwin Sandys and his wife Penelope Bulkeley, daughter of Sir Richard Bulkeley. He was grandson of Sir Samuel Sandys who had represented Worcestershire in Parliament in the time of King James I.
In April 1640, Sandys was elected Member of Parliament for Droitwich in the Short Parliament. He was re-elected in November 1640 for the Long Parliament. He supported the King and was disabled from sitting in August 1642. He was made Governor of Evesham in 1642 and commanded a troop of horse at the action at Wickfield and at the Battle of Edgehill. Later he raised an infantry regiment and cavalry regiment for the king at his own expense. He was Lieutenant-Governor of Worcester under Prince Maurice in 1644.
In 1660 Sandys was re-elected as MP for Droitwich in the Convention Parliament. In 1661 he was elected MP for Worcestershire in the Cavalier Parliament and sat until 1681. He was re-elected MP for Droitwich in 1681 and held the seat until his death in 1685 at the age of 69. He is buried at Ombersley.
Samuel Sandys had married firstly Mary Barker, daughter of Dr Hugh Barker, and had two sons and a daughter. His elder son, Samuel, was also MP for Droitwich; the second son, Edwin, was a Fellow of New College, Oxford and was buried there in 1684 with a monument in the cloisters (see Appendix). His second wife was Elizabeth Packington, daughter of Sir John Packington of Westwood.
4. Mary Sandys nee Barker
Mary Sandys was buried in Wickhamford Church on 21st September 1681 and the entry in the Burial Register only gives her the title of 'Mrs'. As the wife of baronet Sir Samuel Sandys she would have held the honourary title of 'Lady Sandys. It is not clear why she was buried in the village as opposed to Ombersley. Perhaps she and Sir Samuel lived at Wickhamford Manor at the time of her death and he then moved to Ombersley.
Conclusions
What at first sight appears to be a very useful historical source on a memorial stone turns out to be incorrect in a number of respects. Mary Sandys mother died in 1654, not 1648, her maternal grandfather was Richard not Thomas Pyot, and it is possible that her paternal grandfather, Dr Hugh Barker may not have held the position of Dean of the Arches.
On the positive side, Mary was married to a baronet, her maternal grandfather was a Sheriff of the City of London, her paternal grandfather was a Doctor of Divinity who held many prestigious positions, an aunt was married to a Lord Mayor of London and her husband served Charles II in many roles in the Civil War. Both her husband and elder son were Members of Parliament.
Appendix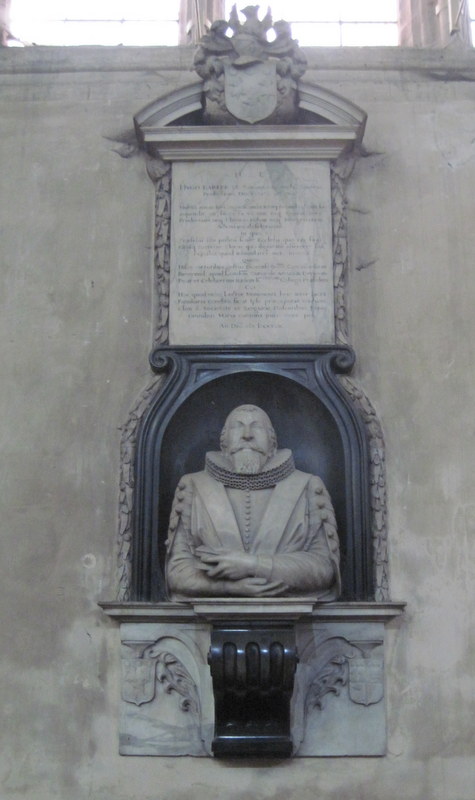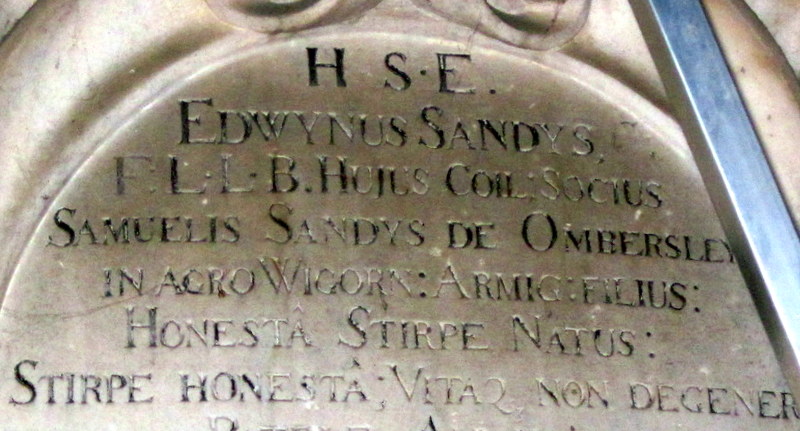 Acknowledgement
Thanks are due to Peter Stewart for the photograph of the memorial tablet in Wickhamford Church.
Tom Locke – June 2013 (Revised August 2015)