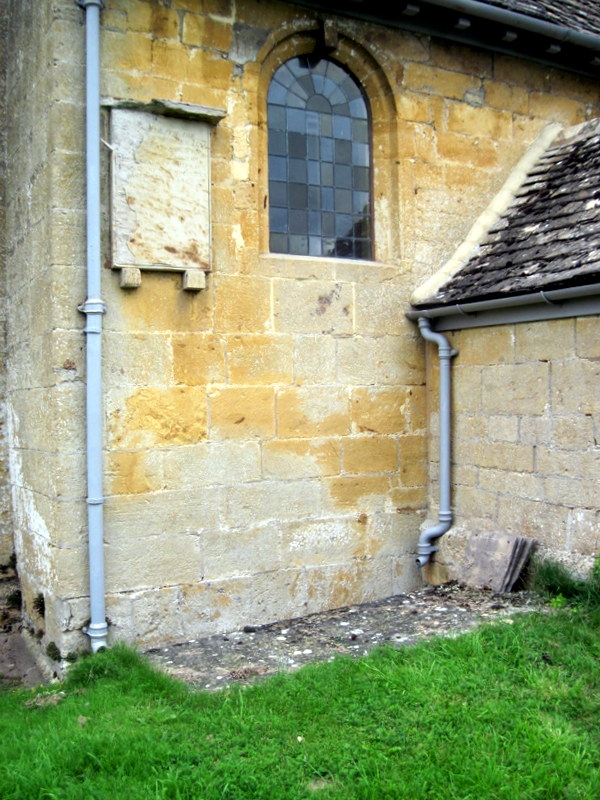 There is only one memorial plaque on the exterior wall of the Church of St John the Baptist in Wickhamford.  It is situated to the left of the church porch and reads:
UNDERNEATH ARE DEPOSITED THE REMAINS OF ALBERT SAWYER OF THIS PARISH WHO DEPARTED THIS LIFE THE VIIth OF MAY MDCCCXXX AGED XLV YEARS.
Albert Sawyer, a son of Thomas and Catherine (née Haines) was born in Bidford on Avon, Warwickshire, in 1784.  He married Alice Bough on 29th August 1809 in the parish of St Philip, Birmingham.  There are two Parish Register entries for the baptism of their daughters in Wickhamford - Marianne (13th April 1818) and Alice Sophia (14th February 1824) - both of whom died in their teenage years. Marianne died, aged 14, and was buried on 20th March 1832; Alice Sophia died, aged 15, and was buried on 23rd November 1834. 
Earlier, on 18th February 1819, Berrow's Worcester Journal reported that Thomas Heming had been committed to Worcester County Gaol for stealing four fowls, the property of Albert Sawyer of Wickhamford.  
Albert and Alice appear to have had two other daughters as Felicia Sawyer married Henry Cooper in the parish on 1st June 1835. Henry Cooper, BA, late of Worcester College, Oxford, was the only surviving son of the late Rev H P Cooper of Evesham.  Eliza Sawyer married William Thomas Ashwin, in Wickhamford, on 22nd January 1840.
The Sawyer family lived at Wickham House in Wickhamford, in what is now called Manor Road. Albert died in 1830 at the early age of 45 years, but his wife was still living at Wickham House in 1841 when the census was taken. Alice Sawyer was recorded as a farmer and she had two young servants living at home – Susannah Howes (19) and Thomas Taplin (17).  The land she rented from the Sandys family was listed in the Tithe records of the following year.  She had eleven fields in the village and, apart from one, they were on the South side of the Evesham to Broadway turnpike road, between Badsey Brook and the Wickhamford/Childswickham parish boundary.  The total area of these field was about 173 acres and they were a mixture of meadow, pasture and arable land. The total tithe payable in 1842 for this land was £57-2-0d.  This is equivalent to about £3,500 today.  In 1842, £57 would have bought three horses or ten cows.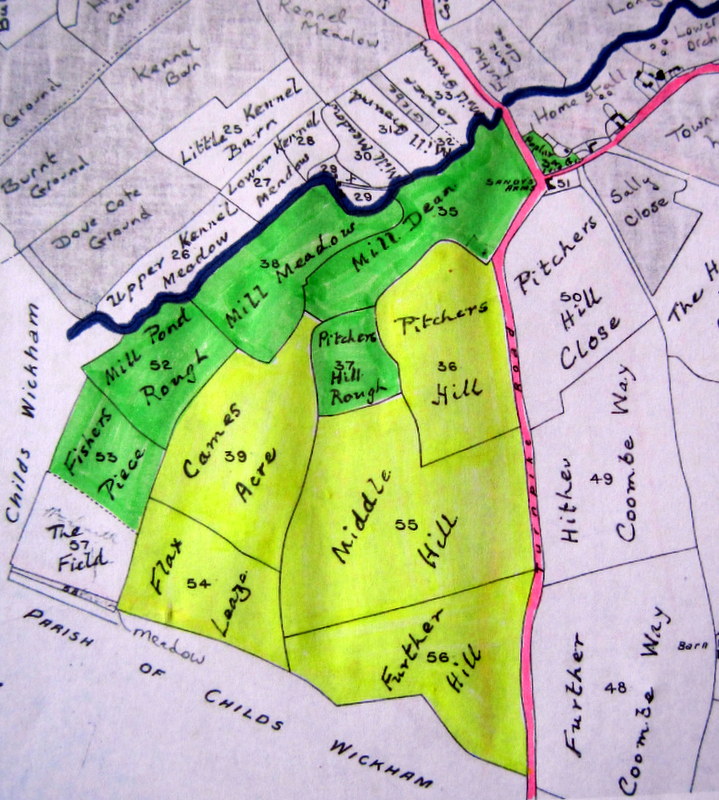 For the 1851 census, Alice Sawyer, aged 64, was still living at Wickham House with two female general servants and two agricultural labourers in residence.  Also present was a grand-daughter, Henrietta O. Ashwin.  Her son-in-law, Henry Cooper, was on the Electoral Roll in Badsey in 1843/44, living at the property that is now The Round of Gras public house.  He and his wife, Felicia, had two daughters baptised in Badsey, Marian Sawyer Cooper on 22nd March 1836 and Amy MacDonald Cooper on 6th May 1837.
Alice Sawyer had left Wickham House by the time of the 1861 census.  William Smith was then living at Wickham House and farming 280 acres and employing ten men and three boys.  
In 1861, Alice was living at Hill Village in the parish of Hill and Moor, Worcestershire.  Her 11-year-old granddaughter, Henrietta Ashwin, also lived there, plus a servant.  Alice later went to live with her daughter, Eliza Ashwin, at Burslem, Staffordshire.  Alice died at Burslem on 18th March 1869 and was buried at St Paul, Burslem, six days later.  
It was not until November 1880 that administration of her estate was dealt with as the Reverend Henry Cooper (who died in 1879) had left the will unadministered.  Felicia Cooper died less than five months after her mother, so this left Eliza Ashwin as the only next of kin.  Alice's personal estate was under £50.
Tom Locke – September 2021
Acknowledgements
With grateful thanks to Peter Stewart for the photographs of the memorial inscriptions and for recording the inscriptions before they deteriorated.