Arthur & Beatrice Sears:  Peggy Lewis' memories of her parents
Introduction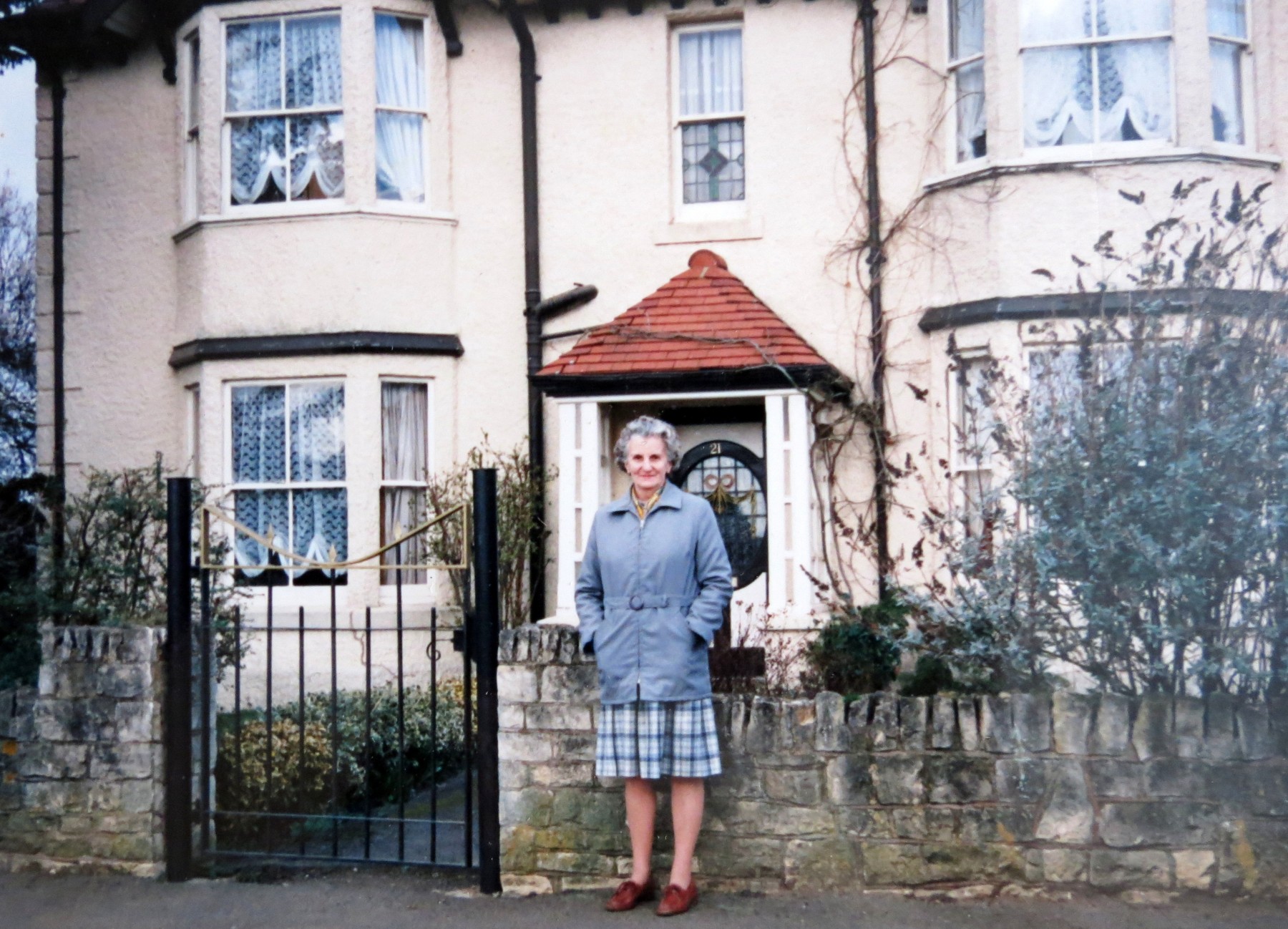 Jean Matson, granddaughter of Arthur and Beatrice Sears, has written this article about her grandparents, based on the memories as told to her by her mother, Peggy Lewis.
Arthur Sears was born on 17th June 1880, the eldest of four children of Benjamin Sears and his wife, Caroline (née Pethard).  The family lived in a cottage by the school (demolished in the 1970s, where 12 School Lane is now situated).  At the time of Arthur's birth, Benjamin was an agricultural labourer but, by 1901, Benjamin had become a market gardener.
Beatrice Alice Evans was born on 18th May 1879, the sixth of seven children of Edward Evans and his wife, Elizabeth (née Matthews).
The Sears Family
Arthur left school at 14 and owned his first acre of ground at 16; he gradually built up his market gardening business. He married Beatrice in 1902 and they came to live at Plas Gwyn, 21 Badsey Fields Lane. They stayed there all their lives. They had four children between 1903 and 1919 (my mum, Peggy, was the youngest).
Arthur built up the business starting with a horse and Dray pulled by Bob, a golden brown horse. He also pulled the plough on the field opposite the house. Arthur moved to lorries which used to take fresh vegetables and herbs up to Convent Garden market. (I assume this moved on to trains in later years.) He dealt mainly in London and South Wales markets, apart from the local ones. He also bought local market gardeners' produce as well I believe.
He was always well until 1945 when he had chest pains and the local Doctor Duncan ordered him rest for three months (coronary thrombosis). It was a big shock for him and no business allowed and he had to stop smoking. He used to love the bacon from the pigs and the faggots and Pork pies that 'mum' Beatrice used to make.
My mum, Peggy, came to nurse him for eleven months. He was allowed to sleep downstairs by the Christmas and later went in the wheelchair to his beloved (black and white painted) summer house in the garden. My mum Peggy said they went to The Lynches (Weston Sub-Edge) on Monday June 17th, his 66th birthday but died on the Thursday June 20th. My mum says he was a wonderful dad and she said she spent many hours when she looked after him driving round the Cotswolds to look at the land he rented. He was cremated at Cheltenham but so many business friends and customers wanted to come to a memorial service that they held one at St James' Church, Badsey. It was packed and my mum remembers the vicar saying that many people had told him that Arthur was a 'Gentle man.' Arthur had two brothers, Frederick (lived at 26 Brewers Lane) and Thomas (lived at Church cottage – now The Little Cottage) in Badsey. His sister Ellen married Ernest Stanley in 1903 but died quite young. The Sears parents lived at 14 Old Post Office Lane.
The Evans Family
Beatrice was born at The Woolpack in Evesham and moved to Badsey to The Laurels after her father's death. Elizabeth, her mother bought land in the area, mum believes, in the area of Brewers Lane/Badsey Fields Lane. During the First World War, Beatrice helped with the Belgium refugees who came to the area.  She took part in many plays in the village and some were broadcast on the radio. She also held fetes in the large back garden at Plas Gwyn and my mother, Peggy, talked about her helping with local children's plays. Beatrice was a member of the Women's Institute. She loved her flowers and took part in the village Flower Show (I have certificates and a medal and a photo of her from Flower Show days).
Beatrice had six grandchildren, all girls.  As a child I remember spending many happy days up at Plas Gwyn and also having to do our 'party pieces' to Grandma or 'Janny' as we called her. I can still now visualise the inside of the house and area. Shame photos were not taken. I noticed the inside on the house now when it went up for sale recently. What a change. Beatrice died peacefully on Christmas Eve at 88 in her chair downstairs. She was buried with Arthur in the churchyard in Badsey.
I have talked to Mary Anderson from the village who is in her late 70s now. She used to be the Saturday girl in the office and help Beatrice in the house. Mary's dad was the gardener and driver for the family.
Jean Matson
August 2018