John Seward (1667-1737) and his wife Mary (1669-1740) raised their seven sons in Badsey. Thomas (1709-1790) was the youngest. In 1723 he went to Westminster School and then to St John's in Cambridge graduating as BA in 1730 and then MA in 1734. He was lucky to have the patronage of the Fitzroy Family and went off on a Grand Tour in Europe as Tutor to Charles Fitzroy. Unluckily in 1739 while abroad the young man died. Thomas returned to an ecclesiastical preferment in the patronage of the Dukes of Grafton. He became Rector of Eyam and later Kingsley, parishes with mixed agricultural and industrial interests in the Diocese of Lichfield.
On 27 October 1741 Thomas married Elizabeth Hunter who was the daughter of Dr John Hunter the Headmaster of Lichfield Grammar School. Nowadays the latter is most well known as the disliked schoolmaster of both Samuel Johnson and David Garrick. There is a handsome portrait of Elizabeth in the Dr Johnson Birthplace Museum in Lichfield. She is charmingly shown in a full face half-length dressed in gleaming pale blue silk. Of the couple's surviving children Anna was born on 12 December 1742 and Sarah in 1744. At this point in his life Thomas was keen on female education and instructed his daughters himself even writing 'The Female Right to Literature' (1748).
The family moved to Lichfield in 1749 as Thomas became a Prebendary of Lichfield Cathedral as well as receiving other preferment such as a Prebendary at Salisbury. He became a 'Canon Residentiary' at Lichfield on 30 June 1755. This was a most prestigious preferment decided by the Chapter of the Cathedral and for which there was much competition. All such Canons were responsible for the daily administration of the Cathedral and all its properties. In 1755 the family moved into the Bishop's Palace on the Dean's Walk in the Close. This was available as the previous occupant the Registrar of the Ecclesiastical Court, Gilbert Walmesley, had died. Gilbert had been a great friend to Samuel Johnson over many years. One might well wonder why the Bishop was not living in the Palace in Lichfield; well at this time and indeed to 1867, Bishops of Lichfield and Coventry lived at Eccleshall Castle, Staffordshire.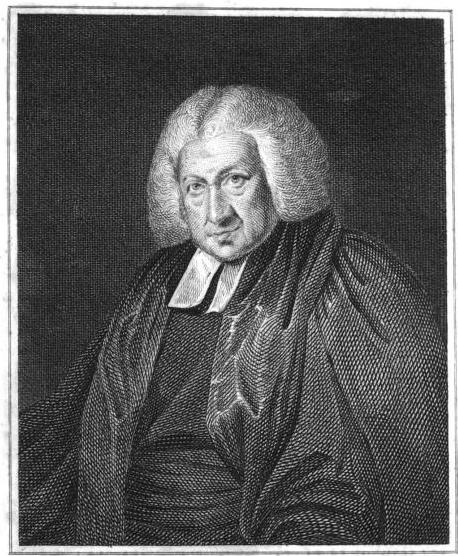 There is a portrait of Thomas Seward painted by Joseph Wright of Derby ARA which is currently only known by the engraving taken from it by RH Cromek. He is shown half-size, three-quarter face in middle age and somewhat stout and jowly wearing a bag wig, gown and clerical bands. His expression is quizzical with large expressive eyes above a prominent nose.     
Shortly the family were joined by a foster daughter, Honora, whose mother Mrs Edward Sneyd had died. The family led a busy life of cultural and intellectual activity marred only by the death from typhus of Sarah in 1764 and a developing conflict between Anna and her worried parents. She wanted a literary life writing poetry and they wanted her to marry and have a family. This Anna was determined not to do though she developed intense romantic attachments to both Honora and a neighbour the Reverend Thomas Day. Thomas Seward changed his views on the value of educating females. Anna had been writing poetry from an early age and now to appease her parents she wrote in secret and in public took up embroidery, music and domestic interests. Thomas meanwhile had a few of his poems published as well as a couple of sermons and had written the preface to and was co-editor of 'The Works of Beaumont and Fletcher' (10 vols 1750). Then Anna reached an agreement with her parents after her sister had died and Honora left home to get married. She also extended her social circle to include a newcomer to Lichfield, Dr Erasmus Darwin. He encouraged her to publish her poems, initially in The Gentleman's Magazine founded by Edward Cave in 1731 and run by him from St John's Gate in London. Tactlessly Darwin mentioned to Thomas that her poetry was better than his, a bitter pill from which Thomas appears to have recovered. Her work included both sonnets and elegies, the most well know being 'An Elegy on Captain Cook' (1780), 'Monody on Major Andre' (1781) and 'Louisa: A Poetical Novel' (1784). It is notable that these were all published after her Mother Elizabeth's death in October 1780. Towards the end of her life she was asked to write 'Memoirs of the Life of Dr Darwin' (1804).  She was a member of local societies like the Lichfield Botanical Society and her literary interests expanded into extensive correspondence with many authors including Robert Burns, Samuel Taylor Coleridge and Walter Scott. She met Dr Johnson on his regular visits especially after 1777 to his native town. Her letters make it clear she did not care for him and even less for James Boswell. Anna Seward became popularly known as 'The Swan of Lichfield'. Her portrait was painted several times, most notably by Tilly Kettle (1762) showing her as poised and calm, seated half-length and garbed in a fur edged crimson gown over a white full sleeved dress and holding a book. She looks remarkably like her Father. Highly fashionable George Romney (1782) showed Anna in half-length as a more animated but equally attractive person wearing gold edged close fitting black sashed with blue and a turban of blue and gold silk set well back on her dark hair. Beside her stands an urn and a book and pen.
Elizabeth Seward died on 4 July 1780 and shortly after Thomas suffered the first of a series of debilitating strokes culminating in his death on 4 March 1790. They left Anna comfortably off leaving her shares and properties so she remained in the Bishop's Palace and continued her literary life. She organised a memorial in Lichfield Cathedral which can be seen on the north wall of the vestibule to the north aisle. It is carved by John Bacon RA in white statuary marble and shows a lightly draped maiden bowed with grief over a funeral urn. Below are details of Anna's parents and her sister Sarah. Following Anna's own death in March 1809 a white marble tablet was added below the main monument as a tribute to Anna with an epigraphio by Walter Scott (Sir). Scott also edited and published 'The Poetical Works of Anna Seward' (3 vols 1810) and Archibald Constable published 'Letters' (6 vols 1811).
Both Thomas and Anna Seward made their mark on the world of the eighteenth century. There is increasing interest especially in her as a poet and an exemplar of women striving to express themselves. Her letters are a major source of information, opinion and gossip. Thomas too is being looked at as part of research into ecclesiastical scholarship and contributions of the eighteenth century clergy to cultural life.
Judith Patrick (BA Hons), May 2019