The most elaborate tombstone in the churchyard of St John the Baptist, Wickhamford, is that of John and Ann Wilson.  It has elaborate decoration, a very long sentimental verse of eleven lines and details of the parents of those buried there. ('Ann' and 'Anne' are the two spellings of her name that occur in the records).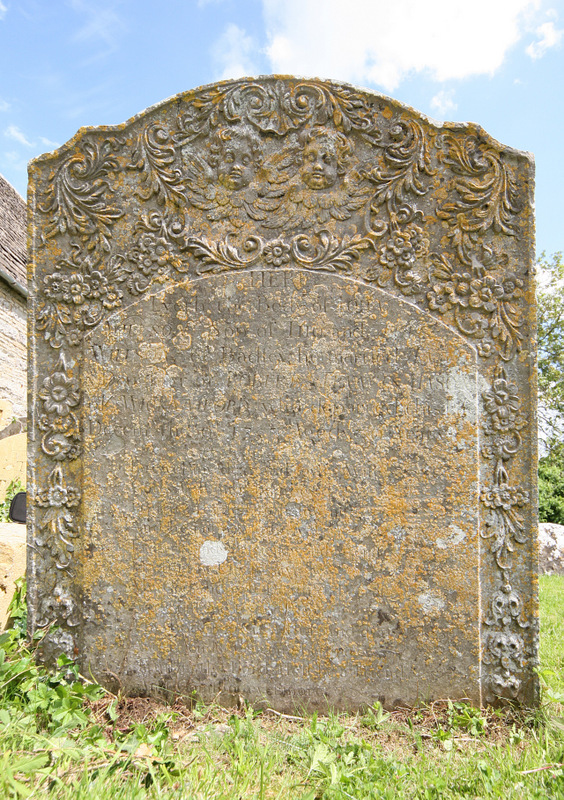 HERE
Lyeth the Body of JOHN
WILSON Son of TOM. and ANNE
WILSON of Badsey, he married ANNE
Daughter of ROBERT & FRANCES MASON
of WICKHAMFORD who departed this Life
December the 9TH 1753 Aged 30 Years.
Farewell my dear and loving Wife,
Gods Will must be obey'd
Prepare thy self to follow me
And be not dismay'd
Friends and physicians did attend
In vain my life to save
My God did call, Death did arrest and sent me to my grave
Thy loss is great, a Husband dear
And friend has gone before
Trust in the Lord, He'll be a Friend
And Comfort ever more.
ANN Wife of the above named JOHN WILSON
Who departed this life, the 21st day of May 1776.
Burials and Wills
John Wilson died on 9th December 1753, aged only 30 years.  The inscription states that he was the son of "Tom. And Anne Wilson of Badsey" and that "he married Anne Daughter of Robert & Frances Mason of WICKHAMFORD".  At the bottom of the tombstone her death is recorded as "ANN Wife of the above named JOHN WILSON Who departed this life, the 21st day of May 1776".  Her age is not given, but she was baptised in Wickhamford on 29th April 1705.  This means that when she died, she would have been aged 71.  As her husband, John, was born in about 1723, she was some eighteen years older than him.  No entry exists in the Wickhamford or Badsey Registers for their marriage, which presumably took place between about 1730 and 1753.  If a late date were the case, Anne might have been past child-bearing age?  No children seem to have been born to this couple, based on information in their Wills.
John Wilson's Will was Proved on 30th December 1753, at Worcester, and Probate was granted to his wife.  His Effects were valued at £940 4s 0d, a very large sum equivalent to many hundreds of thousands of pounds today.   The Beneficiaries were Ann, his wife, Ann Mason, 'sister', (but maybe sister-in-law), four children of his brother-in-law, David Hide (Mary, Daniel, Richard and William) and a niece, Mary Souden. 
Anne Wilson outlived her husband by twenty-three years and her Will was Proved, at Worcester, on 14th September 1776.  Probate was granted to her niece, the same Mary Souden mentioned in John's Will, and her sister, Mary Hide.  The records do not reveal how much her Estate was worth.  The Beneficiaries included William Souden (brother-in-law, who got one shilling) and her servant Stephen Blissard who was left £100.   Eleven other family members were named, but no sums of money remain in the records. 
There is a baptismal record for Stephen Blissard, in Wickhamford, on 25th November 1722 but no other local references to him. Robert and Frances Mason's daughter, Elizabeth, married William 'Sowden' and she is buried in Wickhamford churchyard (died 24th May 1741, aged 31).  Their daughter, Mary, is the niece of Anne Wilson, mentioned above.
Where was the Wilson residence?
Wickhamford Manor in this period was occupied by the Holland family, as tenants of Lord Sandys.  Francis and Mary Holland had been witnesses to Anne Wilson's Will.  Francis Holland was the tenant from around 1760 until his death in 1812.  A document concerning the Wickhamford rents paid to Lord Sandys dated 29th September 1762 still exists.  The annual sum paid by Francis Holland for the Manor and associated land came to £250. 'Mrs Anne Wilson' paid rent for various fields and part fields; those identifiable today are situated on the south side of the Evesham to Broadway road and are between Wickhamford Mill and Field Farm.   The amount Anne Wilson had to pay, for a total of eight pieces of ground, was only £1 5s 0d.  There is no reference in this document to her residence, but a number of village properties are not mentioned there.
Where did the Wilsons' money come from?
John Wilson's parents, Thomas and Ann, both died aged 44 years, in 1727 and 1728 respectively and are buried in Badsey.  When he was orphaned, he would have been only about five years of age.  The Wilson family were certainly wealthy. John's father, Thomas Wilson (ca 1683-1727), was a son of John Wilson (ca 1642-1722), whose brother Thomas Wilson signed a 1,000 years lease on Badsey Manor House in 1677.  
Why is there no record of the Marriage in Wickhamford or Badsey?
As Anne Mason came from Wickhamford and John Wilson from Badsey, a local marriage would be the norm, but neither Church Register records their marriage.  There have always been some people who want to marry in a hurry or in private. The church allowed them to avoid the delay and publicity of calling banns on three successive Sundays by providing, for a fee, a marriage license. One reason for such a course of action was when the parties differed greatly in age.  In the case of John Wilson and Anne Mason, there was an eighteen-year difference in their ages and they may have opted to marry by obtaining a license.
The great majority of such licenses were obtained from the bishop of the diocese in which one of the parties lived and in which the marriage was to take place. The license, although authenticated with the seal of the bishop, was often granted on his behalf by the local clergy.  (A note that the license had been issued was, in some dioceses, made in an act book or register of the bishop's court and the bonds and allegations were generally filed there.)
In 1597 the recommended fee for a license was ten shillings, but Richard Grey, writing in 1730, says that a fee of five shillings was then normal. This would have been the fee at the time Wilson and Mason married.  The applicant took the sealed license to the church where the marriage was to be celebrated as the clergyman's authority to conduct the ceremony. Afterwards, having no further value, it was held for a while among the church records and then destroyed. In view of John Wilson's wealth and Anne Mason's age, it was quite possible that their marriage was arranged by license.
Further research at the Worcester Record Office located an application for such a license on 21st August 1745 and the couple were married, at Cropthorne, the following day.  Their ages were recorded as 22 and 35, which made the difference look slightly less than it actually was.  To add to the confusion the marriage register incorrectly refers to John Wilson marrying Ann 'Wilson' instead of Ann Mason.
Tom Locke – March 2021
Acknowledgements
Thanks are due to Peter Stewart for the photograph of the Wilson headstone and for the transcription of the text.
See also