Hermann Zapula lived in Wickhamford for a while between the First and Second World Wars.  Initially, the only reference found to this was in the Evesham Journal, in a report in 1947 on the funeral of Benjamin Ryle Swift, who had lived at Oxley House, Longdon Hill, during that period.  Nevertheless, Zapula's life story is an interesting one and the known facts are covered in this article.
* * * * *
Early life
Hermann Zapula was born on 31st December 1912 in the Austro-Hungarian Empire, but the exact location is unknown.  He was of a German family, so they probably lived in Austria itself, but if his father was a Government official or in the military they could have lived anywhere in the vast Empire of that time.  Hermann was only a year and a half old when the Great War began, following Austria-Hungary's declaration of War against Serbia on 28th July 1914.
Life in Wickhamford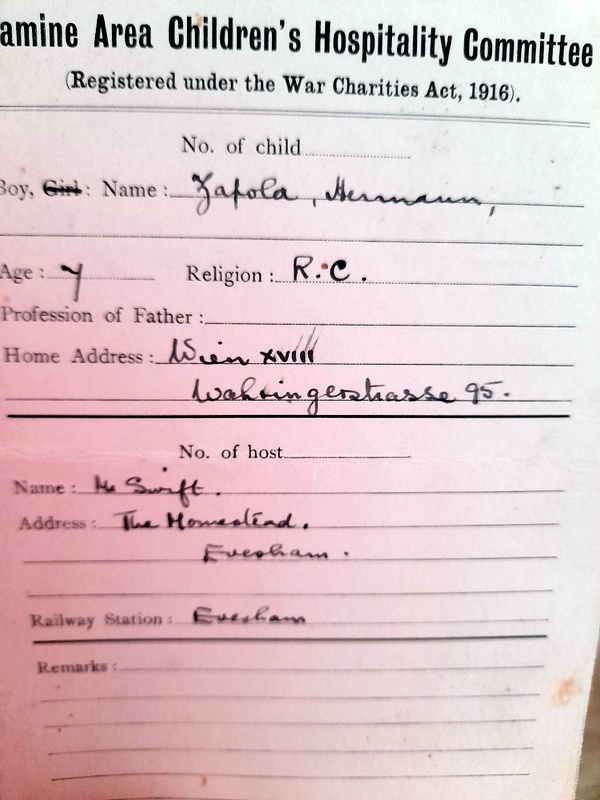 According to a report in the Evesham Journal in 1939, Hermann had left Austria after a great famine affected the country after the Great War.  The matter of this famine was raised in the UK Parliament in December 1919.  Exactly how or when Hermann Zapula arrived in England is not known, but he entered the household of Benjamin Ryle Swift, who had lived at 'The Homestead' – now called Oxley House – on Longdon Hill, Wickhamford, since 1909.  He was a widower and he owned about 11 acres of land. 
The Famine Area Children's Hospitality Committee document gave Hermann's surname spelt as 'Zapola' and his religion as Roman Catholic.  His age was given as 7 years, which means he arrived here in 1920.  His home address in Vienna XVIII district was Wahfinggerstrasse 95.  There was no indication of his father's profession.  When the 1921 census was taken, on the 19th June, there were five Austrian boys recorded as 'Visitors' in Swift's household. The eldest was twelve and Hermann was the youngest at eight years and five months.  According to this record, both of his parents were dead.
It was probably at this time that Hermann came to be called 'Harry', but there is no record of him attending Badsey School.  It seems as if he was privately educated at Benjamin Swift's expense.  How long he remained in Wickhamford is another unknown, but it seems as if he returned to Austria as he reached adulthood.
A Report from Vienna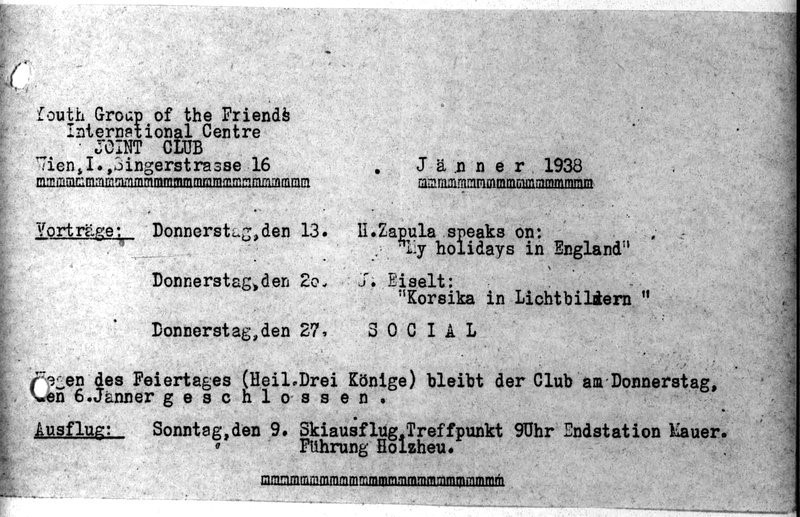 On 13th January 1938, he was in Vienna and gave a talk on "My holidays in England" at the Youth Group of Friends International Centre. Soon after this, the German annexation of Austria - Anschluss - took place on 13th March 1938.  Hermann Zapula was of part-Jewish ancestry and whilst at work, a friend risked his own life by handing him a suitcase with a few belongings and told him to flee because the Nazis were looking for him.
Over a year later, in July 1939, he obtained a passport and, at this time, wrote to Benjamin Swift asking for his help in getting to England.  Swift replied that he would be able to accommodate him for about 6 months, if he could make the journey.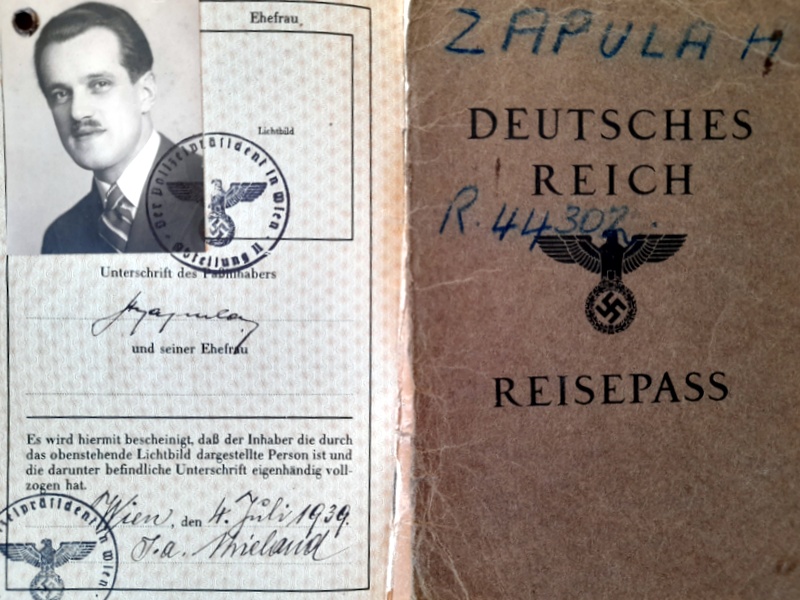 Avoncroft College
Hermann Zapula's name is recorded as a resident at Avoncroft College, Offenham, in the 1939 National Register of civilians that was compiled in September, at the outbreak of the Second World War. He is amongst about sixteen men, with German names, recorded there as a 'Refugee Carpenter Trainee'.  He was aged 26 at this time.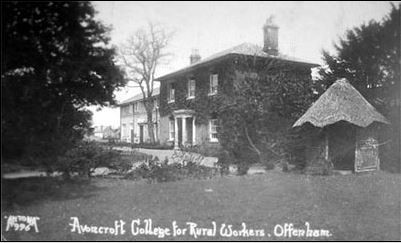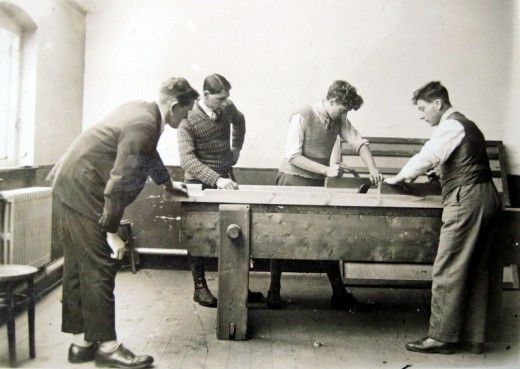 The Tewkesbury Register of 30th September 1939, reported on the wedding of Margarete Valerie Kohn and Eugen R. C. Schaffel at St Mary's Catholic Church, Evesham. Hermann Zapula was the groom's best man and they were both at Avoncroft College as trainee carpenters. The newly-wedded couple had fled to England in 1938 after the German annexation of Austria in 1938. Hermann Zapula was reported to have come to England originally after the Great War during a period of famine, as a child refugee from Austria. He had returned to Vienna a few years later but had now returned to the same part of England for a second time. Miss Kohn's father's business had been taken over by the Nazis and she had come to England and worked for Henry Taylor Horsfield, of Knowle Hill. Eugen Schaffel had worked for Margarete's father in Vienna. At the wedding, the officiating priest, Rev. Lambert Nolle, gave an address in German.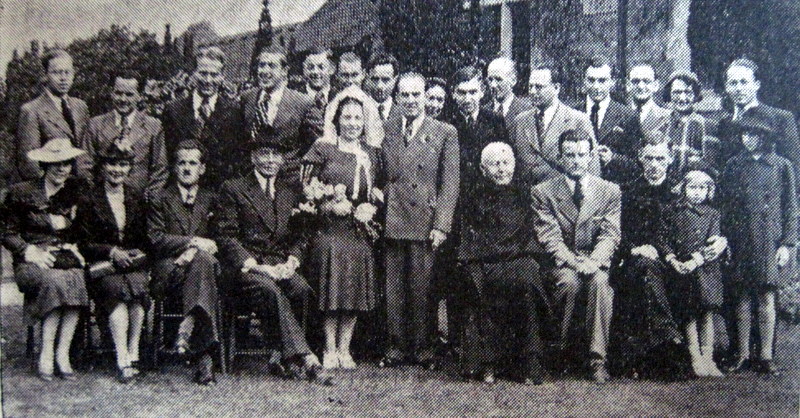 To Canada and back
An index card survives which shows that Hermann Zapula sailed for Canada in the SS Ettrick on 3rd June 1940.  He was not allowed to remain there and another index card, with more details, shows that he was refused entry to that country on 10th October 1940.
The card is titled MALE ENEMY ALIEN – EXEMPTION FROM INTERNMENT – REFUGEE.  It gives his Police registration number as 685212 and his normal occupation as a textile technician.  His 'present employer' was 'Avoncroft College', Offenham, near Evesham, where he was a Carpentry trainee.  Also noted on the index card was the fact that a Tribunal decision of 11th October 1939 meant that he was 'Exempt from Internment', in England.  Canada was very reluctant to accept refugees before and during the War, so he seems to have fallen foul of this policy.  He arrived back in Liverpool 11th January 1941 aboard the SS Thysville, after being refused permission to land in Halifax, Nova Scotia.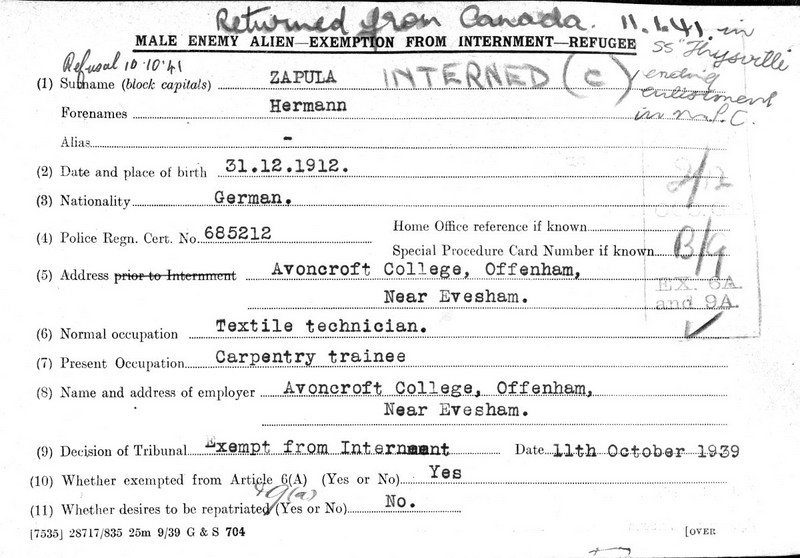 As there appears to have been no Governmental arrangement for the movement of internees to Canada, it would seem as if Hermann arranged his own travel to Canada and was refused entry.  The time when this dangerous attempted move across the Atlantic took place was when Germany was threatening to invade England.  Having avoided them once, in Austria, he seems to have tried to keep one step ahead.
A third index card, bearing Hermann Zapula's name, recorded, on 7th July 1943, 'Release refused'.  He was referred to as 'German' and 'ex-Canada'.  He was interned on the Isle of Man on his return from Canada. The card bears a second date of 1st March 1944, with no explanation as to what this meant, but it seemed to refer to his release from internment.
Post-War records
On 29th November 1946, Hermann Zapula sent a letter to the Under-Secretary of State, Aliens Department, Home Office, accompanying his Application for a Certificate of Naturalisation.  He said that he was engaged to Miss Elizabeth Joan Livingston, born June 22nd 1920 in South Shields, a schoolteacher resident in Uxbridge, Middx.  At present, she was, for health reasons, teaching at Forest School, Guernsey.
A letter in support of his application was sent to the Home Office, on 25th November 1946, by J.A. Milne, an ex-Intelligence Officer.  He gave details of Hermann's activities during the recent War.  He had first met him whilst working in internment camps in Canada in 1940 and subsequently in the Isle of Man.  When Milne left the Army, in 1944, he took a position with the Joint War Organisation of the British Red Cross and Order of St John. There, he met Hermann Zapula again, who was on their staff in the Stores Department and he had been in daily contact with him ever since.  He fully supported Hermann's application.
Hermann Zapula married Elizabeth Joan Livingston, in late 1946, in Paddington, London. He attended the funeral of Benjamin Ryle Swift at Cheltenham Crematorium in 1947, an Evesham Journal report stating that amongst the mourners was Mr Hermann Zapula, 'who, as a refugee from Austria during the 1914-18 War, lived for some years in Mr Swift's house.'  
A letter from Evesham solicitors, Ross Son & Hodgetts dated 27th November 1948, concerned the winding up of Benjamin Ryle Swift's Estate.  He lived at 77 Port Street, Evesham at the time of his death.  He had instructed that the property transferred to his Trustees and sold for the benefit of the Liberal Party, of which he had been a life-long member.  Zapula was approached as one of Swift's legatees, to agree to these arrangements.  This indicated that their friendship remained close right up to Swift's death.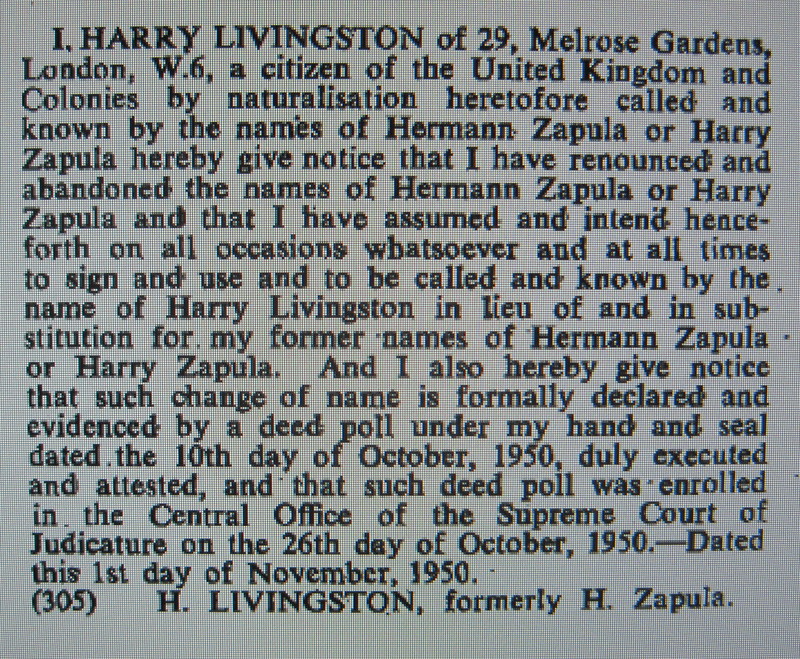 The London Gazette of 7th November 1950 recorded the name change, by Deed Poll, of 'Hermann Zepula or Harry Zepula' to Harry Livingston, which was certified on 26th October 1950.  His address was given as 29 Melrose Gardens, London, W6.  At this time, he was a citizen of the United Kingdom and Colonies. In the same publication of 17th November 1950, this name change is listed and his occupation was given as 'Statistician'.  In the original Certificate of Naturalisation document, there are no details of his father, but his mother's name was entered as 'Elizabeth Zapula, Austrian'.   (The 1939 Register, which was later used as the basis for NHS records, from its foundation in 1948, was updated regularly for many years.  The entry for Hermann Zapula was amended on 12th October 1950, to 'Harry Livingston'. His status as 'single' was also altered to 'married').
After a very adventurous early life, Harry Livingston died, aged 91, in Kingston-upon-Thames, Surrey, on 27th February 2004. His wife, Elizabeth Joan, had pre-deceased him in 1996.  In his retirement Harry very much enjoyed gardening.
Tom Locke – November 2021
Acknowledgement
This article arose from Fiona Moore contacting the Badsey Society Visitors' Book.  She kindly supplied a wealth of information and documents concerning her late Uncle Harry.