Benjamin Ryle Swift was born on 21st October 1866 in Birkdale, Southport, Lancashire. His father, the Rev. Benjamin Swift, was the vicar of that parish and his mother, Georgiana Elizabeth nee Darwin, was a cousin of the naturalist, Charles Darwin. The Rev. Swift baptised his son at St James' Church, Birkdale on 27th January 1867. His baby son's second name was the maiden name of the Rev. Swift's mother-in-law, Jane Harriett Ryle.
Family Ancestry
Georgiana Elizabeth Darwin (1824-1902), was a daughter of Sir Francis Sacheverel Darwin (1786-1859) and grand-daughter of the scientist Erasmus Darwin (1731-1802), by his second marriage, to Elizabeth Colyer. Erasmus had been married twice and had many children. One son, by his first marriage to Mary Howard, was Robert Darwin (1766-1848), the father of Charles Darwin (1809-1882). Georgiana and Charles were first cousins and Benjamin Ryle Swift was a first cousin, once removed, of Charles Darwin. Their lives overlapped by sixteen years, so it is quite possible that Benjamin met his famous cousin at some point.
Rev. Benjamin Swift (1820-1882) had attended Queen's College, Cambridge, and had obtained a degree in 1851. Crockford's Clerical Directory editions of 1868 and 1874 confusingly list him as having a B.C.L. (Batchelor of Civil Law) and a LL.B. (Batchelor of Laws, '2nd Class in Civil Law') in the two editions. He was made a deacon in 1848 and became curate of Birkdale in 1857.
Early Life of Benjamin Ryle Swift
In the 1871 census, in Birkdale, Benjamin and Georgiana Swift were living with six children – Annie, 20; Mary, 19; Rhoda, 18; Henry, 16; Francis, 6 and Benjamin, 4. The family had three live-in servants and Benjamin was Vicar of Birkdale. By 1881, the family had moved to Clifton, Gloucestershire and the only children at home were Rhoda, 28, Francis, 16 and Benjamin, 14. At the 1891 census, Benjamin was 24 and visiting Derby School. Under 'occupation' on this census form he is entered as 'Living on own Means'. Between these last two censuses, Benjamin Ryle Swift attended Corpus Christi College, Oxford (1884-1888).
The Derby Daily Telegraph of 30th January 1884 in its Local and District News column reported on a University Honour:-
"Amongst the names of those who have recently gained classical scholarships at Corpus Christi College, Oxford, appears that of Mr. Benjamin Ryle Swift, of Clifton College, son of the late Rev. B. Swift, vicar of Birkdale, Southport, and youngest grandson of the late Sir Francis S. Darwin, of Breadsall Priory, in this county. Mr. B. Swift's age is several years below the period after which candidates are ineligible to hold this scholarship."
It would seem as if Benjamin had obtained his scholarship at an exceptionally young age and he matriculated (enrolled) on 23rd October 1884. The London Daily News of 1st May 1886, in a section on the Oxford University Honours List, mentions Benjamin R. Swift of Corpus Christi obtaining a Class I in his first year examinations. He obtained a 1st Class B.A. degree in Classics in 1888. The London Standard of 24th June 1892 reported that he was awarded a Master in Arts degree. (Benjamin's older brother, Francis Darwin Swift, had matriculated at Queen's College, Oxford on 22nd October 1883 and was award a B.A. in 1887.)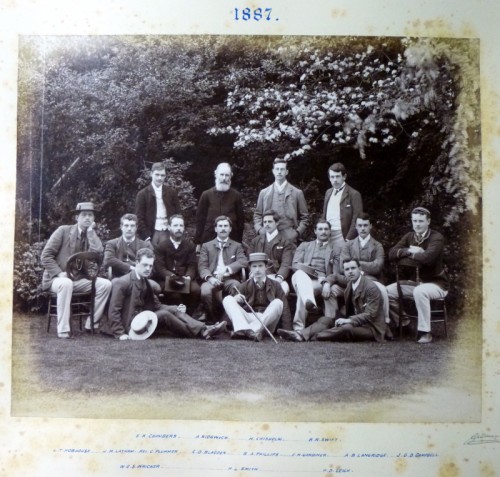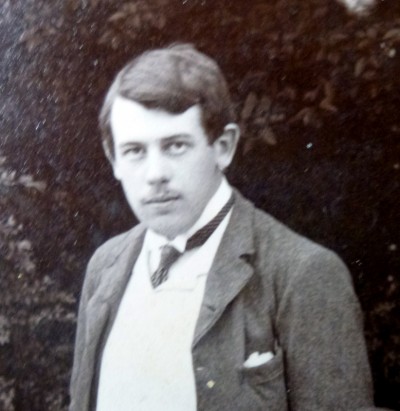 (Photographs by permission of the President and Fellows of Corpus Christi College, Oxford).
In the period 1888-1890 he held positions as a private tutor and temporary Assistant Master at Derby School followed by an appointment as an Assistant Master at Trinity College, Stratford-upon-Avon. From 1892-1894, Benjamin Swift was an Inspector to Devon County Council Education Committee.
For the 1901 census, Benjamin R. Swift, 34, was the head of a small household in Dorchester that included his widowed mother, Georgiana, 77. His occupation was given as 'Secretary to Technical Instruction Committee of County Council'. In fact, he was the first Education Secretary for Dorset, serving from 1894 until 1908.
Benjamin Ryle Swift married Eveline Mary Lock at Holy Trinity Church, Dorchester on 13th October 1909 and at that time his life took a new twist with a move to Wickhamford as a fruit grower. Eveline was the daughter of Arthur Henry Lock (see Appendix), a solicitor in Dorchester (Lock & Son, later Lock, Reed & Lock) and Emma Mary nee Jacobs. She was born on 31st August 1877 at 53 High West Street, Dorchester and educated at Godolphin School, Salisbury. Her father was Mayor of Dorchester in 1887 and 1888 and a friend of the renowned novelist Thomas Hardy, who referred to him as 'Lawyer Lock'. Benjamin Swift would have known the Evesham area from his time at Stratford in the late 1880s but what prompted a complete change of direction in his career, in his mid-40s, is not known.
Life in Wickhamford
Benjamin Swift took over the tenancy of 'Longdon Hill House' (now called 'Oxley House') in September 1909, just before his marriage. He and Eveline, aged 33, were there for the 1911 census and the form gives an indication of the size of the house – eight rooms. By the time of this census, the house name had been changed and was referred to as 'The Homestead' and the Swifts were living there with one servant. He completed the census form and put his occupation as 'Fruit Grower' and was down as an employer. At the Land Valuation Survey in 1912, Benjamin Swift was recorded as having a little less than 11 acres of land, mostly planted with plums – damsons and Pershores. Tragedy came in 1913, when Eveline died after a short illness, aged only 35 years. She was buried in the cemetery in Dorchester. The couple had no children.
During the Great War, Benjamin Swift served in the Volunteer Training Corps and also housed an Austrian refugee, Hermann Zapula, for a number of years.
The next record of Benjamin Swift is in 1924, when his name appears as the occupier of 'The Homestead', Longdon Hill in the Wickhamford Electoral Register. He contested Evesham as the Liberal Party candidate in October that year, at very short notice, but failed to win the seat in a year when there was a landslide Conservative & Unionist victory nationally. The Liberal Party lost 118 of their 158 Parliamentary seats.
The full results for the Evesham Constituency were as follows -
---
Electorate 30,270
        Rt Hon. Bolton Meredith Eyres-Monsell (Unionist)         13,176
        Robert Aldington (Labour)         3,473
        B. R. Swift (Liberal)        3,454
Majority      9,703
Turnout      66.4%
Unionist hold
---
After his brief foray into the Parliamentary lists, Benjamin Swift became Chairman of the Evesham Division Liberal Association throughout the 1930s. At the time of the 1945 General Election he held the post of President of that Association. In 1933 there is a newspaper report of him being Hon. Secretary of the Evesham branch of the League of Nations Union.
In September 1930, the majority of the land and properties in Wickhamford, which belonged to the 'Trustees of the Will of the late Capt. John Pickup Lord', were sold at auction. The Sales particulars refer to 'B.R.Swift' at four points – he was the tenant of 2 Longdon Hill, a semi-detached, 3 bedroomed, house on the Evesham-Broadway Road and its associated plot; he rented the seven acre 'Ann Meadow' by Badsey Brook, and on the opposite side of the road, the 10 acre 'Little Furlong' and one market garden plot in the adjacent field known as 'Little Ground'. He sold 'The Homestead' to a Mr Whiteford on 15th July 1931 and moved to 77 Port Street, Evesham.
During the Second World War, the Ministry of Agriculture carried out a detailed survey to ascertain information on land usage and the state of the fields. In 1941, although Benjamin Swift was living in Evesham, and he had 28 acres land in Wickhamford – 20 acres held for 32 years, 7 acres for 27 years and 1 acre for 14 years. He employed three regular workers and one seasonal worker. On his land he grew blackcurrants, gooseberries, potatoes, Brussels sprouts, cauliflower, parsnips, onions, broad beans, runner beans, peas and asparagus. He had 11¼ acres of orchards and seven acres of permanent grazing. The survey returns also show that he had one horse and a 2½ H.P, Auto Culto tractor. The Ministry Inspector found the land was in good order and was well drained and fenced.
He was a Governor of Prince Henry's Grammar School, Evesham from 1942 onwards, after being appointed by the Hebdomadal Council of the University of Oxford. He was also Hon. Secretary of the Evesham District Aid to Russia Friendship Committee.
Benjamin Ryle Swift survived the War by a little less than two years, dying on 22nd April 1947, aged 80, at The Infirmary, Evesham. His body was cremated in Cheltenham after a service held by the Rev. Jeffreys, Vicar of Wickhamford, and his ashes were scattered in the Garden of Remembrance at Prestbury Cemetery. Those attending his funeral included his employees on his land – John Pitman, James Pitman and James Hallam.
He had been the organist in Wickhamford Church for many years and his friends raised money in his honour to purchase an organ stool, which bears a plaque, and to put money towards Church repairs.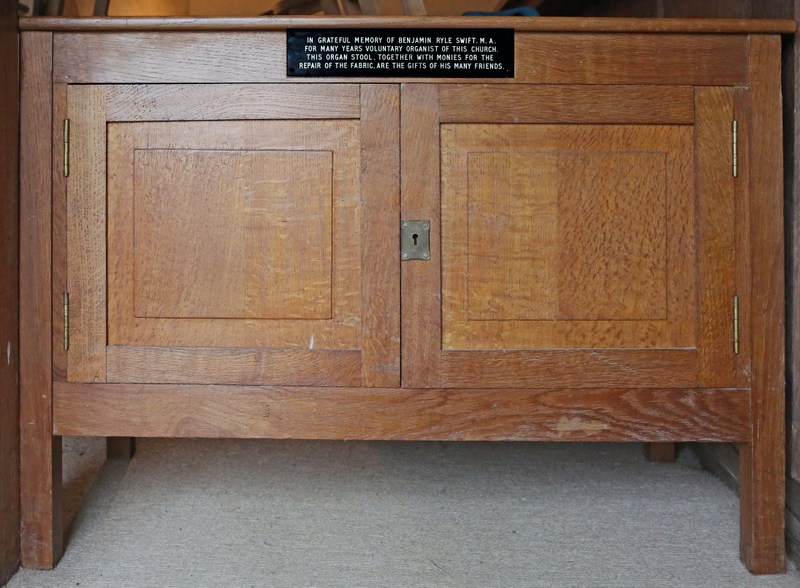 Appendix: The Darwin relations of Benjamin Ryle Swift
Erasmus Darwin (1731-1802) doctor,

natural philosopher, poet, physiologist,

slave-trade abolitionist, & inventor

____________|____________
|                                     |

Robert Waring Darwin (1766-1848),

(son of Erasmus Darwin by Mary Howard)

Sir Francis Sacheverel Darwin (1786-1859)

of Breadsall Priory, Derbys., (son of

Erasmus Darwin by Elizabeth Colyer)

|
|
|
|

Charles Robert Darwin (1809-1882),

naturalist and geologist

Georgiana Elizabeth Darwin (1824-1902)

m. Rev. Benjamin Swift (1820-1882)

 
|
|
 

Benjamin Ryle Swift (1866-1947)
Acknowledgements – Thanks are due to Peter Stewart for the photograph of the organ stool and for giving a lead to the family tree of Eveline Mary Lock and to Julian Reid and Harriet Fisher, the Archivists at Corpus Christi College, Oxford University, for their help and in supplying photographs.
Tom Locke – February 2015