Here is a selection of information and photographs relating to Wickhamford's former pub, The Sandys Arms. We would welcome any corrections or additions. This first photograph shows the pub in about 2007, when it was run for about two years by Mr Khan and included the Monsoon Indian Restaurant.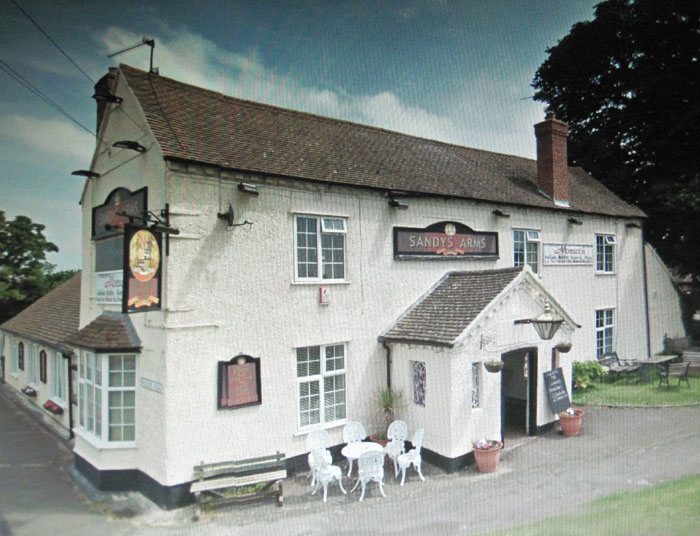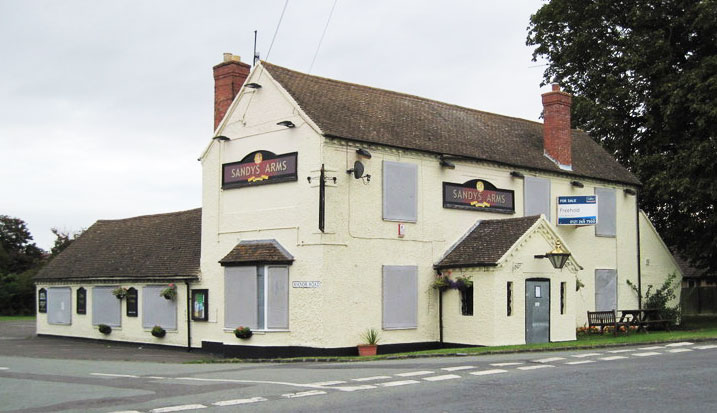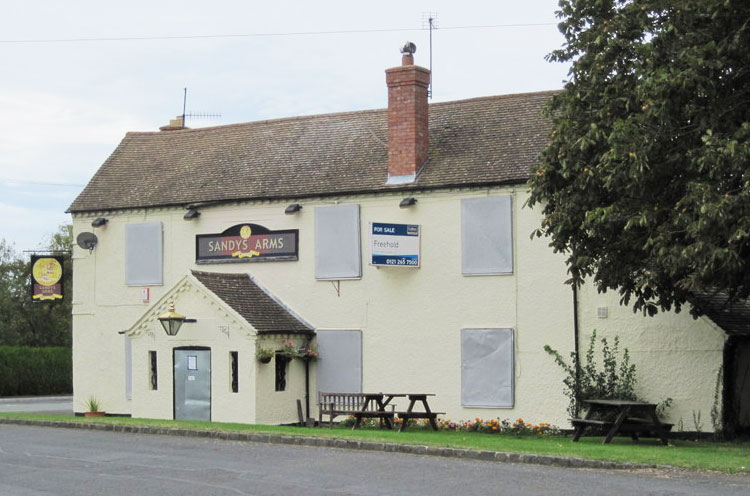 Sadly, in September 2012, the pub was closed, the windows boarded up, and the future looked uncertain.
The building dates from 1833. We know this from a notice that appeared in the Worcester Journal on Thursday 7 February 1833:
NEW HOUSE, SMITH'S SHOP, &c.
At Wickhamford, near Evesham
TO BE LET
To an industrious and respectable Tenant and may be entered upon immediately.
A GOOD NEW HOUSE, with Kitchen, Parlour, Bed Rooms, Wash-House, Pantry, Stable and Yard, with large Garden, and other conveniences; and a new Smith's Shop, adjoining the Turnpike Road, at Wickhamford, about half way between Evesham and Broadway. The Premises are well calculated for a respectable Public House or Shop, and an industrious good Smith, or Carpenter, might have the Business of the Wickhamford Estate. For further Particulars, and to view, application may be made to Mr. Joseph Taylor, Manor House, Wickhamford.
A year later, the name Sandys's Arms was used in a newspaper advertisement advertising a timber action there on 4 February 1834 (see Wickhamford Newspaper articles).
Licensees
Who were the licensees of the Sandys Arms over the years?  The first tenant was almost certainly William Tipping (b. Tardebigge ca 1804), who is listed in Bentley's History Gazeteer Directory of about 1840 as 'wheelwright & victualler, Sandy's Arms'.  He moved out soon after this to farm in Inkberrow, but he had a daughter, Elizabeth Anne, baptised in Wickhamford in July 1834 and two sons baptised there later, Charles in 1837 and Henry in 1939; their father's occupation was given as 'inn-holder'. He died in Inkberrow in 1889. 
John Pethard was then recorded at the inn on the 1841 census (see Pethard Family:  A Top Ten Name). He died in 1849 and his wife, Amelia, took over. She ran the pub through the middle of the century and died in 1891, by which time her son, George Pethard had taken over. He was still in charge at the 1911 census, but died later that year and his widow, Hannah, took over.
Hannah Pethard died in 1925 and before that date Frank Banner became the licensee.  A newspaper report of a problem with a customer in 1912 referred to Frank Banner as the licencee at that time.  He was declared bankrupt in 1927 and the licence probably reverted to the Pethard family.
In mid-1932, Bertram Leslie Ockwell moved in and he and his wife, Margaret, ran the Sandys Arms until a few years after the end of the Second World War. He took over the licence from Henry Jarret Pethard, son of Hannah.
It was then run by Henry Leonard Tigwell and his wife, Edith Mary, for a few years. Len Tigwell died in 1951, but Edith took on the license. 
In 1958, Edith Tigwell passed the pub on to Joseph Harrell and his wife.  He had been landlord of the Swan Inn, Birlingham for 13 years and was  then at the Farmers Arms, Temple Guiting. The Sandys Arms was still in the Harrell's hands in 1963, when Mrs Harrell organised an old people's trip to Bourton, as reported in the Parish Magazine.
It later passed to Bunny Carter and then to Wally Stanley (who was mentioned in the Parish Magazine in 1973 as landlord) and upon his death in the 1980s by his widow, Pat, for a short while. A photograph of the Stanleys, taken in 1984, can be seen at the end of this article.
After Pat Stanley left, the Sandys Arms was taken over by David "Somerset" Maugham.
The next pictures were lent to us by Mary Richmond, who is the daughter of Margaret and Bertram Ockwell, who ran the Sandys Arms pub from about 1932 to 1948.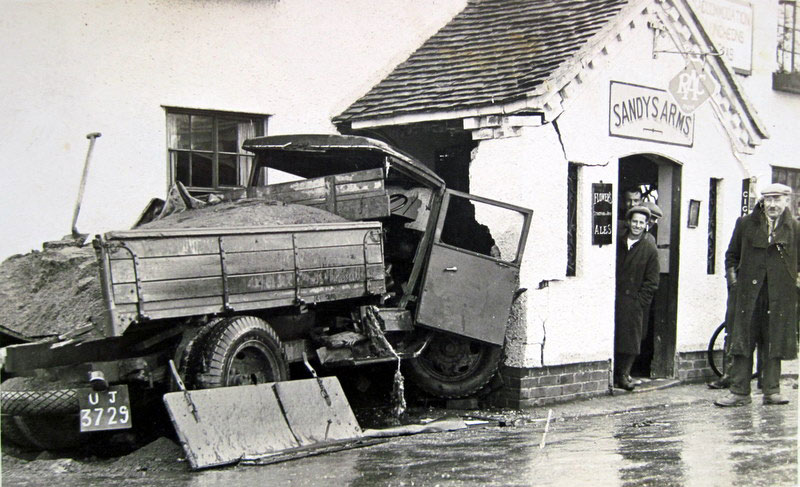 An accident at the Sandys Arms, probably in 1936, with Mr Figgett in the doorway and Frank Halford outside. An article in The Gloucestershire Echo of Wednesday 1 April 1936 seems to refer to the same incident -
LORRY'S SWERVE
Hotel Porch Demolished At Wickhamford
A lorry driver had a narrow escape from very severe injury early this morning, when the vehicle he was driving in the direction of Broadway suddenly served across the road at Wickhamford and demolished the porch at the Sandys Arms Hotel. The driver of the vehicle, who was conveyed to Evesham Hospital in a semi-conscious condition, is at present unidentified. Fortunately he was not seriously injured. The cause of the collision is unknown. When the Evesham ambulance arrived at the scene, the man was hunched up in the driver's cab. The windscreen of the vehicle was smashed. The lorry is owned by a Wellington firm.

[The following day the driver was identified by the newspaper as Harold Vaughn of Wellington.]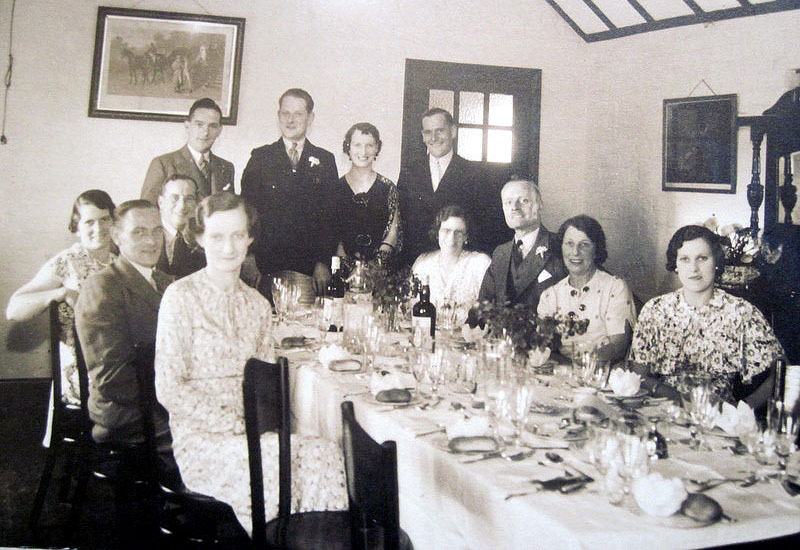 A party in the Tea Room of the Sandys Arms (1940s?). Possibly arranged by Mr Mansell (man standing in centre) of the builders, 'Wheeler and Mansell'.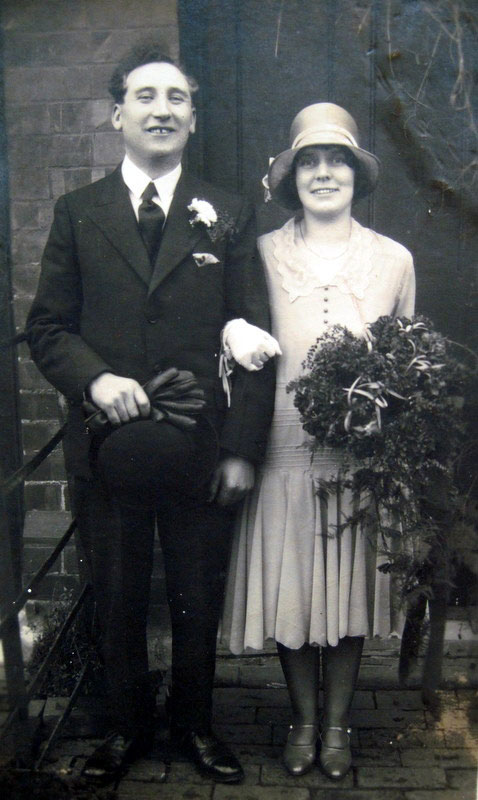 A Wedding Day photo of Margaret Kathleen Careless and Bertram Ockwell (20th January 1930).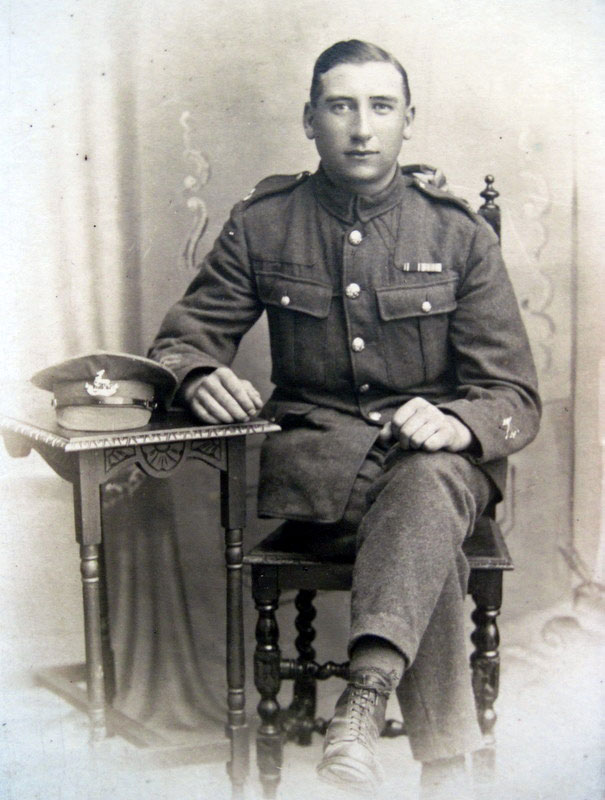 Bertram Ockwell in the Great War.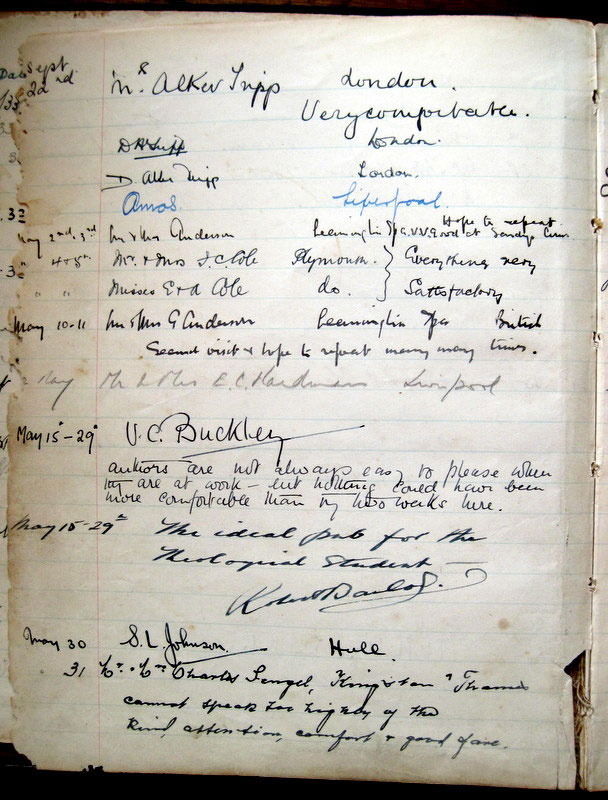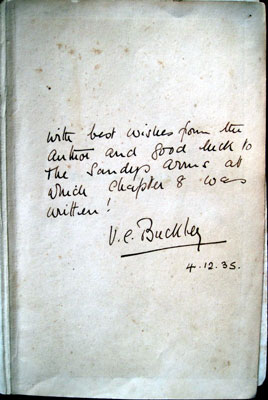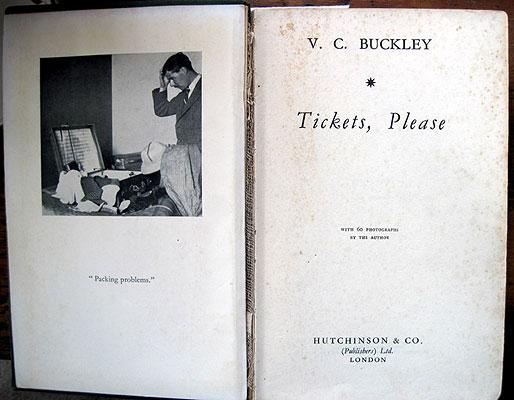 A page from the Sandys Arms visitors book from 1935, including an entry by the author V. C. Buckley, in May. Below, his book with a dedication in the front, to the Sandys Arms.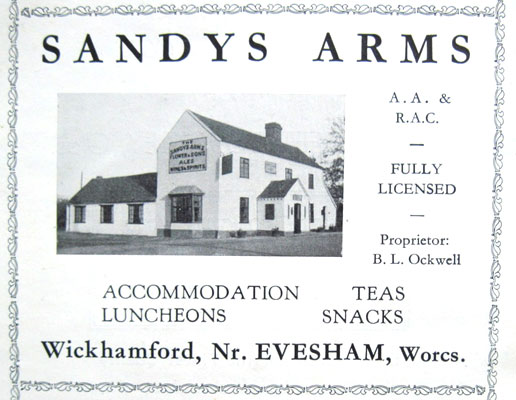 An advert for the Sandys from an Evesham trade publication in 1937 (sixth edition).
---
These next pictures were lent to us by the daughter and granddaughter of Millicent Gertrude Pethard. The Pethards ran the Sandys Arms for many years.(roughly between 1841 and 1925).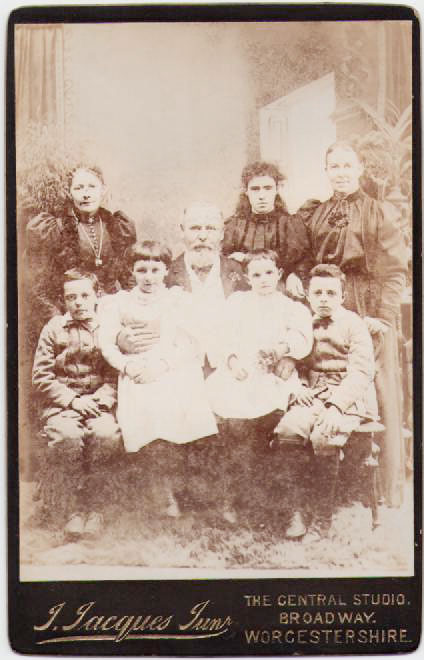 Back row, left to right, Hannah Pethard, George Pethard, two unknown women who are supposed to be a servant and a friend, although they might be family. Front row, Pethard children left to right, Henry Jarrett, Millicent Gertrude, Florence and Vernon.  Millicent later recalled that before this picture was taken, Florence had got some scissors and cut her own fringe !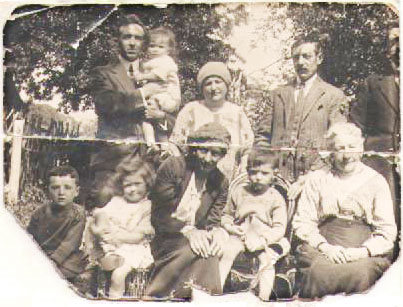 This Pethard picture is a little later, about 1923. Millicent Gertrude Pethard is in the middle of the front row.  Reginald C. Meaton, Millicent's husband, is holding their daughter, Edith Banner is next to him, in the hat, and Jarrett and Vernon (half obscured) Pethard are also in the back row.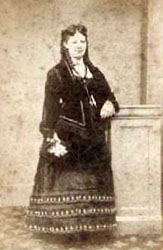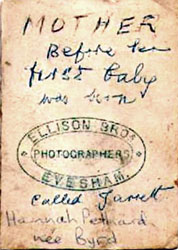 This is one of the earliest photos we have been lent. It is of a young Hannah Pethard nee Byrd taken, according to the script on the back, before the birth of her first child, Jarrett (born 1884).  Her daughter, Millicent Gertrude, described her mother as "a small woman who loved clothes".
---
These next photographs of the Pethard family were lent to us by Elizabeth Trenchard of Somerset. There were two groups of Pethards in Wickhamford in the 1891 to 1911 period. George Pethard (son of John Pethard and Amelia nee Jarrett) took over the running of the Sandys Arms from his late mother and kept it until he died in 1911. He was twice married. Firstly in 1860 to Mary Ann Slatter and they had at least three children, the last being Edward John Pethard b. 1868. Mary Ann probably died as a result of the delivery. George then married Hannah Byrd and had a second family - Henry Jarrett, Vernon Joseph, Millicent Gertrude and Florence Mabel. After his death Hannah ran the pub until after the Great War.
Photos of George's second family are shown above. These are pictures of .George's first family.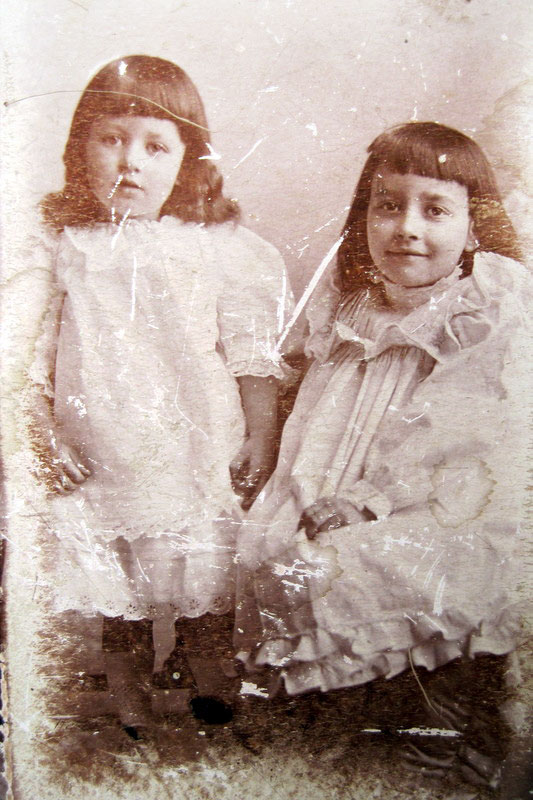 Edward John Pethard's first two daughters, Priscilla Marjorie (always known by her middle name) and Violet Lillian taken around 1904.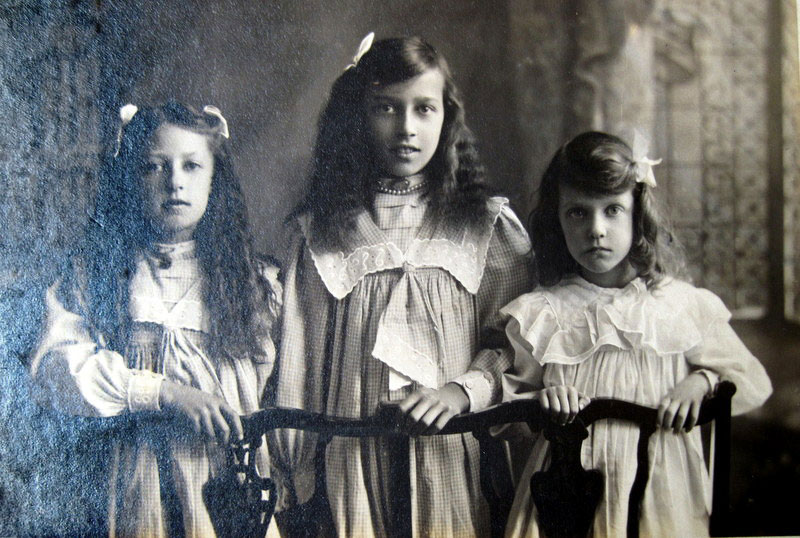 All three girls in about 1910, Priscilla Marjorie (left), Violet Lillian (centre) and Nancy Kathleen (right). Marjorie married Tom Collett; Violet married Cecil Ward; Nancy remained unmarried.

Edward George and Annie Georgina Pethard (nee Smith) with their grandson, Tony Collett, ca 1926.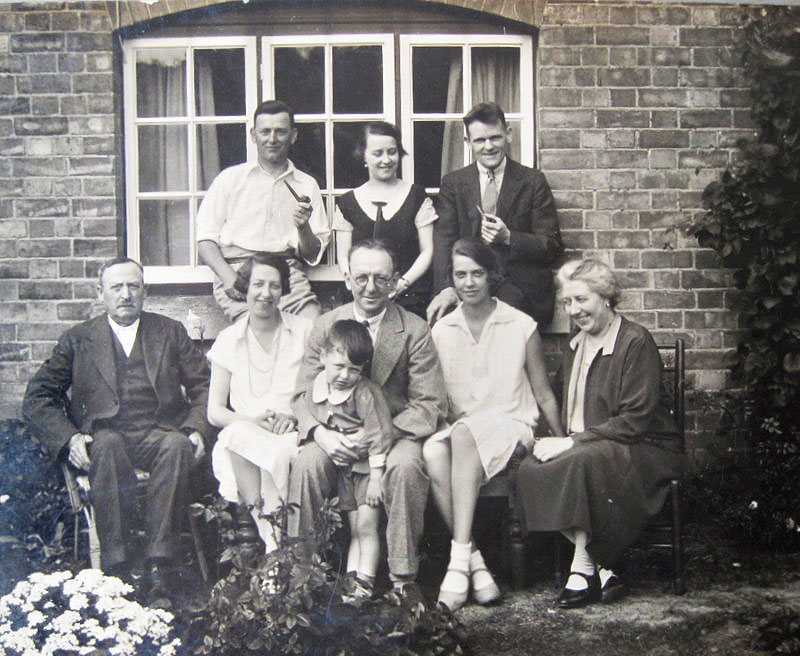 A family group around 1930. Back row - Cecil Ward, Violet Ward, Tom Collett. Front row - Edward George Pethard, Marjorie Collett, an unknown man holding young Tony Collett, Nancy Pethard, Annie Georgina Pethard.
---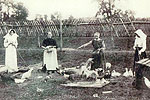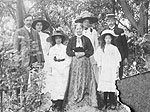 ---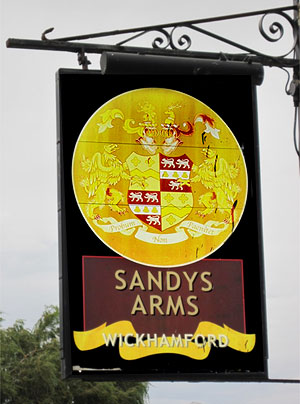 The Sandys family motto is Probum Non Poenitet, which means 'The honest man has nothing to fear'. The Sandys family bought the Wickhamford estate in 1594 - 14 properties, a mill and 1,100 acres of land - and sold it in 1868. This sale document is probably the first record of the inn being called The Sandys Arms.
---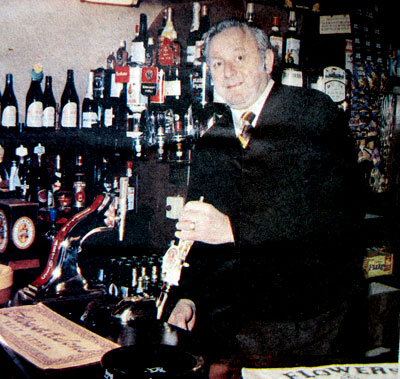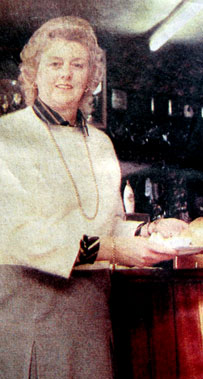 These pictures come from an article in the Evesham Journal on 26 January 1984. They show Wally Stanley and Pat Stanley, who took over the Sandys in 1972. Pat's mother Mrs Edie Marles, ran the Angel in Evesham before retiring in 1972. Her uncle, Bill Brewer, ran the Gate Inn, Honeybourne until 1978. Her cousin, Ken Brewer, ran the Swan Inn, Evesham for nine years until the late 1970s.
---
Compiled by Tom Locke and Val Harman.
See also