Contents
1: From Willesden to Badsey
2: Pigs, cider and Fred Wheatley
3: Darts, pubs, watches and the Vincent family
4: Building work, National Service and the Culls
5: The Cockertons
6: Masty Farm
7: Married life
8: F C Jones
9: Josephs factory and self employment
1: From Willesden to Badsey
My name is Roy Edwin Page – I am writing this in the hope that younger people and future generations will be interested in my experiences of life in Badsey over the last 60 years from 1948 to present day.
I was born in Willesden, London in 1931. I was the eldest of a family of three boys and two girls. My father was a general labourer with very little work during the 1930s which meant a very poor existence for my mother and her children.
During the Second World War my father went into the army and my mother worked in a munitions factory. When the bombing got bad all of us children were sent to three different parts of the country, between 1939 and 1944, as evacuees. At the beginning of the war I was 8 years old, my sisters were 6 and 4 and my youngest brother was 3.
I had two or three jobs after I left school in 1945 aged 14 and it was when I was 17 and in between jobs that an uncle of mine asked if I would like to have a couple of weeks picking plums for a friend of his called Ted Wheatley. I agreed and duly arrived at Evesham station on a Saturday in August 1948.
Fred's brother Ted was waiting for me at the station in his 1938 Standard 9 – I remember him driving down Bridge St and over the bridge, the sun shining, and me thinking 'this is a nice place'.
We arrived in Badsey at the Poplars farmhouse which was next to Seward House. The house had a barn, stables, pigsties and a slaughter house (Nos 22 and 22a The Poplars now stand on the site).
Fred was waiting outside in the yard along with granny Wheatley, Enoch, Jim and two or three other members of the family – Fred had 12 brothers and sisters so it was just as well that The Poplars had 8 bedrooms.
I was taken into the farmhouse through the kitchen and I could not believe my eyes. It was a very large room with a flagstone floor and in the middle was the biggest table I had ever seen – big enough to seat all 15 of the Wheatley family. Hanging from the ceiling were about five or six large hams, a side of bacon was hanging on the back door and on a side table was a large dish of eggs. A few days later I saw Granny making bread and turning a small churn making butter with the milk from a Friesian cow that was kept in the orchard. When Fred gave me a tot or two of home brewed cider a few days later, after living on war rations in London, I knew that this was to me 'paradise on Earth'.
I had to sleep at the Poplars for a few nights because the room at Fred's house (23 Brewers Lane) was not ready. The bedroom, like all the rooms, was big with a double bed, wardrobe and washstand. I remember thinking to myself that after a long day travelling etc. it would be nice to get some sleep but to my shock the mattress was filled with straw. This not only made a crunching sound every time I moved but was quite uncomfortable with bits of straw poking through. It would have been better if I had worn pyjamas but I didn't have any!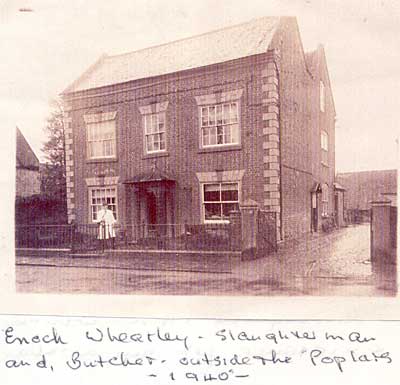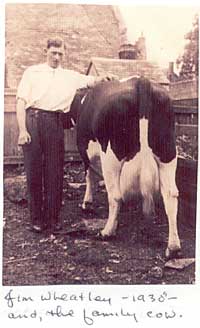 In the morning (Sunday) Fred came banging on the door saying "Come on its 6 o'clock you can't stop in bed all day there is work to be done". So I dressed and went downstairs for breakfast which turned out to be the best I had ever had. Fred had cut some rashers from the side of bacon and fried them with three or four eggs and some tomatoes. Along with homemade bread and butter it was amazing!
After breakfast Fred took me out to the orchard at the back of the house with a ladder, a peck basket and leather belt which was put through the handle of the basket and then fastened around my waist. He took me to a tree full of Pershore Egg plums, showed me what to do and then left me to it. I soon got the hang of things and really enjoyed the sunshine and the company of the other pickers. I earned £10 in the first week which was really good because at that the weekly wage for an agricultural worker was about £4.50. We picked Pershore Egg plums; Victoria's and finished with Damsons in September. By this time I knew this was the life for me and wrote and told my mother that I would not be going back to London, although I found later that market gardening was not all sunshine and big money!
I was along at Claybrook, along Bretforton Road, on my own one day when something happened which taught me that there is a right way and a wrong way to pick plums. I was up a ladder with a full basket hanging on my belt when I reached out for a few plums at the end of a branch – a big mistake. I went one way and the ladder went the other. I shot into the middle of the tree and my leg got caught in a fork in the branches. I found myself upside down with my head about one foot from the ground. I had wrenched my ankle and taken the skin from my shin. The basket which was still full of plums was pressed against my face. I shouted for help but of course there was no one else around so I waited for a little while until I got my breath back before I could extricate myself. I decided that that was one lesson learned and I would not be plum picking again unless there was someone else around.
After the plums season had finished I agreed to work on the ground for Fred – bean picking, parsley cutting etc. My weekly wage dropped to £2.80 a week but I was still having good food and cider! The one job I enjoyed and became one of my favourites was digging out asparagus beds. The end result was always good to see and the physical effort meant that you slept well.
Fred owned the land where the Green Leys estate is now built and where we have lived since it was built 51 years ago.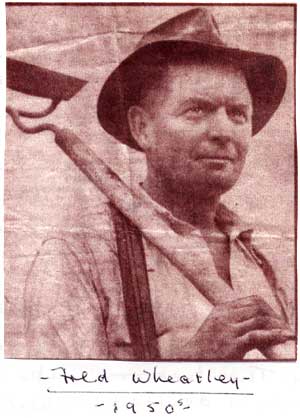 People in the village always spoke and passed the time of day, something that never happened in London of course. One person who always spoke was a young lady who visited her grandparents (Lewis and Eliza Vincent) in the house next to where I lodged. Her name was Mary Cook, her mother was Nora Cook nee Vincent. It turned out that we were both 17 years old, I was born on 1/07/1932 and Mary on 2/07/1931. Her father was a sailor from Bristol – he died on 17/08/1939 when his ship, HMS Courageous was sunk by a German U-boat in the Bristol Channel. We started going out together and after courting for four years we got married at Badsey church, both aged 21, on the 1st day of spring 21st March 1955.
Mary and her mother lived at 2 Mill Cottages (now 48 High Street) and I have fond memories of great meals and lots of TLC which, after being moved around during the war, was very much to my liking.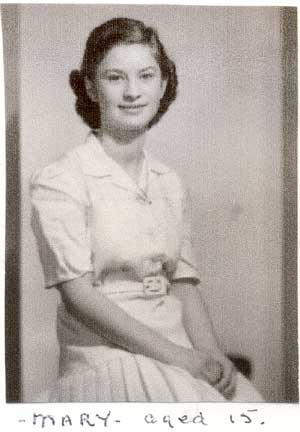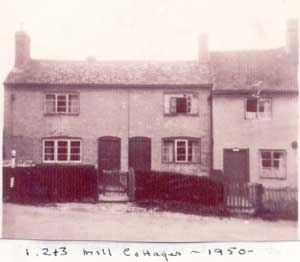 Going back to the subject of work and Fred Wheatley – when there was no work on his land during the winter of 1948, we went sprout picking for Fred's brother Charlie who had a farm at Bretforton. Charlie grew a lot of sprouts on the Cotswolds and employed about 20 to 30 sprout pickers. Fred's nephew, Pat Wheatley, would go around the villages picking up people on his flat bed lorry. It had a canvas cover on the back which kept the wind off us but not the cold so as soon as the lorry reached the field we soon jumped off the lorry and got to work to warm ourselves up! Sprout picking was a cold, wet, back-breaking job but a good picker could treble his week's wages if he worked hard.
The first day I picked 27 nets (20lb in a net) and was paid one shilling and a penny (6d) a net - £1.50 for the day. I thought I had done well until Pat asked each man how many he had picked. I realized I had picked the least, most had picked 40 or more. One chap, who looked as though he couldn't pick a sprout from a plate let alone a plant, had picked 60 nets! To add insult to injury some of the men had declared more nets then they had picked and when Pat counted the nets he was 20 nets short on the lorry so he docked one net from each worker which meant that I ended up only being paid for 26! Another fiddle some of the pickers got up to was to put a stone in the middle of the net, Pat even found a horseshoe in one when he did a spot check one day. It got so bad that after a while they gave everyone personalized tickets to be put in each net so that they could be traced back.
We picked up five or six Polish chaps every morning from a displaced persons camp at the top of Broadway Hill (Springfield). They were great workers and top sprout pickers, coming from a country with very cold winters helped – I suppose!
There was an incident one day concerning one of the Poles that sticks in my mind. We were sprout picking when a tremendous great thunder storm hit us. We all dashed for the lorry, piling in on top of each other, soaking wet. Pat shouted "Everyone on board" and after a quick head count we replied that everyone was. Pat quickly drove the lorry from the field before it got stuck and drove down from Rollright dropping off people as he went. It was only when we got to the displaced persons camp at Broadway we realized that one of the Poles was missing. Pat had to drive all the way back to the field at Rollright where we found the chap sitting in a chicken shed at the side of the field, shaking like a leaf and in a terrible state evidently frightened of the thunder. We all thought it was quite funny but sometime later we were told that, like most of the Poles, he had had a bad time fighting the Germans in Europe during the war and was suffering from shell shock.
2: Pigs, cider and Fred Wheatley
Cider was drunk by most villagers in those days and Fred used to make it in a mill in Aldington. The Wheatley's owned most of the orchards in Badsey. The land now covered by Green Leys, St James Close and The Poplars were all fruit trees. Fred had a yard, called Jinkes (now The Drift in Old Post Office Lane) where he had a pigeon loft, a greenhouse and some sheds containing 120 gallon barrels full of cider. On a wet day Fred and his mates would sit in the greenhouse playing cards and I would have to dash out to the shed every so often to bring back a jug of cider.
I remember the first time I went picking up apples for cider (Autumn 1948) I left all the rotten ones on the ground until Fred came along and told me that everything was used for cider making!
The mill at Aldington had a press and a scratter which was a box about 6ft long, 2ft wide and 4ft deep. Inside there were three or four rollers covered in metal spikes. The apples were put in the top, the rollers then turned with a handle at the side and the apple pulp came out of the bottom. This was then put into the press which was about 3ft square. It had a press bed on to which a coarse hessian mat was placed and about 6 inches of the apple pulp was put onto this. The corners of the mat were folded over and another mat was placed on top and this was filled with the pulp in the same way. This continued until the stack was about 3ft high then the press was screwed down by three men using a 6ft handle until the stack was about 1ft thick. The cider ran from the bottom of the press into a stone trough set into the floor. The cider was taken out with buckets and funnelled into barrels.
A barrel of cider was always left in the corner of the mill each year for the cider makers to drink the following year. We had our own china mugs (tots) which were made from a sheep's horn. Cider was never drunk from glasses – they were for beer!
Bill Harwood, an old land worker, sat in the corner and doled out the drink when we wanted it. He was a grand old man who told good stories and jokes so it was a shock one morning in 1948 to be told that he had drowned himself in Aldington brook. He was in his seventies and it seems that his wife had been ill for some time and he had got depressed about it.
Most of the land workers in the Vale drank cider and most had a couple of small barrels in the back garden shed and took it and drank it while at work. Fred sold cider to them for 2 shillings and 6 pence (12p) a gallon while at the pubs it was 3p a pint! He delivered it using a 1937 Rover 14 towing a large barrel in a trailer. He used a large rubber tube to siphon it into two buckets and as Fred got a mouthful every time he siphoned it the old car wondered around along the road quite a bit. It was a good job there were no breath tests in those days! I was standing in the trailer one day when Fred had to stop halfway up Bridge Street bank in Evesham. As he pulled away he made a hash of the gears and everything, including me in the trailer, started rolling backwards towards the river. Fred managed to regain control but from then on I was always ready to 'abandon ship' (trailer) if the need arose.
I acquired quite a taste for local scrumpy and I do believe that if I hadn't gone into the army in 1949 – I would have been seen staggering around the village in a purple haze for the rest of my life!
The 12 months that I worked for Fred Wheatley was quite an experience. Fred was a real character and he was either telling you what a great chap you were or swearing at you left, right and centre, he had quite a temper. He was always short of money and very often wouldn't have enough money to pay me on a Friday and I would have to wait until he sold some produce at Evesham market. When he did have money he would get the car out of the barn and fill it with petrol, drink beer, treat everyone in the pub and smoke cigars. When the money ran out he would get back on his bike, drink cider and smoke Woodbines!
I remember once when I was in the car with Fred and we were going past 'The Wheatsheaf' when he suddenly stopped the car in the middle of the road and jumped out saying "I'll be back in a minute". I was left in the car with the driver's door wide open and the engine still running. Fred went round the back of the pub and in a couple of minutes came back rubbing his knuckles saying "I've been waiting to catch that bugger". Evidently he had seen this man going into the pub but I never found out who he was but he must have been very sorry that he had upset Fred.
Another time Fred fell out with his brother Bill, who was a market gardener along the Bretforton Road and challenged him to a fight in the orchard which is now where St James Close is. They hammered six bells out of each other and they both must have been pretty sore afterwards. Fred was a great lover of funerals and when someone in the village died he would dress up in his best suit and black bowler hat and go along to pay his respects and enjoy himself.
Fred was also a keen horseracing fan and he was the local bookies runner on race days. People would come to the house in Brewers Lane with their betting slips and money and Fred would then take them into the bookie in Evesham but before he went he would go through the slips throwing out the ones that he thought would not win and put the money in his pocket. On Grand National day 1948 Fred came unstuck because an outsider won and he had to pay out on all the bets he had kept. He was not a happy man!
Fred lived with his wife Phyllis and three daughters Josie, Margaret and Janet at 13 Brewers lane and, while I lodged there, I had the back bedroom. Sometime in the 1950s they moved to a cottage down Claybrook where Fred had a plum plantation and 3 or 4 acres of land. I wasn't there at the time, but one day Mrs Wheatley walked across the lounge and got to the doorway and she heard a rumbling sound behind her. She turned around to find the carpet sagging in the middle with the heavy furniture, which was standing on the edges, stopping it falling into a large hole which turned out to be an old well. The well had been capped with timber and soil which had rotted away. The well was about 20ft deep with 6 to 10ft of water at the bottom. She was a very lucky woman that day I would say!
Another story I like to recall concerning Fred was something that happened on New Year's day 1949. A few of the Wheatley family, friends and also myself had spent the evening at Granny Wheatley's house (The Poplars). Everyone eating, drinking and playing cards until midnight. After wishing each other "A Happy New Year" we all set off home. When we got into the yard Fred said "I didn't feed my two pigs when I came here earlier" (He had probably forgotten due to his cider intake that day!). So he threw them a few armfuls of scrap vegetables that were down by the sty and then we went home to 23 Brewers Lane to bed. The next morning when we went to the yard Fred suddenly shouts "What the hell have these pigs been doing? They're covered in blood" but upon closer inspection it wasn't blood it was beetroot juice from a big old beetroot which was among the vegetables that Fred had thrown into the sty the night before. The pig's snouts and forelegs were covered in beetroot juice! Fred came in for a bit of ribbing at The Wheatsheaf when they found out he didn't know the difference between blood and beetroot juice!
While I worked for Fred I was introduced to one job which was quite a shock and that was pig sticking! A man named Elgar Hartwell ran the butchers shop that was in a thatched cottage opposite The Wheatsheaf (a house called The Rock now stands on the site). Mrs Hartwell used to make faggots and pies for family and friends and one day the landlord from the pub told her that the smell from her cooking was driving all his customers crazy and was there any chance she could make some for him to sell. This was so successful that so began the start of a full time butcher's business. Some years later they moved to a building in the High Street which is now converted into a house called "Greystones".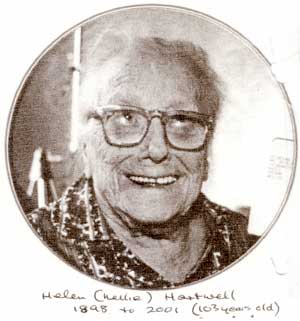 Elgar became very adept at pig killing and when anyone in the village had one to be turned into bacon etc then it was Elgar who was called to the job. He would kill the pig then take it back to the shop where he cured the sides of bacon and hams.
One day Fred announced that one of his pigs was ready to be killed (they usually weighed about 10 score, 200lb, when ready to kill) and he asked me to give him and Elgar a hand. We went to The Poplars where a pig bench (about 5ft long, 18 inches wide and 18 inches high) was bought out into the yard. When Fred fetched the pig from the sty he told me to catch it by the back legs whilst he held the front. We tipped it onto its side on the bench and Elgar came forward with a curved blade about 8 inches long. The knife was stuck into the pigs' neck down into its heart which killed it instantly. What I wasn't prepared for was the pigs' reaction as Elgar started! Its back legs shot out catching me in a very sensitive spot, the pig took off as if it was jet propelled and I fell backwards into the muck in the yard. Fred meanwhile stood there laughing his socks off – I swear he knew what was going to happen. Anyway the next time I was called upon to help stick a pig I made sure I had a good hold of the pig!
A pig provided a tremendous amount of food like bacon, ham, sausages, pork meat, brawn, trotters and chitterlings. Even the bladder was blown up for the kids to use as a football. They say the only thing that can't be eaten from a pig is its squeal! Keeping animals for home consumption was the norm when I came to Badsey in 1948. Goats were tethered along the grass verges and geese, ducks, chickens and rabbits were kept in back gardens. People killed the small animals themselves but relied on people like Elgar to sort out the larger ones.
So along with home grown vegetables food bills were quite small. There were no Tesco, Morrisons etc and dining out was only for the well off. Fred's mother and father, Lucy and Horace Wheatley had a butchers shop down the Bewdley in Evesham before coming to Badsey and opening a butchers shop in the cottage next to 'Oakley House' in Old Post Office Lane. They then moved to 'The Poplars' when the family got too big, using one of the front rooms as a shop. Horace delivered meat etc to surrounding villages by horse and cart and was evidently a very astute business man who provided well for his large family. He had land and property in Evesham as well as Badsey. 'The Poplars', St James Close and Green Leys Estates were all built on land he owned. The local council presented Mrs Wheatley with a compulsory purchase order for the Green Leys land (then known as 'Jinkes') in 1953 paying her £665. What would that land be worth today?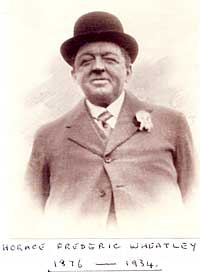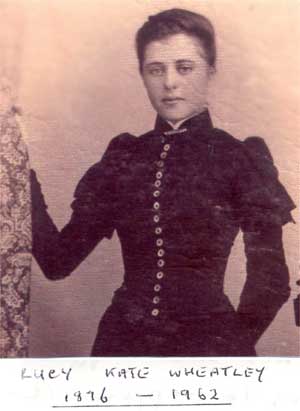 Horace Wheatley died in 1934 at the relatively young age of 58. Apparently he was away at a market with Enoch buying cattle when he had a stroke from which he never recovered. His son Ted once told me that his father ate large amounts of meat and at any time of the day. Whenever he came into the house he would put the frying pan on to cook some so this must be assumed that this was his undoing.
3: Darts, pubs, watches and the Vincent family
During the winter of 1948 – 49 I was chosen to play darts for The Wheatsheaf. I remember that we didn't win much but it was great fun. Darts matches were very important in those days and when one was being played the marker would call for silence and everyone in the pub would keep quiet until the game was over. I couldn't see that happening in a pub today!
We used Pat Wheatley's lorry at times to get to the matches as not many people had cars. Sometimes there would be as many as 6 or 7 people in the cab of the lorry on a cold night. While at the match Pat would have his usual half a dozen pints and on the way home when he couldn't find the gear lever – due either to the drink or too many bodies in the cab – he would shout when he was going to dip the clutch and someone else would put it into gear!
I came home to Brewers Lane after one darts night to find the back door locked. Fred had come home and assumed I was asleep so locked the door. I didn't fancy sleeping in the shed so I climbed up the drainpipe into my bedroom window. The next morning I looked at the pipe and wondered how on earth I had managed it! Without the drink I don't think I would have done!
Another time I went out to the shed to get my bike to go to work and I found that it was missing. I went around all the neighbours asking if they had heard anything during the night but no luck. I was not happy when I had to walk to Claybrook to work and I spent the day cussing the thief who had stolen my bike and wondering how I was going to replace it. That evening I went down to The Wheatsheaf to find my bike there propped up against the back wall. I probably couldn't get on it to ride it home the night before!
There were three pubs in Badsey in 1948. The Wheatsheaf, where Connie Wixey was the landlady, was said to be the bosses' pub because it had a spirit license. The Bell was around the corner from The Wheatsheaf, where Mrs Wormington was landlady, was the workers' pub because it only served beer and cider. The third pub was The Royal Oak, now The Round of Gras, along the Bretforton Road. It was run by the Mustoe family and they brewed their own cider in a mill opposite the pub.
I understand that the Badsey, Wickhamford and Aldington branch of the Royal British Legion was started in the big room at The Bell. All the pubs had darts, cribbage, shove halfpenny and quoit teams and they travelled all over The Vale to play in different leagues. Rivalry was intense and things were taken very seriously, the same as the village football. The local Derby's between Badsey and Bretforton were quite violent at times but not the teams, the spectators! The women were the worst and umbrellas were their favourite weapons!
Getting back to more serious things – I remember when I had a few pounds in my pocket one week and I decided to buy myself a watch. I went to Evesham and bought one from Nash's a jeweller by the traffic lights. It cost me £5 which was a lot of money. I was very proud of it as it was the first wrist watch I had ever owned. I used to take it off and put it in my jacket pocket when I was at work because it wasn't dustproof. One day I was doing some ploughing at Claybrook and turned to take the watch out of my jacket pocket, which was hung on the handle of the plough and found it had fallen out and I had ploughed it into the ground. From that day on I bought Smith's pocket watches that only cost £1.25 each. They lasted a couple of years and could be hung on a chain so didn't get lost.
When I came to Badsey I met a lot of friendly people and characters but one I was extremely pleased to have met was Mary's Grandfather Lewis Vincent. He was a real country man who was born in Broadway in 1876. He was associated with the land all his life – he had four and a half acres of land of market garden land at Calli bank along the Willersey Road for 40 years, which was until he retired in 1956 aged 80!). He cycled the approximate 2 miles there every day, Sundays included. People said they could set their clocks as he went by because he was so punctual. He never had tractors on his land and dug every inch each year with a fork. Half the land was planted with plum trees and currants etc, the other half with asparagus and other vegetables. He was a very gentle and quiet man and never rushed around. He worked at the same steady pace but still managed to make a living and bought his own house while providing for his wife and three children.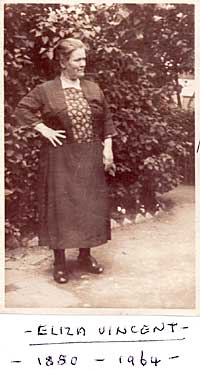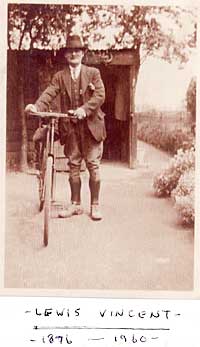 Most of the time he wore riding breeches, gaiters and a waistcoat with a watch chain across the front and he was rarely seen without a hat. During the week he wore black boots and gaiters but changed them for brown ones on Sundays. He smoked a pipe and smoked tobacco that he grew himself on the land. He put something on the leaves (rum and molasses I believe!) then rolled it up very tightly in a cloth. He then just cut a piece off and mixed it with Black Russian tobacco that he bought from Preedy's in Evesham whenever he wanted a smoke. The result was pretty strong, the stuff that came out of the end of his pipe would have been ideal for tarring a fence!
Like most of the market gardeners he drank two or three pints of scrumpy cider every day, this was kept in the garden shed. He also liked fat bacon and kept two pigs in the back garden at Brewers Lane – one was killed in June and the other at Christmas. Pigs were fed on scrap vegetables from the land so the pork and bacon was virtually free. Today Grandad Vincent would be condemned for eating, drinking and smoking the way that he did but he lived to be 84 so it couldn't have been all bad!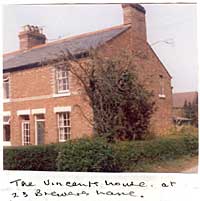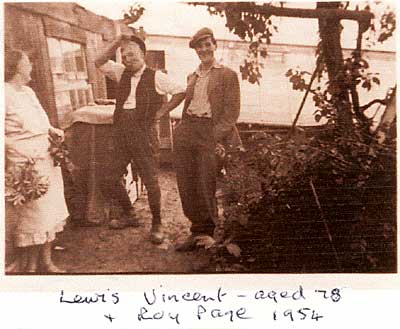 When the Great War was declared in 1914 Grandad tried two or three times to volunteer for the army but was turned down because he had flat feet and was doing important work providing food by working the land.
Granny Eliza Vincent was different to Grandad. She was the boss and made all the decisions especially money wise. When granddad went down to The Wheatsheaf once a week on Friday she would give him 2 shillings and 6 pence (12p) which was enough for two pints. Although they were two opposites they seemed to get on very well. Granny could be a bit of a devil at times but she always looked after her husband well. They had been married for 57 years when Grandad died in 1960 so they had plenty of time to get used to each other!
I used to help Grandad on the land occasionally and I remember the very first time. We were hoeing together for about an hour when he said "Right, time for blowings". He walked over to a bushel box, one of about six dotted around the ground, sat down pulled out his pipe and tobacco, lit up and sat there just taking in the view and organising his thoughts. After a few minutes he would get up and carry on working. Evidently he would do this quite often during the day – he also had a sup of his cider bottle every now and then. I remember thinking to myself – there's a man who appreciates everything and knows what life is all about.
We arrived at the ground one morning and just as we were about to get off our bikes a hare shot out of the grass and started running up one of the footpaths that led up to the ground. I went to dash into the hovel (shed) to fetch the shot gun when Grandad said "don't bother, just stand still." As we watched the hare got about half way up the path when it suddenly did a couple of somersaults in the air and stopped. Grandad knew a hare was about because it had been eating the tops out of the sprout plants so he had put a wire snare across each of the two footpaths that led to the ground. So thereby that day he caught his hare and caught himself an easy dinner!
Another time I remember is when I got to the ground one day and as I got to within about 200 yards of the hovel I could hear something making a terrible screaming noise. When I went into the hovel and found out where the noise was coming from it turned out to be the biggest water rat I had ever seen. It was under the bench caught in a gin trap that Grandad had set the night before. It had got into trap from the side instead of the front and instead of being caught by the head and being killed instantly it was doubled up sideways with its head by its tail. It was uninjured but very uncomfortable but I didn't fancy releasing it from the trap in case it ran up my trouser leg so I had to drop it, still in the trap, into the brook and drown it.
Grandad became ill and had to have an operation for stomach cancer in 1946. It was a very major operation in those days but he came through it OK but, because his stomach muscles had been damaged so much, he had to wear a canvas corset which he had to put on every morning because he couldn't get out of bed without it. This didn't stop him working on the land full time for a few years afterwards.
He also had to have an operation for cataracts in the 1950s at Cheltenham. I remember visiting him and seeing him with small sandbags either side of his head. He was in hospital for a week or more. A bit different to today it is in and out within 24 hours. He told us that he remembered them taking his eye out and putting it on his cheek!
Grandad had his first heart attack aged 84 and he was lying in bed a few days after this when he asked me to give him a shave. He produced a cut throat razor which I refused to use and said I would use a safety razor. He said "a cut throat razor gives a better shave" but afterwards he did agree that the safety razor shave 'wasn't too bad'!
He seemed to get better for a couple of weeks but one morning he got out of bed. Decided he didn't feel too good and got back into bed and died with no fuss, exactly as he had lived his life.
Granny Vincent died in 1964 four years after her husband in the same bed and room at 23 Brewers Lane (6 South View) She was 85.
The only regret I have regarding Grandad Vincent was that he would never talk about his family in Broadway. Apparently there had been a bad disagreement within the family and he disowned them completely.
The Vincents had three children – Nora Emily 1904 -1989, Ann Mary 1905 – 1996 and Lewis Thomas 1912 – 1931.
Nora married Walter Lewis Cook, a sailor from Bristol and went on to have one child – Mary Janet. Ann married Cyril Porter a market gardener from Bretforton and they had one child Maurice Vincent. Lewis Thomas was born in 1912 with what was then known as Blue baby syndrome and was poorly for most of his short life (18 years). A blood transfusion would have cured him today. They say he died from chest injuries after falling onto railings down The Green path in 1931 (no penicillin in those days!) As an only son he was obviously thought a great deal of because of the number of photos taken of him during his lifetime.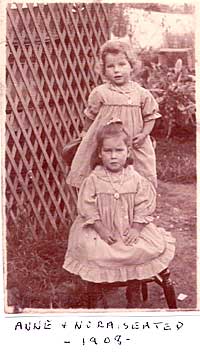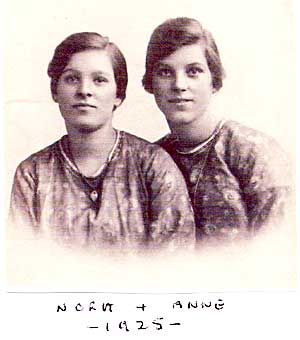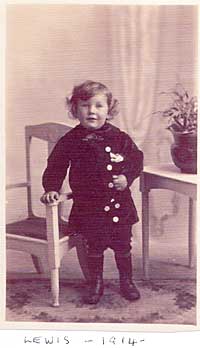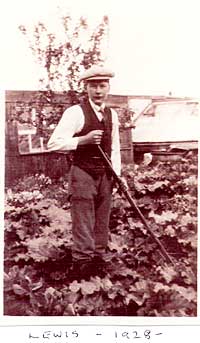 4: Building work, National Service and the Culls
I was working for Fred Wheatley in 1949 and because I was an agricultural worker he said he would sign a deferment form so that I could go into the army to do my National Service when I was 20 instead of 18. I was courting Mary at the time so I thought it was a good idea. Then he refused to sign it when we had a slight disagreement one day. In fact he chased me down Badsey High Street threatening to kill me! Luckily as I was on my bike and he was on foot I managed to get away!
I was now jobless and had no lodgings but a family called Chamberlain took me in at No. 2 Horsebridge Avenue. I got a job with Cornes Construction who was starting to build the first houses on the Fairfield estate.
The building trade was totally different to what it is today. No JCB's so all the digging was done by hand. The largest machine on site was a big cement mixer which had to be loaded by hand with cement and sand. It was then tipped into the wheelbarrows of a dozen or so labourers who took it along planks to tip it into the footings. All the carpentry etc was done by hand and building sites were like ant hills with so many people around.
Everything had to be unloaded from the lorries by hand because fork lift trucks hadn't been invented then. Cement and bricks were the worst to handle because they were often hot when they arrived and they were thrown from the lorries at great speed. Catching bricks four at a time and stacking them properly was quite an art!
Anyone could get a job on the building in the 1940s and 50s and all sort of characters were taken on. The gang I was with was quite a mixture, the foreman was Polish and spoke very poor English there was also German and Italian ex-prisoners of war who had decided to stay in this country after the war. There were four lads from Newcastle who it turns out were in trouble with the police and were on the run!
A gypsy father and son were very interesting - they had a side line for making money. They used to pick up cigarette butts from the streets empty ash trays from the pubs. Then during the day they would hide in a trench and take the butts apart mixing all the tobacco together. They then sold it to the lads on the site, it was amazing how many bought it but I never fancied it after seeing the lipstick, beer and saliva stains on the fag ends!
You had to take you own food to work as there were no mobile canteens. Tea used to be bought round in big urns on the back of a lorry but it was often cold. If it rained too hard to work you could either go home or sit in the shed on half pay which was one shilling (5p) an hour.
In about August 1949, because I could no longer be deferred from National Service due to being employed on building instead of agriculture, I had to go to Worcester to be checked out for the army. I went through the tests for hearing, sight, chest etc and then about 30 of us were told to get in a line, bend down and touch our toes (bear in mind we had no clothes on!). Then a medical officer went along behind us making notes on his clipboard as he viewed out rear ends! When he got to me he spent rather a long time looking then called another officer over to have a look then I heard one of them say "You're right. It is". I was a little worried by then but when I stood up the M.O said "Do you know that you have one leg longer than the other?" It later turned out that this was caused by one of my hips being bigger than the other.
Straight away I thought "Great I'm not fit to go in the army" but the M.O soon put me right by saying "It's only about an inch longer and we can wear that off in the parade ground". He then passed me as Grade A. The irony of it was I became a weapons and drill instructor and spent a large part of my army service crunching gravel on the square!
I went into The Royal Army Ordnance Corps on 20/10/1949 and was demobbed on 10/10/1951. I served the whole two years in Aldershot training a new squad of recruits every 8 weeks – a great experience which I wouldn't have missed for anything.
When I came home I went into lodgings with Bass and Lucy Cull's house, "The Sumachs", in the High Street, a stone house to the left of the shop. At the back of the house was a bakery where they baked cakes and pies. Bread was made by Lawrences in a bakery opposite 23 Brewers Lane.
Bass and Aunt Lucy, as she was known, were a nice couple if rather odd! Lucy loved cats and had as many as a dozen in the house. This was OK except for the fact that she insisted on feeding them on the end of the same table (a large one I admit) as us. I have to say that looking at a row of cats bottoms while you are eating is not nice and not only that but you would occasionally find a long tabby, black or grey hair in your meat pie or cake!
There were three or four lads lodging at the Culls and I shared a bedroom with a chap called Granville, a posh name but posh Granville was not! He was a bailiff on a local farm and of all things he had a strong dislike of washing and bathing or even changing his clothes! He wore long johns and boilersuits at work and would come home in the evening covered in the usual farmyard deposits. He would kick off his wellingtons and sit in a chair next to the fire and put his feet about 6 inches from the open fire. In a few minutes the rest of us were telling him to put something on his feet or leave the room! He didn't take much notice it has to be said. Lucy would put his clean underclothes on his bed and a week later they would still be there!
Bass Cull had a club foot and a withered hand but still managed to drive an old van around the local villages delivering bread and cakes. The trouble with Bass was he had strong political views – he was a fascist (Blackshirt) like one or two others in the village and was very often still delivering at 10 o'clock at night. This was said to be one of the reasons why the business failed along with the fact that Lucy was too soft hearted to demand money from people who owed them.
Lucy Cull had a nephew called Jack who lived at Bowers Hill but spent a lot of time at Lucy's. Jack was a bit simple and was unable to hold down a job. The lads who lodged with Lucy were always pulling his leg but Jack was not as simple as they thought. One day he asked me how much five Woodbine cigarettes cost. He knew of course but I told him 6d (2p). He then held out his hand with 4d in it and said "so if you give me 2d Roy I can buy a packet can't I". Jack got his 2d of course!
A story which was all too common when people kept poultry etc in their back gardens concerns Lucy one morning when she went to feed her 10 geese in the orchard. She found all of them on the ground minus their heads! A fox had killed all 10 then taken only one away to eat. This was the trouble with foxes, they kill for the fun of it not just to eat so they had very few friends among country people. Anyway Lucy was not going to be defeated by this so she dressed all the geese and put them into a large chest freezer in the bakery. We had goose to eat nearly every day for months!
Another lodger at Lucy's was Fred Taylor who came from Birmingham to do agricultural work instead of National Service. Fred was one of Lucy's favourite lodgers but would not have been if she had known what we knew concerning her cats. Fred was a cowman in Broadway and had to be at work at 4.30am so was always the first person to get up in the morning. What Lucy didn't know was that Fred hated cats! The first thing he did was open the back door and boot all 10 or 12 cats out into the back yard. So when Lucy came down after we had all gone to work there wasn't a cat to be seen! Lucy did ask us all once if we knew any reason why this should be but we all denied anything. I'm sure she must have suspected something but Fred got away with it.
I was walking down the orchard one Sunday afternoon when I saw a couple of heads and legs bobbing up and down in the long grass. Being a gentleman I went back to the house and a short while later a red faced Fred and his girlfriend Jean came in for tea. The next day I asked Fred if he had enjoyed his walk, he made me laugh when he said " Yes but never try to make love in a deckchair Roy, it's not possible"!
5: The Cockertons
My first job after leaving the army was with Vic Cockerton a market gardener who lived in a house to the right of the church. There was a yard at the back of the house with a barn and three or four big greenhouses. He also had land at the back of Badsey School called "The Stocky", part of which is now the school playing field and a few acres (including plum plantations) down Willersey Rd (Bullybrook). Vic was probably one of the best gardeners in Badsey and grew really good early cauliflowers, runner beans etc on The Stocky which was really rich soil. He was a great believer in feeding the ground with things like 'shoddy', which was a sack of leather dust from the tanning industry. He also used Peruvian Guano (bird droppings) which it was said was given away free to persuade growers to buy artificial fertilizers when they were first introduced. Vic grew all his own plants, besides tomatoes, lettuce etc in his greenhouses and these were also first class.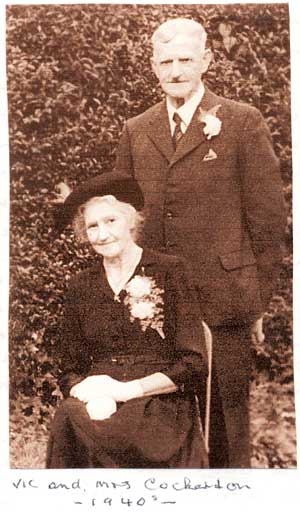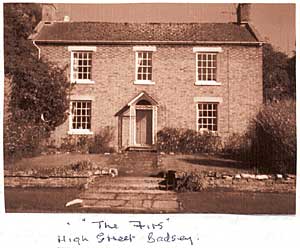 There were three other chaps working for him while I was there - Jim Sadler, John Sadler and Ron Keen (known as Dixie Dean after a famous footballer). Both Jim and Ron played for Badsey Rangers at one time. There was also a woman who worked for Vic called Lottie Hartwell. She also had another job which was laying out local people when they died (a lot of people died in their own beds in those days). She would hear the church bell tolling and would take her little black bag on the back of her bike to go and 'sort out' whoever had died. It was said that she enjoyed that job more than tomato picking.
Vic drove around in a pre-war long nose Bedford 10cwt flat bed truck and I have to say that he was one of the worst drivers I have ever sat next to. He started driving before tests were introduced and I am sure he would never have passed if he had taken one. He would try to pull away in any gear and when he finally got away he would change from 1st gear to top in one go. I think he thought kerbs were there to run into every few yards and he never did much above 30 to 35 mph but still managed to frighten the life out of his passengers.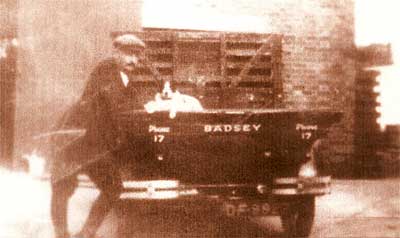 Vic took delivery of a Daimler saloon while I worked for him but he never liked driving it. He took his wife to Evesham once a week on market day in it then put it straight back into the barn.
Although Vic was known as a good gardener he was also known for being a very careful (mean) man. It was said that when he had a horse and dray he would offer the local children a lift from school to the top of the village providing they paid him ha' penny – no ha 'penny, no lift!
I remember once when we were all doing some hoeing down Bullybrook when Vic arrived in the old pick-up, went into the shed and after a while came out, got back into the truck and drove off. Jim Sadler had noticed something the rest of us hadn't. Evidently Vic had gone through our old wellingtons – which we had discarded because they were full of holes or split – picked the best two and was wearing them when he came out of the shed. Jim noticed that one had a black sole and the other a yellow sole. Vic wore them for months with cardboard stuffed in the soles!
Vic also saved money on matches by lighting his first woodbine in the morning then chain smoking all day lighting each cigarette off the previous one, he got through as many as 60 a day!
It was said that on the day he died in 1953 aged 71 he told his wife that as he couldn't read she was to turn off the electric light and light a candle instead to save money. He left £50.000 in his will, a lot of money in the 1950s, Mrs Cockerton died a few years later so the tax man must have had a field day.
I recall an amusing incident one day when we were working on The Stocky, behind the school. We heard someone shouting from the Willersey Road and it turned out to be a chap called Walt Buggins who lived in Sands Lane. He was standing in the middle of the road by his old pre-war van, waving his arms about and shouting. When we finally got to him we found out why! Inside the van was a large pig (about 10 score lbs) with her feet and legs poking through the wooden floor of the van which was rotten and had collapsed with the weight. We thought it was very funny but Walt was not amused. The problem was getting the pig out of the van! One of the lads suggested letting the air out of the tyres so that the pig could walk along the road. Another said to shoot it and cut it up in the van! I think they had to dismantle a fair part of the van before all was well and the pig was released.
6: Masty Farm
I worked for Vic Cockerton for about 18 months and when I left I went to work for Joe Albutt at Masty Farm in Broadway. I bought a BSA Bantam motorbike to get there and back – it cost me £65, a lot of money!
Although not really a part of Badsey life I feel that this job is worth telling about because not only was it the most enjoyable job I ever had it also tells of a lifestyle which no longer exists.
Joe was a very hard working man, very forward thinking and ambitious. He worked on the family farm with his brothers but became very disillusioned when his father refused to modernise by replacing the horses with tractors etc and he was still using them in the 1950s. So Joe started out on his own with four fields on the Evesham side of Broadway, opposite the Childswickham turning. Through sheer hard work he gradually increased his acreage until he not only had Masty Farm but land in Childswickham (moko) and Broad Campden. When I went to work for him in 1952 he had 20 or 30 people working for him.
Joe bought all sorts of farm machinery tractors, combines, ploughs etc and did contract ploughing, harvesting etc for other farmers. He bought unwanted calves from local dairy farmers and raised them for beef – three years old and weighing half a ton. Most of his farm buildings were built by himself and his workers, they were well built too! What he didn't know he found out from those who did. He bought tickets for the Three Counties Show every year for all his workers. When the day came he gave us all a notepad and pencil so that we could draw plans of anything he could make on the farm, things like chicken pens, bale sledges, tools etc.
Joe was always looking for ways of making life easier on the farm. He once decided to put electric motors on anything that had to be turned by hand, chaff cutters, beet cutters etc. The first thing he tried was a chaff cutter, they assembled it and Joe turned on the power but when it got to full speed it vibrated so much that (because it was made of cast iron) it flew into pieces. Joe knew nothing about pulley sizes and gearing but he got it right eventually.
One year we had to carry 250lb sacks of corn upstairs to the granary – a terrible weight to have on your shoulders. The next year Joe devised an electric hoist which made life much easier. The following year 250lb sacks were banned from use.
Joe went into all aspects of farming, a large dairy herd, raising calves for beef( as many as 60 to 70 at a time), hundreds of sheep and a very big incubator which produced a large number of turkeys and chickens each year and a vast number of eggs being sent to market. He grew large acreages of wheat, barley, hay etc and on top of this he had 6 acres of market gardening land producing asparagus, lettuce, onions and the like.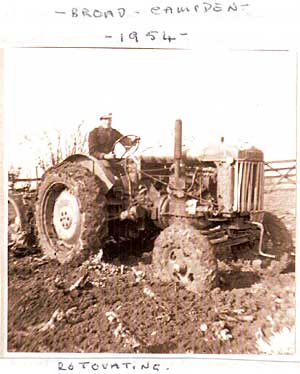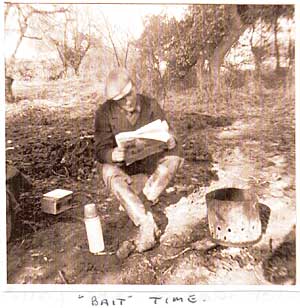 The 60 or 70 acres of sprouts he grew each year was where I came in because they were planted, hoed and picked on piecework. The harder you worked the more you earned, maybe £10 or £11 a week which was twice the normal wage. When there was nothing to do with the sprouts we did other work and because the farm was so diverse there was always something different to do. This made it a very interesting job.
I did things like ploughing, scuffling and drilling seed driving all sorts of tractors including Caterpillars. There was hedge laying, putting in land drains, feeding cattle or poultry, mowing and hay making. I even helped Joe take the bull to service the cows when they were on heat. Dehorning calves with a hot iron was not easy because they objected very strongly and took some holding on to. The smell of burning horn also stayed in your nostrils for ages.
Hedge laying was one job I really enjoyed and I learned a lot from a chap called Sid Tustin. He was one of the old types of farm workers and was about 50 years old when I first knew him. He had never married and lived with his mother in a cottage in Childswickham with no electricity or sewer. He was never late for work and worked at the same steady pace always doing a good job. He never went anywhere without his hat on, he probably wore it in the house too! He always wore a waistcoat with a watch and chain and a box of snuff in one pocket. Sid took three bottles of cider to work every day and his food was a lump of bread with cheese or meat, onion and an apple. He cut it with a bone handled penknife and wouldn't be seen dead with sandwiches. He couldn't – or wouldn't – drive and farm machines so hedging and ditch digging were his main jobs but the end results were always perfection.
I remember one Saturday morning Sid, myself and a couple of others were sent to trim a hedge close to the farm with hedging hooks. The night before I had played a darts match at The Wheatsheaf and was feeling a little worse for wear. The hedging hook wasn't getting much use when all of a sudden someone tapped me on the shoulder. It was Joe Albutt, he had been watching us while he had his breakfast in the farmhouse. He said to me " Have a good night out last night then Roy?" I thought he was just being polite but when I said yes I had Joe said " Well in that case you had better put your tools back in the shed, go home and go back to bed. Then on Monday morning you can come to work fit enough to earn you money!" He was definitely not going to pay me for standing around doing nothing. Joe worked as many as 16 hours a day and could do any job on the farm so there was no fooling him!
I remember one job when Joe took me in the cattle truck, an old WW2 RAF ambulance, down to Childswickham to bring a cow which was close to calving back to the farm. We got her into the truck and Joe drove up to the Evesham-Broadway road where he had to stop at the junction which had a very steep slope. He made a mess of pulling away and the wagon jumped up and down like a kangaroo before he got it onto the main road. We went a couple of hundred yards to the farmyard and we got out to find the ramp at the back was down and the cow was missing! We realised that she must have staggered back against the ramp when Joe made a mess of pulling out of the junction, the ramp had fallen down and she had fallen out. We ran back along the road, Joe muttering a lot of naughty words, expecting to find the cow dead or at least with a broken leg but there she was on the side of the road happily munching grass. Joe sat up with her all night and next morning she had her calf, none the worst for her tumble.
Joe had a narrow escape himself once when we were combining a field of wheat. One of Joe's sons was driving the combine when he spotted a rabbit making a dash for the open ground. He stopped the combine, picked up his shotgun and took aim on the rabbit. What he didn't realise is that Joe had pulled up alongside the combine with a tractor and trailer and Joe came into his line of fire just as he pulled the trigger. Joe took some of the shot in his arm and leg but was not seriously injured although the shotgun was confiscated and we all had a lecture on how to use them.
Another incident I remember which could have been serious was when about 6 or 7 of us were sat around a stove in the barn having our lunch. A young lad called Cox from Wickhamford decided that it wasn't warm enough so he picked up a bucket of old engine oil and proceeded to pour it into the top of the stove. What he didn't realise was that there was petrol mixed in with the oil and flames shot back into the bucket. He dropped the bucket and flaming oil and petrol ran all over the floor. We all shot off our seats and crashed through the door in one big heap. Luckily the fire was soon put out and no one was hurt but it was a close thing.
There was a chap called Michael (Shammy) Foulkes from Bibsworth Avenue in Broadway working on the farm. He was the main tractor driver and did some excellent ploughing with an old American caterpillar tractor. One day he was driving an old pre-war Fordson Major tractor and trailer down Snowshill loaded with Larch poles (to be used to carry electricity cables across the farm). He was in bottom gear coming down the hill but soon realised that the brakes, which were on the rear wheels of the tractor, were not going to stop the lot from gathering speed with the trailer intent on overtaking the tractor. In a split second Shammy made one of the most important decisions of his life! He stood up on the tractor and threw himself off into the hedge. The trailer jack-knifed into the tractor, over turned and the load of poles careered down Snowshill on their own. Shammy was unhurt but a few days later he said to me ' I was bloody lucky not to get hurt the other day'. I thought that this was rather an understatement, killed would have been a better word!
Farms are of course places where accidents happen on a regular basis. One involved my brother Eddie when he was about 15 years old and had come to stay with us at Mill Cottages for a few days. I took him to work with me on the back of my BSA bantam and he enjoyed doing all sorts of jobs. He came with us one day to pick up some hay bales on a tractor and trailer and he was very pleased when we let him drive the tractor across the field in bottom gear – he wasn't strong enough to pick up the bales so he got the easy job! The field had been strip ploughed for years so it looked like corrugated paper. Eddie was told to drive along the top of the lands, as they were called, to keep the trailer level but he forgot and drove to the bottom of one before we could stop him. The trailer tilted as though in slow motion and tipped over spreading bales all over the place. Luckily the trailer came unhitched and the tractor stayed upright. Eddie was, to say the least, a little bit embarrassed but we were just pleased that no one was hurt.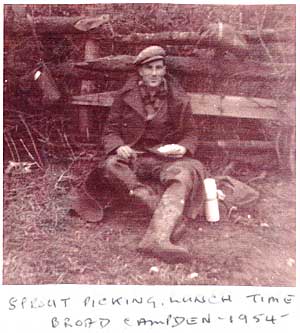 Most of the farm's sprouts were grown on the hills. One field at Broad Campden was over 30 acres and very uneven. You couldn't see across from one hedge to the other. One day four or five of us were picking sprouts in the middle of this field when Sid Tustin came over the brow carrying four or five nets saying ' If you don't want to get wet you had better make for cover now'. We looked at each other wondering what he was on about because there was hardly a cloud in the sky. All of a sudden, just as Sid got to the lorry, a gust of wind hit us and a second later we were drenched by a flash storm. Sid thought it was funny and when we asked him how he knew it was going to rain he said he heard it coming over the other side of the hill. One time when we should had listened to a real country man!
When we had our lunch breaks we used to walk round with the guns or set wires in the hedges to try and keep the rabbit population from eating the sprouts. One morning we got out of the lorry and we could hear a terrible screaming noise coming from along the hedge. One of the lads suggested we had caught a fox or badger in one of the wires but as we got there it turned out to be a large half-wild ginger tom farm cat which was throwing itself all over the place trying to release itself from the wire. One of the lads fetched a couple of sacks from the lorry but it took quite a while before we managed to get hold of the cat so that someone could remove the wire. After we did the cat went across the field as though its tail was on fire – with one of its 9 lives used up I guess!
Fred Taylor, who lodged with me at Lucy Culls, was the cowman at Joes and was quite a character. Good looking and quite a ladies' man as more than one of the girls on the farm found out! Joe called us into the barn one day and told us that he had had to sack Fred for stealing. It seems he had been helping himself to petrol, corn etc. (Fred had married and was living in a cottage at the end of Badsey Fields Lane where he had a few chickens and ducks). Joe was very upset at losing Fred but wouldn't accept any sort of dishonesty at all. In fact I am sure that if Fred had asked Joe for the stuff he would have given it to him.
When Fred left Joe's he went lorry driving for Marshall's Transport and lost his life when he ran into a roundabout somewhere in Wales and the load of steel he was carrying went through the cab. This was some time during the 1960s but I am sure there are still a lot of people around (especially girls) who remember Fred, one of life's lovable rogues!
Joe took a special interest in me when he learned that I was a Londoner. He couldn't get over the fact that I could do any of the jobs on the farm. He was always testing me with things like de-horning calves and de-maggotting the sheep! There was a real mixture of staff at Joes from old type farm hands to young boys and girls. Providing we did our jobs properly he treated us well and it was a great place to work.
7: Married life
I married Mary whilst I was working at Joe's (21/03/1953) and we received a lot of presents from staff including £10 from Joe, nearly two weeks wages, which was very generous but typical of him. Mary was working at Littleton and Badsey Growers in Blackminster as secretary to the manager, Vic Smith. She was there until Christmas 1953 when she left six months pregnant with our eldest son Simon.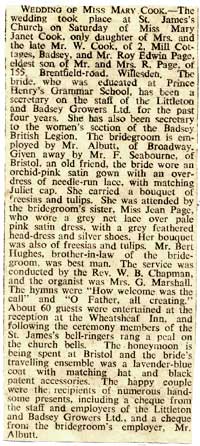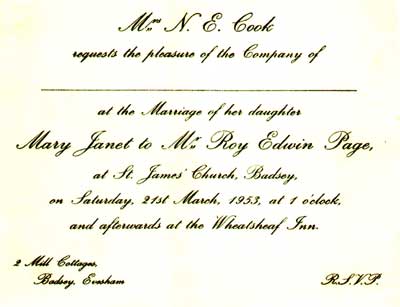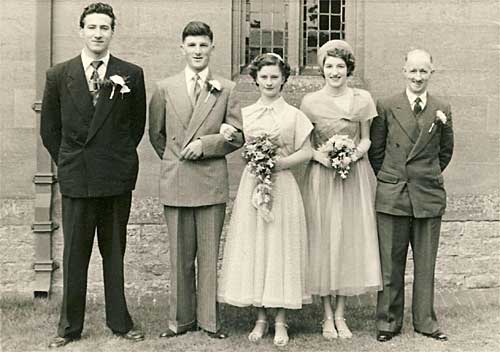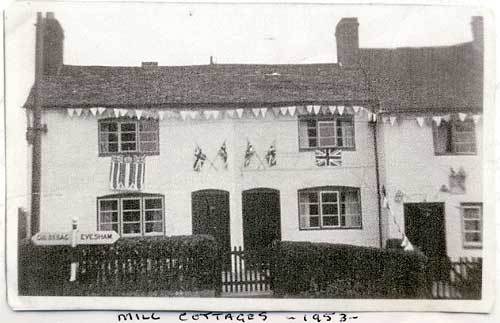 We lived at Mill Cottages with Mary's mother until January 1956 when we moved to the newly built 28 Green Leys. (The rent there was £1-1s-4d, 108p a week). Mill Cottages was only two rooms upstairs and two downstairs and got a bit crowded when Timothy was born in 1955. There was only a cold water tap in the cottage and hot water came from two big enamel kettles on the hobs in front of the black range in the front room. There was a gas cooker and a gas boiler for boiling the weekly wash in the kitchen. A big tin bath which hung on the outside wall in the yard was put in front of the range and was filled with water from the gas boiler so we could have a bath once a week. Dragging the bath out through the kitchen, without slopping the water everywhere, to empty it down the drain in the yard was not an easy job. There was no flush toilet in the cottage but 10 yards down the garden was a row of four bucket loos, one for each cottage. This was OKif you went down there on your own but if one of the neighbours was paying a visit it could be a little disconcerting because they were definitely not sound proof!
The bucket loo was emptied into a hole dug in the back garden – usually once a week early on a Sunday morning! After 300 years of this the soil was 3 foot deep black loam and grew amazing vegetables and flowers!
Next door to us, at 3 Mill Cottages, lived a man called Charlie Roberts. He was one of five or six volunteer firemen who lived and worked in the village. If the fire alarm (church bell) was sounded while they were at work they had to down tools and run or cycle to the back of the churchyard where there was a shed by the Lytch gate in which was housed a fire pump. The pump was pulled by hand to the scene of the fire – two men on either side of the pump – they raised water from a well or the brook on way to the fire. Although there were still a few thatched cottages in Badsey, I don't remember it being used in earnest.
Whilst living at 2 Mill Cottages the man who owned them asked me if I was interested in buying numbers 1 and 2. The price being £1000 for number 1, which was empty and £200 for the one we were living in. I tried hard to raise the money from different sources but could only manage raise £600. 100% mortgages were not available in those days so we carried on paying 25p a week rent. My wages in those days was around £6 a week.
We once asked the local builder to give us a price for building a bungalow in Badsey Fields Lane. He came back with a price of £2500 and a mortgage of £20 a month, an impossibility on £5 a week! So we had to forget about owning our own place for a while.
In the 1950s, because I was finding it difficult to keep my growing family on the agricultural wage, I took on 2 acres of land along the Willersey Road – called Frances grave – this land was owned by the church and the rent was £4-12s-6d (£4.62p) a year. It was clay soil which is not the best for market gardening but if it is ploughed or dug at the right times it would grow some good crops. I worked on it at weekends and after work in the evenings which meant I didn't spend a lot of time at home but we were able to pay the bills – just!
I grew crops like sprouts, leeks, onions, lettuce, broad beans, runner beans, cauliflowers, cabbage, beetroot etc. Also a couple of tons of potatoes which I kept in the garage at 23 Brewers Lane, these lasted us most of the year. I was complimented a few times by the neighbouring professional market gardeners on some of my crops, things like sprouts and leeks. This made me feel good considering I was an amateur and a 'bloke from the Smoke' (London)!
What was upsetting is when you grew a good crop and then you couldn't sell it. Usually when the weather had been good and everyone had 100% turnout. Gardeners always said 'Half a crop will sell better than a full one'.
I cultivated the ground with a small one and a half horse power tractor called an Auto Culto, otherwise known as the iron horse, push hoes and the usual hand tools such as forks, spades, hoes, hedging hooks etc. It was hard work but I enjoyed the wildlife, the rabbits, hares, pigeons etc. I once shot a pigeon and her family out of a tree, much to the disgust of my wife Mary, but if I was to have any lettuce left then the birds had to go.
I also enjoyed the company of other gardeners. People like Harry and Reg Welch, Tom Harris, Ray Ballard and the Stewarts, Frank, Maurice and Malcolm. We all sat in each other's hovels having our bait (lunch) and chatting. Harry Welch had one with a concrete floor, a pot bellied stove and armchairs. It certainly took a lot of getting away from on a cold winters day!
The produce we grew was put on the side of the road in boxes, crates and nets. These were then picked up by lorries from either Evesham market or Littleton and Badsey Growers who sold it by auction. After taking out the cost of packaging, transport, commission etc they would send you a cheque for the balance. Sometimes it wasn't sold for enough to cover the costs so the grower got nothing.
I remember once spending a whole day cutting a large amount of parsley for Fred Wheatley. This didn't make enough money to cover costs and Fred owed them 6d (2p). So along with paying my wages for the day – Fred was not too happy!
I remember Ray Ballard asking me one day if he would help him catch a family of feral (half wild) cats that normally kept the mice and rats down around the sheds. They had got mange, a complaint that makes them very uncomfortable and would eventually kill them, so Ray wanted to put them down (not a job for a vet in those days!). I decided that as they were his cats I would let him catch them (about eight all together) while I held the sack open for him to put them in. Well easier said than done! It probably took us the best part of an hour to catch them with Ray cussing every time they dug their claws into his arms or legs. These were semi wild cats and objected to being handled, especially when they were in pain. We finally got them into a couple of sacks with a house brick in the bottom of each and then dropped them down the well. Drowning was in those days considered to be the best way to deal with unwanted small animals!
8: F C Jones
In the spring of 1957 I heard of a job going at F.C Jones who had a yard in Badsey Fields Lane. I found out that they paid £7-10s a week (plus piece work sprout picking) this was £1-10s more than Joe. I could also go back after tea on overtime because it was local. Another plus was that I wouldn't have to slide all the way to Broadway on the Bantam, on unsalted roads in the winter.
F.C Jones was a small family firm of market gardeners and wholesalers. Fred Charles Jones started the business before the war buying produce in the markets and then taking it round greengrocers' shops in Tewkesbury, Cheltenham and Gloucester. Fred retired just before I joined them in 1957 and his sons Fred, Cecil and Ron carried on the business. They took on 30 acres of land around Badsey and another 30 acres in Hampton growing their own produce and selling to about 25 shops and market stalls in the three towns. It was a very nice profitable business although Ron, who didn't get on well with his older brother Fred, decided to come out of the business after a few years. They employed three or four of us and while I was there, there was a chap called Arthur Thompson from Fairfield in Evesham. Who was one of those people who hated anything mechanical. So he did a lot of hand work like hoeing, cabbage cutting etc. While another chap called Dave Bowley (who later went into the roofing trade and along with his son had a successful building business) and myself did some tractor and lorry driving. I passed the driving test in a lorry while I worked for Jones's and Cecil and myself would take two lorries around the shops every Tuesday and Friday loaded with fruit and vegetables. We started out at 3 am and got back some 12 hours later. The maximum speed limit for lorries was 30mph in those days so a journey that would take one hour now days would take two then. Also the roads were not salted in the winter so we had some pretty dodgy trips when there was snow and ice about. The lorries were Austin and Bedford 4 tonners with no side racks so the boxes and crates were stacked on the flat bed and tied on with ropes (roping was quite an art). If a box or crate collapsed in the bottom of the load and the ropes didn't hold then it was goodbye load! I remember once when I was on the road between Cheltenham and Gloucester when I heard a loud bang. I watched in the mirror as the load moved out to one side, luckily the ropes held and I decided not to stop and reload everything, which would have taken a couple of hours, but to carry on to Gloucester a few miles away. This seemed to take hours but the ropes held and I got there without spreading the load all over the road!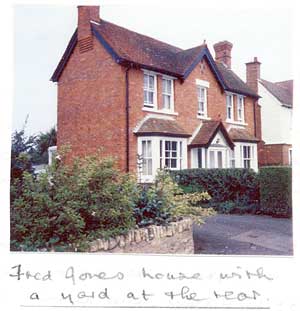 Another time I was not so lucky – myself and Cecil Jones cut a full load of cabbages, 7 crates high, from a field along the Broadway Road and when we had loaded it we realised that we hadn't got enough rope. Cecil said ' we'll rope every other stack and as we only have 2 or 3 miles to go things will be alright'. I was not happy and wanted to borrow a rope from the next farm but Cecil said no. So I made sure that Cecil got into the driver's seat to drive back! Just as well because as we turned the corner by the Sandys Arms in Wickhamford all the stacks that were not roped shot out of the load into the garden of the cottage opposite. It took us longer to sort them out than it did to cut and pack them in the first place!
The 30 acres of land Jones's had alongside the brook down in Hampton was very productive but was plagued with rabbits. Even when Myxomatosis nearly wiped out the rabbit population countrywide there was still plenty at Hampton. I spent a lot of time with the gun trying to keep the numbers down. I recall one day I was walking along a steep 25ft bank which went up to the main road and seeing something move at the top I lifted my gun and a rabbit jumped off the bank about 10ft up (I was about 20ft away). I fired and hit the rabbit which was still in midair. A chap from the Ministry of Agriculture, who had come to see what could be done about getting rid of the rabbits, came running over caught hold of my hand and pumped it up and down saying 'I have never seen a snap shot like that before!' He had seen pheasants, partridges etc shot in the air but never a rabbit! Despite my fancy shooting we didn't get a meal out of it because it was an old doe covered in fleas!
Fred Jones bought an old pre-war Midland Red single deck bus and parked it at Hampton for storage, leaving a few seats at one end for us to sit at one end for us to sit and have our sandwiches in comfort. One winter's day Arthur Thompson and myself were having our midday break in the bus when I noticed some pigeons settling on the sprouts. They made a terrible mess of a sprout plant in no time so I picked up my gun and poked it out through one of the little windows at the side of the bus and fired. What I didn't realise was the noise a shot gun would make when fired inside a 'big tin box'. I thought my ear drums had exploded but worst of all was I hadn't realised that Arthur had dropped off to sleep on some old sacks at the other end of the bus. He must have shot 3ft into the air and when I looked at him he was as white as a sheet and shaking like a leaf. He was trying his hardest to tell me what he thought of me but couldn't get the words out! He found it hard to talk to me for a long time afterwards and if he saw me coming with the gun he went the other way. After all this, I found that I had missed the pigeons that I had been aiming at!
Another time when Arthur wished he wasn't with me was one morning when I picked him up in the Austin lorry from his house in Fairfield. We came down Cheltenham Road over the new bridge traffic lights where an old lorry was struggling to pull away from the lights. I moved over to overtake it when I saw a van coming the other way so I touched the brakes to pull back behind the lorry not knowing that the road was covered in black ice! My lorry skidded past the old lorry, broadside, the oncoming 10cwt co-op van hit me just behind my cab which turned my lorry round so that I hit a Morris van pinning it against the railings. When I got out of the lorry, slipping over in the process, I could not believe the mess! The co-op van, which was made of ply wood had almost disappeared, the windscreen, roof and headlamps were on the back of my lorry and the chassis with the driver sat in his seat with only the steering wheel in front of him was 60 or 70 yards away! I thought he was sure to be dead but as I went towards him he stepped down, banging his knee on the steering column as he did so which turned out to be his only injury. When I looked at him I realised it was a chap called Westmacott who lived in St James Close in Badsey. The driver of the Morris van, a butcher from Pershore, was trapped inside for a while but was OK and was only concerned about his staff waiting outside the shop waiting for him to open up.
The old lorry we had skidded past had hit the back of my lorry and smashed its radiator. The driver was somewhat upset because he didn't want the police involved because well overloaded and had been at the wheel all night driving up from Plymouth. He called me a few choice names and would have tried to punch me if he could have kept his feet on the icy road. A police patrol car duly came over the bridge with bell clanging and skidded straight past stopping 50 yards up the road. The driver got out and said 'This must be the only black ice in Worcestershire'. They had evidently been out on the road all night and had not come across any more. We were all taken up Abbey Road to the Police Station where we all gave statements. Arthur Thompson said he hadn't seen anything because he had fallen asleep. The butcher finally left for Pershore at 11am and the driver from Plymouth was OK when he realised that the police were not going to check his lorry. Of all the four vehicles involved, mine was the only one that could be driven away - minus a fog lamp and a few scratches down the side. The police didn't charge anyone because of the road conditions and the fact that no one was hurt. They told us to get our insurance companies to sort it out between them! Our luck didn't improve much that day because we went sprout picking and it poured with rain for the rest of the day.
F Jones had land in Badsey up Badsey Fields Lane and one of their neighbours was Frank Caswell who had taken on 2 acres when he had retired from being the local blacksmith (his grandson David now does the job). I would sit and have my bait (lunch) with Frank whenever I could because he knew a lot about the locality and told good stories. A tale that he told was that during the war the government needed to know how many houses there were in the villages and Frank and Dick were given the job of counting and listing all the houses in Badsey and Aldington. Frank told me one day when we were having bait that the number they arrived at was 365 (the same as the days in a year). A couple of years ago I was told that close to 850 Parish magazines were delivered to both villages which suggests that there are over double the number of houses today if their count was right.
Anyway getting back to F C Jones and the time I worked there. One day Old Fred told me that he had had a phone call from someone calling himself ' The secretary to the Duke of York' asking if he would be interested in a special order of strawberries to be supplied to the Duke on a daily basis. Fred was pleased of course knowing that he could get a good price because the fruit would have to be of excellent quality. What he wasn't prepared for was a special condition laid down by the Duke which was that the fruit had to be guaranteed to have been picked by people wearing white cotton gloves! Fred agreed to this condition but whether it was carried out is a different matter! This all happened in the 1930s and I cannot see this happening today.
9: Josephs factory and self employment
I left F C Jones when our family got bigger and I couldn't earn enough to pay the bills (a coal bill arrived before I had paid the previous one) so I went round trying to get a job lorry driving but had no luck. One day someone told me that a coach came through Badsey everyday taking people to work at N C Josephs aluminium factory in Stratford-on-Avon. They made kettles, saucepans etc, body parts for cars and washing machine parts. Evidently good money could be earned because there was a lot of piece work. So I caught the bus to Stratford one Saturday morning and went to the gate house at Josephs where a nasty ex-military type informed me that they had no jobs and the personnel manager only called in for a few minutes around 11am on Saturdays. I left and went down to the island cafe for a cup of tea and sitting there I decided that as I had spent 2s 6d (12p) on bus fare I was not going to give up that easily. So I went back at 11 o clock just as the personnel manager, called Bill Evans, was going inside. He took me to his office and when I told him I was keen to earn good money he told me the best jobs were in the polishing shop. I knew that working as a metal polisher was a dirty, noisy and dangerous job but decided to give it a go.
The starting wage was £11 a week, the coach was free and there was a canteen with cheap meals so I was happy. Even though it meant I was away from home for eleven and a half hours a day, catching the coach at 7am and not getting back until 6.30pm. I was put in the stainless steel shop polishing coffee percolators which was cleaner than aluminium. After a few weeks I went on to piece work and earned £17 the first week, I didn't look back after that. After six months I was made charge hand (6d an hour more) and I was earning twice the national wage for the first 20 years I was at Josephs. When I finished in 1980 I was on £150 a week.
I had to work flat out for eight and a half hours a day falling asleep on the bus on the way home! But it was worth it because the bills got paid on time, we could afford to run a car (banger!) and we could also take the kids to Pontins for two weeks. I was the top earner in the polishing shop although there were a few ex sprout pickers who came close. One foreman, Jim Boyce, said that his best workers were all off the land and providing he could keep us supplied with work then we didn't complain a lot.
There are quite a few stories I could tell about my 20 years at Josephs but basically it was a very boring, dirty existence and as it is not directly connected with Badsey I will move on!
When G.E.C of Canada bought Josephs in 1980 I took the redundancy that I was offered and at the age of 51 started my own business doing gardening and general property maintenance until I retired 14 years later in 1996. It was interesting work because I met so many different people doing jobs in the Evesham area, mainly Badsey but also in Cheltenham, Worcester and Stratford. One of the most rewarding houses I worked on in Badsey was Badsey Manor. I converted the roof space into accommodation, re-vamped the kitchen, maintenance work on the roof etc. I also redesigned the garden and drive. In fact it became almost a second home with lots of happy memories of the hours spent working there.
In 1967 I was offered a Littlewoods pools round covering Blackminster, the Littletons and parts of Badsey. It took two evenings a week and became very interesting, the extra money was handy of course. I am still collecting the pools 41 years later (2008). The football round became a handy source of work – decorating etc. when I went started my own business. I just mentioned to the people on the round what I was doing and within a short while I had more work than I could cope with. A lot of houses and gardens in the Littletons have benefitted from my efforts and a lot of the work I did in the Vale can be traced back to recommendations from people in Littleton. For some time after I retired (1996) I was still being offered work.
I have met all sorts of people in the 40+ years that I have been doing the pools round, from millionaires through the whole social spectrum to gypsies and travellers. I have thoroughly enjoyed talking to people whose views on life have been so varied.
One family which were very interesting were a family of gypsies called Metrovitch who originated from Hungary but had travelled around France most of their lives. They came to England and decided to settle and bought a bungalow in Middle Littleton (next to Kane's Produce) in the 1960s. In 1968, when I first called on them to see if they did a pools coupon, there was Jim Metrovitch and his Italian wife and children living in the bungalow and Jim's mother living in an old gypsy caravan in the garden as she didn't like living in a house. Evidently Jim's father had died a couple of years after moving in but he never got used to being indoors and spent his time sat on the grass verge in front of the bungalow, very bored I would think.
When I first asked Jim if he wanted to do a coupon he said 'Sorry Mister (they always called me Mister) I don't know how to do it'. I told him I was willing to show him, I think Jim was a little surprised that I was willing to enter his rather untidy and smelly house and help him. Anyway I had to help him fill in the coupon every week because he never quite managed it himself ( I think he liked the chats we had!). One week he asked me to have a drink with him and produced a glass of sherry but after a while he said he couldn't find a glass and would I mind having it in a china eggcup!. The next week when I was offered a drink I expected to have it in a glass but no, Jim took the egg cup down from the shelf where he had put it, unwashed, the week before and every week after that it was ready on the table when I walked in.
I had some very interesting chats with Jim and his family but the most interesting person was his mother. She was a real old gypsy and dressed in two or three long skirts, a headscarf and big gold earrings. She smoked a clay pipe or rolled her own cigarettes. The caravan that she lived in had a small stove in which she burned logs so it was always full of smoke. She would stand at the half door and would have a chat, if the weather was bad she would invite me inside (an honour for a non gypsy). One story I well remember her telling me was that when her family were parked in France on the side of a long straight road with trees either side. This was around 1900 and she and her sister were playing when they heard a noise which turned out to be a car approaching about a mile down the road. Now cars travelled at about 4 or 5 miles an hour in those days so they stood at the side of the road and watched it coming. As it got level with them her sister stepped out in front to get a better look and was knocked down, run over and killed. Amazing when you think that they knew the car was coming for at least 9 or 10 minutes! Another time Mrs Metrovitch reached inside the neck of her dress and pulled out a string with two massive solid silver coins attached. They were Hungarian and were worn almost smooth because she had worn them for years, day and night. She told me that none of her family knew she had them and they were for the family to raise money for her funeral when she died. This happened in the 1970s and she is buried in Bengeworth cemetery.
I found the children that I met on the round were as interesting as the adults. I would be invited into the garden to see their rabbits and guinea pigs and some I have watched grow up and even get married. One day a small lad of about six stood looking at me as I collected in Station Road, South Littleton. He said to me 'Are you Bruce Forsyth?' so I decided to pull his leg and said 'Yes I am'. He ran down his garden path shouting 'Mum, mum Bruce Forsyth is outside'. His mother came out and said ' That's not Bruce Forsyth. That's Mr Page the pools man'. I don't think he ever forgave me for deceiving him!
Another time I called in on Mrs Wells in Blacksmiths Lane. It took quite a while for her to come to the door and when she did I could see that she was not well. The side of her face was covered in blood and she had a job to speak. It was obvious that she had had a stroke and had fallen. I took her back inside the house and put her on the sofa then ran a few hundred yards along the road to her son's house. He called the medics but it was all in vain, she passed away a few days later.
When I used to collect on Friday evenings there were always a lot of children making their way to Blackminster School where they held a disco. One evening I went over the railway crossing and it was obvious that something was wrong because there was a coach, van and other vehicles blocking the road. Apparently the coach had come from Cleeve Prior direction and pulled up on the road on the opposite side of the school to let the children get off. This meant that the children who got off the coach had to cross the road to the school. Five or six of the dashed across in front of a car but the next group went over after the car had passed not realising that a van was following. Two of them were hit and when I pulled up one of the girls had been thrown onto a hedge. She was hanging upside down screaming like mad – it turned out she had a broken leg. The other was lying about 20ft along the road in the gutter and as it was dusk and poor visibility it was difficult to see how she was positioned. In the middle of the road was a round black object which a few of the other children were suggesting could well be her head!. No one was willing to go and have a look so I went over to her and found her head still intact but hidden by the way she was lay in the gutter, the 'head' in the road was in fact her handbag! Her head and face were badly knocked about but her worst injury turned out to be a badly shattered ankle which evidently took a while to heal but she finally made a complete recovery. After this accident a pull-in was built in front of the school to allow coaches and buses to park off the road to drop off children. The school discos were never allowed again!
Another thing happened along the road outside the school one night when I was coming home at about 10.30pm. A fox dashed out of the garden of the house opposite and I ran straight over it, killing it. The next day Lisa came home from school and told me that her friend who lived in the house opposite was very upset because someone had run over her pet fox that she fed every night. Oops!
In the 1970s I had to take the coupons I had collected and money to an area collector who lived in Bidford on Friday evenings at about 10pm. On one of these occasions the car broke down at the end of Shinehill Lane and the Honeybourne Road and within a few minutes three or four police cars came dashing along and fenced me in. They asked me all sorts of questions before letting me go – it seems I was too close to the new prison acting suspiciously!
During the early years (1970s) when doing the football pools round I would call in at the King Edward pub on a Thursday evening where I would pick up 8 or 9 coupons. Usually a drink was bought for me by one of my pools customers, luckily drink drive laws hadn't been toughened up then. I have worked out that during the 20+ years I called at the pub it had 17 different landlords. The brewers made it harder and harder to make a profit because they demanded higher and higher rents and the pub finally closed.
On a Thursday evening I called in at the Ivy Inn in North Littleton where Jim Cox was landlord and a very good one it has to be said. Jim was a great organiser and ran darts, quoits, cribbage and dominoes teams and the pub was always full and had a great atmosphere. Football was his life – he had been a player and a referee. He supported Aston Villa and he managed Littleton football club for quite a few years during which time they did very well. I would walk into the pub and within a few minutes Jim would have put a cheese and onion sandwich in the toaster which I would wash down with a whiskey and half a pint of draught Guiness – lovely grub!
I no longer do the round in North Littleton and the King Edward pub has been turned into a luxury house. A great pity I feel because like the village shop during the day, the pub was the live pert of the village. There was always someone coming or going (slightly tiddly at times!) and of course during the good weather there were people sitting outside having a drink. Now I can walk virtually the whole of South Littleton without seeing a soul that is except the occasional dog walker!
There were of course quite a few characters around in the early days of doing the round. One I remember well was Adam Howley who was getting on in age but used to sit in the same corner of the King Edward every night. He was the local entrepreneur who had the ability to make money by spotting a bargain in almost anything. One of his favourite transactions which I think is worth mentioning concerns a thatched cottage which Adam Howley owned. The cottage was unusual because it was built around 1900 when thatch was no longer used for roofing. The house was erected by the Lord of the Manor for his chauffeur to live in. (People who could drive were few and far between so a good chauffeur was well looked after!) The story goes that the man who owns the house was in the diplomatic Corps and was abroad a lot. His wife wrote to him sometime in the 1960s saying that she had seen a house that she really liked and could she go ahead and buy it. She was apparently very good at business so he agreed. She went to Adam Howley who wanted £6000 for the cottage (you could buy a house for £2000 - £3000 in those days). She failed to get him to drop the price but the next day Adam told her that if she agreed to the £6000 he would let her have a 2 acre orchard at the side of the house, to which she agreed, Her husband was absolutely delighted when he saw what she had bought. Adam called on her a short while after the deal and said that he now felt that he hadn't done too well out of the deal!
In the 1980's I carried out some work to the house and the cottage, although thatched, had none of the problems associated with old cottages i.e. no damp or wood worm. I did some interior and exterior decorating along with fitting new doors and windows to a coach house which was separate to the main house.
I was in the cottage during a thunderstorm one day which was quite an experience. Because thatched houses have no guttering the rain runs straight off the roof. Looking through a window the effect was like a sheet of frosted glass two feet away from the cottage stretching from the roof to the ground, the noise was quite deafening!
The new owners landscaped part of the orchard and put in a swimming pool and I would imagine the whole lot is probably now (2008) worth at least £600,000 to £700,000 if not more.
I seem to be getting away from my original Badsey theme so I am finishing this, my first attempt at local history, and hope that you have found it interesting and not too boring.
Roy Page