Oh, the power of the worldwide web!  The surname STOBBS is not a Badsey name but, for a few months in 1913, seven-year-old Edward Victor Stobbs was a pupil at Badsey Council School.  Edward's son, Robin, had never heard of Badsey until a recent Google search threw up the references to Edward's admittance to Badsey Council School.   He contacted us as follows: 
I can't even begin to tell you how thrilled I was to accidentally come across two school entries relating to my Father – Edward Victor Stobbs – entry numbers 696 and 1107.  He was a rather reserved person who told his children very little of his childhood and education.  He was born in Kenya and his parents lived there and, although we did know he was educated in England, we knew nothing about when or where so the confirmation that he attended Badsey Council School is one of my family genealogy milestones.

My quest now, in the few years I might have remaining, is to discover more – and thank goodness we now have the advantage of a wealth of knowledge through the Internet.  Is there any chance you might have more schooling details? How long he studied at Badsey and where he might have completed his education?  We do know he obtained his AIMecE - but not when or where.  He subsequently went on to return to Kenya where he became the Chief Draftsman for Kenya Uganda Railways & Harbours – later East African Railways – and following his retirement moved to South Africa.
This was a challenge that could not be ignored, so here is the story of young Edward Stobbs.  By looking into his family background, it has been possible to find out why the family came to live in Badsey.
* * * * *
Family Background
Edward Victor Stobbs was born in Nairobi, Kenya, on 12th February 1906, the elder of two children of Albert Edward and Emily Edna Esther Hope Stobbs (née Smith).  His parents had married in Mombasa, Kenya, on 20th October 1904.  
Albert Edward Stobbs, born in 1879 in Nottinghamshire, was the youngest of eight children of William Stobbs and his wife, Jane (née Bartlett).  Four of his siblings died in infancy before Albert was born and his mother died in 1881 when he was just two years old.  His two eldest siblings, Charlotte (Lottie) and William, emigrated to Canada in 1884, Lottie dying there in 1896 and William dying in America in 1902.  Thus Albert's only remaining sibling was Joseph Henry Herbert Stobbs who married Eliza Hawkins in 1903.
Emily Edna Esther Hope Smith, known as Hope, was born in Winchester in 1877, the fifth of nine children of Josiah Smith, a whitesmith, and his wife, Edna Hester (née Collis).  Seven of the children were girls.  The three middle girls in the family were Eleanor Faith, Emily Edna Esther Hope and Jane Elizabeth Charity.  They were known as Faith, Hope and Charity.  By 1880, the Smith family had moved to Stratford upon Avon, Warwickshire, which was Josiah's home town.  Hope's mother, Edna, died in 1895.  Hope's father married again two years later and went on to have six more children.  By 1901, none of the children from his first marriage lived with him.
Neither Albert nor Hope have been found in the 1901 UK census, so may well have travelled to Kenya by then.  It seems that they must have first met in the Warwickshire/Worcestershire area as there was already a connection between the Stobbs and Smith families.  Hope's elder brother, Josiah Smith, married Millicent Hawkins in 1899.  Four years later, Millicent's elder sister, Eliza, married Albert's elder brother, Joseph Stobbs.
Arrival in Badsey
Edward Victor Stobbs spent his early years in Kenya.  Shipping records on Ancestry reveal that, on several occasions, the Stobbs family returned to England.   On 14th October 1912, "Mrs Stobbs" and her two sons, Edward (5½) and Ronald (3) arrived in London from British East Africa, intending to make England their intended future permanent residence.  
They may have remained in the London area to begin with, as some of Hope's sisters lived there.  But, by February 1913, they were living in Badsey and appear to have been joined by Albert.  We know this because the admissions register for the Infant Department of Badsey Council School says that Edward Victor Stobbs, the son of Albert Stobbs, born on 12th February 1906, was enrolled on 26th February 1913.  His last school was given as "East Africa, KG".   The family was living on Bretforton Road, Badsey.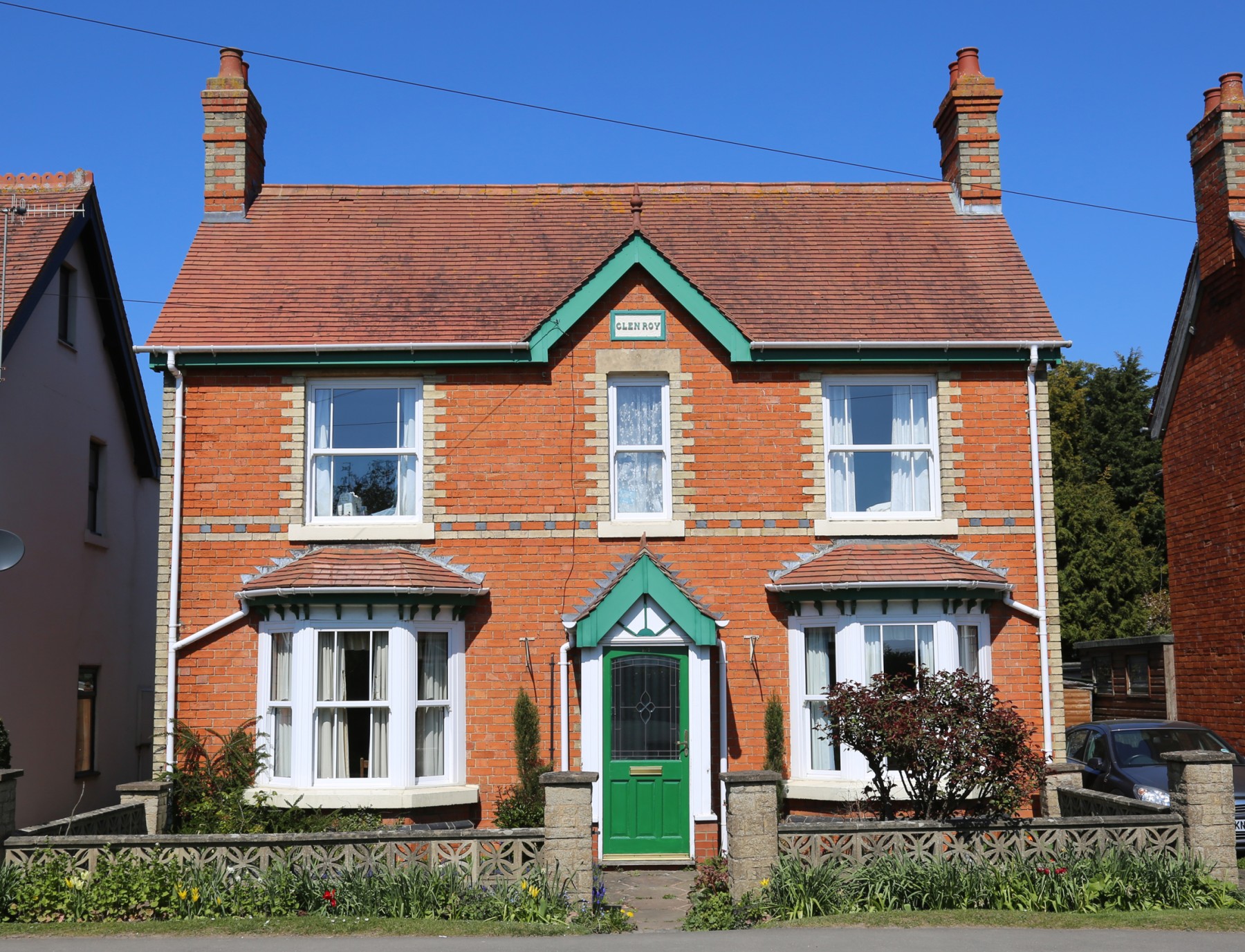 So why Badsey?  By 1913, Albert had only one sibling still alive whilst Hope had seven siblings.  One of her sisters, Eleanor Faith (known as Faith), had married Bretforton-born market gardener, Thomas Vicarage, in 1907.  The following year, Thomas and Faith had bought land on the north side of Bretforton Road in the neighbouring parish of Badsey.  They paid £43 8s for the land and spent a further £265 on having a house built which they named Glen Roy (present-day No 107).  In the nationwide valuation survey, the plot was inspected on 21st October 1912 and described as follows:
Brick and tile house, nearly new and in good repair: 2 sitting-rooms, bay windows, scullery, back kitchen, pantry, coalhouse and water closet, 3 bedrooms.
Faith and Thomas had no children of their own, so were able to welcome Faith's sister and family into their home.
Edward's walk to school would have been a journey of just over a mile.  The most likely route would have been along the Bretforton Road (not so busy as it is now), down a track known as Fourteens to Brewers Lane, then into Chapel Street and School Lane.
The Headteacher of the Infant Department was Mrs Elizabeth Mason, who had first joined the school in 1885 when it was a National School.  Mrs Mason was assisted by three pupil teachers.  In August 1913, Edward, aged seven, entered the Mixed Department.  The normal age of transfer was six, but occasionally children were retained in the Infant Department past that age; these were usually children who were delicate or who had been admitted during the past school year.  Presumably, as Edward had missed some schooling, it was decided to place him in the Infant Department initially.
The Mixed Department was headed up by 27-year-old Frank Edmund Amos, who had taken up his post in April 1913.  He succeeded John Henry McDonald who had died a few months earlier.  On New Year's Day 1914, Mr Amos married fellow teacher, Jean McDonald, a daughter of the former Head.  He remained as Head until retirement in 1944, having dedicated his teaching career to making Badsey Council School a first-class school.  But Edward's stay in the Mixed Department was brief, so he was not able to benefit from this.
Mr Amos maintained a regular Log Book.  In August he wrote:
On Fri 1 Aug 37 infants (19 boys and 18 girls) were transferred to this dept.
The entry for 8th August 1913 reads:
School closed on Mon 4 Aug for Bank Holiday.  The holidays due for good attendance will be taken on Fri of this week, consequently the school will be closed on Thurs afternoon and will not reopen until 8 Sep.  Av att 195.
After a four-week summer vacation, school began again on 8th September.  Young Edward would have been in Standard I, which is referred to in the Log Book entry for 12th September 1913:
Attendance for the first week after the holidays has been good, av att 203, 96.2%.  The new timetable which has been drawn up and tried recently, has been forwarded for HMI's approval.  The time specified for handwork in the timetable of Std I cannot be utilised for such until the necessary apparatus can be bought.  At the present time this cannot be done as the sum allowed per head for this school has been expended.  Many new readers were absolutely necessary in order to carry out the schemes of work.  Many of the scholars' books in use now are the ones used in the old School Board days.  For similar reasons of expense, pastel work cannot yet be introduced into the lower classes.
On 24th September 1913: 
St I have been out in the playground for observation of sun and shadows at times not stated in the timetable.
Edward's last date of attendance at the school was 3rd October 1913, the reason given for leaving as "leaving neighbourhood".  Mr Amos recorded in the Log Book that the average attendance on that day was 203.5, 96.4%.
It is not known where the Stobbs family moved to – possibly to stay with another relative or to rent a place of their own.  What is known is that they returned to Kenya after the war, leaving London on 18th August 1920.  Their country of last permanent residence was given as England and their country of intended future permanent residence was given as British East Africa.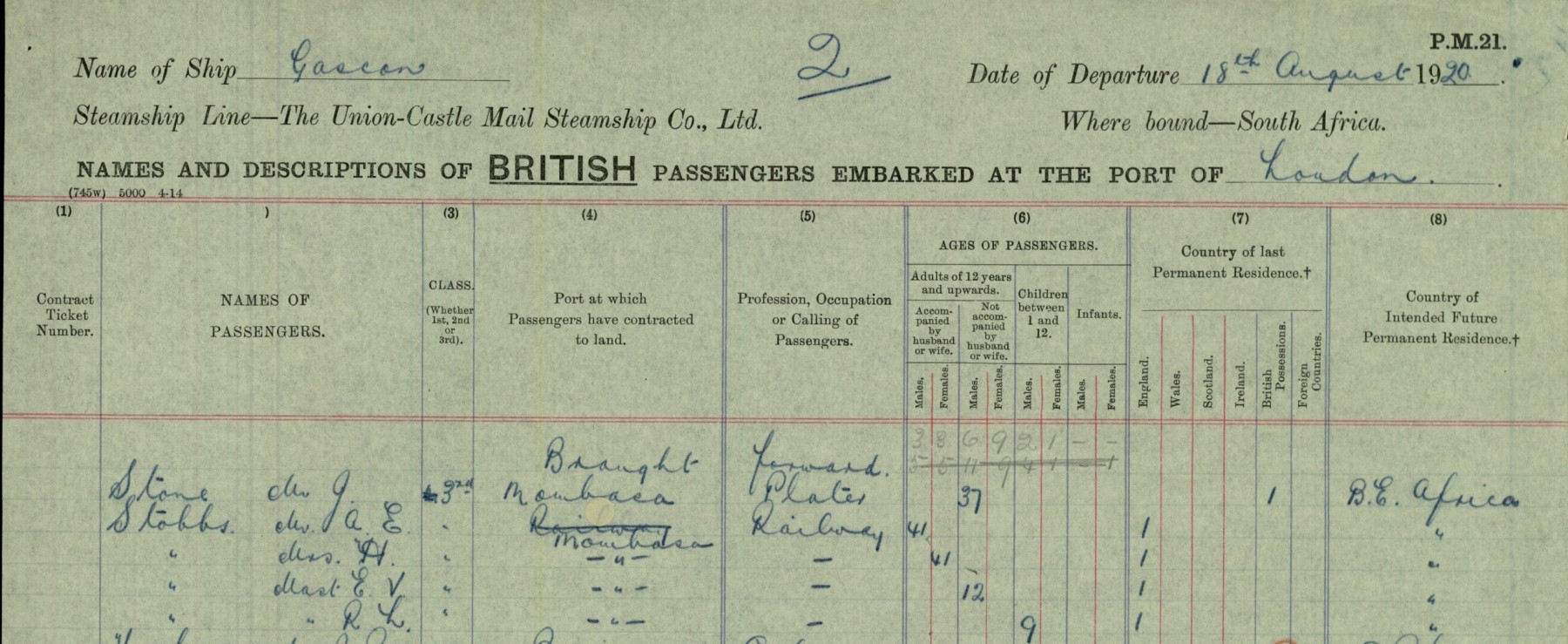 Maintaining connections with Badsey
We know from various sources of information that the Stobbs family visited Badsey on future trips to the UK.  A shipping record for April 1928 records that Hope Stobbs and her son, Edward Victor, by now an engineer, had sailed from Mombasa and would be staying in England at "Glen Roy", Badsey.

By 1938, Edward Victor Stobbs was married and had two young children.  His wife, Gladys, and two sons arrived in London from Kenya on 1st April.  Edward and his parents were also back in England by September in 1938 when Hope's sister, Faith Vicarage, died at Badsey on 10th September.  According to the newspaper report in The Evesham Standard, the funeral at St James' Church, Badsey, included Mr & Mrs E Stubbs (brother-in-law and sister) and Mr T Stubbs (nephew).  Stubbs was clearly a mis-spelling of Stobbs.  Albert Edward was often known by his middle name, hence "E Stubbs" and "T Stubbs" might have stood for "Ted".  We know that Edward Victor Stubbs was in England at the time, as he returned with his family (which now included a daughter, born in London) to Kenya on 4th February 1939.
In conclusion
A chance happening upon details of a brief school career at Badsey Council School has opened up a number of insights into Edward's time in Badsey and has added some flesh to the bare bones of family history.
Edward ended his days in Cape Town, South Africa, in 1975.
Maureen Spinks, January 2023