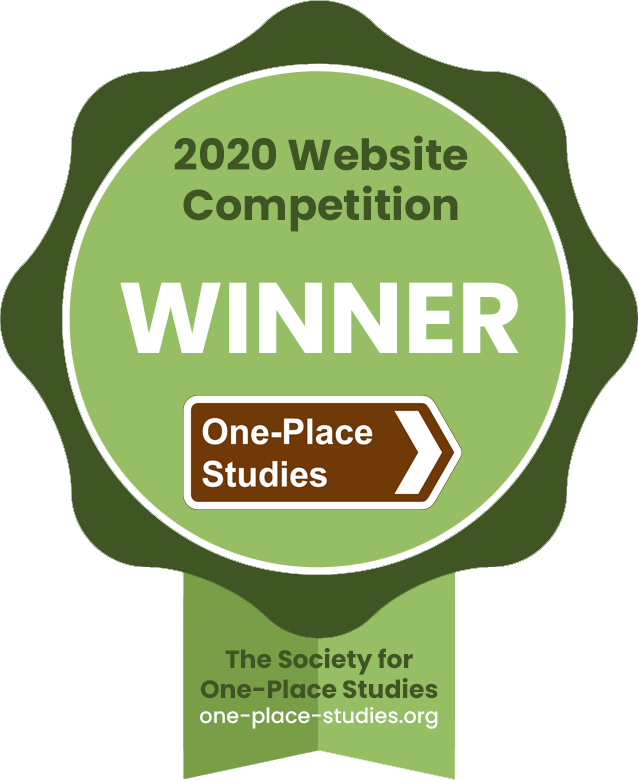 We are delighted to announce that The Badsey Society's website has won an award for best website offered by the One-Place Studies organisation.  The Badsey Society has been a member of this organisation for the past few years.  Its aims are to bring together like-minded people and provide a platform for members to share good practice, ideas and methodology in one place, as well as promote the research being undertaken on their study area.
For the first time, the organisation decided to hold a website competition to find one which represented the Place and the Society well.  The Committee judged the entries on the following criteria:
Design – The visual appearance of the website; presentation and layout of pages
Usability – The organisation of the website; ease of navigation, readability of content
Content – The information on the website; good synthesis of data, range of data sources used
Updates – Regularity of updates and additional content
The winner was announced at the 2020 Society for One-Place Studies Conference and AGM (held via Zoom) on 14th November.  As winners, we are able to display the competition badge on our website.
Thanks are due to all those people who have contributed to the website in one way or another.  We hope you will agree that the website was a worthy winner of this inaugural award.
Set out below is a brief history of the website (yes, even websites have histories!), which helps to explain how it has evolved over the years.  
In the beginning
The website that you see today, www.badseysociety.uk, was born in 2016, but its origins are much earlier than that, dating back to the turn of the century (which is basically pre-history as far as website design is concerned for most people).  In order to understand how we have got to this place today, I need to take you back to how it was in the beginning.
Back in 1997, my son started in Reception at Badsey First School.  What intrigued me about his class-mates was that roughly half were incomers like ourselves whilst the other half were from families who seemed to have lived in the village for generations.  I decided that I would like to write a history of this Victorian school and started researching.  But one thing leads to another and, before I knew it, I was deep into looking at census returns and parish records in an effort to learn more about the pupils who attended the school a hundred or more years ago.  I recorded this information on a series of Excel spreadsheets.  At this stage there was no such thing as The Badsey Society.
The first website
In the year 2000 I organised an exhibition of my findings to date at the school's Millennium fete.  A few days later, I received a letter passed on to me by the Head Teacher.  It was addressed to "The teacher in charge of the history exhibition" and was from a newcomer to the village, Richard Phillips, who had recently retired from lecturing at The University of Nottingham.  He wanted to set up a village website and wondered if I would be willing to share my research.  The rest, as they say, is history.
In many ways, it was a partnership made in heaven.  This was long before the days of Ancestry or FindmyPast, so Richard had begun extracting data from the 1881 CDs produced by the Church of Jesus Christ of Latter-Day Saints (remember those?).  He was thus delighted to find that I had completed most of the census returns from 1841, having spent long hours poring over microfilm records, and had embarked on looking at parish records.
My Excel pages were transformed into web pages with a fully searchable index.  From the outset, we were adamant that the information should be freely available.  This was at a time when, in the early days of local history websites, many historians were precious about their research and felt that information should be purchased.  Other researchers came on board.  Peter Stewart had already done a major survey of the monumental inscriptions in the churchyard and now these could be displayed on our new website.
We were so excited when we received our first message in the Visitors' Book from someone living in Australia who was descended from a 19th-century curate in Badsey.  Nowadays, we are used to receiving messages from all over the world but, 20 years ago, it was still a novelty.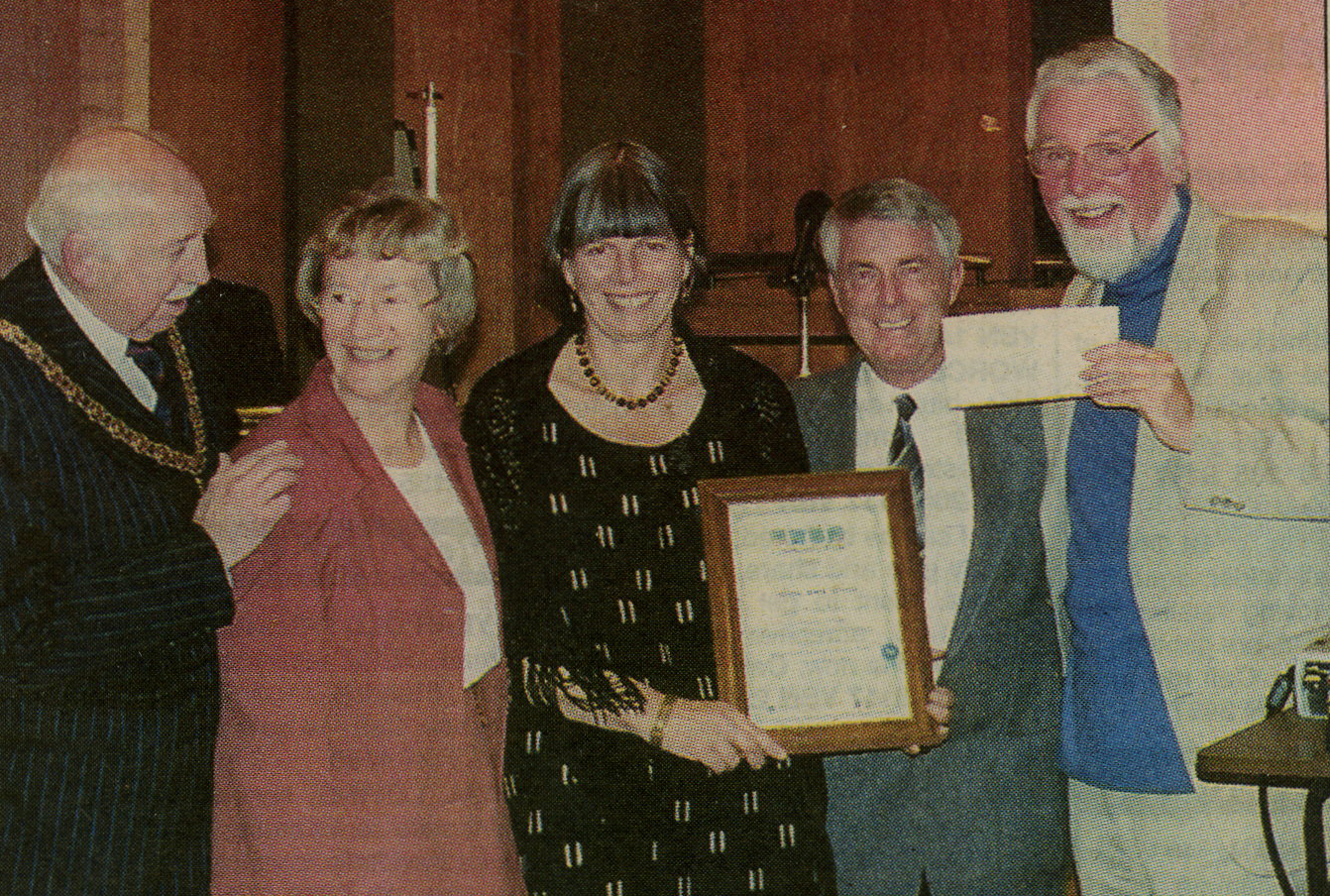 The website began to grow like Topsy.  More and more articles were being added and Richard soon had a willing assistant in Will Dallimore to help with putting items on the website.  In 2002 (by this time having formed The Badsey Society), we were delighted to receive recognition for our work by winning the Worcestershire Community Pride award.  One winter morning in "The Posh Shed" (the name later given to the building in the Dallimores' back garden), two Councillors came over from Worcester to view our project – our challenge was to impress them with our website, particularly as one of them, the Chairman of the Council, was not a computer user!  But impressed they were, describing the website as "an innovative project which may well provide a template for other communities hoping to embark on a similar scheme".
In 2008, Tom Locke from Wickhamford joined the Society.  He began writing articles and, very soon, we had a sizeable Wickhamford section of the website.
By May 2015, Richard decided to retire from editing the website and he sadly died in October of that year.  The website which he had set up, www.badsey.net, more than anything else, can perhaps be viewed as Richard's memorial and legacy to the village.
The new website
With Richard no longer at the helm, we were in a predicament.  On the website we had accumulated a huge collection of articles, photographs, maps and records about Badsey, Wickhamford and the surrounding area, but it badly needed restructuring. It had become so large, it was difficult to locate material within the website and maintenance was a problem. Pages were still created and edited using an HTML editor and none of us on the Committee had the specialist knowledge to make changes.  What had seemed cutting edge in 2000 was now desperately in need of a revamp.  The website was frozen whilst we decided what to do.
Having spent many years working in university administration, liaising with organisations such as UCAS and the Student Loans' Company, I knew that it was possible for people with no specialist website knowledge to upload data and text to a website.  I therefore consulted Richard's son, Will Phillips, of Stapleford Design, to see whether he thought it would be feasible to have a new Badsey website with this facility.  He advised me that we would need to build a new Content Management System (CMS) website, explaining that functionality such as good search capabilities, user management, and the ability to upload images and other common file types were included as standard in most CMS software. 
Fortuitously, our desire for a new website came at a time when the Heritage Lottery Fund were promoting their grants for WWI projects.  We had previously received grants from Heritage Lottery Fund and Local Heritage Initiative for other projects, but this WWI pot of money seemed too good an opportunity to miss.  A major part of the WWI project was the digitisation of the vast number of WWI letters written by the Sladden family of Badsey, which were held at Worcestershire Record Office.  A website which could cope with this was therefore essential, so a large proportion of our grant application included a bid for design of a new website.  We obtained quotes from other website design companies, but Stapleford Design proved to be by far the most competitive.  
For a year I worked with Will on the design of the website.  Whilst initially the main focus of the new website was on the Sladden letters and other WWI-related articles, we were keen to ensure that all the information which had been available on the old website – census records, baptisms, marriages, burial, etc – would also appear on the new website.  The census and parish records on the old website were on static pages.  This required offline spreadsheets being maintained (by me) and then manually converted into HTML (by Richard).  Will recommended putting all of the records into an online database which would enable much more flexibility in how the records could be displayed and searched.  He went on to say:  "Moving the records to such a database would require some thought, because of the range of different record types, which would probably all need to go into different database tables. There are issues such as how the data would be maintained and whether you would like the flexibility to easily add new record types in future."  Thus defining the content of the databases and writing the specifications was a time-consuming process and a huge learning curve, but the end result was more than worth it. 
We eventually went live in September 2016.  The advantage of a CMS website is that it can be easily maintained by volunteers, with relatively little technical knowledge required. 
The website today
Now that we have all the building blocks in place – census returns, parish records, monumental inscriptions, enclosure records, Valuation Survey records, National Farm Survey records (all the items that a good one-place study should have) – it makes it so much easier for writing new articles.  A quick look at the "Recently added articles" section of the Home page shows the plethora of articles that have been added this year.  Thanks to all our members who have been busy during lockdown!
Our initial decision 20 years ago to make all our records freely available was definitely the right one.  The more you give, the more you get.  On many an occasion, someone has contacted us concerning an article seen on the website, and this has resulted often in exciting new information coming to light.
A subscription to the British Newspaper Archive continues to bring huge benefits and we have added many transcriptions of Badsey and Wickhamford-related articles to the website.  Until three years ago, The Evesham Standard had not been digitised.  But, encouraged by the statement on the BNA website that if enough people voted for a newspaper it would move up their priority digitisation list, we ran a campaign encouraging as many people as possible to vote for The Evesham Standard.  It did the trick and we have an enormous treasure trove of material to access.
    
A popular addition to the website this year has been our Weddings photo gallery.  Our oldest wedding photo dates back to 1902; the most recent one added is 2017.  Then, of course, there's all the wedding reports in the local newspaper …..  We have more than enough material to keep us occupied for years to come.
A coup for the Society earlier this year and showing the power of the internet was the fact that we had 50 seconds of fame on Radio 4!  In May, an independent production company was putting on a programme about the 1918 flu pandemic.  A researcher came across the Sladden letters with a reference to "Spanish flu" and asked if this could be included in the programme.  And yours truly had to give a brief introduction!
Our Visitors' Book shows the many comments we have had from people all over the world.  It is particularly pleasing to receive letters from folks whose ancestors left Badsey perhaps 150 years ago.  For example, we have discovered that there was a considerable amount of emigration to America in the 1860s-1880s – and they almost all went to Ohio, primarily to an area around the township of Auburn.  They might not have had the internet in those days, but word obviously got back to Badsey about the opportunities across the pond.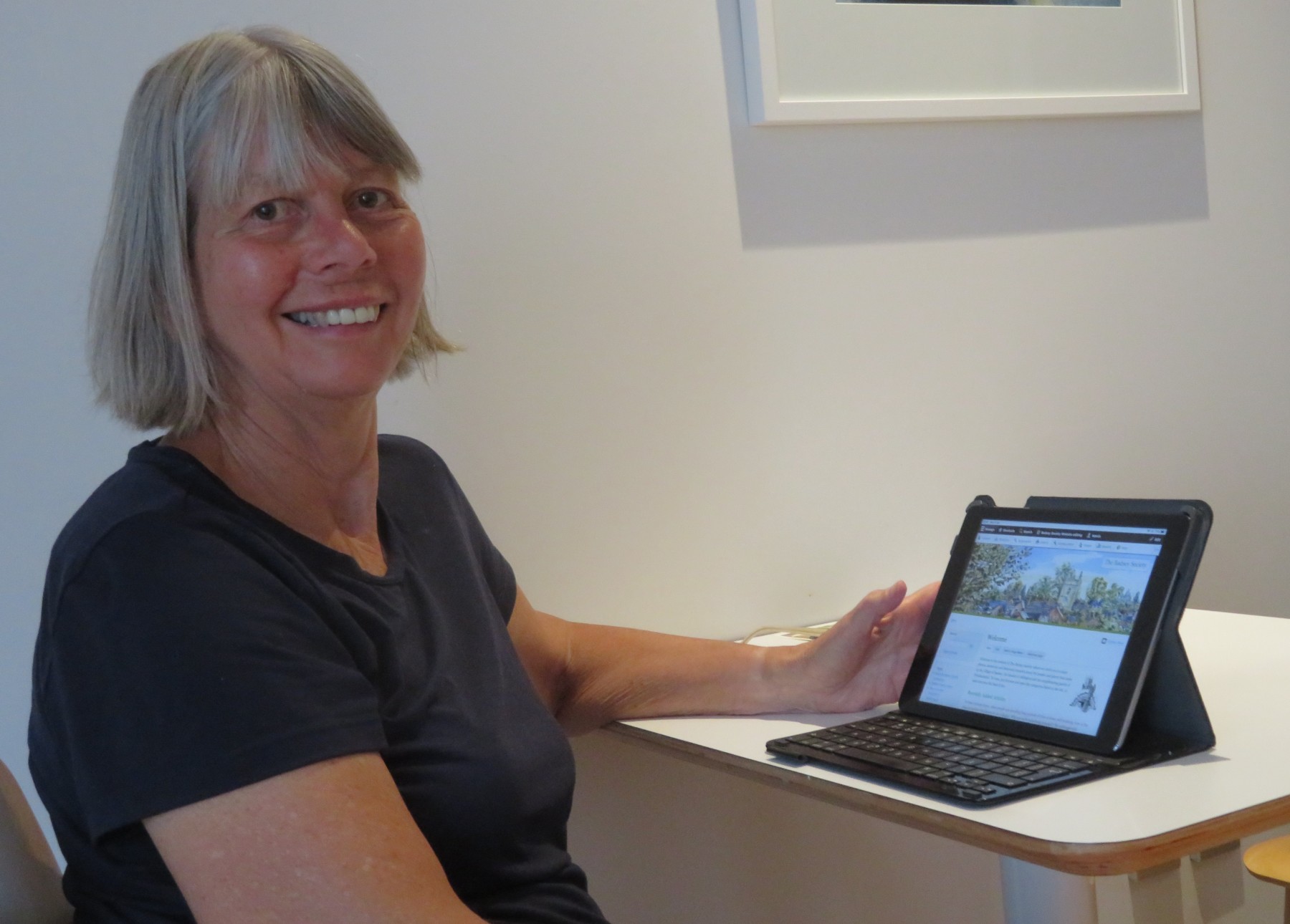 We like to think that in this strange coronavirus year, our website has brought pleasure to many people worldwide.  Even though I found myself temporarily marooned in New Zealand in March/April 2020 due to the current pandemic, this did not stop work carrying on.  Here I am working on my ipad adding articles sent to me by Tom Locke.  The show must go on!
Maureen Spinks, November 2020