William Mason was the eldest son of John and Elizabeth Mason, born in Badsey in 1899 and baptised there on 21st April. His full name was John William Mason and his father was John White Mason, a market gardener. His mother was a teacher who later became Head of Badsey School. Bill, as he was known, came to live in Wickhamford with his parents and younger brothers, George and Thomas, but had left home – Elm Farm – by the time of the 1911 census.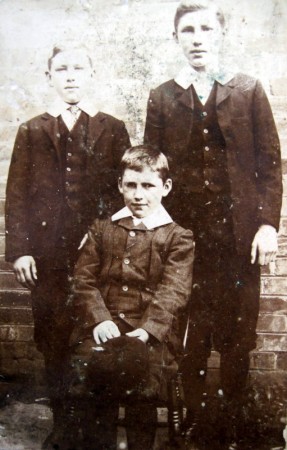 Rev. Peter Braby interviewed Bill Mason during his incumbency as Vicar of Wickhamford and of Badsey (1958-1973) making notes about his memories of life in the village as a boy. Rev. Braby dated these reminiscences as from 1910, but when the notes were recently examined it became apparent that some of the events related more to memories of Bill's father John or even his grandfather, also named John.
This short article looks at the memories as typed up by Rev. Braby, one by one, and adds some background information.
The first items mainly concerns properties and people on the West side of Manor Road, starting at the site of the present Hody's Place.
The recollections of William Mason

Comments

"6 cottages put up by Capt. Lord for smallholders. Pulled down by G. Lees-Milne for building of Hody's Place. Big stables there before."

Actually only 4 brick cottages in a terrace. Occupied by Fred Norman, Theodore Moisey, George Brotherton and George Eden in 1911. The terrace would have been built in about 1870, so the comment about stables being there before would have been told to William by his father or grandfather.

"Haine's cottage. There were 3 cottages there. After church on Sunday evenings, 3 old ladies held prayer meeting there."

Probably old cottages where Whytebury & Oakenshore now stand. Norris Haines, chauffeur to George Lees-Milne at the Manor, lived in Whytebury after WW1.

"The Cookes' cottage was really tumbledown. It was occupied by a man called Roberts."

There is no record of 'Roberts' in the censuses. He could be referring to the'Robbins' family who lived in what became Robin Cottage when George Lees-Milne re-styled the building in the 1930s.

"Then 2 cottages next to Old Vicarage.

Mrs Howes & her son – kept 2 donkeys.

Mrs Green an old lady who was a servant at the Sandys."

This would be Weathervane Cottage which was two 2 households in 1911.

Frank Herbert

Mary Ann Green, 72. Lodger, widow.

Elizabeth Howes and Mary Ann Green live here in 1891, so perhaps memories of William's father or grandfather.

"The Old Vicarage. The Masons, going back to Gt. Grandfather Robert. Grandfather and father called John."

John Mason (senior), 73 & wife Jane, 74, lived in the Old Vicarage in 1911.

"Pitchers Hill Farm. Wm Smith family, married John Pope's daughter. John Pope lived at the Manor, before Idiens. 2nd wife of Smith was his housekeeper."

William Smith and his family were at the farm in 1911.

"Then an old cottage on the bank of Poulters' field next the rickyard. Only walls standing."

 

"Then a house in the fields occupied by the Winnetts. Little gate still there when they cut through to their house. A lot of trees there."

In 1901 Richard Winnett, 65, lived in a cottage in a field to the south of Wickham House. This was demolished soon after.

"Then 2 cottages on corner of main road, built about 1900."

William is referring to the present 5 and 6 Longdon Hill, opposite the Sandys Arms, but the plaque on the side wall states that these were built in 1872, by John Pickup Lord.

"Sandys Arms. Pethard landlord. Great friend of W. Mason's grandfather."

The Sandys Arms had been occupied by the Pethard family almost since it was built in 1834, George Pethard and family lived there in 1911.
William now turns to the other side of Manor Road, the East side, although he has already mentioned the Sandys Arms and the cottages where Whytebury and Oakenshore now stand.
The recollections of William Mason

Comments

"There was a cottage where the Memorial Hall now is, occupied by an old man Dunn who lived on urchins."

In the 1891 census Oliver Dunn, 56, lived in this cottage, which was demolished at end of the 19th century. An urchin is a colloquial term for a hedgehog.

"Dr Astley's house: 2 cottages, occupied by Staites and Porters (?) possibly old lady Staite used to be brought back by husband in wheelbarrow from Sandys Arms, drunk."

Dr Astley lived in Brookfield in the 1960s. Hannah Finch lived there in 1891. It was unoccupied 1901 and the Westwood and Willoughby families were there in 1911.

Rebecca Staite was buried in. Wickhamford churchyard in1901 and may have lived there between censuses.

John Porter lived in Corner Cottage in 1891.

"Lots of hops grown. Hopyard on right hand side coming from Badsey in Golden Lane, opp. where Harry Marshall lives.

Hop grounds on Manor Grounds where kitchens are now.

Another big hopyard where the Manor cottages are (Wickhamford Lane).

Disappeared when smallholdings began.

Was a stone quarry there belonging to the Masons."

This field was in arable crops and orchards at the time of the Land Valuation Survey in 1913, so the hops had been removed by then.

-

Also arable fields and orchards in 1913.

Along Wickhamford Lane a quarry is marked on OS maps of the late 19th century and one field was still called Quarry Ground when the land was sold in 1930.

"Grandfather owned most of the Glebe land, inc. the 'Cow Meadow', over bridge from church towards Badsey."

The Glebe land was a small field behind the Old Vicarage.

"Mr Hunt didn't start from Badsey Vicarage for Wickhamford till he heard bell ringing at W. church, then ran across fields. Could run like a hare."

Rev. Thomas Hunt was Vicar of Wickhamford and of Badsey in 1852-87, so this story is from William Mason's father or grandfather.

"Father Mason worked for the Phillips at the Manor. Sir Thomas Phillips owned half of Broadway. They were at Wickhamford Manor before the Popes came. Notorious because he dressed like a tramp. Used to fry bacon on the side of the road."

Sir Thomas Phillips owned Broadway Tower during the mid 19th century; he was a famous collector of books and manuscripts. Thomas Smart Phillipps, son of John, a farmer, and Annie Miriam Phillipps of the Manor was baptised at Wickhamford on 17th August 1877, during the Phillipps two or three years tenancy of the Manor. William Mason was retelling stories heard from his father, John Mason, whose family were at Old Vicarage in 1881. The man who dressed like a tramp may have been John Phillipps.

Edward Pope was at the Manor in 1881.

"The Mill. Can't remember who lived there."

The Smith family ran Wickhamford Mill for many years.

"The Meadows lived over the bank from Carter's farm in Bengeworth parish (4 Pools)."

Presumably on the Evesham side of Longdon Hill. Benjamin Carter was at Field Farm for the censuses of 1891, 1901 and 1911.

"Whitfurrows. A labourer employed by Chas. Byrd who owned Elm Farm but kept a public house in Evesham (the Fleece). Employed a bailiff on the farm. Shepherd and carter lived in 3 cottages where the old ladies went to pray."

Herbert Warman and his large family were at Whitfurrows in 1911. James Willoughby was there in 1901.

The cottages demolished on the site of Whytebury and Oakenshore site again ?
William lastly turned his thoughts to some of the fields in the village.
The recollections of William Mason

Comments

"The Dene, across the Roman burnt road."

Withy Dean was a field in the sale of land by auction in 1930; it abuts the bridle path from Manor Close to the Willersey Road, that probably was part of an old Roman road from Hinton to Honeybourne.

"The big coppice where R.D.C. dump is."

This would be the ash coppice, Coombefield Plantation, which was sold at the 1930 auction.

"The Leaslowe at the back of the farmhouse coming down the main road where Wm. Walters lives. 'The best fulling ground in Worcestershire'."

William Walters lived in one of the cottages next to the Memorial Hall.

William may have been referring to good soil for Fullers Earth, used to remove grease during cloth making.

Alternatively, it may mean a field with good grass where you would put lactating cattle to help produce a larger quantity of milk or more generally 'good grazing' land.

"Clarendon Day lived at Gallipot Farm."

Gallipot Farm is beyond the eastern boundary of the village.

"Drury's Orchard the one next to the Masons. Mason's father a' great horse coper'."

A horse coper was an old term for a horse dealer.

"Field Farm. Benjamin Carter from Somerset. Everything was 'Her'. Also 'a horse coper'."

Benjamin Carter was born in Pawlett, Somerset in about 1843.

"Bowers Hill Farm. Some name like Lamto or Lapstone. Died of lockjaw. Carthorses, Suffolk punches etc."

Bowers Hill Farm is on the Willersey Road in Badsey parish. James Mapstone became a tenant there in 1894 and in 1895 the bailiffs tried to recover a debt from him. In a struggle one hit him on the head and he died of tetanus on 25th March.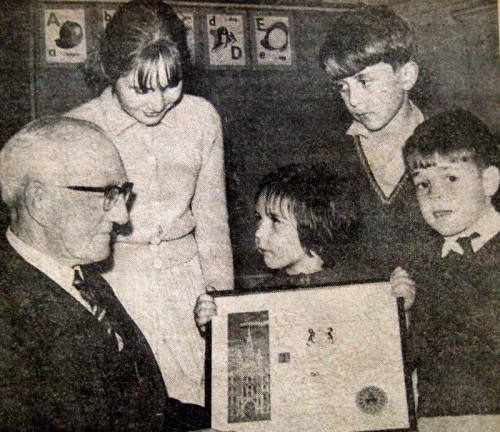 Further information: See web-site articles on The Mason Brothers of Elm Farm and Edwardian Wickhamford.
The incident concerning the death of James Mapstone is reported in more detail in Aldington and Badsey Villages in the Vale A Tapestry of Local History pp 35-36.
Acknowledgements: Thanks are due to Peter Stewart for drawing our attention to Rev. Peter Braby's notes. Peggy Hancock and Nick Murray-White kindly supplied the photographs of William Mason.
---
Tom Locke & Val Harman – September 2013