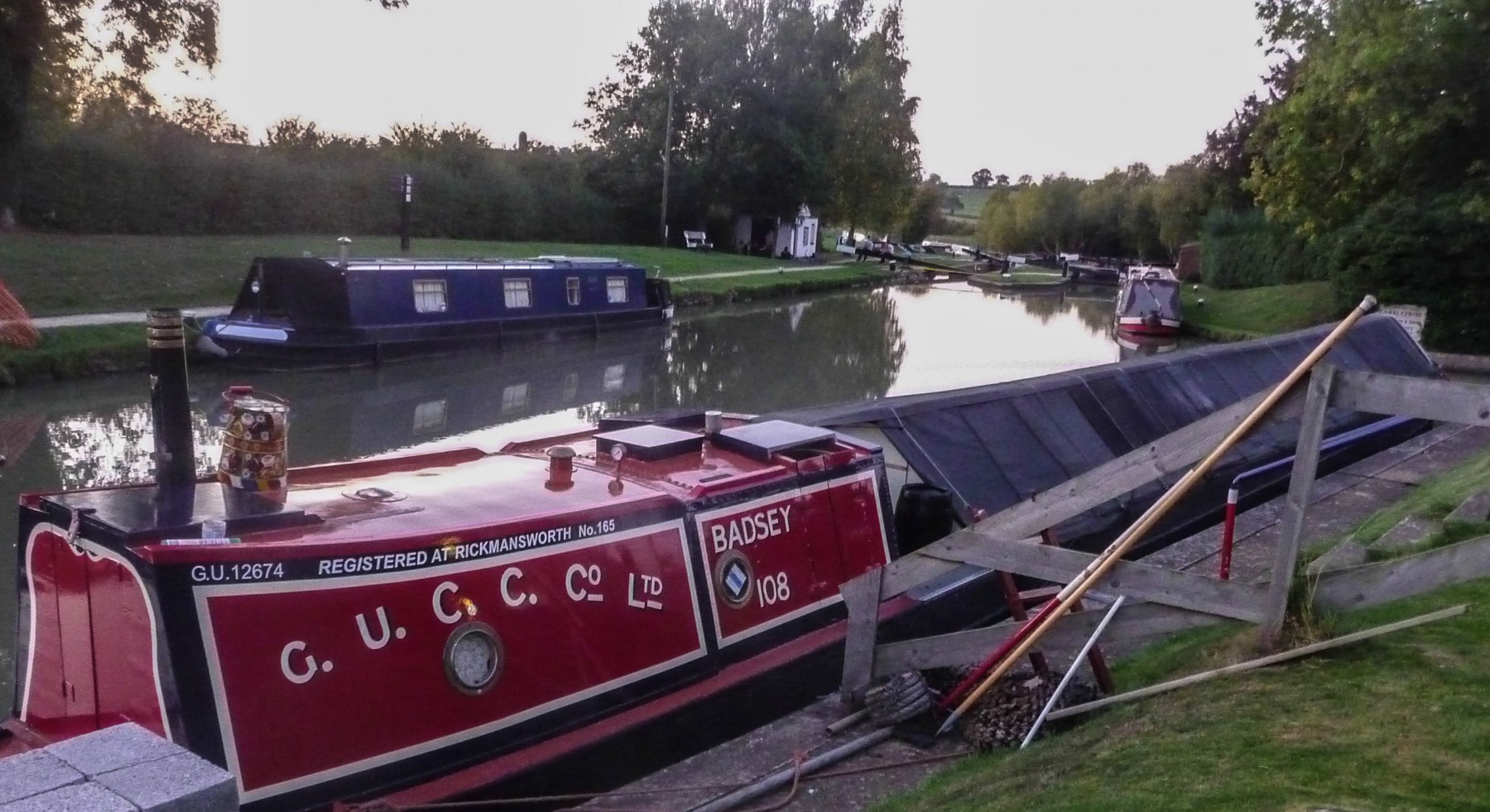 Did you know that there's a narrowboat called Badsey?  Neil Corbett, who grew up in Badsey but now lives in Berkshire and has his own narrowboat, alerted us to this fact. 
Moored at Hillmorton, Rugby on the Grand Union canal, the restored historic working narrowboat Badsey now sits outside" Badsey's café", formerly the British Waterways Canal Office.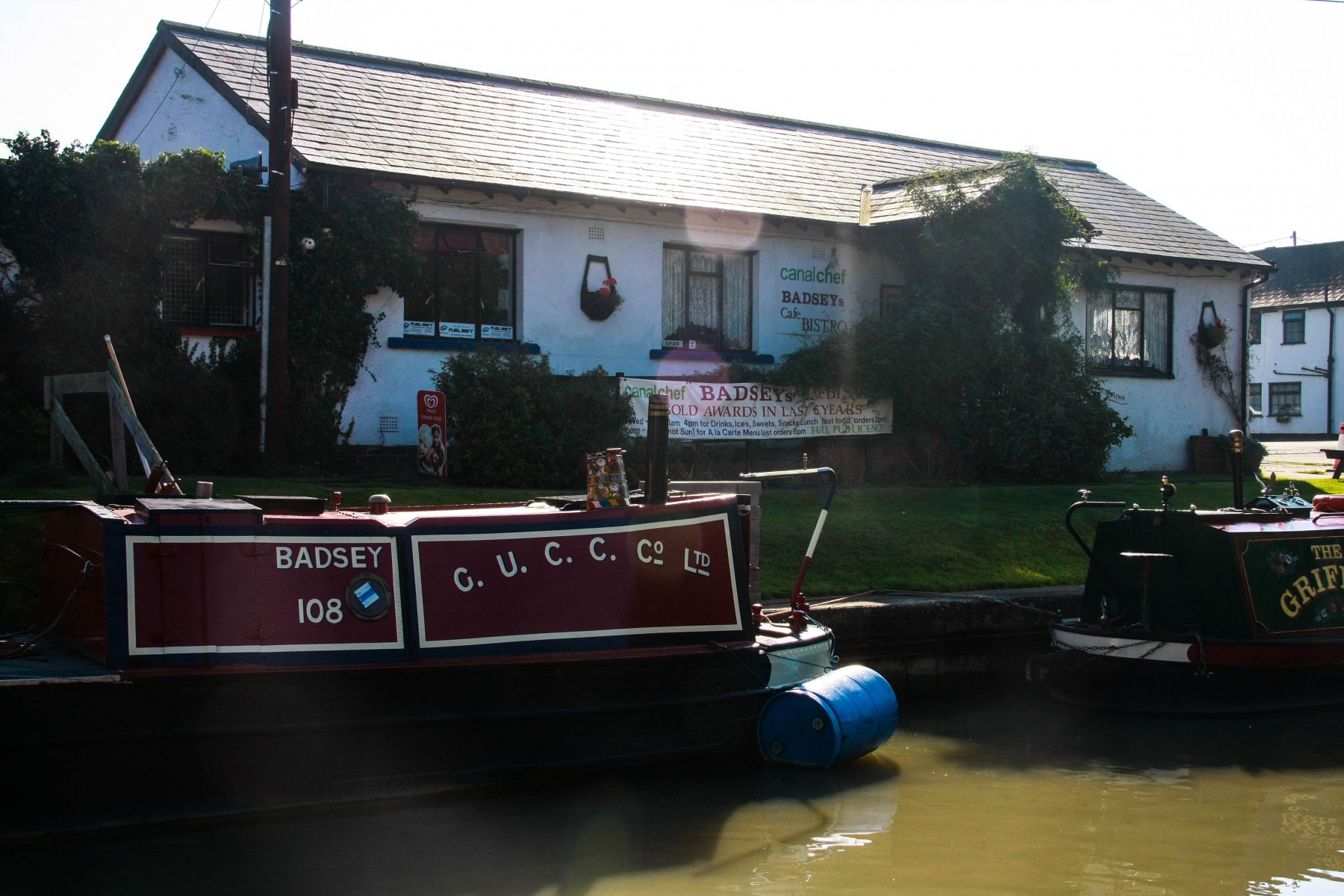 Badsey was one of 100 pairs of boats ordered by the Grand Union Canal Carrying Company in 1935, a "pair" being an engined "motor"  boat towing a similar length unpowered "butty".  Common practice was for a man to steer the motor while his wife steered the butty.  Both boats had small cabins for family accommodation and large carrying holds
Badsey was launched in 1936 and was indeed named after the village of Badsey, or more likely, its railway station.  Designated as "Town Class", these motor  boats were all named after towns or villages on the railway map with initial letters between A and H which might explain why "Littleton" was omitted.  Another reason might be that they wanted the names kept short to simplify the signwriting! We can only guess why larger places such as Evesham were excluded.  The order for a hundred boats for GUCCCo was shared between three boat builders, Badsey being built at Woolwich by Harland and Woolf, who also built the Titanic.  These H&W narrowboats were known as "Large Woolwich's", having a deep hold for a canal boat.  When unladen, the bow sits up alarmingly high above the water causing some trepidation to oncoming pleasure craft.  Having steered a large Woolwich myself, they are surprisingly easy to handle.
Unlike the Titanic, Badsey had a long working career. During the Second World War she was employed carrying Guinness between London's Park Royal Brewery and  Birmingham until the difficulty of insulating the cargo from extremes of hot and cold weather showed that faster road transport was better.  In later years she enjoyed a range of duties up and down the Grand Union canal, mostly carrying food stuffs of one sort and another.  In 1948 the waterways were nationalised and Badsey became the property of British Waterways who, it seems, had no good use for her and she fell into a sad state of disrepair. Luckily in later years she spent time in the hands of a sequence of enthusiast owners who gradually brought her back to a good state. One such was renowned narrowboat painter Phil Speight who during his ownership did a beautiful job of redoing the traditional roses and castles style painting in the interior of the boatman's cabin.
During her life, Badsey had a couple of engine replacements, but by sheer fluke she now features, fully restored, her original engine from 1936. It just so happened that when the current owners took her over and were looking to replace the engine, they turned to nearby engine restorers Tony and Paul Redshaw who had just bought four old scrap National engines from Gloucester and as luck would have it, the serial number on one of them showed it was Badsey's original engine.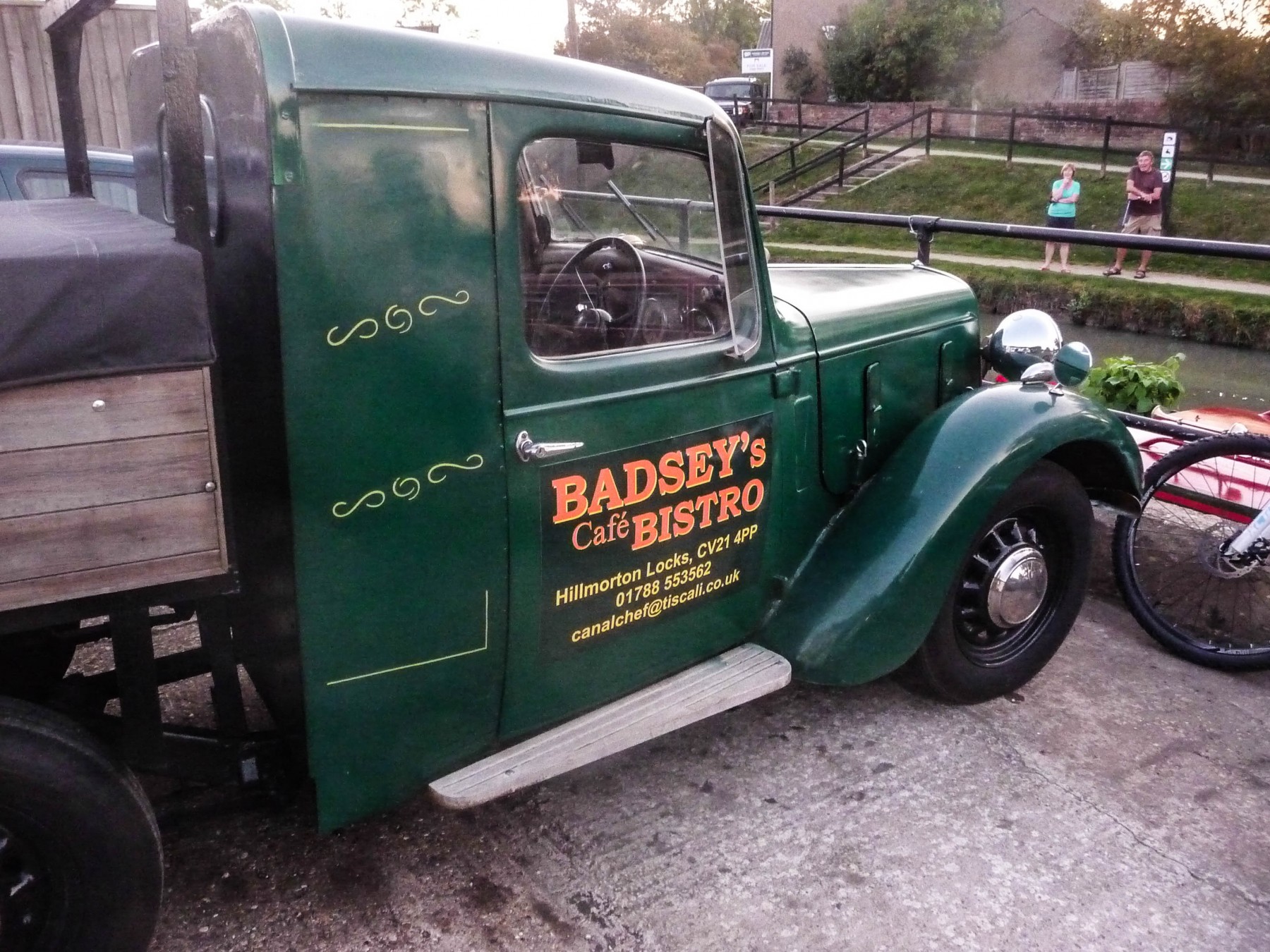 So now she sits fully restored and looking good as new in Hillmorton outside Badsey's café for all to admire.  The café is pretty good too with lovely home cooked food and a number of interesting old canal photos inside plus one or two from Badsey village. Set in the middle of an attractive flight of three pairs of locks the spot would make a pleasant day's outing from Badsey to 'Badsey'.
Neil Corbett, November 2018