Henry George Sadler was born at Badsey on 11th November 1916, the second of six children of Ernest Sadler, a market gardener, and his wife, Ellen Kate (née Hartwell).  He grew up on Brewers Lane and attended Badsey Council School from 1920-1930.  He married Ivy Irene Turner on 13th May 1939 at Badsey and they had two sons.
Henry was a market gardener's labourer and lived for the first years of married life at Claybrook, Bretforton Road, before moving to a new Council house on Horsebridge Avenue in about 1947.  In retirement, he and Ivy moved to a bungalow on Manor Close, Badsey.  His next-door neighbour was the late Mrs Audrey New who taught the piano to many local children.  Mrs New was captivated by a poem that Henry had written and made a copy of it.  
Henry died at Manor Close on 28th August 2003, aged 86, and was buried in the churchyard of St James, Badsey.
* * * * *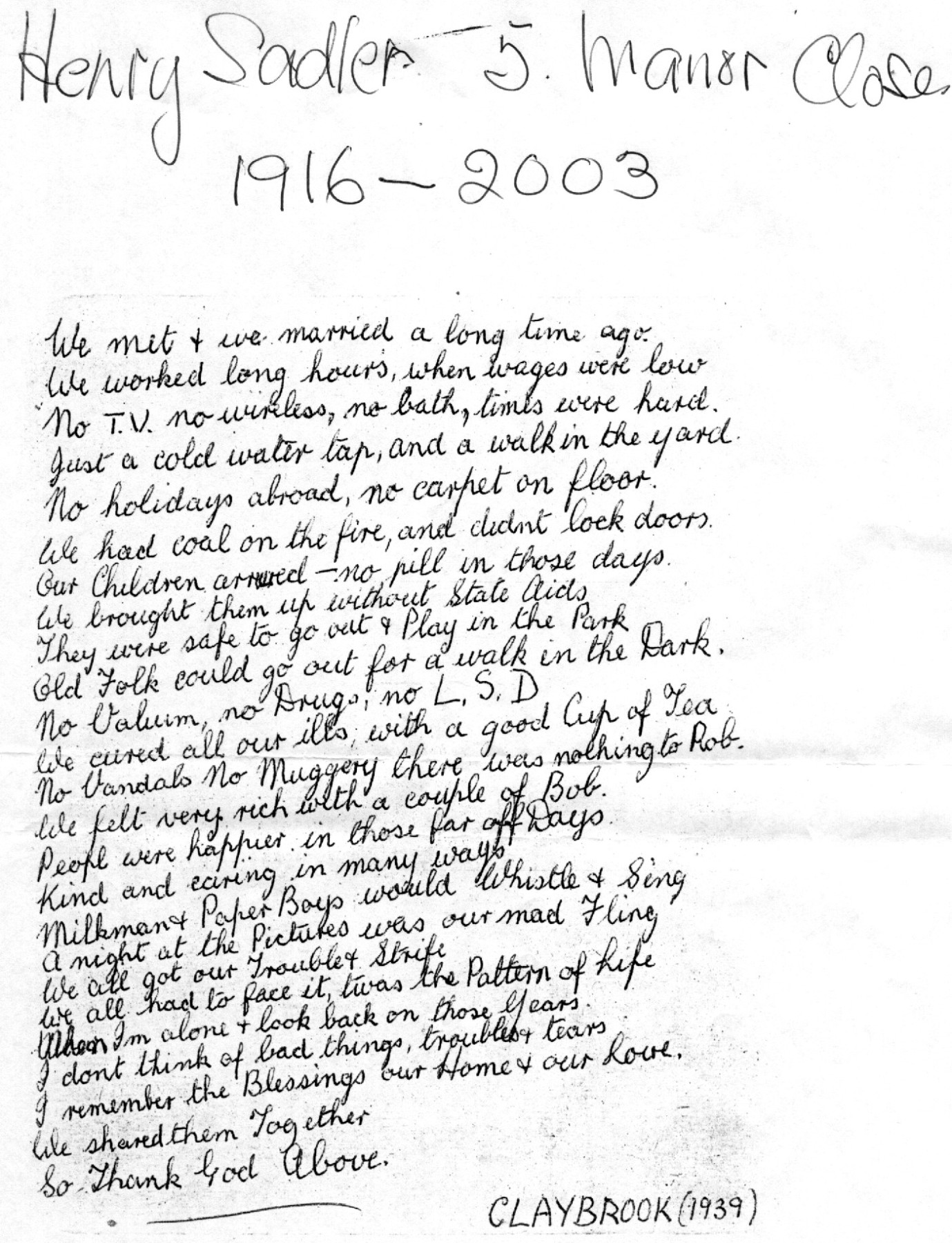 We met and we married a long time ago,
We worked long hours when wages were low.
No TV, no wireless, no bath, times were hard,
Just a cold water tap and a walk in the yard.
No holidays abroad, no carpet on floor.
We had coal on the fire and didn't lock doors.
Our children arrived – no pill in those days.
We brought them up without state aids.
They were safe to go out and play in the park,
Old folk could go out for a walk in the dark.
No Valium, no drugs, no LSD.
We cured all our ills with a good cup of tea.
No vandals, no muggery, there was nothing to rob,
We felt very rich with a couple of bob.
People were happier in those far-off days,
Kind and caring in many ways.
Milkman ad paper boys would whistle and sing.
A night at the pictures was our mad fling.
We all got our trouble and strife,
We all had to face it, it was the pattern of life.
When I'm alone and look back on those years,
I don't think of bad things, troubles and tears.
I remember the blessings, our home and our love.
We shared them together
So thank God above.
Claybrook (1939)