"Burnt Road" in Wickhamford is the local name for a track that runs from Manor Road to the Badsey to Willersey road.  It starts at where the present-day Manor Close joins Manor Road, by no. 10, and runs to the location of Francis' Grave at Willersey Road.  Its total length is about 700 yards and it is part of the route of a Roman Road that ran from Tewkesbury, on the River Severn, to join Icknield Street at Honeybourne.  At present, it is a bridle path and crosses Wickhamford Brook part-way along its length.
The name "Burnt Road" does not appear on any maps or been found referred to in any newspapers.  It is a name used by villagers in the past but its origins are intriguing.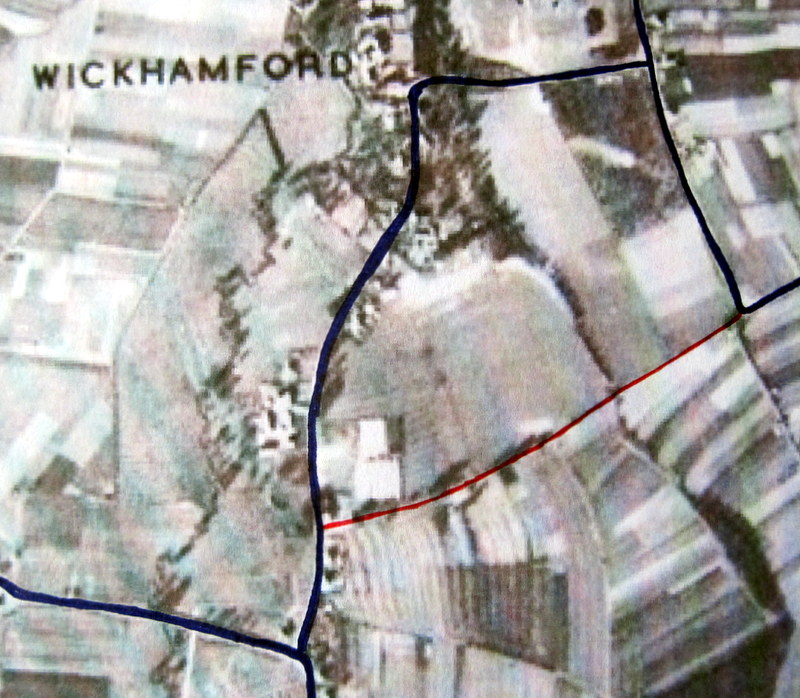 As can be seen on the aerial photograph above, the fields to the North of Burnt Road, were agricultural in 1945, and they were part of Elm Farm.  The white buildings were Pearce's Nursery glasshouses.  To the South of Burnt Road it can be seen that the land consisted of market gardener's plots.
The land in Wickhamford was part of the Sandys family estates until 1869, when the whole of the village was sold to John Pickup Lord.  He died in 1877 and his land was taken over by The Trustees of J.P.Lord.  They sold some properties in an auction in 1930 and then the rest of their holdings to Christ Church College, Oxford in 1950.  Under these various land owners, market gardening developed from the late 19th century onwards, with growers renting areas of land.  
The Evesham Custom
The way that market gardening was managed locally was according to the Evesham Custom of land tenure.  In summary, the conditions were:
A landlord allows his tenant undisturbed occupation, subject to the land being properly managed and the rent regularly paid;
A tenant may improve his holding, for example by planting fruit trees or building a shed, without obtaining permission from his landlord;
A tenant who wishes to give up his tenancy is able to introduce a new tenant to the landlord with the amount of compensation, known as ingoing, being agreed between the outgoing and incoming persons;
If the landlord has good reason for not accepting the prospective new tenant, he must then personally compensate the old one, so that the latter is no worse off.
More details concerning the Evesham Custom can be found in the article on this subject by Terry Sparrow.
Land transfer on Burnt Road, 1955
When a tenant wished to transfer his land to someone else, the new tenant paid a sum of money to him to cover the value of any crops already growing on the land.  An example of such an agreement is shown in the document below.  On 11th July 1955, P.G.Grinnell transferred his tenancy of 1½ acres to Mrs J Newbury.  This is of interest, as it mentions that the land is at Burnt Road, Wickhamford.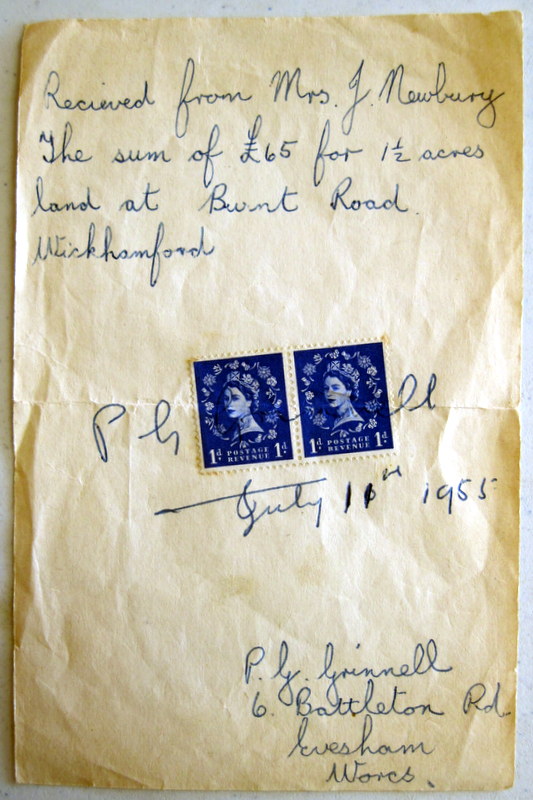 The two people concerned are Alice Maud Newbury (nee Halling), pictured above, who had married Jesse Harris Collett Newbury in 1933.  As was usual at the time, she was addressed as "Mrs J. Newbury" in the 1955 document.  The person selling the tenancy was Percy G. Grinnell of 6 Battleton Road, Evesham.  His name appears in the 1941 Farm Survey, when he lived at 57 Deacle Place, Evesham.  Then, he had land in Wickhamford amounting to 2½ acres, but the exact location was not recorded on the Government forms.  It was most likely land that was accessed from Burnt Road and would have had a 'hovel' or shed.  In 1941 his crops consisted of ¾ acre of Brussels sprouts, ¼ acre of onions, ½ acre of beans and ½ acre of asparagus.  It is probable that he had similar crops in the Summer of 1955 when he transferred his tenancy to Mrs Newbury.  The document shows that she paid £65 for 1½ acres of Grinnell's land, which is equivalent to almost £2,000 today.
Other references to Burnt Road
Burnt Road was mentioned in 1953, when various sites were being considered for a new Burial Ground in Wickhamford. "Land along Burnt Road, owned by Mrs Daffurn" of Elm Farm was one option being considered at that time by the Parish Council.  When William Mason's reminiscences of Wickhamford were recorded by Rev. Peter Braby, in the about 1970, he mentioned "The Dene, across the Roman burnt road" when talking about field names.  "Withy Dene" abuts the Burnt Road by the Willersey Road.
Why "Burnt Road"?
Once market gardening became developed in Wickhamford, produce had to be got to market.  The land to the South of Burnt Road, across to Pitchers Hill, was almost entirely used for market gardening by the early 20th century and good paths were needed to transport produce.  At around this time the growers decided to make the track from Manor Road to Willersey Road much firmer, as it would have been a clay soil that was very soft in wet weather.  To achieve this, they burned rubbish from their plots on the road, to harden the clay.  Over time this process made the road usable for their carts in most weather conditions.  Because of this process, the track became known as "Burnt Road".
Tom Locke – June 2022
Acknowledgements
Thanks are due to Margaret Newbury for lending the land transfer document and photograph of her mother-in-law. Also, to Derek Harman and Jim Roberts for information on the origins of the term "Burnt Road".