In 1873, Arthur Herbert Savory, a "gentleman farmer", educated at Harrow and Oxford, became tenant of Aldington Manor and farmed there for the next 28 years.  He enjoyed the status of being "Squire" at Aldington, but much admired the independence of the growers in Badsey.  On returning to his native Hampshire, he wrote a book, published in 1920, a year before his death, entitled Grain and Chaff from an English Manor.  It gives a vivid account of farm and village life at Aldington during the period 1873 to 1901.  A review of the book appeared in the Western Morning News of 26th July 1920.  
Arthur Savory (1851-1921) was born at Lower Clapton, Middesex, and was just 22 years old when he arrived at Aldington at Michaelmas 1873.  He was either already married to Frances (from Herne Bay, Kent) or married her shortly after his arrival.  Their daughter, Cynthia Mildred, was born in 1874 and baptised at Badsey.  Frances, sadly died in 1883 and two years later he married Georgiana Ford Poulton.  Arthur and Georgiana had two children:  Christopher Arthur Francis (1887-1899) and Dorothy Joyce (1891-1934).  Christopher died of influenza, aged 13, whilst at school in Worcester in 1899.  The Savorys left Aldington In October 1901 but returned briefly in January 1902 for Cynthia's marriage to Charles Selwyn Martin.  Savory died at Burley, Hampshire, in 1921.
A copy of the book is held in the Badsey Society Archive. The book has long been out of print but has been made available online by the Gutenberg Project (click here for a full PDF of the text).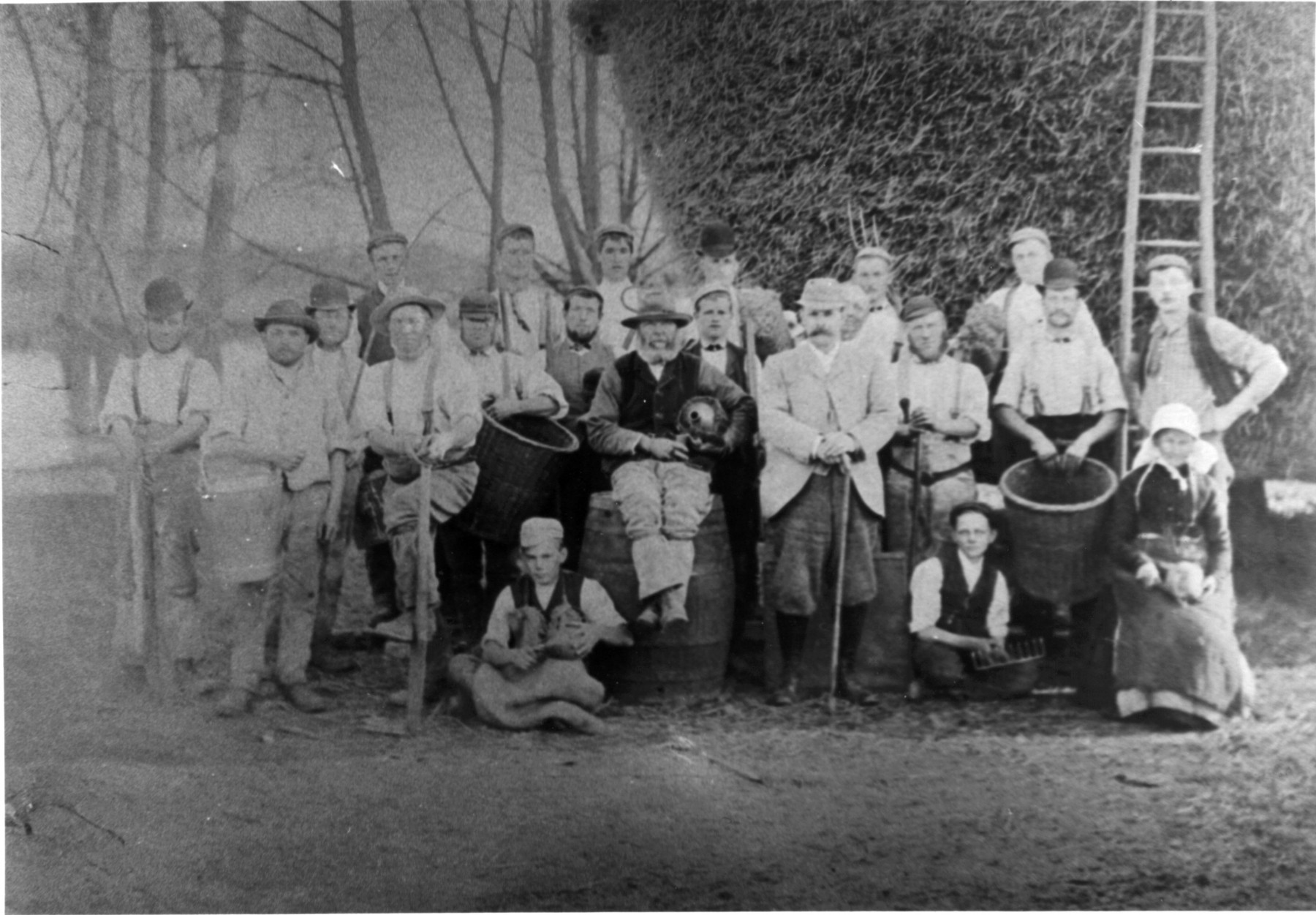 See also:  Aldington people mentioned in the book
| | |
| --- | --- |
| CHAPTER | PAGE |
| Preface | 1 |
| I - Aldington Village, The Manor House, The Farm | 4 |
| II - The Farm Bailiff | 8 |
| III - The Hop Foreman and the Hop Drier | 14 |
| IV - The Head Carter, the Carpenter | 19 |
| V - An Old-fashioned Shepherd, Old Tricker, a Gardener, my second Head Carter, a Labourer | 24 |
| VI - Characteristics of Agricultural Labourers and Villagers | 29 |
| VII - Machinery, Village Politics, Asparagus | 39 |
| VIII - My Three Vicars, Church Restoration, Churchwarden Experiences, Clerical and other Stories | 43 |
| IX - The School Board, Religious Instruction, School Inspections, Dean Farrar, Compulsory Education | 51 |
| X - Village Institutions:  Cricket, Football, Flower Show, Band, Postman, Concerts | 56 |
| XI - Dealers, Luck Money, Fairs, Sales, Effect of Climate on Cattle and Sheep, Agricultural Shows | 59 |
| XII - Farm Specialists | 66 |
| XIII - The Dairy, Cattle, Sheep, Lambs, Pigs, Poultry | 71 |
| XIV - Orchards, Apples, Cider, Perry | 77 |
| XV - Plums, Cherries | 83 |
| XVI - Trees:  Elm, Oak, Beech, Will, Scots-Fir | 85 |
| XVII - Corn, Wheat, Ridge and Furrow, Barley, Farmers New-style and Old-style | 94 |
| XVIII - Hops, Insect Attacks, Hop Fairs | 100 |
| XIX - Meteorology, Eton and Harrow at Lord's, "Rus in Urbe" | 105 |
| XX - Changing course of Streams, Dewponds, A Wet Harvest, Weather Phenomena, Will-o'-the-Wisp, Various | 108 |
| XXI - Birds:  Peacocks, a White Pheasant, Rooks' Arithmetic | 115 |
| XXII - Pets:  Susie, Cocky, Trump, Chips, Wendy, Taffy | 119 |
| XXIII - Butterflies, Moths, Wasps | 122 |
| XXIV - Cycling, Pageants of the Roads, Roadside Creatures, Harmonious Building, Collecting Old Furniture and China | 126 |
| XXV - Dialect, Local Phraseology in Shakespeare, Names, Stupid Places | 130 |
| XXVI - Is Aldington (former site) the Roman Antona? | 134 |
| Index | 141 |