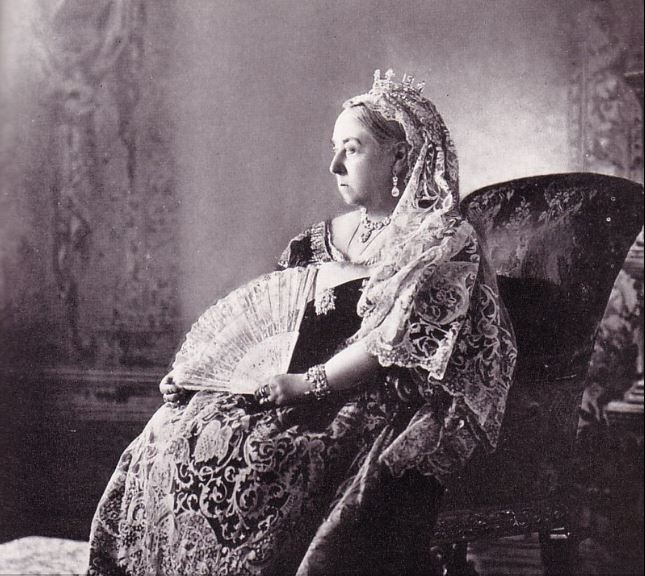 The Diamond Jubilee of Queen Victoria was officially celebrated on 22nd June 1897 to mark the occasion of the sixtieth anniversary of Queen Victoria's accession on 20th June 1837.  It was the first Diamond Jubilee celebration of any British monarch in history.  Queen Victoria had surpassed her grandfather King George III as the longest-reigning British monarch on 23rd September 1896, an event that she marked privately at Balmoral Castle. She wrote in her journal, "People wished to make all sorts of demonstrations, which I asked them not to do until I had completed the sixty years next June." The Diamond Jubilee was therefore an opportunity to celebrate Victoria's status as longest-reigning monarch, in addition to marking 60 years on the throne.
In Badsey, the celebrations took place on Thursday 23rd June 1897.  Julius Sladden of Seward House was Chairman of the committee appointed to organise the celebrations.  In a letter to his daughter, Kathleen, of 9th June 1897, he wrote:
We have collected rather over £40 for our jubilee celebration, we expect to dine over 300 grown-ups and as many children will want tea, yesterday evening we had a dinner committee meeting and arranged to procure among other things, 350 lbs of meat, 70 loaves, 54 gallons of beer, 24 lbs of cheese.  There is a separate committee for the tea and several ladies will be called in to assist.  There are to be games and sports in the afternoon and a few fireworks and illuminations in the evening, of course this is all very modest besides the grand doings at Windsor, I think Ethel rather wishes she had your opportunity to see the procession.
Kathleen was at boarding school in Windsor and thus might have had the opportunity to view some of the festivities held in the town, but unfortunately no letter survives from Kathleen. 
In a letter the following week, Eugénie Sladden wrote
I do hope that it will be a fine day, our festivities here are all in the "Stockey", without even a tent, so if it does rain I don't know what will happen. 
The Badsey Society Archive contains a handwritten note by Julius Sladden which tells us of the schedule for the day:
Badsey and Aldington
Diamond Jubilee Celebration, June 22nd 1897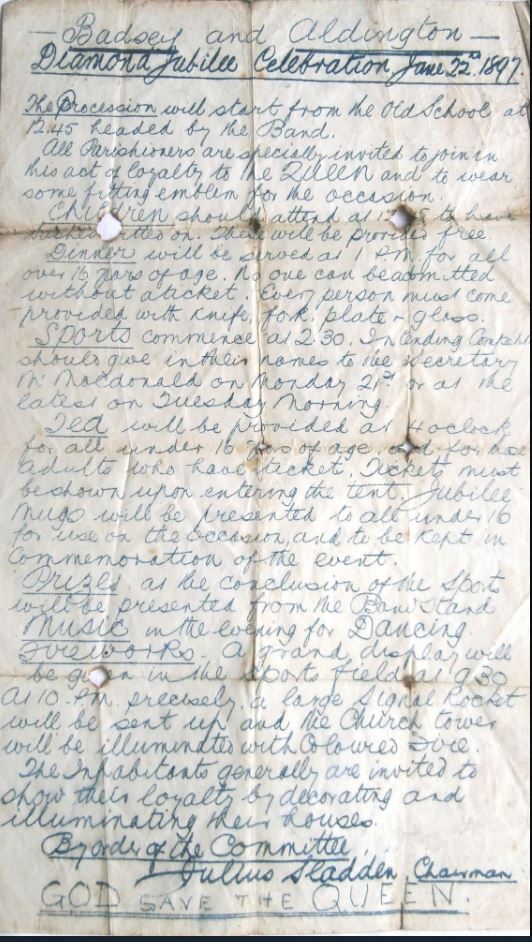 The Procession will start from the Old School at 12.45 headed by the Band.
All Parishioners are specially invited to join in this act of loyalty to the Queen and to wear some fitting emblem for the occasion.
Children should attend at 12.45 to have sashes fitted on.  These will be provided free.
Dinner will be served at 1 pm for all over 16 years of age.  No one can be admitted without a ticket.  Every person must come provided with knife, fork, plate and glass.
Sports commence at 2.30.  Intending competitors should give in their names to the Secretary, Mr Macdonald on Monday 21st or at the latest on Tuesday morning.
Tea will be provided at 4 o'clock for all under 16 years of age, and for those adults who have ticket.  Tickets must be shown upone entering the tent.  Jubilee mugs will be presented to all under 16 for use on the occasion and to be kept in commemoration of the event.
Prizes at the conclusion of the sports will be presented from the Bandstand.
Music in the evening for dancing.
Fireworks – a grand display will be given in the sports field at 9.30.  At 10 pm precisely, a large signal rocket will be sent up and the Church tower will be illuminated with coloured fire.
The inhabitants generally are invited to show their loyalty by decorating and illuminating their houses.
By order of the Committee
Julius Sladden, Chairman
GOD SAVE THE QUEEN
This followed a fairly similar format to the event held in 1887 for Queen Victoria's Golden Jubilee.  A report in The Evesham Standard of 26th June 1897 outlined the events of the day which had been a great success, and as confirmed in this letter from Julius to Kathleen, on 24th June 1897:
Our Badsey festivities went off excellently. At 12.30 we all assembled at or rather outside the old school where the girls and boys had their sashes and medals put on, headed by the Aldington band we marched in procession up the village to the "Stockey", there the whole crowd sang the old hundredth and then all over 16 sat down to dinner in a big tent to the number of about 350 I took the chair and proposed the Queen's health which was most heartily drunk.  The sports began at 2.30 and lasted till 7.30 with an hours break for tea.
Arthur [this was 13-year-old Arthur Francis Savory Sladden, Julius Sladden's fifth child] won the 220 yards for boys under 14 and got a nice book "Our Queen" for his prize, Ethel [14-year-old Ethel Narcisse Sladden, Julius Sladden's fourth child] was 2nd for the unmarried women and got a tall vase, Cyril [seven-year-old Cyril Edgar Sladden, Julius Sladden's seventh child] only just missed 2nd prize for those under 8.  At four o'clock all under 16 sat down to tea over 300 of them and each had a Jubilee mug presented, at 7.30 Mother presented the prizes then there was dancing at 9.30 some capital fireworks at 10 and illuminations of the church tower and I took Arthur up there, we counted over 20 bonfires, Broadway was very fine, their torch-light procession showed up very well too.  We illuminated our house, others also.
Queen Victoria died on 22nd January 1901, having reigned for 63 years 7 months.
Maureen Spinks, May 2022